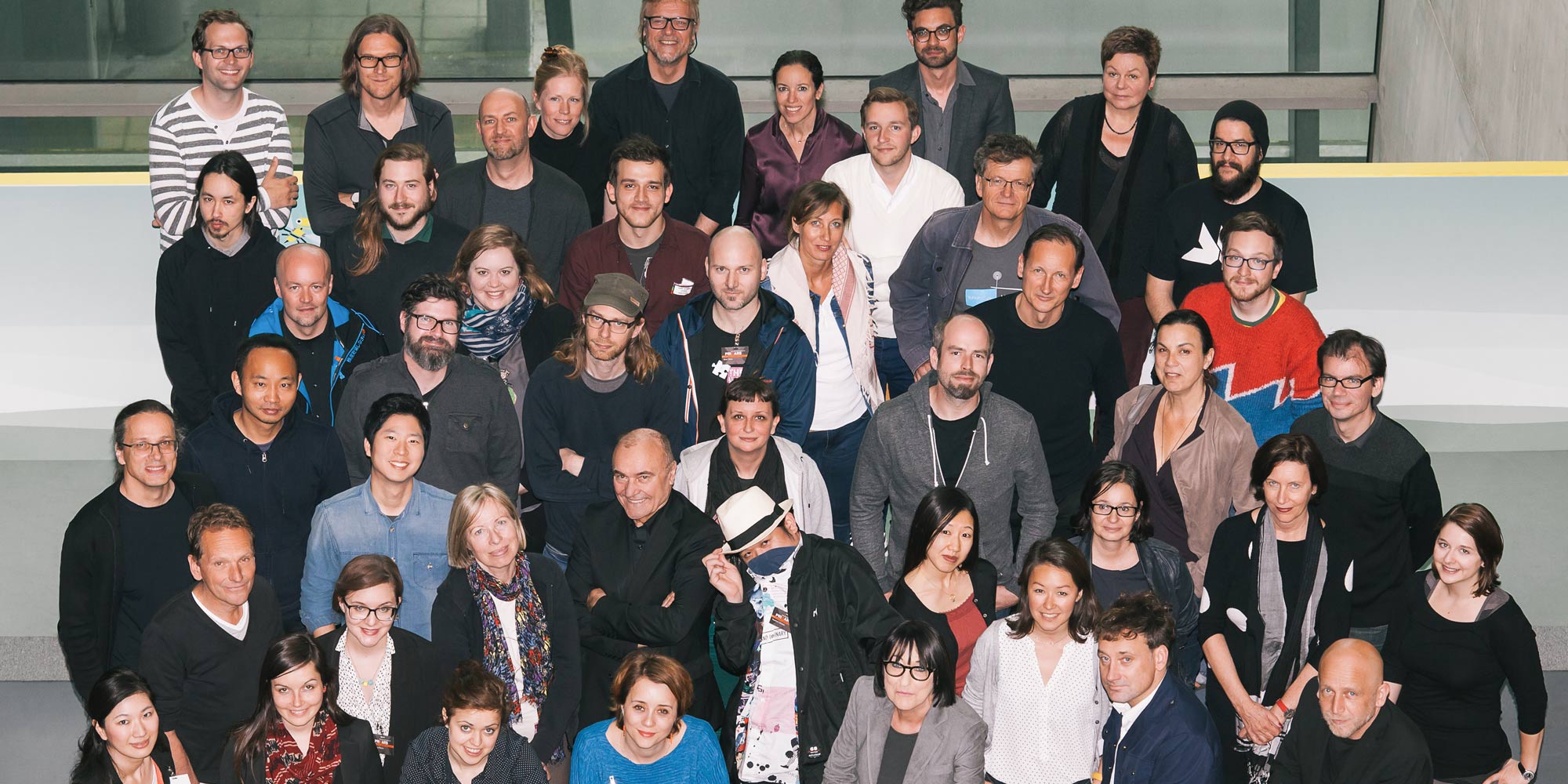 COMPUTER ANIMATION / FILM / VFX
Gaëlle Denis (FR)

Gaëlle Denis came to London's for an animation MA at Royal College of Art. She directed "Fish Never Sleep", which won a BAFTA and Cannes Cinéfondation selection. Later "City Paradise" collected more than 50 awards including the prestigious Annecy Special Jury award and a BAFTA nomination. Her first live action short was "After the rain" for Film 4 and the UK Film Council and her latest BFI funded short "Crocodile" premiered at Cannes' Critics Week where it won the Prix Canal+ for best short.
Joe Gerhardt (UK)

Semiconductor is UK artist duo Ruth Jarman and Joe Gerhardt. Through moving image works they explore the material nature of our world and how we experience it, questioning our place in the physical universe. Their unique approach has won them many awards and prestigious fellowships, most recently the 'Samsung Art + Prize' 2012 for new media, the 'Golden Gate Award for New Visions' at San Francisco International Film Festival USA 2012 and the 'Art and Science Award' at Ann Arbor Film Festival USA.
Sabine Hirtes (DE)

Prof. Sabine Hirtes teaches since 2010 at the University of Offenburg Postproduction and Vfx . After graduating in "Visual Communication" at the FH Aachen miscellaneous creative and educational activities in the field of digital print media as well as moving images with a focus on computer animation and Vfx in different companies, studios and schools in Germany and abroad such as the Filmakademie Baden-Wuerttemberg, Cairo Film Institute and the ZKM, Centre for Art and Media, Karlsruhe.
Erick Oh (KR)

Erick Oh is a Korean filmmaker / painter based in California, USA. His work has been introduced and nominated at Annecy Animation Festival, Hiroshima Animation Festival, Student Academy Awards, Zagreb Film Festival, SIGGRAPH, Anima Mundi, Ars Electronica and numerous other international film festivals and galleries world wide. After receiving his BFA from Fine Art Department at Seoul National University and his MFA from UCLA's film program, Erick joined Pixar Animation Studios as an animator in 2010. Erick's most recent independent animated film, 'The Dam Keeper' was nominated for the Academy Awards this year.
Rob O'Neill (US)

Rob O'Neill is a Brooklyn born, Los Angeles based writer/director/animator/programmer working in animated and live action production. He is a Character Technical Director Supervisor at DreamWorks Animation. Rob holds a BA in Anthropology from Brooklyn College and an MFA from Parsons School of Design in Design and Technology. He was previously a Researcher in Cultural Resources in Anthropology at the American Museum of Natural History; Studio Technical Director at Eyebeam; and Director of the Digital Arts Research Laboratory at Pratt Institute. Rob is the author of "Digital Character Development: Theory and Practice".
HYBRID ART
Jens Hauser (DE)

Jens Hauser is a Paris and Copenhagen based art curator and media studies scholar focusing on the interactions between art and technology. He holds a dual research position at both the Department of Arts and Cultural Studies and at the Medical Museion at the University of Copenhagen, and is a distinguished affiliated faculty member of the Department of Art, Art History and Design at Michigan State University. His curated exhibitions include L'Art Biotech (Nantes, 2003), Still, Living (Perth, 2007), sk-interfaces (Liverpool, 2008/Luxembourg, 2009), the Article Biennale (Stavanger, 2008), Transbiotics (Riga 2010), Fingerprints… (Berlin, 2011/Munich/2012) and Synth-ethic (Vienna, 2011).
Susanne Jaschko (DE)

Dr phil. Susanne Jaschko (*1967) is an independent curator and author with an international practice. Digital culture often serves as a starting point for her projects. With prozessagenten, which she founded in 2012, she develops collaborative art and design projects. Previously positions include curator and deputy-director at transmediale and Head of Exhibitions at Netherlands Media Art Institute. She is based in Berlin, Germany.
Jurij V. Krpan (SI)

Born in Postojna in 1961, lives and works in Ljubljana, Slovenia. At the initiative of the Student Organisation of the University of Ljubljana he conceived the Kapelica Gallery – Gallery for Contemporary Investigative Arts, which he has been running since. As curator and selector he has contributed to domestic and international festivals. In 2014 he co-curate the Designing Life section for Biennial of product design in Ljubljana and curate the Slovenian pavilion at Venice biennial for architecture. He started the year 2015 as an appointed curator of the Freies Museum Berlin. Jurij Krpan lectures about the artistic profile of the Kapelica Gallery in Slovenia as well as abroad.
Victoria Vesna (US)

Victoria Vesna, Ph.D., is an Artist and Professor at the UCLA Department of Design | Media Arts and Director of the Art|Sci center at the School of the Arts and California Nanosystems Institute (CNSI). With her installations she investigates how communication technologies affect collective behavior and perceptions of identity shift in relation to scientific innovation (PhD, University of Wales, 2000). Her work involves long-term collaborations with composers, nano-scientists, neuroscientists, evolutionary biologists and she brings this experience to students. She is the North American editor of AI & Society and in 2007 published an edited volume – Database Aesthetics: Art in the Age of Information Overflow and another in 2011 – Context Providers: Conditions of Meaning in Media Arts.
Filip Visnjic (UK)

Filip Visnjic is a lecturer, curator and a media technologist born in Belgrade now living in London. He is the founder and editor-in-chief of CreativeApplications.Net. The site tirelessly beat reports innovation across the field and catalogues projects, tools and platforms relevant to the intersection of art, media, and technology. In 2012, Filip co-founded Resonate, new educational platform and a festival located in Belgrade, Serbia. Same year, he co-launched HOLO, magazine about art, science and technology and is currently 'director of platform' at FRM, working on a new canvas for digital art. He lectures at a number of universities in the UK.
DIGITAL MUSICS & SOUND ART
Seppo Gründler (AT)
Born 1956, lives in Graz/Austria. He is the head of master degree programme in communication, media, sound and interaction design at University of Applied Sciences – FH JOANNEUM, visiting professor of sound design at Donau-University Krems, member of the board of directors of the Institute for Media Archeology, president of the Society for Dissemination and Distribution of New Music. His main instruments are guitar, electronics and software. He has been working in the field of new media since 1982. He has composed music for computer games, music for theatre, film, media and sound installations. He is the creator of various CDs and two vinyls.
Sergei Kasich (RU)

sergey kasich was born in city of Sevastopol (Crimea) in 1984. He graduated (with honors) in 2006 from Lomonosov's MSU (Moscow) as psychologist. After attending Moscow Theremin Center (2005-2010) he founded the SoundArtist.ru ( SA)) ) – the community for experimental sound and technological arts. He curates and produces events and projects supported by residents of SA)), including annual festival, monthly showcases and more. Sergey is the founder and curator of Moscow Sound Art Gallery SA))_gallery and Moscow Sound Art Studio SA))_studio. Since 2011 he teaches a course "Technical basics of interactive arts" in Rodchenko's Art School in Moscow.
Christina Kubisch (DE)
Christina Kubisch belongs to the first generation of sound artists. Trained as a composer, she has artistically developed such techniques as magnetic induction to realize her sound installations. Since 1986 she has added light as an artistic element to her work with sound. Christina Kubisch's work displays an artistic development which is often described as "synthesis of arts" – the discovery of acoustic space and the dimension of time in the visual arts on one hand, and a redefinition of relationships between material and form in music on the other.
Valeria Rueda (ES)

Born Mexican, now based in Berlin. She explores new territories with sound and emotion, a -beautiful and inspirational place that has been sheltering her dreams for the past year. She has experimented in diverse areas of electronic music, from high end experimental sessions / pieces in some spectacular Museums to a more club oriented approach, participating in some important festivals in Europe and America. Signal Deluxe is her main project, Lila D. is her solo outfit, Blaqnet Records is a free platform for wide open and free experimentation, Blaq Records is her main label, Pantamuzik is her playground for house and underground club music. Signal Deluxe, Lila D., Blaq Records, Pantamuzik, Blaq Records Label
Naohiro Ukawa (JP)

Omni-directional artist known for extremely wide range of activities as a graphic designer, video artist, music video director, VJ, writer, college professor and "Genzai" artist among others. In March 2010, Ukawa founded a live streaming channel "DOMMUNE" which immediately attracted record-setting number of viewers for its daily programs very much discussed inside and outside Japan. Ukawa received Agency for Cultural Affairs' Japan Media Arts Festival encouragement award for DOMMUNE as his very own form of art. Currently his occupation is "DOMMUNE".
[THE NEXT IDEA] VOESTALPINE ART AND TECHNOLOGY GRANT
Yamina Aouina (DE)

For more than 10 years Yamina Aouina has been involved with innovation and luxury; first as an advisor for big Swiss watch making companies, then Innovation Director at Cartier and now Head of Technology Intelligence at Richemont the Luxury Group. Through the different missions her experience had one common focus: aligning tradition, history and outstanding craftsmanship with breakthrough technologies for the creation of fascinating products and experiences. As a member of Go-Beyond's business angle network she had a deep immersion in the start-up's world helping young entrepreneurs with their business development and financing and had organized the first European Summit for sustainable investing which was a very enriching experience.
Rikke Frisk (DK)

Rikke Frisk (1970) is founder and co-director of the community focused culture planning company, Indgreb, based in Copenhagen. Indgreb is specialized in participant driven events, and has amongst other things created the international innovation and art competition and festival, Afsnit I. She co-created and for several years managed Strøm – the leading festival for electronic music in Scandinavia and later she was head of secretariat for the Copenhagen hosting of WOMEX – the world's biggest world music fair and festival. With a background in architecture and communication she is an experienced and creative leader, with renowned relational abilities to unfold peoples skills and ideas.
Horst Hörtner (AT)

Horst Hörtner is a media artist and researcher. He is expert in design of Human Computer Interaction and holds several patents in this field. Hörtner is founding member of the Ars Electronica Futurelab in 1996 and since then directing this atelier/laboratory. He started to work in the field of media art in the 1980ies and co-founded the media art group x-space in Graz/Austria in 1990. Horst Hörtner is working in the nexus of art & science and giving lectures and talks at numerous international conferences and universities.
Michael Sterrer-Ebenführer (AT)
Corporate Advertising and Sponsoring, voestalpine AG
Kazuhiko Washio (JP)

Kazuhiko Washio is a Creative Director/ Producer at Hakuhodo Inc a major advertising agency in Japan, and also is a Chief Research Director at the Institute of Media Environment of Hakuhodo DY Media Partners Inc. Currently, he is working for the creative platform in collaboration with Ars Electronica, "Future Catalysts", and aims to "invent new life experience from a future viewpoint" and support social innovation in Japan and Asian region. He is the author of publications "Branding for Empathy" and also a photographic artist with a number of photography books and publications.
VISIONARY PIONEERS OF MEDIA ART
Erkki Huhtamo (FI/US)

is known as a founding figure of media archaeology. He has published extensively on media culture and media arts, lectured worldwide, given stage performances, curated exhibitions, and directed TV programs. He is a professor at the University of California Los Angeles (UCLA), Departments of Design Media Arts, and Film, Television, and Digital Media. His most recent book is Illusions in Motion: Media Archaeology of the Moving Panorama and Related Spectacles (The MIT Press, 2013).
Machiko Kusahara (JP)
is Professor at the School of Culture, Media and Society of Waseda University. Media art and media archaeology have been her fields of theoretical research, with the focus on the interplay between media culture, technology, and society in both early visual culture and contemporary media art. Since mid 1980s she curated, wrote, and gave lectures internationally both in digital art and early visual media. She served as a jury for major international competitions including Ars Electronica, SIGGRAPH, and ISEA.
Barbara London (US)

is a curator and writer who founded the video exhibition and collection programs at The Museum of Modern Art, where she worked between 1973 and 2013. The exhibitions she organized include one-person shows featuring early mavericks Nam June Paik, Bill Viola, Steina Vasulka, Joan Jonas, Shigeko Kubota, Peter Campus, Gary Hill, VALIE EXPORT, Steve McQueen, and Laurie Anderson. She was the first curator in the United States to showcase the work of Asian artists Zhang Peili, Song Dong, Teiji Furuhashi, Feng Mengbo, and Yang Fudong. Her thematic projects have included Video from Tokyo to Fukui and Kyoto; New Video from China; Anime!, Stillness (Michael Snow and Sam Taylor-Wood), Automatic Update, among others. Barbara London was the first to integrate the Internet as part of curatorial practice. The projects where she put daily dispatches on-lineinclude Stir-fry (1994); Internyet (1998); and dot.jp (1999.)
José-Carlos Mariátegui (PE)

(Lima, 1975) Writer, curator and scholar on culture and new media. Studied Biology and received his BSc in Applied Mathematics, holds both Masters and Doctoral degrees in Information Systems and Innovation from the London School of Economics and Political Science – LSE (London). Dr. Mariátegui is the founder of Alta Tecnología Andina – ATA and co-founder of Escuelab.org, spaces devoted to creativity, technology and innovation in Latin America. Member of the Advisory Board of the Ministry of Culture (2010/2012-2013). Editorial Board member for Leonardo Books at MIT Press. Lives in London (UK) and Lima (Peru).
Monica Narula (IN)

Monica Narula is a member of Raqs Media Collective. The Raqs Media Collective enjoys playing a plurality of roles, often appearing as artists, occasionally as curators, sometimes as philosophical agent provocateurs. They make contemporary art, have made films, curated exhibitions, edited books, staged events, collaborated with architects, computer programmers, writers and theatre directors and have founded processes that have left deep impacts on contemporary culture in India. Raqs (pron. rux) follows its self declared imperative of 'kinetic contemplation' to produce a trajectory that is restless in terms of the forms and methods that it deploys even as it achieves a consistency of speculative procedures. Raqs was founded in 1992 by Jeebesh Bagchi, Monica Narula and Shuddhabrata Sengupta. It remains closely involved with the Sarai program at the Centre for the Study of Developing Societies, an initiative they co-founded in 2000.
Marcus Neustetter (AT/ZA)

artist and cultural activist in Johannesburg South Africa . Born 1976 in Johannesburg, Marcus Neustetter earned his Masters Degree in Fine Arts in 2001 from the University of the Witwatersrand. As an artist and cultural activist, Neustetter has produced projects in the gallery, public and virtual domain. A consistent focus in his art practice has been on the intersections of art, science and technology, ranging from drawing, sculpture, installation, performance, video and multimedia to site-specific and socially engaged interventions. He has exhibited extensively in Europe, Africa and North America. He is the co-director of The Trinity Session.
Andrey Smirnov (RU)

(1956) is an interdisciplinary artist, performer, educator, independent curator, collector, writer and composer. He is founding director of the Theremin Center in Moscow, a senior lecturer and a researcher at the Center for Electro-acoustic Music at the Moscow State Conservatory and a lecturer at the Rodchenko School for Modern Photography and Multimedia where he teaches courses on history and aesthetics of electro-acoustic music, sound design and composition, new musical interfaces and physical computing. His ongoing research project is restoring the censored history of artistically utopian early 20th century Russia. The project includes a series of exhibitions and the book, "Sound In Z: Experiments In Sound And Electronic Music In Early 20th Century Russia" (Walther Koenig, 2013).
U19 – CREATE YOUR WORLD
Sirikit Amann (AT)

Sirikit Amann was born in 1961. She studied political science, theater and economics in Vienna. Since the '80s, her activities in Austria and abroad have been focused on the interface of culture, education and new media: Until 2007 she has been a division manager for cultural education at KulturKontakt Austria. 2008 she transfered in the newly-established staff position for artistic and cultural education at the Austrian Federal Ministry of Education, Art and Culture. Since then she works as an adviser in the office of the Federal Minister for Art and Culture. For the Prix Ars Electronica she curates the Young Animation and is an u19 juror since that category's inception.
Conny Lee (AT)

Conny Lee, born 1985 in Vienna, studied the allegedly unpromising discipline of Theatre-, Film- and Mediascience. Since she got her degree, she's been working for Radio FM4 at the Austrian Broadcasting Company. There she produces and co-hosts the bilingual FM4 Morningshow and does Reviews on Games, Literature and Comics. Apart from that she also moderates events and public discussions.
Elisabeth Menasse-Wiesbauer (AT)

Elisabeth Menasse-Wiesbauer, born 1954, studied history, psychology and philosophy. After working as teacher and researcher in the realm of childhood-history and history of science she organized the focus of xenophobia research at the Austrian ministry of science. Since 2003 Elisabeth Menasse-Wiesbauer is the director of the ZOOM children's museum. Between 2003 and 2011 she was board member at he European children's museum association "Hands on Europe".
Peter Schernhuber (AT)

Peter Schernhuber was born 1987 in Wels. Till 2014 he, together with Sebastian Höglinger, was the head of the international youth media festival YOUKI. Since summer 2015 he is, also together with Sebastian Höglinger, head of the Diagonale festival of Austrian Film in Graz. So far Peter Schernhuber was also involved in different (film)festivals (Crossing Europe, Diagonale, Music Unlimited, Vienna Design Week etc.), institutions (media-culture-house Wels, etc.) as well as within Ana Berlin Communications and various publications (Edition netPOL, The Gap, FAQ, swiss CINEMA year-book, etc.).
Erwin Wagenhofer (AT)
Erwin Wagenhofer was born in 1961 in Amstetten, Austria. He studied telecommunications engineering and electronics in Vienna, and then spent three years working as a developer for Philips Austria. In 1983, Wagenhofer joined the ORF – Austrian Broadcasting Company as a freelance assistant director & cameraman. Since 1987, he's been a freelance author and filmmaker. He has also been a visiting lecturer at Danube University Krems and the University of Applied Arts Vienna. In 2005, Wagenhofer released his prizewinning documentary film "We Feed the World," which he followed up in 2008 with the internationally acclaimed documentary "Let's Make Money." In 2010 Wagenhofer presented his first dramatic feature, "Black Brown White," a fictional work in which Wagenhofer spotlights egregious injustices in the social systems of industrialized countries. In his latest documentary film, "Alphabet," which premiered in 2013, he critically scrutinizes educational systems worldwide.