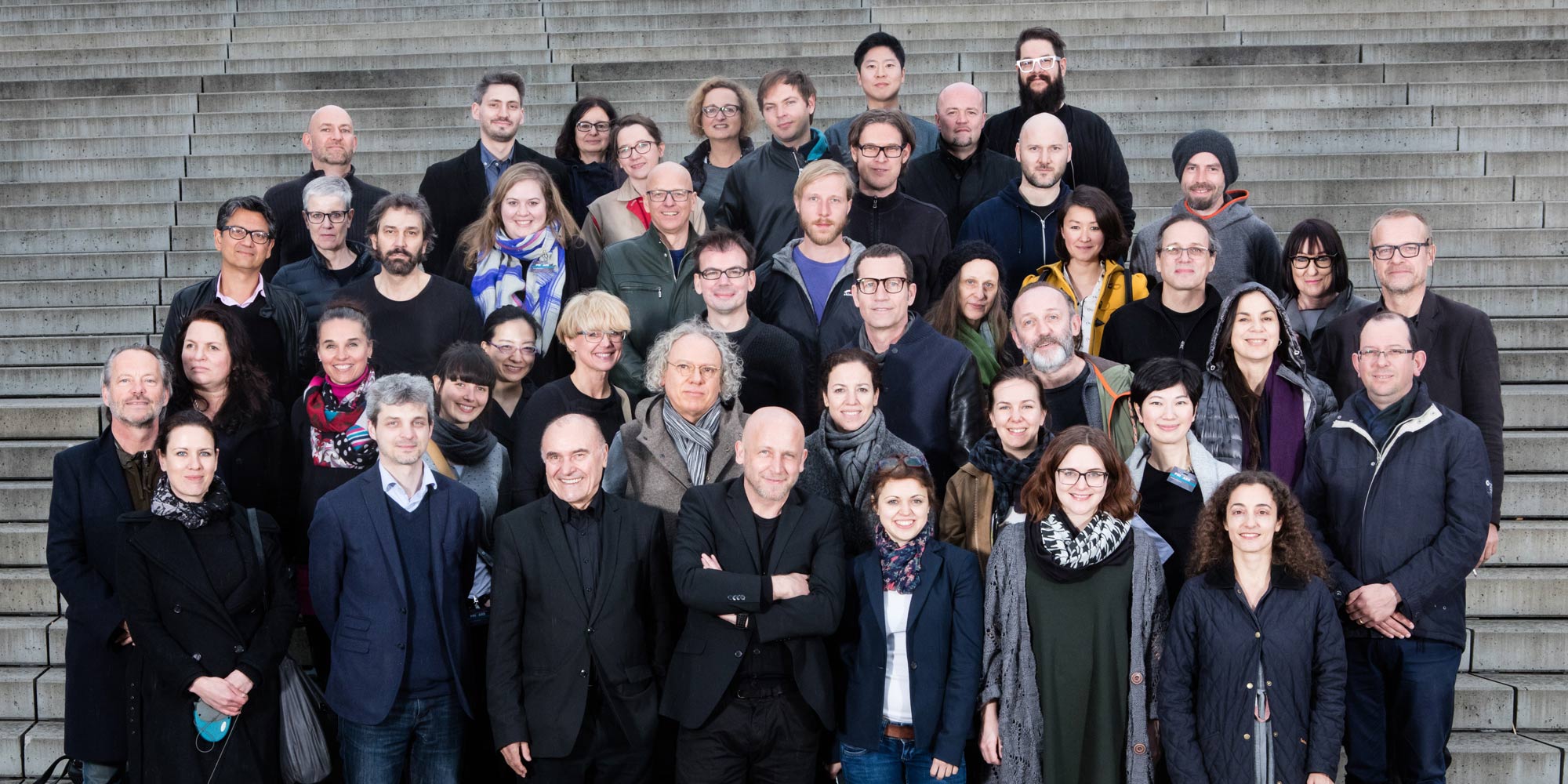 COMPUTER ANIMATION / FILM / VFX
Mihai Grecu (RO/HU)

Mihai Grecu was born in 1981. After studying art and cinema in France, at the Fresnoy Studio of Contemporary Arts, he has been developing a complex personal visual language. By mixing symbolic images with highly metaphorical situations and surreal atmospheres, his works challenge the viewer's perception as well as contemporary imagery, with recurring themes such as environment, war, water and metamorphosis. His films-poems have been shown in numerous film and new media festivals worldwide (Rotterdam, Festival of New Cinema in Montreal, Clermont Ferrand, Videobrasil) and exhibitions ("Dans la nuit, des images" at the Grand Palais in Paris, Mois de la Photographie in Paris, Hengesbach Gallery in Berlin, etc).
Bernd Kracke (DE)

Bernd Kracke has been the President of HfG Offenbach since September 15, 2006. He has been Professor for Electronic Media at HfG Offenbach since 1999 and was the Dean of the School of Art (formerly Visual Communication department) from 2001 to 2006. He founded the CrossMediaLab as a platform for research and experimentation on networking analogue and digital technologies as well as their innovative application in an arts and design context. Here, he drew on his experience from his work at M.I.T. Cambridge/USA (1979 to 1985) and the Academy of Media Arts Cologne (1991 to 1999) as well as his long-standing work as an independent media designer and artist. Kracke is a co-founder, board member and committee spokesperson of Hessen Film and Media Academy and the initiator and director of the B3 Biennial of the Moving Image.
Erick Oh (KR)

Erick Oh is a Korean filmmaker / painter based in California, USA. His work has been introduced and nominated at Annecy Animation Festival, Hiroshima Animation Festival, Student Academy Awards, Zagreb Film Festival, SIGGRAPH, Anima Mundi, Ars Electronica and numerous other international film festivals and galleries world wide. After receiving his BFA from Fine Art Department at Seoul National University and his MFA from UCLA's film program, Erick joined Pixar Animation Studios as an animator in 2010. Erick's most recent independent animated film, 'The Dam Keeper' was nominated for the Academy Awards in 2015.
Mari-Liis Rebane (EE)
Mari-Liis Rebane, (Tallinn, Estonia), is an artist and director working in the fields of audiovisual production and moving image. Since 2011 Mari-Liis is working for International Animation Film Festival Animated Dreams, the oldest and biggest animation festivals in the Baltics, currently she is in charge as the Festival Director. She is also occasionally involved as an animation expert in Estonian Film Fund financing committee and collaborates as a programme curator for international festivals and as an independent journalist for culture magazines. Promoting visual culture and expanding the definition of animation has become her main mission. Mari-Liis Rebane has graduated from the animation department at Estonian Academy of Arts and currently focusing on interactive and emerging technologies in her MA studies in New Media.
Johannes Schiehsl (AT)

Johannes Schiehsl started studying traditional animation in Czech Republic, and continued his studies at the prestigious Filmakademie Baden-Wuerttemberg. There he created a couple of award winning short films that also aired on several television channels. His autobiographically inspired graduation short film "366 Days" was selected by more than 70 international film festivals and received numerous awards. Among others the film was selected to the official competitions in Annecy and Stuttgart and became the first animated film ever to be nominated for an Austrian Movie Award. Johannes Schiehsl founded the animation company "Neuer Österreichischer Trickfilm" together with Conrad Tambour and Benjamin Swiczinsky in 2011.
INTERACTIVE ART +
Christophe De Jaeger (BE)

Christophe De Jaeger is responsible for the programme of media arts and the relation between arts and industry in the Center for Fine Arts. On a freelance basis he curated exhibitions in Belgium and abroad (USA, China) with international media artists. Most recent international exhibitions were hosted by MAC – Museu de Arte Contemporânea de Niterói in Rio de Janeiro in Brazilië (2013) and the Museum of Contemporary Art in Shanghai (2009). In 2014 he founded the Belgian organization Gluon that stimulates creative partnerships between artists, researchers and industrialists. Currently Christophe De Jaeger is working on a phd at King's College London where he researches the history and methodology of organisations stimulating collaborative practice with artists in the 1960s and 1970s.
Michela Magas (GB/HR)

Michela Magas is an innovation catalyst who bridges science, art, design and technology. A graduate from the Royal College of Art in London, her PhD research at Goldsmiths was in music and technology. She is the founder of Music Tech Fest and Innovation Director of #MusicBricks, which puts exclusive tech in the hands of hackers and makers. She won the 'art meets science' NEM Art award twice, and is on the Advisory Board of the H2020 programme for Innovation, IoT and the Creative Industries.
Irini Papadimitriou (GR/UK)

Irini Papadimitriou is a London-based curator and producer, currently Head of New Media Arts Development at Watermans, an arts organisation presenting innovative work and supporting artists working with technology, where she is curating the exhibition programme and an annual digital performance festival. Irini is also Digital Programmes Manager at the V&A, mainly responsible for programmes such as the annual Digital Design Weekend: a big-scale event of interactive installations, open & collaborative workshops, artists' presentations and talks, showing digital art and design projects and offering audiences the opportunity to meet the artists & makers and explore processes. She is also one of the organisers for London's Elephant & Castle Mini Maker Faire, a day of making, learning, inventing and tinkering.
Joachim Sauter (DE)

Since the early 1980s, Joachim has been working as a media artist and designer. From the beginning, he focussed on digital technologies and is experimenting how they can be used to express content, form, and narration. Fueled by this interest, he founded ART+COM in 1988 together with other artists, designers, scientists and technologists. Their goal was to practically research this new up-and-coming medium in the realm of art and design. Until now, he is leading this interdisciplinary group. In the course of his work he was invited to participate on many exhibitions. Beside others he showed his work at 'Centre Pompidou' Paris,'Venice Biennial', 'Stejdilik Museum' Amsterdam, Kunsthalle Wien,'ICC' Tokyo, 'Getty Center' Los Angeles, MAXXI Rom. Since 1991 he is full professor for "New Media Art and Design" at the 'University of the Arts' Berlin and since 2001 adjunct professor at UCLA, Los Angeles.
Victoria Vesna (US)

Victoria Vesna, Ph.D., is an Artist and Professor at the UCLA Department of Design | Media Arts and Director of the Art|Sci center at the School of the Arts and California Nanosystems Institute (CNSI). With her installations she investigates how communication technologies affect collective behavior and perceptions of identity shift in relation to scientific innovation (PhD, University of Wales, 2000). Her work involves long-term collaborations with composers, nano-scientists, neuroscientists, evolutionary biologists and she brings this experience to students. She is the North American editor of AI & Society and in 2007 published an edited volume – Database Aesthetics: Art in the Age of Information Overflow and another in 2011 – Context Providers: Conditions of Meaning in Media Arts.
DIGITAL COMMUNITIES
Ian Banerjee (IN/AT)

Ian Banerjee is lecturer and research fellow at the Centre for Sociology (ISRA) at Vienna University of Technology. Since 15 years he has been investigating global issues around urbanization with a special focus on urban innovation. Since six years he has developed a keen interest in studying the inter-linkages between urbanism and emerging educational practices. In 2015 he edited an e-book with Ingrid Fischer-Schreiber on 'Digital Communities 2004-2014: Selected Projects from Prix ARS Electronica".
Sarah Kriesche (AT)

Sarah works as a radio host and journalist for over 18 years already. During this time, she helped to create and establish a radio station in Gran Canaria, worked as a showrunner for "Ö3 Wecker" while hosting her own radio shows at "Hitardio Ö3" and served as Head of Corporate Communications at the daily newspaper "Die Presse". She also provides voice/vocal training and presentation training. In 2010 she decided to mainly focus on many divergent topics in the widespread sphere of information technology. Since then she covers the impact of subcultures (such as Anonymous) as well as technical achievements like m2m or IoT and their meaning for modern society for Radio Ö1. As every new buzzword like "cyber" or "smart" doesn't just bring chances but also risks, her stories often have a strong emphasis on (information-)security. Her weekly radio portrait "Vielfalt in Wien" at "Radio Wien" was awarded the "Prälat Leopold Ungar"-Anerkennungspreis.
Hans Reitz (DE)
Hans Reitz (born 1966 in Bavaria) is a Founder and Managing Director who was always driven by the quest for adventure and change. At the age of 20 he started traveling which led him to many countries, including India where he spent 7 years living a simple life. Within a few years, he established a creative circle and, as culture manager, organized, among others things, a variety of theater and culture projects. He founded the event agency "circ" in 1994 which today serves such renowned companies as, Autostadt, BASF, and E.ON. Entrepreneur Hans Reitz has established his radius of operations and his network not only in the world of business, but he has also developed social projects, starting with Wiesbaden, where he now lives, and subsequently throughout the world. Since late 2008, Hans Reitz has also been speaking at international conferences and led numerous workshops at various universities.
Marleen Stikker (NL)
Marleen Stikker (1962) is founder of De Digitale Stad (The Digital City) in 1994, the first virtual community introducing free public access to the internet. She is founder of Waag, a social enterprise that consists of Waag Society, a research Institute for creative technologies and social innovation and Waag Products, that launched companies like 7scenes, a mobile learning and gaming platfor m and Fairphone, the first fair smartphone in the world. Stikker is also member of the supervisory board of WPG Publishers, an independent publishing group. Marleen Stikker strongly adheres to the Maker's Bill of Rights motto "If You Can't Open It, You Don't Own It". Waag Society is actively involved in the Open Design and Creative Commons movement and believes that society needs open technologies that meet societal challenges.
Kazuko Tanaka (JP)

Kazuko Tanaka joined Hakuhodo in 1998 and started her career in account services, further expanding into new business development with leading foreign marketing firms—and at the same time having 3 children. On belief that working mothers, still a minority in Japan, need a place to share information and ideas, she started the "Hakuhodo Working Moms' Link" in 2012, networking across over 50 companies/ 500 working mothers through "Lunchcation – lunchtime communication" actions. Kazuko joined VoiceVision Inc. in July 2013 as one of its founding members, serving as community producer and facilitates community projects for companies and local governments. Also, Kazuko has been on the joint team project between Hakuhodo and Ars Electronica – the Future Catalyts – and has operated two seasons of Future Innovators Summit at the Ars Electronica Festival.
Advisory Board 2016
Antoni Abad (ES), Heitor Alvelos (PT), Hans Bernhard (AT), Martijn De Waal (NL), Oscar Ekponimo (NG), Cyrus Farivar (US), Carlos Gomez de Llarena (US), Laina Greene (IN), Salvatore Iaconesi (IT), Jepchumba (KE), Marc Lee (CH), André Lemos (BR), Montenoso (ES), Marcus Neustetter (ZA), Gerda Palmetshofer (AT), Walter Palmetshofer (AT), Clément Renaud (FR), Fermin Serrano Sanz (ES), Felix Stalder (AT), Laurent Straskraba (AT), Addie Wagenknecht (AT), Jeff Warren (US), Stefanie Wuschitz (AT), Lei Yang (CN), Bo Zheng (HK/CN), Leopold Zyka (AT)
U19 – CREATE YOUR WORLD
Sirikit Amann (AT)

Sirikit Amann was born in 1961. She studied political science, theater and economics in Vienna. Since the '80s, her activities in Austria and abroad have been focused on the interface of culture, education and new media: Until 2007 she has been a division manager for cultural education at KulturKontakt Austria. 2008 she transfered in the newly-established staff position for artistic and cultural education at the Austrian Federal Ministry of Education, Art and Culture. Since then she works as an adviser in the office of the Federal Minister for Art and Culture. For the Prix Ars Electronica she curates the Young Animation and is an u19 juror since that category's inception.
Gerhard Funk (AT)

Gerhard Funk was born in 1958. He studied Mathematics and Art Education in Linz und received his Ph.D. in Theoretical Computer Science. As a highschool teacher he taught art education, mathematics and informatics. In parallel he worked as assistant and researcher at RISC Linz. In 1993 he transfered to the University of Art Linz, where he established an education programme for digital media and developed the elearning platform "Digital Media for Artists – DMA". Since 2004 he is a full professor at the Institute of Media and the head of the bachelor's degree program "Timebased and Interactive Media" that he has conceptualized. Additionally he leads the branch of study "Web Art & Design" of the master's degree program in "Web Sciences" that is offered together with the Johannes Kepler University Linz.
Beate Großegger (AT)

Beate Großegger (geb. 1966) is the scientific leader and the vicarious chairwoman of the Institute for Youth Culture Research in Vienna as well as juror for the program "kinderuni – activities and awareness campaigns for children and adolescents" of the federal ministry of science, research and economy. She is graduated in communication-science and since 1996 she is working in the field of applied social research. Because of her great commitment to gender-sensitive youth research Beate Großegger was awarded for the "Käthe Leichter Prize for women's studies, gender studies and equality in the workplace" in 2011 and is a renowned expert on studies focusing on the youth living environment. Beside that Beate Großegger is an external lecturer at several Austrian Universities focusing on the current youth research in the academic field. Her key working issues are: media and communication, youth and politics, youth and employment issues, future lifestyles and trends, generational research, methods of qualitative audience research.
Conny Lee (AT)
Conny Lee, born 1985 in Vienna, studied the allegedly unpromising discipline of Theatre-, Film- and Mediascience. Since she got her degree, she's been working for Radio FM4 at the Austrian Broadcasting Company. There she produces and co-hosts the bilingual FM4 Morningshow and does Reviews on Games, Literature and Comics. Apart from that she also moderates events and public discussions.
Karl Markovics (AT)

Karl Markovics (born August 29, 1963) is an Austrian actor and film director. He starred as Salomon Sorowitsch in Stefan Ruzowitzky's 2007 film "The Counterfeiters", which was awarded the Academy Award for Best Foreign Language Film for that year. Prior to that, his most notable appearances have been in the highly-acclaimed Austrian (Viennese) black comedy Komm, "süßer Tod" (2001), his role as far-right terrorist Franz Fuchs in the 2007 TV movie "Franz Fuchs – Ein Patriot", and in the police drama television series "Inspector Rex". His character from Inspector Rex had his own spin-off series, "Stockinger". He also played the role of Ferdinand aus der Fünten in the 2012 Dutch film "Süskind". Markovics remains a frequent stage actor, and in April 2010 played the non-singing role of Samiel in Counterfeiters-director Ruzowitzky's first opera production, "Der Freischütz" at Vienna's Theater an der Wien. He directed and wrote "Atmen" in 2011. Markovics' second working as a screenwriter/director followed in 2015: SUPERWELT had the world-premiere at the 66th Berlinale. SUPERWELT was also the opening-film of last years' Diagonale.