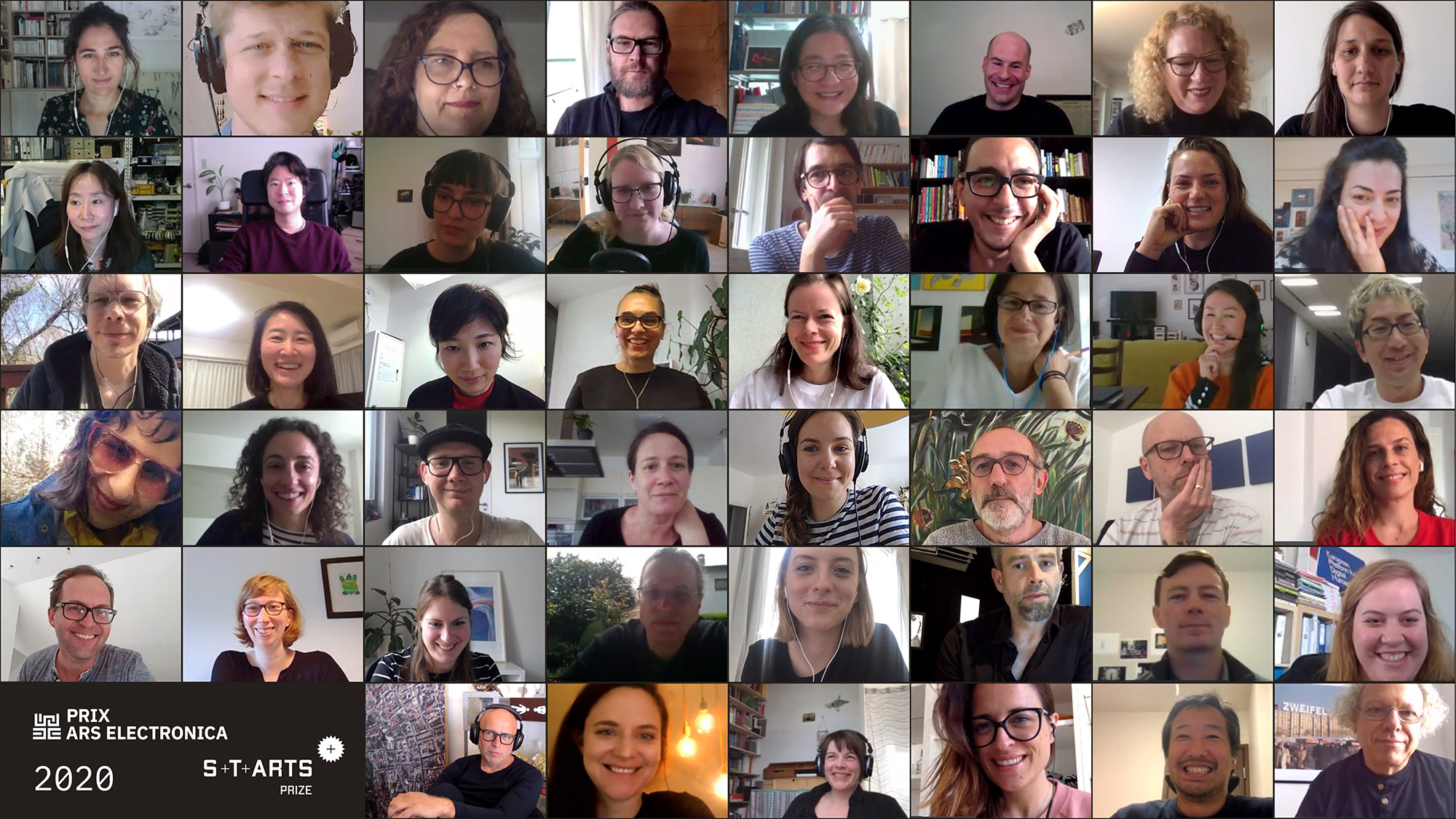 Categories:
Computer Animation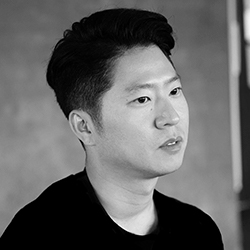 Erick Oh (KR/US)
is a Korean filmmaker / artist based in California, USA. His films have been introduced and awarded at numerous film festivals including Academy Awards, Annie Awards, Annecy Animation Festival, Zagreb Film Festival, SIGGRAPH, Anima Mundi and more. With his background in fine art in Seoul National University, Korea and film at UCLA, USA, Erick became an animator at Pixar Animation Studios from 2010 to 2016. Then Erick joined Tonko House with his fellow former Pixar artists and directed 'PIG : The Dam Keeper Poems' which won the Crystal Award at Annecy Animation Festival 2018. Erick is currently working on a variety of projects with his partners in film/animation, VR/AR industry and also contemporary art scene in US and South Korea.
www.erickoh.com
Digital Communities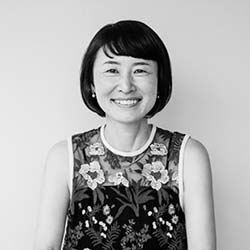 Chiaki Hayashi (JP)
is Co-founder of Loftwork, which is a new style of creative company that boasts a network of over 30,000 creators. Each year Loftwork rolls out over 200 projects including web, community, and spatial design initiatives. Loftwork also operates the digital fabrication cafe, FabCafe. Hayashi pioneered the adoption of Project Management Body of Knowledge (PMBOK) guidelines in the creative industries in Japan, and has penned the book Web Project Management Standards. Hayashi is a member of the Good Design Awards Screening Committee, and a chairman of Hidakuma that aims to up-cycle the resources into a form of regional value through the utilization of digital fabrication and technology.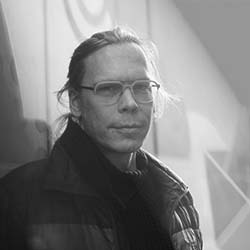 Dietmar Offenhuber (AT/US)
is Associate Professor and Director of the Master of Fine Arts program in Information Design and Visualization at Northeastern University in Boston. He received his PhD from the Massachusetts Institute of Technology Department of Urban Studies and Planning and studied at the MIT Media Lab in Cambridge. Prior to that he was a key researcher at the Ludwig Boltzmann Institute for Media Art Research and professor at the University of Art and Design Linz. His research areas include socio-cultural aspects of urban technologies, visualization, and auditory perspectives. He is author of the award-winning monograph "Waste is Information – Infrastructure Legibility and Governance" (MIT Press). His artistic work has been exhibited at the Centre Pompidou in Paris, the Armory Show in New York, ZKM Karlsruhe, Ars Electronica Linz, at Sundance and at the Hong Kong International Film Festival, the Secession Vienna, the Seoul International Media Art Biennale and Arte Contemporaneo in Madrid, among others.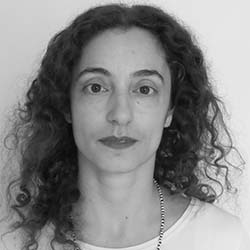 Irini Papadimitriou (GR/UK)
is a curator and cultural manager, whose practice draws on interdisciplinary and critical discourse to explore the impact of technology in society and culture, and the role of art in helping us engage with contemporary issues. Currently Creative Director at FutureEverything, an innovation lab and arts organisation in Manchester, she was previously Digital Programmes Manager at the V&A, and Head of New Media Arts Development at Watermans. Her exhibition, Artificially Intelligent, was on display at the V&A in 2018 and she has been a co-curator for the Arts & Culture experience at Mozilla Festival. She is a co-founder of Maker Assembly, a critical gathering about maker culture, and has been a recipient of curatorial research programmes including MOBIUS (Finnish Institute), Art Fund, Mondriaan Fonds and British Council.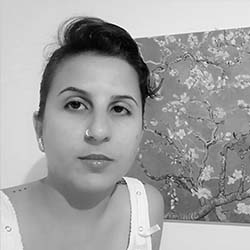 Farah Salka (LB)
is a Lebanese-Syrian feminist activist based in Lebanon. She graduated from the American University of Beirut in 2006 with an undergrad in Public Administration and Political Science. She then received her Masters in Human Rights Law from the University of Malta in 2007. Farah is the founder and Executive Director of the Anti-Racism Movement since 2012. She works on organizing with migrant communities, asylum seekers and migrant domestic workers. Farah serves on the board of MamaCash, the oldest international fund supporting women's, girl's and trans groups and feminist movements with money, know how, and networking opportunities. Farah is based in Beirut.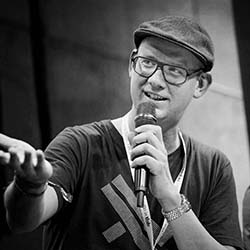 Thomas Gegenhuber (AT/DE)
is an assistant professor for digital transformation at the Leuphana University Lüneburg and researcher at the Institute of Organization Science at the Johannes Kepler University Linz. During his doctoral studies (funded by the Austrian Academy of Sciences), he visited the University of Alberta, FU Berlin, and the University of Edinburgh. Under the umbrella of digital transformation, Thomas works on novel forms of organizing, various types of openness (open strategy, open innovation, and open government), cultural entrepreneurship as well as the implications of socio-technical change. Moreover, Thomas currently serves as an expert advisor for the 3rd gender equality report of the German Federal Government, which focuses on digitalization.
Digital Communities Advisory Board
Irene Agrivina (ID)
Open systems advocate, technologist, artist and the founder of HONF a centre of arts, science and technology based in Indonesia.
www.honf.org
Agnes Aistleitner (AT) is currently living in Kampala, Uganda building an offline content distribution network eeboworld.com with proprietary WiFis distributed all over the city. She previously founded Teenah.org a social manufacturing enterprise in Irbid, Jordan supported by UNICEF.
Memo Akten (TR)
is an artist, researcher and philomath from Istanbul, Turkey, who works with calculations as a medium, inspired by the intersection of science and spirituality.
www.memo.tv
Mónica Bello (ES) is a Spanish curator and art historian working across disciplines, with an special interest for emerging cultural practises. For the last 15 years she has curated exhibitions and events internationally in collaboration with artists, curators, thinkers, designers and scientists of various disciplines.
Dr. Tegan Bristow (ZA) is the Director of the Fak'ugesi African Digital Innovation Festival since 2016, Senior Lecturer in Interactive Digital Media at the Wits School of the Arts and Editor in Chief of the Ellipses Journal for Creative Research.
DooEun Choi (KR / US) is an independent curator based in New York and Seoul. Choi is currently a guest curator of BIAN 2020, the International Biennale for Digital Art in Montreal, and curator of the Pioneer Tower Iconic Public Art Project in Texas.
Gabriele Kepplinger (AT) is cultural worker and media activist based in Linz, Austria. From 1994 – 2004 she was leading member for at the Arts and Media collective Stadtwerkstatt and is co-founder and managing director of the community TV "dorf tv" in Linz.
Bess Lee (TW) is Chief of Staff of g0v jothon (task force for g0v bi-monthly Hackathon, g0v Civic Tech Prototype Grant, infrathon and Sch001). Co-Chair of g0v Summit 2020.
Lauren Lee McCarthy (US)
is an LA-based artist examining social relationships in the midst of surveillance, automation, and algorithmic living.
www.lauren-mccarthy.com
Carine Le Malet (FR) is a Head of Artistic programmation and creation of Le Cube (www.lecube.com). Since 2001 she's ensuring Le Cube as international renown within the digital arts scene by inviting more than 2000 and co-produce 130 emerging or confirmed artists from national and international new media scene.
Leila Nachawati (ES) is a Spanish-Syrian writer and human rights activist. She is communication officer of the Association for Progressive Communications and professor of communication at the Carlos III University in Madrid.
Afroditi Psarra (GR) is a multidisciplinary artist and an Assistant Professor of Digital Arts and Experimental Media (DXARTS) at the University of Washington. Her research focuses on the art and science interaction with a critical discourse in the creation of artifacts.
Maren Richter (AT) is curator and researcher (territories, an/archives and memory). Currently she works for the Windhoek Biennial/Namibia as the chief curator for the first edition taking place in 2021.
Enrique Rivera (CL) is a curator and researcher. He has conducted a series of research and installations based on the use of electric energy and intangible means as a representation strategy. Is the director of the Bienal de Artes Mediales de Chile (www.bienaldeartesmediales.cl/) and president of the Chilean Video and Electronic Arts Corporation.
Robertina Šebjanič (SI)
is internationally exhibited and awarded artist. Her art – research focus is cultural, (bio)political, ecological realities of aquatic environments in the intersection of art-technology-science.
www.robertina.net
Fermín Serrano (ES) is Commissioner for the Agenda 2030 of Aragon, experienced in running and advising citizen science projects and innovation policies.
Regina Sipos (HU) is the Founder and Director of Social-Digital Innovation and Research Associate at the Technical University of Berlin, focusing on collaborative technology design for society, appropriate technologies and makerspaces.
Mimi Son (KR) founded the Seoul-based art studio Kimchi and Chips in 2009 together with Elliot Woods. In the past ten years she has worked as an artist, professor, storyteller, curator and artistic director in various countries and institutions.
Liselott Stenfeldt (DK) is Director at Gehl, she develops innovative concepts and prototypes that incorporate citizen-centricity in order to make our cities more open, inclusive and democratic.
Lubi Thomas (AU) is an experienced Australian based digital/media arts curator, with an extensive practice across exhibitions, projects, festivals & events.
Michel van Dartel (NL) is Director of V2_Lab for the Unstable Media and Research Professor at the Avans Centre of Applied Research for Art, Design and Technology.
Filip Visnjic (UK) is an architect, curator and an educator, born in Belgrade, now living in London. He directs projects and contributes to blogs and magazines at the intersections of art, design and technology. He is the founder of CreativeApplications.Net, editorial director at HOLO, director of platform at FRAMED and lectures at a number of universities in the UK.
Junji Watanabe (JP) is a Senior Distinguished Researcher, NTT Communication Science Laboratories. His research is application of haptic communication method to achieving collective wellbeing.
Mushon Zer-Aviv (IL) sustains a love/hate relationship with data that informs his design work, art pieces, activism, research, lectures, workshops & life in the city.
Andreas Zingerle (AT) is a media artist from Austria, researching topics such as Internet crime, vigilante counter-movements and anti-fraud activism.
Interactive Art +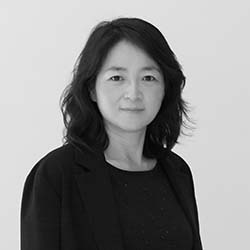 DooEun Choi (KR/US)
is an independent curator based in New York and Seoul. Choi is currently serving as a guest curator of BIAN 2020, International Digital Art Biennial in Montreal and curator of Pioneer Tower Iconic Public Art Project in Texas. She recently worked as a co-curator of Aurora 2018 in Dallas, art director of Da Vinci Creative 2015 and 2017, and curator of Art Center Nabi in Seoul. Since 2000, Choi has curated numerous international media art exhibitions in Kyoto, Beijing, Shanghai, Madrid, Geneva, Enghien-les-Bains, Istanbul, Brisbane, Montreal, San Jose, New York, and many other cities.
Sabine Himmelsbach (DE/CH)
is since March 2012 the new director of HeK (House of Electronic Arts Basel). After studying art history in Munich she worked for galleries in Munich and Vienna from 1993–1996
and later became project manager for exhibitions and conferences for the Steirischer Herbst Festival in Graz, Austria. In 1999 she became exhibition director at the ZKM | Center for Art and Media in Karlsruhe. From 2005–2011 she was the artistic director of the Edith-Russ-House for Media Art in Oldenburg, Germany. Her exhibition projects include "Fast Forward" (2003) or "Culture(s) of Copy" (2011). 2011 she curated "gateways. Art and Networked Culture" for the Kumu Art Museum in Tallinn as part of the European Capital of Culture Tallinn 2011 program. Her latest exhibitions at HeK in Basel include "Entangled Realities. Living with Artificial Intelligence" (2019). As a writer and lecturer she is dedicated to topics related to media art and digital culture.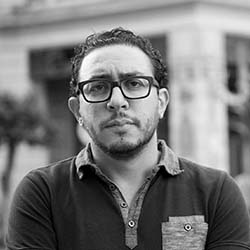 Haytham Nawar (EG)
Haytham Nawar is an Egyptian artist, designer, scholar, and educator. He is the Chair of the Department of the Arts at the American University in Cairo and he is the founder and director of Cairotronica, Cairo Electronic and New Media Arts Festival. Nawar received his Ph.D. from the Planetary Collegium, Center for Advanced Inquiry in Integrative Arts – University of Plymouth, and is a Fulbright alumnus. He has participated in several exhibitions and has won several both national and international awards. Currently, he is researching, writing, and publishing in the field of design History and practices with a focus on the Arab World and Africa.
www.aucegypt.edu/fac/haythamnawar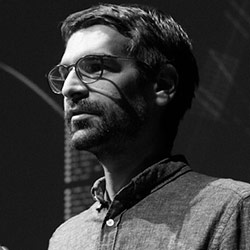 Vladan Joler (RS)
is SHARE Foundation director and professor at the New Media department of the University of Novi Sad. He is leading SHARE Lab, a research and data investigation lab for exploring different technical and social aspects of algorithmic transparency, digital labour exploitation, invisible infrastructures, black boxes, and many other contemporary phenomena on the intersection between technology and society.
www.labs.rs/en/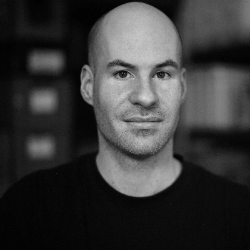 Stefan Tiefengraber (AT)
is an artist who lives and works in Linz / Austria. His work ranges from kinetic sound installations and interactive installations to audio-video noise performances. His work was shown at Ars Electronica Festival (Linz/Austria), Galerie gerken (Berlin/Germany), New Media Gallery (Vancouver/Canada), 16th Media Art Biennale WRO 2015 (Wroclaw/Poland), TodaysArt 2014 (Den Haag/Netherlands), Blaues Rauschen 2018 (Bochum/Germany), …
www.stefantiefengraber.com
Foto-Credit: Elisa Unger
u19 – create your world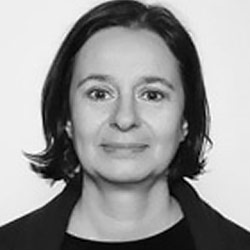 Sirikit Amann (AT)
has been a juror since the very inception of the u19 – create your world category for youngsters under 19 years of age in Austria. She was director of cultural education at KulturKontakt Austria. Since 2020 she is the head of the sector "Education and Society" at the OeAD-GmbH. The OeAD GmbH is the central service centre for European and international mobility and cooperation programmes in the fields of education, science and research. She had previously served as an expert advisor in artistic affair at the Austrian Federal Ministry of Education, Art and Culture and in the Office of the former Federal Chancellery Minister.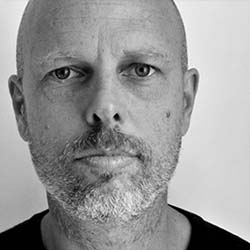 Gerald Hartwig (AT)
born 1973 in Graz. After graduating from high school he moved to the USA at the age of 19, where he studied film in Los Angeles. For ten long years he stayed in the USA and experienced just about everything you can imagine under the desert sun. After exhibitions in L.A., Berlin, Dresden, Mexico, Trinidad and Austria, Hartwig lived and worked with his wife and children as a freelance artist for a few years in Berlin before returning to Austria at the end of 2013. He draws for various magazines, the film industry and for himself. His first graphic novel "Chamäleon" was published in 2013 by Luftschacht Verlag. In 2014 he founded the edition "Brudertwist" with his brother Georg Hartwig, with whom the fourth book title has already been published. 2017 the graphic novel "What highly successful don't tell you" was released in cooperation with Autoriun Christa-Madhu Einsiedler. Since 2018 Gerald Hartwig also teaches presentation and composition at the HTBLA Ortweinschule in Graz.
www.zeichenstrich.de
www.brudertwist.com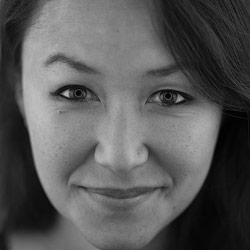 Conny Lee (AT)
Conny Lee is already part of the core team of u19 – create your world. The host of Radio FM4 is known nationwide – there she hosts the afternoon show FM4 Connected, produces and co-hosted the bilingual FM4 Morning Show and a show about video games in a socio-political context. In addition, Conny Lee is head of the "love department", which deals with current topics in the areas of sex, love and dating. As an editor she reviews games, literature and comics.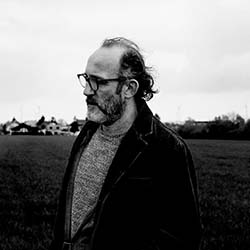 Karl Markovics (AT)
was born on 29 August 1963 in Vienna.
Lives with his wife near Vienna.
Is an actor, director and screenwriter.
Likes to eat and drink.
Works for theatre, film, radio and television.
Moves and tries to move others.
Credit: Rafaela Pröll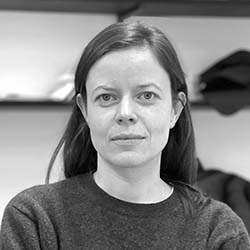 Irene Posch (AT)
is a researcher and artist with a background in media and computer science. Her work explores the integration of technological development into fields of art and craft, and vice versa, investigating the social, cultural, technical and aesthetic implications thereof. She is a Professor for Design & Technologies at the University of Art and Design Linz, Institute for Art and Education. Her research and artistic work has been shown internationally within conferences and museums, among them the CHI, TEI and IDC conferences, and the ZKM Karlsruhe (DE), V&A London (UK), Ars Electronica Linz (AT), Loboratore Arte Alameda Mexico City (MX), Biennale International Design St. Etienne (FR), Works Gallery San Jose (US), Istanbul Design Biennial and the MAK Vienna (AT).
www.ireneposch.net