[youtube=http://www.youtube.com/watch?v=DWDXknaUixQ&w=610]
"Walking City" recieved the Golden Nica of the Prix Ars Electronica 2014 in the category "Computer Animation / Film / VFX" (Credit: Universal Everything)
"Walking City" by Universal Everything has won the 2014 Golden Nica in the Prix Ars Electronica's Computer Animation / Film / VFX category. In a statement elaborating on their selections, the five jurors called this animated film "a real celebration of form and geometry." Amidst the jury's intensive deliberations in the Seminar Room at the Ars Electronica Center Linz in early May, jurors Sabine Hirtes and Joe Gerhardt took some time out to discuss their views of what constitutes good animation and which themes and trends now prevail in animated filmmaking.
What distinguishes good animation?
Sabine Hirtes: There are a lot of different kinds of animated films. If we're talking about narrative animation, then, of course, it has to have a good story that's then made with correspondingly good production values—good timing, sets and character design. This is one area of animated filmmaking. In the Prix Ars Electronica jury, though, we were struck by the fact that there are now a lot of other kinds of animation such as more abstract forms that are also presented in totally different media and are not just purely cinematic: projection mappings that transform reality, installations and simulations. And there as well, of course, something visually exciting has to happen, the rhythm is important, the timing, and the overall impression ought to be touching and appealing in some way.
[youtube=http://www.youtube.com/watch?v=lX6JcybgDFo&w=610]
Award of Distinction for "Box" (Credit: BOT & DOLLY)
And what does a project need to have in order to win a Golden Nica?
Joe Gerhardt: Unanimity among the jurors! The members of the jury all agree that a work consists of various dimensions and that this is what makes a work something special. And even if each one of us emphasizes different things, we ultimately have to come to an agreement that a particular project—and only that one—is deserving of a Golden Nica.
When you consider all the animated works submitted for prize consideration in 2014, which themes are the ones that move people now?
Sabine Hirtes: The theme of several works was the cosmos within us as well as outside of our world—for example, processes that take place in our brain, artificial intelligence, various forms of perception—but also works dealing with human-machine interplay and robotics. There were few linear, narrative works this year. There were a lot of experimental animated films that tested out new applications and forms of storytelling using animation and VFX. All in all, a very interesting experience indeed, fascinating.
Joe Gerhardt: A big trend consists of works featuring animals, whereby their forms of behavior and their characteristics are often portrayed in an abstract way. There's another trend towards scientific themes—for instance, depicting human cells or social networks with various means of representation. Thus, there were a lot of extraordinary, abstract works this year.
[youtube=http://www.youtube.com/watch?v=AFQ2Nq2Jbdg&w=610]
The animation "5 Mètres 80" was awarded with a honorary mention (Credit: Nicolas Deveaux)
A frequent problem in this category is David versus Goliath—big production companies pitted against little animation artists. What do the artistic "small fries" have to do to make a name for themselves?
Joe Gerhardt: With this jury, that's not a problem. Here, you could even say it's just the opposite—the big boys are the ones who have a hard time getting the recognition they deserve. We're really strict in our assessment of the major production companies because it's easier for them in so many different respects. They have vastly more resources for their projects, both personnel and financial. And their projects often have totally different intentions, which is why their works are sometimes less interesting for us and for the Prix Ars Electronica.
What advice would you give to artists who are considering submitting an animated work to the Prix Ars Electronica next year?
Joe Gerhardt: The great thing about this category is that the spectrum of entries is so broad. We're interested in everything—from 2-D cartoons all the way to totally realistic films. I'd tell artists to submit whatever they want because, in this category, every work has a realistic chance of winning.
"C… what it takes to change" is the theme of the upcoming Ars Electronica Festival. What are your "C" concepts with respect to change?
Sabine Hirtes: Of course, what comes to mind first is "computer," which is something that has become an integral, incessant part of our lives, and will continue to shape our lives in the future—especially when you consider the development of minicomputers, smartphones, etc. Thus, "communication" is also a wide-ranging and very important concept that we have to deal with properly. "Creative commons"—now there are 2 Cs—plays an increasingly important role, and one in which "creativity" is always synonymous with change. And "concern" in the sense of responsibility—something that, among all the other Cs, ought to be particularly determinative in how human beings coexist with one another.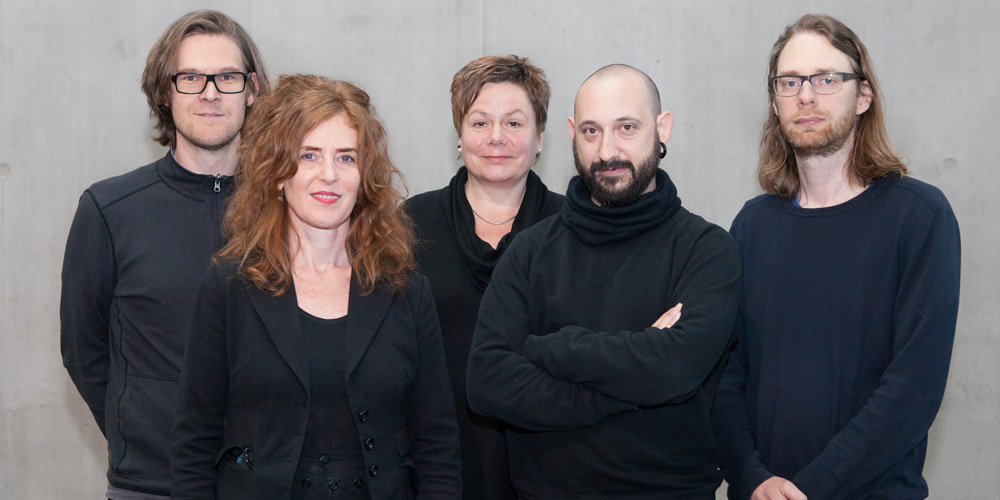 The jury of the Prix category "Computer Animation / Film / VFX", from left to right: Jürgen Hagler (AT), Suzanne Buchan (CH/UK), Sabine Hirtes (DE), Quayola (IT/UK), Joe Gerhardt (UK). (Foto: Florian Voggeneder)
Sabine Hirtes (DE)

Prof. Sabine Hirtes teaches since 2010 at the University of Offenburg Postproduction and Vfx . After graduating in "Visual Communication" at the FH Aachen miscellaneous creative and educational activities in the field of digital print media as well as moving images with a focus on computer animation and Vfx in different companies, studios and schools in Germany and abroad such as the Filmakademie Baden-Wuerttemberg, Cairo Film Institute and the ZKM, Centre for Art and Media, Karlsruhe.
Joe Gerhardt (UK)

Semiconductor is UK artist duo Ruth Jarman and Joe Gerhardt. Through moving image works they explore the material nature of our world and how we experience it, questioning our place in the physical universe. Their unique approach has won them many awards and prestigious fellowships, most recently the 'Samsung Art + Prize' 2012 for new media, the 'Golden Gate Award for New Visions' at San Francisco International Film Festival USA 2012 and the 'Art and Science Award' at Ann Arbor Film Festival USA.
Walking City is presented as part of the Cyber Arts Exhibition at Ars Electronica Festival 2014, September 4 to 8. In the Prix-Forums, on Saturday September 6, you also have the opportunity to talk with the artist personally.