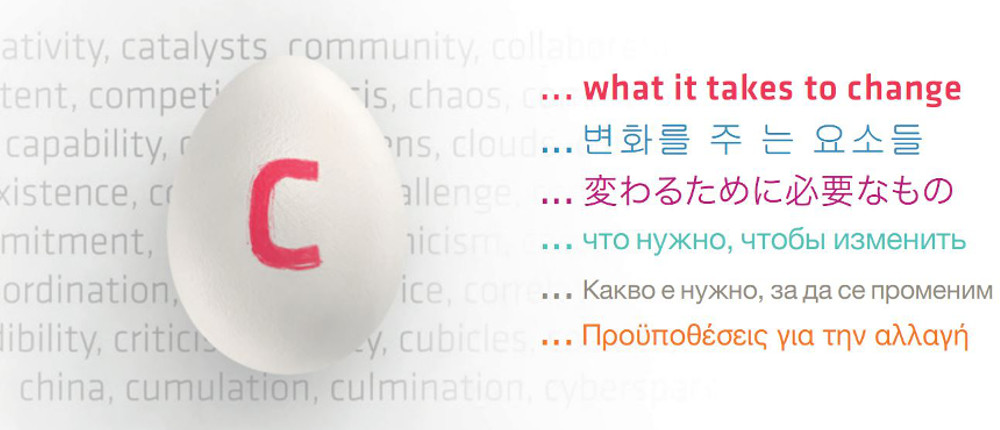 The 2014 Ars Electronica Festival's theme is "C … what it takes to change," an inquiry into the prerequisites and framework conditions that have to be in place for social innovation and renewals to emerge proliferate and make an impact. The answers to this question ought to come from all directions—from a broad spectrum of disciplines and from all over the world. What this should definitely not be is an exercise in predicting what the future will look like; our mission is to find out how we get there and, most importantly, who are the people who can scout these new ways.
To produce this conclave, Ars Electronica has teamed up with Hakuhodo, the second biggest Japanese ad agency, and the International Telecommunication Union (ITU) Telecom to host the Future Innovators Summit during the Ars Electronica Festival. What it is bout, who will be the protagonists, and how the Summit will expire, Hideaki Ogawa (a member of the Ars Electronica Futurelab), who helped develop the concept of Future Innovators Summit prevail, tells us.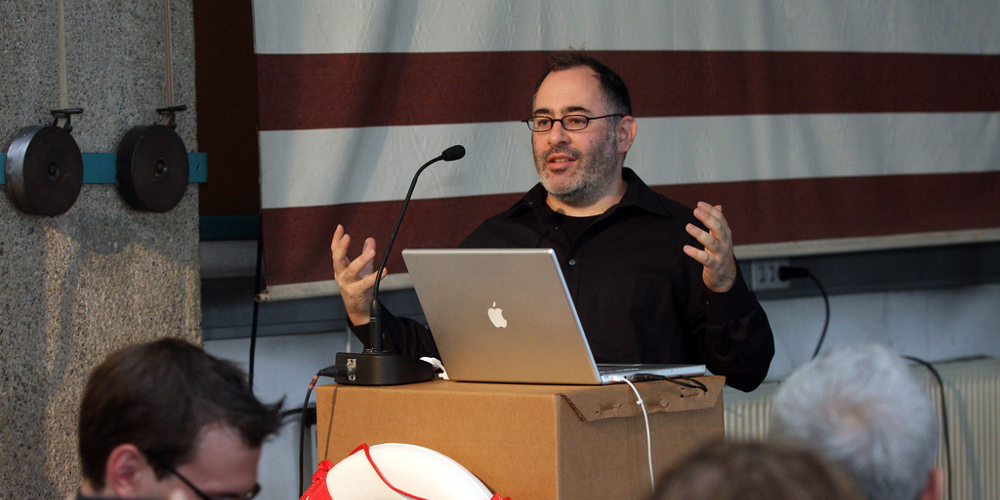 Golan Levin, American artist and professor at Carnegie Mellon University in Pittsburgh, will be one of the mentors and experts in the Future Innovators Summit.
Hi Hide! So, what's being planned for the Future Innovators Summit during the Ars Electronica Festival?
Hideaki Ogawa: In addition to a wide range of lectures, presentations and exhibitions, we want to form a special taskforce made up of 24 so-called catalysts of change—innovators and creators of tomorrow, people from all over the world who'll present their ideas and projects and spend four days (Thu 04/09/2014 to Sun 07/09/2014) together coming up with answers to the question of what it takes to change something.
Joachim Sauter of Art + Com in Berlin will also act as an expert at Future Innovators Summit. (Credit: Fraser Macedo)
Who can take part in this summit?
Hideaki Ogawa: This will be a summit meeting that brings together experienced professionals, young entrepreneurs and social activists, technicians and scientists and, of course, artists and designers to enable them to exchange ideas and know-how and mutually inspire one another.
To make this happen, we're issuing an open call to innovators and creators worldwide. You're cordially invited to become one of these 24 catalysts of change. Please apply to the Future Innovators Summit to present your ideas for the future and discuss them together with other innovative, creative individuals and top experts in a diverse array of fields. During Ars Electronica, festivalgoers too will have plenty of opportunities to participate in the discussions.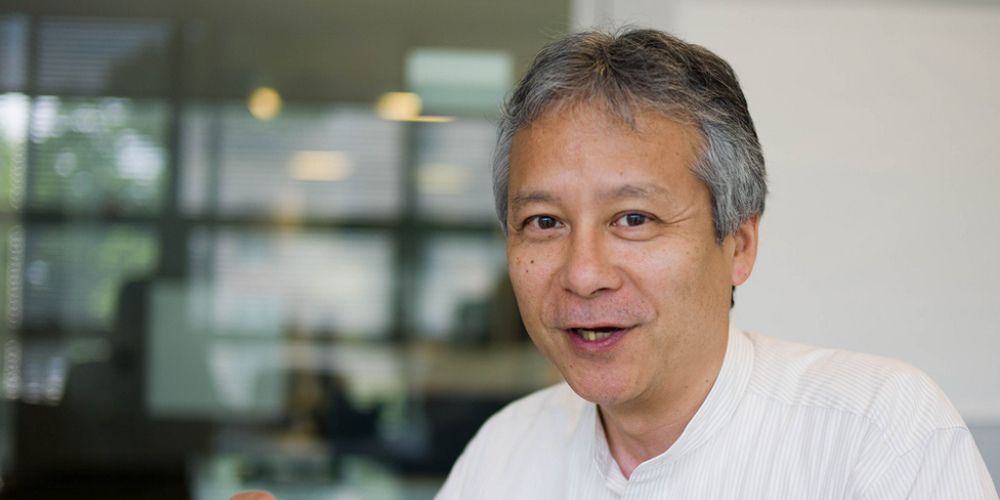 Hiroshi Ishii from MIT Medialab in Boston will also share his experience and knowledge with the Future Innovators. (Credit: Joi Ito)
Who are the experts who'll be taking part?
Hideaki Ogawa: Highly experienced professionals from various fields will share their experience and advise the young innovators and newcomers. Among the mentors are for example Robert Madelin, director general of DG-Connect in Brussels, Hiroshi Ishii of the MIT Media Lab in Boston, Joachim Sauter of Art + Com in Berlin, and Golan Levin, an American artist and professor at Carnegie Mellon University in Pittsburgh.
What's special about the Future Innovators Summit?
Hideaki Ogawa: At present, there are countless events and gatherings for young entrepreneurs and start-ups as well as a lot of hackathons, game jams, etc. where the young community of programmers and developers can get together and interact. The same goes for festivals for young artists and conferences of young social activists. What they all have in common is an exciting and very inspiring atmosphere, but they often also share a certain flavor of exclusivity, and it's usually pretty difficult to access them as an outsider. Even more surprising is that you can hardly find an event at which inspiring talents, creators and innovators can convene and do so across the borders of their communities and disciplines. But this crossover is exactly what we're looking for!
Also, the director general of DG-Connect in Brussels, Robert Madelin, will share his knowledge as a mentor to the Future Innovators. (Credit: Security & Defence Agenda)
What role will the Future Innovators be playing at the Festival?
Hideaki Ogawa: Everyone will present his/her own ideas and projects to the other participants, who will then have the opportunity to reflect and comment on what they've heard from their respective points of view. The experts will also contribute advice and support. Plus, everyone will not only be attending workshops but also holding workshops of their own.
How will the meetings of the Future Innovators be organized?
Hideaki Ogawa: There'll be six groups of four participants, and each individual group will take part in a two-day program consisting of a daily breakfast meeting, workshops, tea parties and meetings with mentors/facilitators.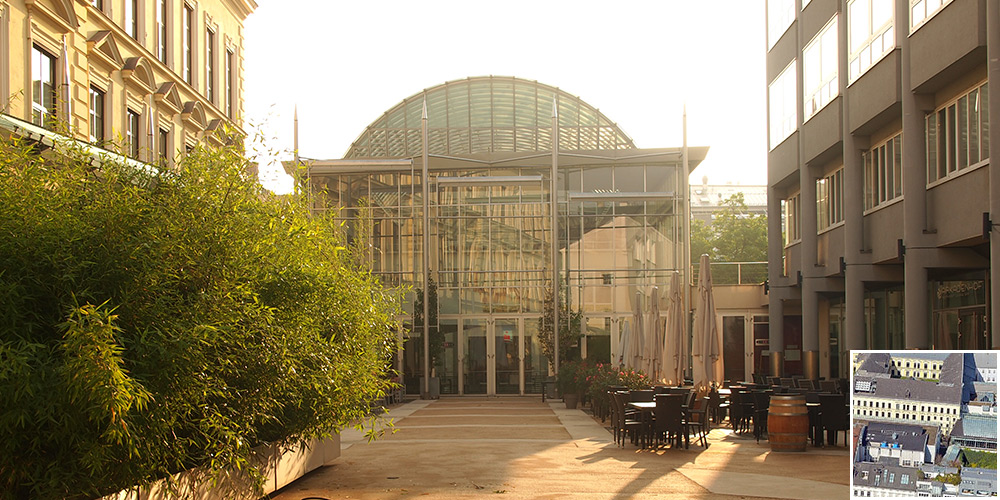 The Future Innovators Breakfast will take place at the C-Square.
Can you provide some details?
Hideaki Ogawa: Sure. Every day begins with a Future Innovators Breakfast at which eight innovators from two groups, one from each discipline, will present their ideas and projects in short five-minute pitches. The other participants will then respond to them, giving feedback and critical assessment, each from the point of view of his/her own discipline. This will be followed by an open discussion that the audience can also participate in. The breakfasts take place at the so-called C-Plaza, which will be the social hub of the festival.
After breakfast the innovators meet at their workspace, which will be classrooms of the "Akademischen Gymnasium Linz". This will be their home base for these four days. This is the place where they can prepare the presentations of their projects and engage in reciprocal exchange. This is also where festivalgoers can visit them. There'll also be the opportunity to arrange meetings on demand with special festival guests who are potential clients and partners of, or investors in, the future innovators.
Each afternoon, we'll hold a tea party in the same format as the breakfast meeting. The setting is a rooftop lounge that will be another one of the Festival's principle venues. These are the sessions at which the groups present and discuss their outcomes—each day, a different group.
In addition there'll be workshops and symposia. There'll be two types of workshops and symposia: those given by the Future Innovators themselves in which they share their expertise and know-how, and those held for the young innovators at which they can benefit from the experience and knowledge of the mentors/facilitators.
Hideaki Ogawa

Hideaki Ogawa (JP/AT) is an artist, curator and researcher in the field of art, technology and society. He is a member at the Ars Electronica Futurelab and has realized many artistic projects for research, festivals and exhibitions in the Ars Electronica. He is also a representative and artistic director of media artist group "h.o".
Sound interesting? Would you like to be one of the 24 participants in the Future Innovators Summit? You can apply online at https://ars.electronica.art/c/future-innovators-summit/ till July 31 —just upload a brief CV and a five-minute video in which you present your idea on what it takes to change, and discuss your motivation for wanting to take part in the Future Innovators Summit.