Radio Österreich 1's Mobile Ö1 Atelier has been a Festival fixture on Linz's Main Square for several years now, an art space and discussion lounge prominently situated right in the center of the cityscape. Ö1 has configured this year's on-site studio Umbrella Radio in accordance with the 2014 Festival theme: C… what it takes to change.This idea is aptly embodied by Simple Home, a nomadic residential living concept developed by Salzburg architect Gerhard Feldbacher. This is a structure designed to facilitate mobility and to keep pace with the constantly changing settings and circumstances of life of the people inhabiting it.
At the 2014 Ars Electronica Festival, Ö1, the ORF – Austrian Broadcasting Company's cultural radio station, will be broadcasting Umbrella Radio in the immediate vicinity of the Mobile Ö1 Atelier on Hauptplatz. At preset times, the Ö1 crew will ring the chimes of change and request favorably disposed festivalgoers to take part in a Change Radio ritual. It starts with the MC chalking a circle on the paving stones around the Mobile Ö1 Atelier to demarcate the broadcast's reception range. But oddly enough, regular radio gear isn't enough to pick it up; rain gear is what you actually need.
By way of preparation, we talked with Ö1 PR exec Alexandra Wimmer to find out how Ö1's "Places in Motion" theme will make its presence felt and what an umbrella as acoustic space is all about.
"Places in Motion" will be the theme on the ORF – Austrian Broadcasting Company's radio station Ö1 this autumn. Why did you choose this particular theme?
Alexandra Wimmer: Ö1 has been focusing on open innovation since 2013. Our science department was the driving force behind this ongoing coverage of a societal rethinking process that can now be observed on many levels of social, political and economic coexistence. Companies' R&D departments are opening up to ideas and feedback from their customers. Artistic and social welfare projects don't want to rely solely on government subsidies anymore and are turning to crowd funding. Citizens who'd like to decrease their dependence on commercial food supply chains are founding food coops that independently procure and distribute regional, sustainably produced foodstuffs. These are all signs of a new type of empowerment and willingness to engage in dialog. And we at Ö1 don't just want to depict this phenomenon; we want to make it come alive.
This was the thinking behind launching a drive entitled "Places in Motion." We asked our listeners to nominate projects that are sustainably changing their physical environment and are demonstrably improving social coexistence. The number and diversity of the nominees were amazing: almost 300 projects were submitted—city gardens, neighborhood initiatives, indie educational projects, regional networks, social entrepreneurship and much more.
How will this focal-point theme manifest itself on Ö1?
Alexandra Wimmer: The "Radiokolleg" show dealt extensively with this topic in August, and a series of broadcasts entitled "Innovation.Leben" elaborated on the projects selected by a jury of experts. All broadcasts [in German] on this topic are archived and available online. The big day for these short-listed projects is October 17th, when each of the three best submissions will be honored with a €2,000 prize at the Open Innovation Forum in ORF Radiokulturhaus in Vienna.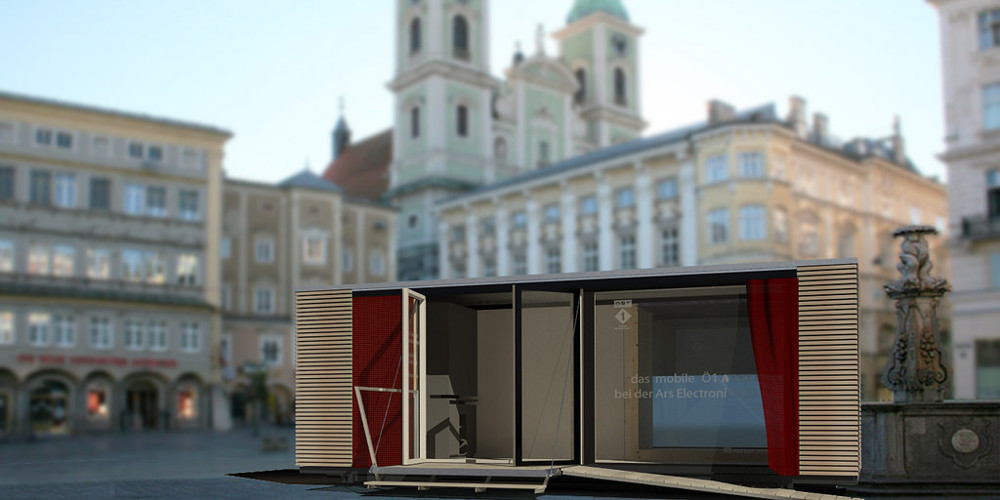 During the Ars Electronica Festival, Change Radio goes on the air in and around the Mobile Ö1 Atelier. So, what's this all about?
Alexandra Wimmer: The Mobile Ö1 Atelier has been our contribution to the Ars Electronica Festival each year since 2007. The atelier is set up on Linz's Hauptplatz [Main Square] to serve as a space for discussions, projects and workshops or as a convenient source of information about the festival program. Each year, we bring an interesting, inviting piece of architecture to Linz. In accordance with this year's "Change" theme, we opted for a nomadic structure. Simple Home is architecture designed to facilitate mobility and to keep pace with the constantly changing settings and circumstances of life of the people inhabiting it.
What kind of programming do you have lined up for listeners during the Festival?
Alexandra Wimmer: As far as content is concerned, the accent will be on innovation, but not just in a conventional technical sense. We're more interested in how people can deploy new and existing tools to achieve improved coexistence or a more sustainable economy.
What's up with the umbrellas?
Alexandra Wimmer: They're umbrellas that have been converted into radios. They were supplied by the municipal lost & found bureau and we equipped them with tiny radio receivers and headphones. The programming can be picked up only by visitors on site outfitted with these specially rigged umbrellas. Underneath them, festivalgoers can establish a certain intimate listening space in which they can take some time out and intensively get into what they're hearing.
What is it exactly that'll be audible under the umbrellas, and will everyone hear the same thing?
Alexandra Wimmer: The "programming" under each umbrella is, in principle, the same, but due to the particular listening situation, it probably won't be perceived identically by everyone. But whoever would prefer to program their own individualized playlist can collect programming miniatures 'round about the atelier. For this lineup, we selected from among the many submissions to the competition especially noteworthy examples of local implementation of something truly outstanding. These acoustic portraits can be downloaded via QR code at the Mobile Ö1 Atelier, so visitors can take some valuable ideas with them and hopefully do the same.
How long do these rituals go on and where do they take place?
Alexandra Wimmer: Change Radio broadcasts five times a day: 10:30 AM, 12:30, 2:30, 4:30, 6:30 PM. Master of ceremonies Patrik Huber will be introducing each broadcast and contributing personal views and insights on the subject of change. The broadcasts last between 5 and 30 minutes.
Is there a way for festivalgoers to give feedback or comment on what they heard on the radio?
Alexandra Wimmer: We're looking forward to receiving posts on facebook.com/radiooe1 or via Twitter @oe1.
Anyone who'd like to create their own listening space under an umbrella and hear acoustic jewels from the Ö1 Archive in the spirit of the festival's Change theme is invited to turn up and tune in on Hauptplatz Thursday to Monday, September 4-8, 2014 at 10:30 AM, 12:30, 2:30, 4:30 or 6:30 PM.