The technological progress does not pass by archaeology without any trace. On the contrary, laser beams are increasingly scanning historic sites and valuable cultural relics in order to keep them preserved for future generations in digital form and to make them available for science and the general public. Therefore, the Upper Austrian Provincial Museum counts on 3-D laser scanning when it comes to digitize excavations or entire streets. The Upper Austrian company EF Tech provides the necessary technical expertise. Christian Eichlseder, CEO of EF Tech, gives a brief insight into the technology that allows us to look back into the past with so-called "point clouds".
What exactly are the advantages of laser scans compared to high-resolution photos?
Christian Eichlseder: The big advantage here is the third dimension. Compared to high-resolution photographs laser scans provide us the exact depth information at all positions. Of course, it should be noted that there is always the need of the combination of several tools and different ways of working, to measure and capture an object in detail.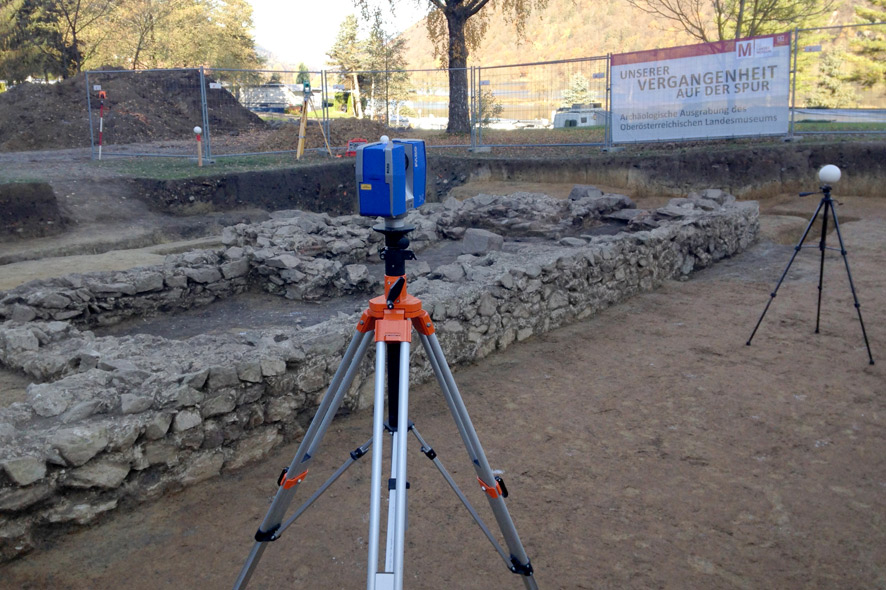 Credit: EF Tech, Christian Eichlseder
How complex is it to scan entire buildings or archaeological sites in 3-D? How long does it take actually to collect the data and convert it into a 3-D model?
Christian Eichlseder: Of course, the effort depends entirely on the size of the building or facility. Basically, we have developed a very good internal process in recent years to make this relatively new type of measurement for many people and companies affordable. There are a lot of meaningful applications in various fields such as architecture, industry and so on. Scanning an archaeological site such as in Hallstatt in colour and in 3-D took about four to five hours. Our experience in 3-D laser scanning shows that for one hour of scanning you will need about two to five hours until the data can be used as three-dimensional objects in a CAD application – depending on the customer's requirements.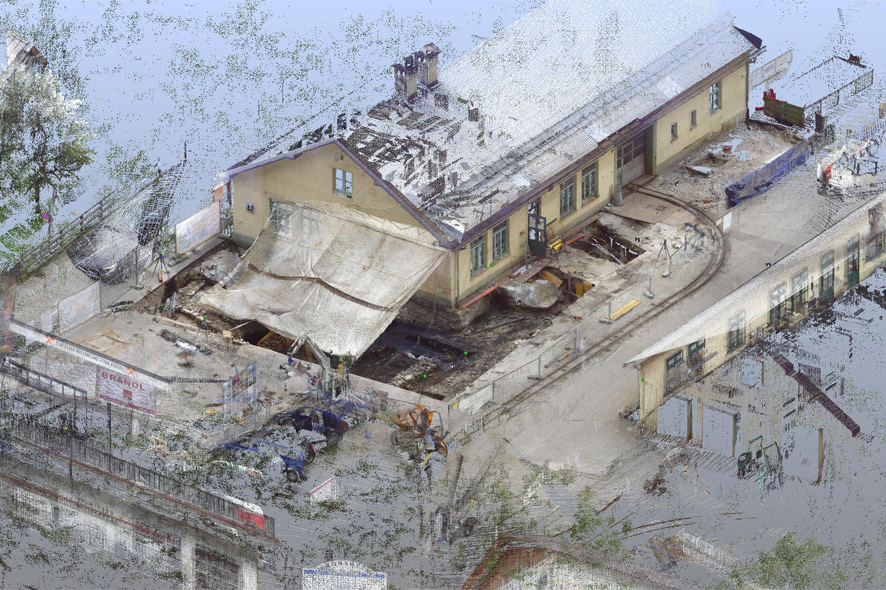 Archaeological site in Hallstatt, Credit: EF Tech, Christian Eichlseder
How do you get to the colour information of each point in the captured point clouds?
Christian Eichlseder: The newer laser scanning devices do have an integrated digital camera that captures – after the first process of laser scanning – in a second process digital images and converts them later to the measured points.
3D laser scanning is of course not only suitable for scientific domains – how do you apply this technology in your company?
Christian Eichlseder: As you can see on our homepage www.3d-laserscanning.at , we have very different projects and requirements. Most of our equipment is used in the field of architectural and industrial measurement. In the former, it is all about the measurement of old houses, facades, staircases, crooked spaces and so on. Especially in the industry entire hall are often being digitized, where the 3-D data is used for future reconstruction or a planned change of the whole production process.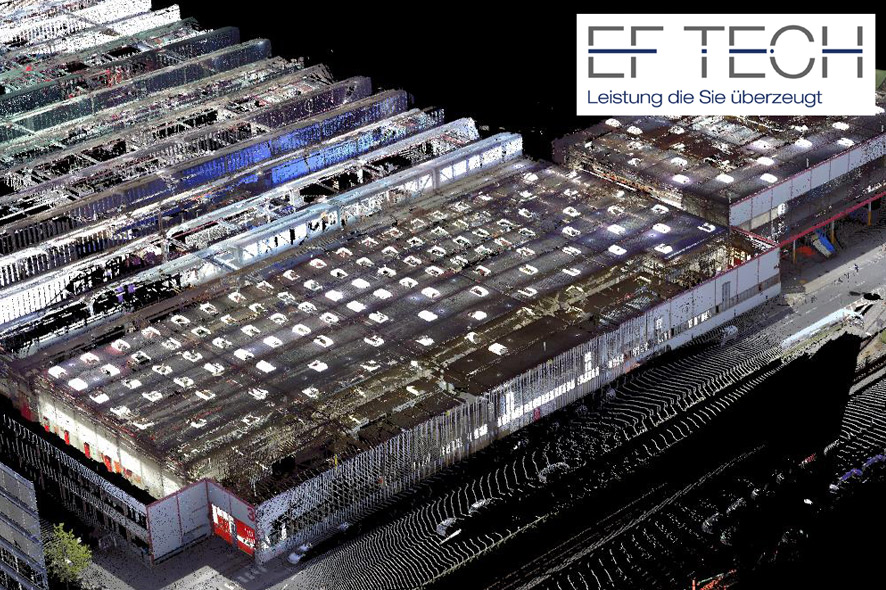 A 3D laserscan of an industry hall. Credit: EF Tech, Christian Eichlseder
If you look back at the last ten years, what has improved in the laser scanning technology and where is potential for improvement?
Christian Eichlseder: The equipment has been much improved by different manufactures in recent years. Now it is much smaller, more effective and more accurate. This allows our customers more affordable options. A lot of potential is still in the subsequent analysis of hundreds of millions of data points. There is only the possibility to get clean CAD graphics by using various software products. Manual designing is still necessary in order to get 3D models or 2D drawings.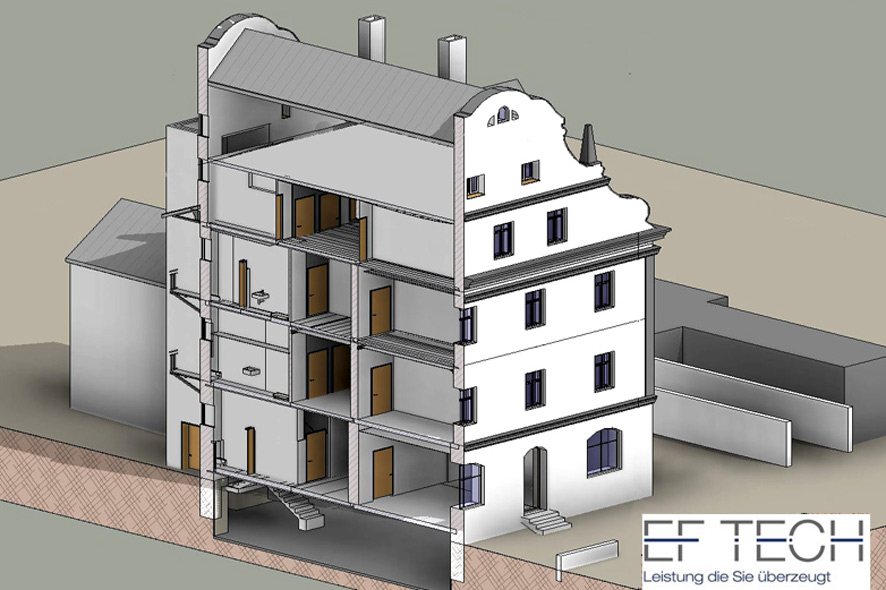 Measurement of a house, Credit: EF Tech, Christian Eichlseder
Assuming you have enough time and money – what would you most like to digitize personally by 3-D laser scanning?
Christian Eichlseder: I would love to capture geometries that are not obviously recognizable from the outside, such as underground caves or complex industrial plants such as underground turbines. Here, only the CAD can offer exact relationships and characteristics. And this contains an element of surprise for our customers, too! Since I'm interested in history I'm very glad to work together with various provincial museums in Austria, where we have scanned several Roman archaeological sites and historic buildings.
Tip: The Deep-Space-Weekend on SAT December 5 and SUN December 6, 2015, at the Ars Electronica Center is all about the topic "Cultural Heritage". Watch 3D visualizations and high-resolution photos of historical sites and important cultural assets in the Deep Space 8K. Christian Eichlseder will demonstrate on SAT December 5, 2015, 3 PM, together with Stefan Traxler from the Upper Austrian State Museum the use of 3D laser scanning technology in the field of archaeology. Information about additional presentations can be found on ars.electronica.art/center. All presentations will be in German language only.