Since winter semester 2014-15, the Time-based and Interactive Media bachelor's program at Linz Art University has offered a course entitled Deep Space. Under the supervision of program director Prof. Gerhard Funk and in cooperation with Ars Electronica, undergrads can develop their own content for Deep Space 8K that takes full advantage of the facility's laser tracking system and dual 16×9-meter projection surfaces on the hall's wall and floor. Gerhard Funk told us about his concept of "cooperative aesthetics," which programming language is used, and what possibilities are emerging here—for spectators as well as dancers.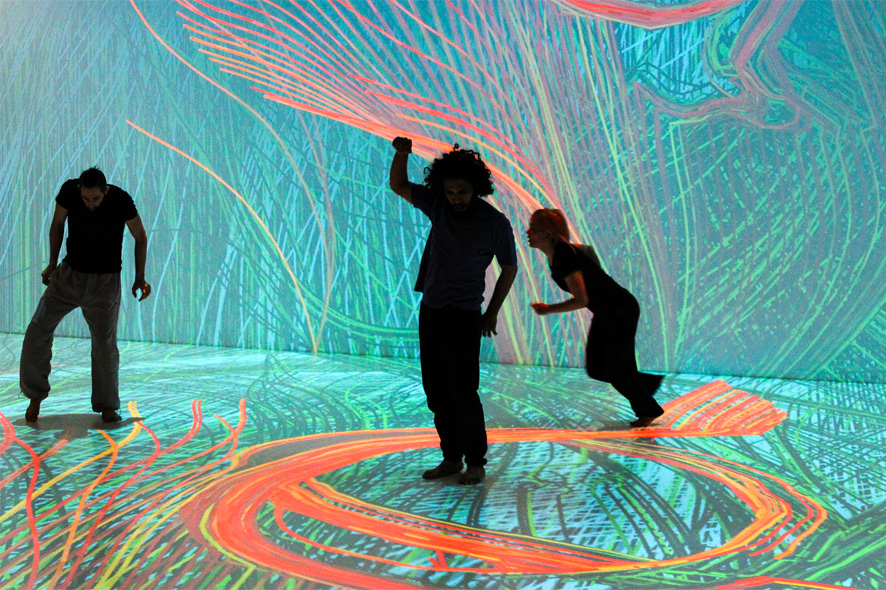 Credit: Martin Hieslmair
How has this course worked out for you and your students so far?
Gerhard Funk: Well, of course, for our program, it's great to have this opportunity to use the infrastructure in Deep Space 8K at the Ars Electronica Center. We've already had marvelous experiences, and being able to develop projects for this space is tremendously motivating to students. And we're delighted that we're not just programming works that will only be seen by other students taking the course; they actually become part of the lineup screened at the Ars Electronica Center, which, I think, is a really important form of recognition for undergraduates.
You repeatedly refer to "cooperative aesthetics" in conjunction with this course. What are we to make of this?
Gerhard Funk: The works that have been developed in this course so far are all subsumed under the theme cooperative aesthetics, which I define as the intentional creation of a space which visitors enter, thereby trigger something and, in doing so, recognize what their actions brought about. They come into contact with other visitors and thus create a shared aesthetic experience in this space. When people communicate and cooperate, it's also easier to control the audiovisual experience in a goal-oriented way. However, this isn't so much a matter of game-playing with a clearly defined objective; rather, this has to do with the aesthetic experience in and of itself. Another one of the basic intentions was make this a very brief experience, one that lasts only a few minutes from the time you enter the space until you leave. And here, we've succeeded in coming up with several solutions that satisfy these prerequisites.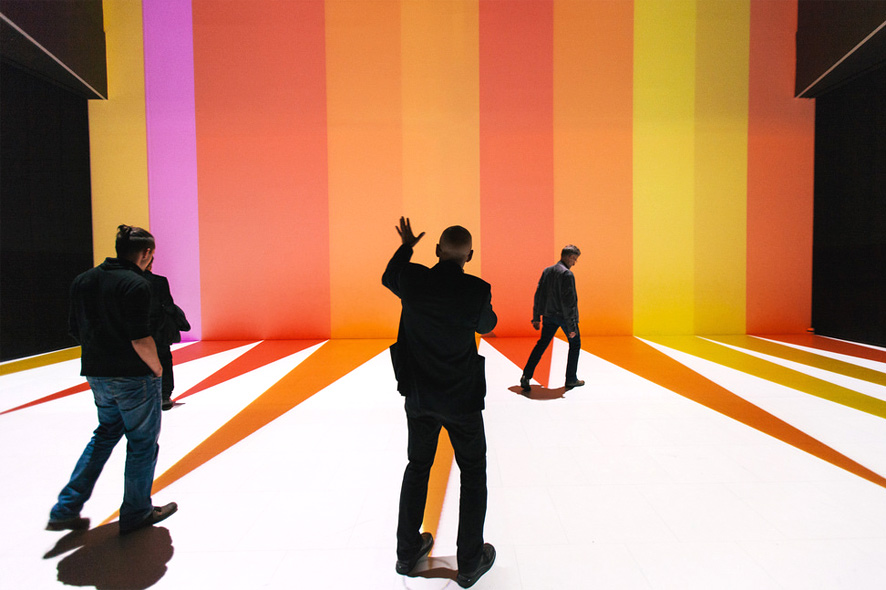 Credit: Florian Voggeneder
You've already programmed projects of your own for Deep Space 8K. Which possibilities do you find most appealing?
Gerhard Funk: For me, this offers a new possibility of creating art, and I find it fascinating to come up with concepts for controlling objects or processes by means of human bodies' motion in space. What's available here is a very extraordinary interface, one that differs considerably from a touchscreen or a mouse. For me, the aspect of collaboration and cooperation are the most attractive thing about programming works for Deep Space 8K. What concepts of cooperation can one develop in such a space? I have a lot of ideas in mind that I'm in the process of producing—some pan out, some don't. The big challenge for me, however, is sustaining excitement on the part of visitors over five minutes beginning when they enter the space. And five minutes can be quite a long time.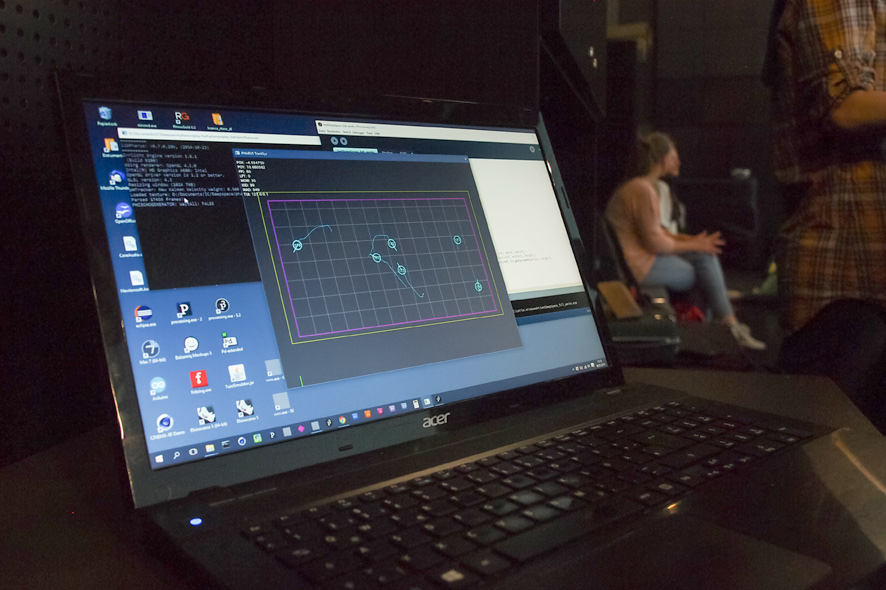 Credit: Martin Hieslmair
What programming language do you use, and how difficult is it actually to implement these initial ideas?
Gerhard Funk: In the course, we use a Java-based programming language named Processing that was developed especially for creative people and graphic artists, so the programming impediments are kept to a minimum, but it's a very powerful programming language. Our students start learning it in their first semester, and can deepen their skills in more advanced courses. Nevertheless, with a basic knowledge of this programming language, you can already create very sophisticated visualizations for Deep Space 8K. What students get from me are examples and a basic framework to provide them with support so that the whole project actually works in Deep Space 8K. With this package of knowledge and skills, they can very quickly produce results suited to Deep Space.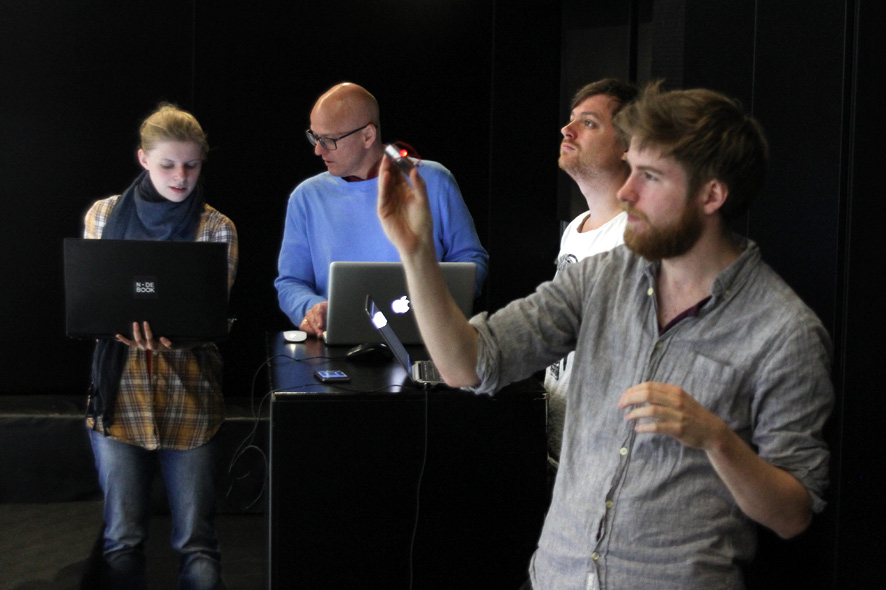 Gerhard Funk (middle) and Otto Naderer form the Ars Electronica Futurelab (3. from left) during a test. Credit: Martin Hieslmair
The first time the Deep Space course was taught, 8K resolution hadn't been installed here yet. Did existing programs have to be rewritten?
Gerhard Funk: It was a big challenge for us when Deep Space was converted from 4K to 8K resolution in August 2015. We had to adjust to this new situation. At first, a few of the functions weren't possible anymore and had to be reconfigured over the course of the semester. But now we have all these possibilities again, plus lots of new ones such as remote control that enables us to input parameter values while an application is running. We got strong support, especially from the Ars Electronica Futurelab's Otto Naderer, who developed the laser tracking for Deep Space.
Are there other functions on your wish list?
Gerhard Funk: Definitely! The process of working together with dancers at the Tanzhafenfestival in October 2015 opened up something totally new and different for us—not just producing works for an audience but rather creating them especially for dance groups who work with our programs to develop certain sequences or choreographies. We've already achieved some success in this area. The way I see it, the next step would be to work together with these dancers at a relatively early stage, to develop ideas with them, and to experiment with them already in the preliminary phase. For me, this is a key direction of future development. We have a vibrant and growing indie dance scene here in Linz, including activities under the aegis of the Anton Bruckner Privatuniversität, and I see some interesting possibilities in this connection. A student named Daniel Fischer recently built a tiny interface that can be attached to a person's body, and the device computes the person's axes of motion. In combination with Deep Space 8K's laser tracking system, this can be used to control additional audio-visual components via movement, which is ideal for dancers. So this looks very promising!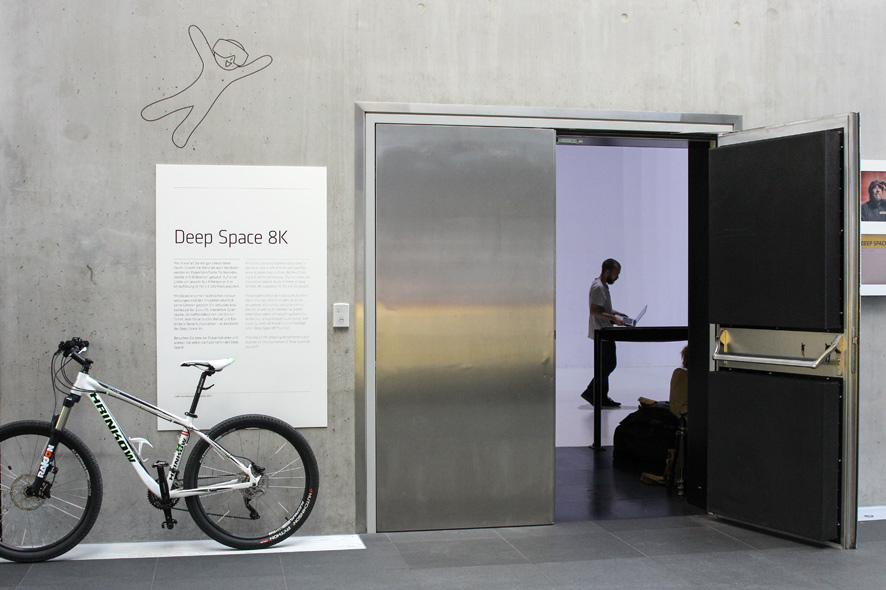 Credit: Martin Hieslmair
Tell us something about how the Deep Space course proceeds.
Gerhard Funk: The actual development of the work takes place at Linz Art University, and the students also work at home. At the Ars Electronica Center, these works are then uploaded into the system in order to test their performance and do any necessary adjustments. Right at the start, there's a session during which the students get to see previous works created for Deep Space 8K and they can experiment with them. This time around, we also had a conference with Michaela Obermayer and Juliane Leitner, who mediate visitors' encounters with the content in Deep Space 8K, and they gave us the benefit of their experience about what particularly appeals to audiences and how the general public reacts. We also got a backstage look at the infrastructure during this initial morning visit to Deep Space 8K. Then, back at the Art University, I hold an orientation session about the technical framework conditions and, most importantly, I show what you have to keep in mind when you're doing the programming. After all, you have to consider that images in Deep Space 8K are displayed at many times the resolution of what you see on your laptop. A program can't really be tested on a 1:1 basis; you have to work in a scaling factor to be able to see it on your own computer screen. So I demonstrate this with some simple examples that we go through together.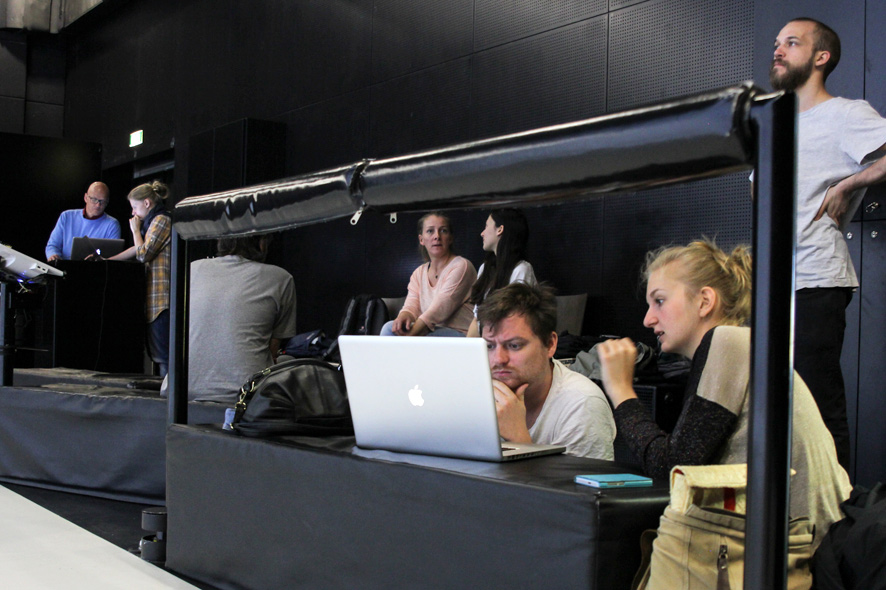 Credit: Martin Hieslmair
With this framework of knowledge and insights, the students can begin to develop small, simple programs. The next step takes us to Deep Space, where, after about a month, the students can run their first small program in Deep Space 8K and, in doing so, get their first real sense of achievement. And from this point on, it's a matter of developing concrete ideas. What's feasible in one semester; what's too difficult? When that's done, the students work on the software. We visit Deep Space a total of four times to run experiments. The last phase is the presentation of the works, which I finally evaluate. And if the work is excellent, there's the possibility of it being included in our TIME OUT series of exhibitions at the Ars Electronica Center and the student presenting his/her work at the premiere. Some works are also selected for inclusion in the lineup of material regularly screened in Deep Space 8K, where they're then shown for a whole year.
Note: For an overview of the interactive works regularly screened in Deep Space 8K, go to ars.electronica.art/center. The application deadline for enrollment in Linz Art University's Time-based and Interactive Media bachelor's program during the coming academic year is June 17, 2016. Additional information is available at www.time.ufg.at!