The Hungarian animation artist entered "Symphony no. 42" in the Prix Ars Electronica competition two years ago and went on to garner an Honorary Mention in the Computer Animations / Film / VFX category. Now, Réka Bucsi is herself one of the jurors who'll soon be convening to assess the many submissions. Before the deliberations commence, we asked her where she derives inspiration for her own animated works.
A very provoking question at the beginning: What can animations trigger in us, what pure stories cannot?
Réka Bucsi: I'm not sure it can trigger something that a live action movie can't. I would rather say it will be different, and it may let the audience use their own associations and interpretations in a more free way. Due to its stylized nature, it may also be more surprising and more challenging to the viewer. I like its playful ways, and the chance that it offers you, to enter a completely new setting.
Your animation "Symphony no. 42" was awarded several times and got shortlisted for the 87th Academy Awards. How did you get inspired for all these impressive scenes?
Réka Bucsi: I remember being inspired by very random things in my surrounding. I put anything in there that I wanted to see moving and found interesting in some way. After that I started to edit, and arrange all these different scenarios into one coherent film. I just took a notebook with me anywhere, and wrote down ideas on the spot for some months. I knew I wanted to make my thesis film this way.
What trends do you see in the field of animation in 2017?
Réka Bucsi: Maybe that there is more and more independent work out there, made by interesting collectives or new kind off groups, other than studios. It's hard to be independent and make your own films. I see many people putting their heads together, so they can do the work they should be doing, the way it should be done.
You are working as an independent animation filmmaker – what is essential in your opinion to keep the ball in this area?
Réka Bucsi: It's essential to keep a good balance between commissioned work and your own projects. I have been lucky to be able to also transfer my own work into the commissioned part of the industry. My goal is to really minimize the part of my work that is not completely self-controlled, and that is trying to sell something. I think it's essential to have people who you like to work with and trust, and to have a certain drive to try and get your ideas across in some way. I do think, that if someone really works hard, and does focused honest work, it will resonate with an audience sooner or later.
Have you produced an animated short film too and find that it's thoroughly worthy of prize recognition and deserves to be seen by lots of people? You still have until March 13, 2017 to submit it for Prix Ars Electronica prize consideration! There's more info online at ars.electronica.art/prix!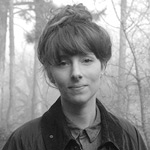 Réka Bucsi, born in 1988, is a Hungarian independent animation filmmaker. She received her BFA and MFA at the animation department of Moholy¬-Nagy University of Art and Design Budapest. Her graduation film Symphony no. 42, got Shortlisted for the 87th Academy Awards. Her films were screened at official shorts competition Berlinale, SXSW, Sundance, Annecy,and won over 50 international awards. 2013/2014 she attended Animation Sans Frontiéres (ASF), the European Animation Production Workshop. She was one of the artists in residence at the Open Workshop in Viborg, and at Q21 in Vienna. Her new short film LOVE is a French-Hungarian co-production. Réka is represented as a director by Passion Pictures.