It has become a tradition for Ars Electronica to ring in the New Year by issuing an open call to artists and creators to submit their projects and works of media art for prize consideration by the juries selecting the next recipients of the Prix Ars Electronica and the STARTS Prize awarded by the European Commission. Whereas the competitions for the Golden Nica statuettes and the 3-D printed STARTS trophy culminate in a gala awards ceremony at the Ars Electronica Festival in September, the Ars Electronica Center in Linz is a year-round venue for media art and encounters with state-of-the-art creativity by people of all ages.
"Creative Robotics" is the title of an exhibition at the Ars Electronica Center that presents industrial robots in their "natural habitat"—after all, art, design and architecture also benefit from the technological developments of our time. Robotics is no longer the exclusive purview of manufacturers; accordingly, inspiring forms of collaboration among art and industry can lead to innovative, extraordinarily creative ideas.
Over 2,000 students were invited to a one-day "Experimentale" in the Ars Electronica Center, where they could use the Museum of the Future as an exhibition space for their experiments in the natural sciences and technology, and as a setting for an exchange of ideas with their peers.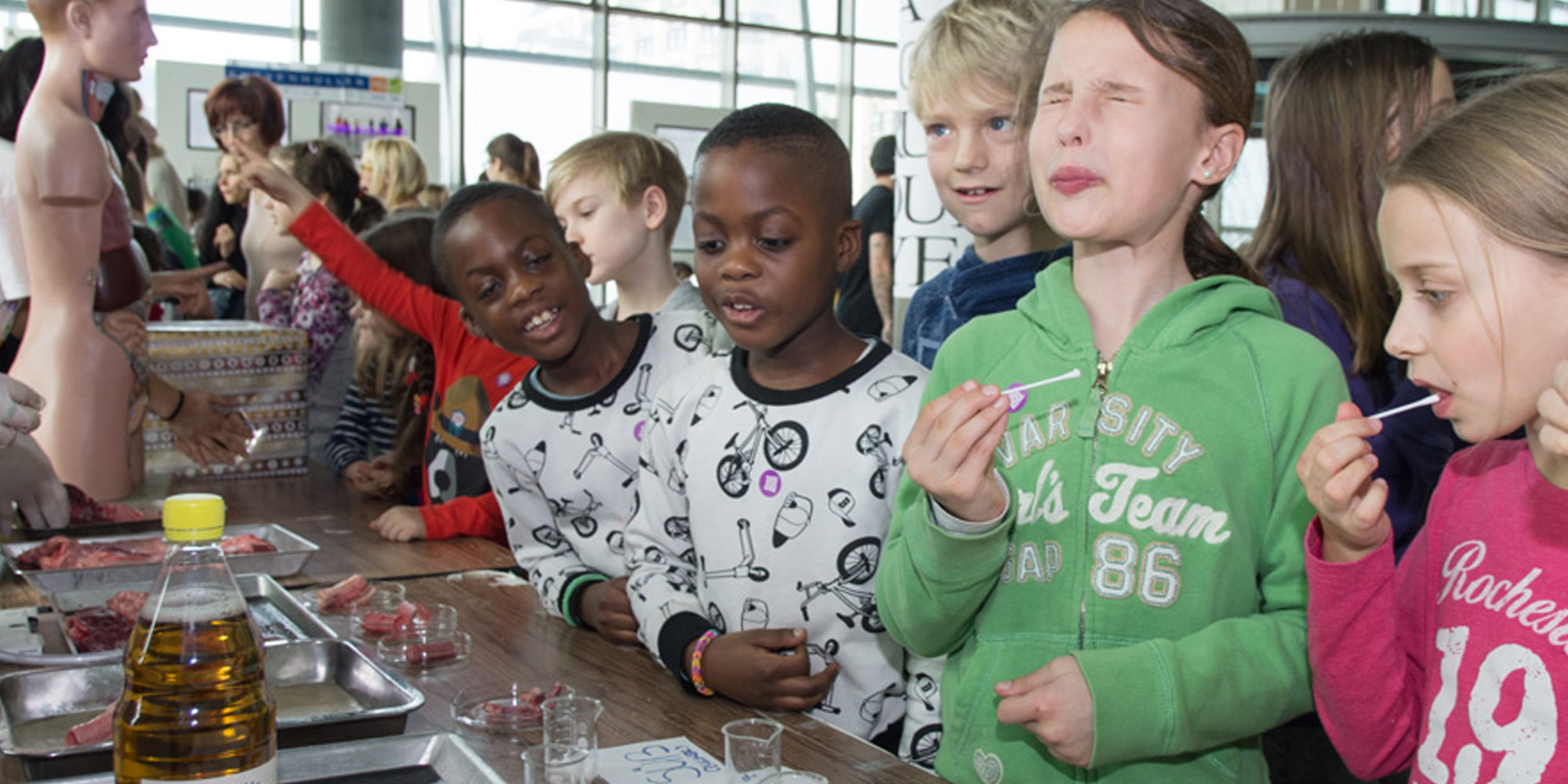 The Experimentale at the Ars Electronica Center, Credit: Christopher Sonnleitner
Every year plays out differently at Ars Electronica; what remains constant is this institution's function as a platform that brings people together to share experiences and talk to one another—about art, about technology and their interplay in our society. In 2017, Ars Electronica was singled out for recognition with the Austrian art world's highest-endowed award, the Bank Austria Art Prize.
Exhibitions such as "Beyond the Lab: The D.I.Y. Science Revolution" and events like GameStage@AEC in the Ars Electronica Center are constant reminders of how technological developments are now within the reach of more and more human beings. High-tech R&D has increasingly shifted from professional labs to home workshops and garages; programming computer games is no longer reserved for corporate behemoths; growing numbers of local developers are getting into the act.

The Beyond the Lab exhibition at the Ars Electronica Center, Credit: Florian Voggeneder
Today, science makes use of artistic elements to depict complex content more vividly and thus make it more easily understandable. Cinematic Rendering software developed by Siemens Healthineers together with Dr. Franz Fellner generates photorealistic 3-D images of the human body and thus provides anatomical insights that have never been possible before. To marvel at the astounding capabilities of this breakthrough software that was nominated for the 2017 German Future Prize, stop by Deep Space 8K at the Ars Electronica Center.
Deep Space LIVE is a ongoing series of talks at the Ars Electronica Center on Thursday evening that takes advantage of Deep Space 8K's 16×9-meter wall & floor projection surfaces as ideal enhancements of presentations by experts on a broad spectrum of topics—astronomy, computer science, medicine and much more. Among this year's highlights were Next Generation JKU talks by the young generation of scholars at Linz's Johannes Kepler University, who elaborated on recent research results of a socially relevant nature.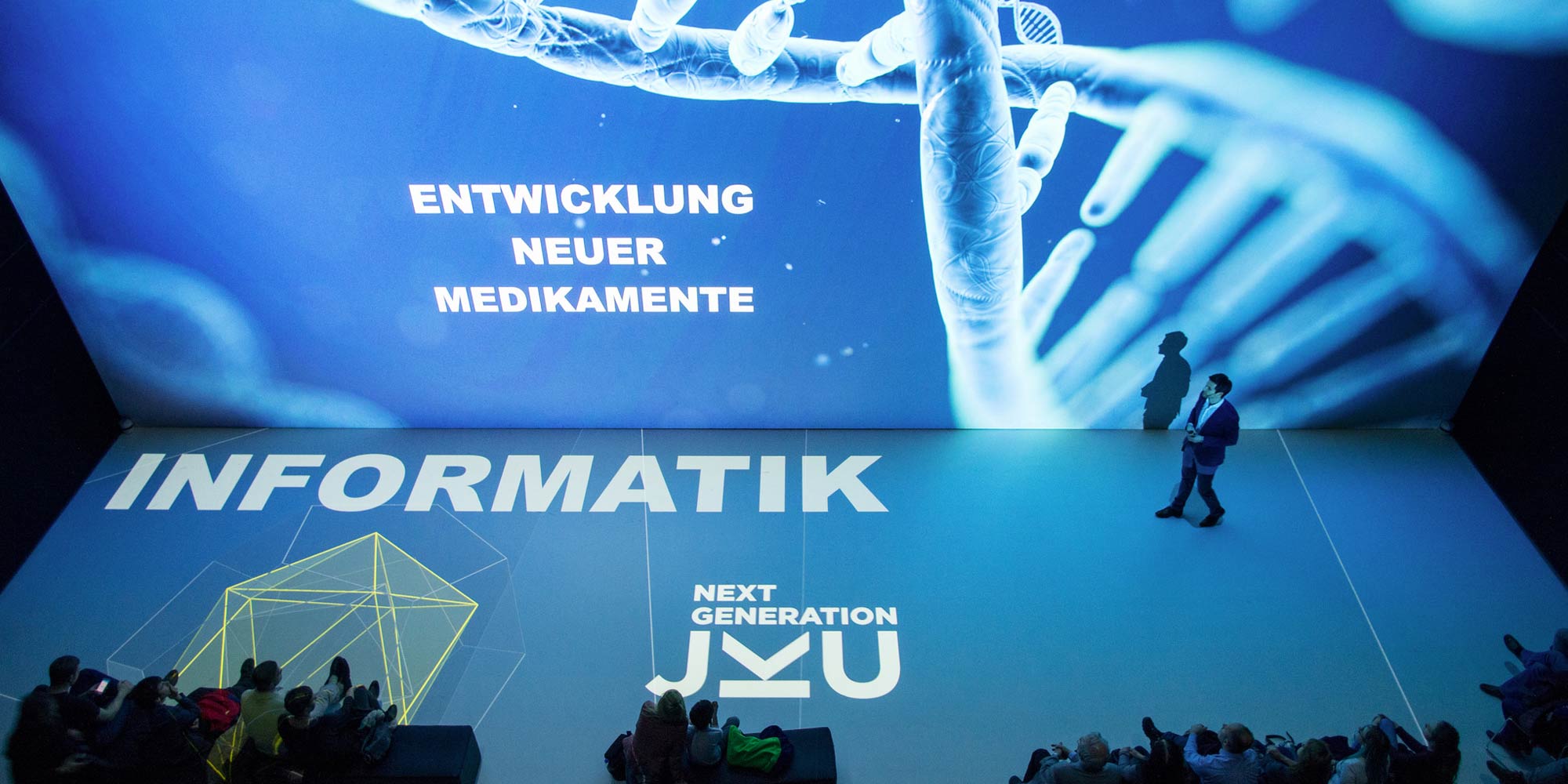 Next Generation JKU, Credit: Christopher Sonnleitner
A trip of about 9,000 kilometers (as the bird flies) is what it takes to get from Linz to Osaka, Japan, the site of "Ars Electronica in the Knowledge Capital," a conclave held for the 7th time this year. It's a chance for business people and artists to get together for a lively lineup of exhibitions, talks and workshops, and to give some thought to industry of the future.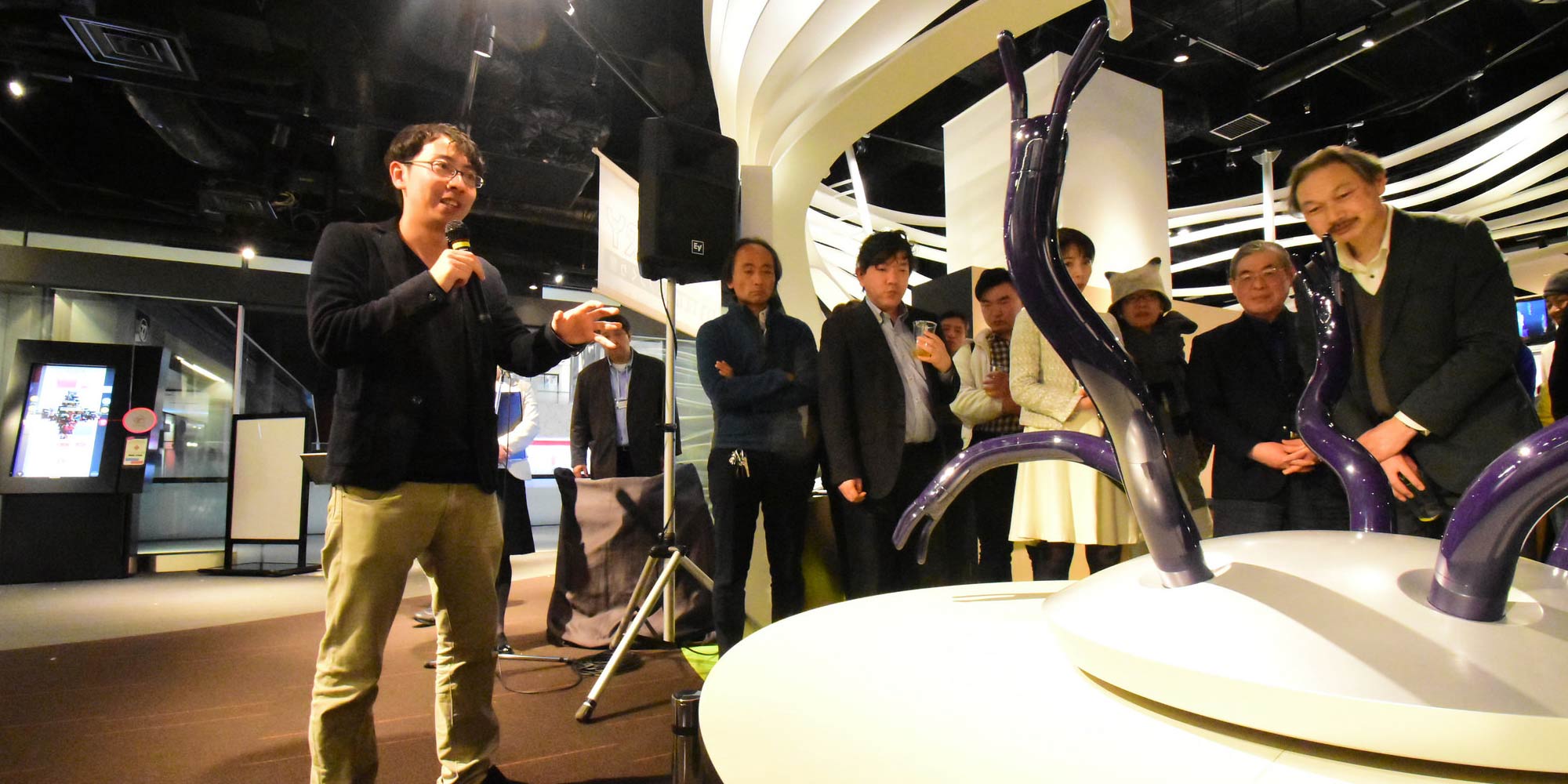 "Ars Electronica in the Knowledge Capital". Credit: Knowledge Capital Osaka
Encounter was the theme of "Ars Electronica in Berlin," an exhibition that ran for three months at DRIVE. Volkswagen Group Forum in the heart of Germany's capital. This was the sixth such show staged jointly by Volkswagen AG and Ars Electronica Export.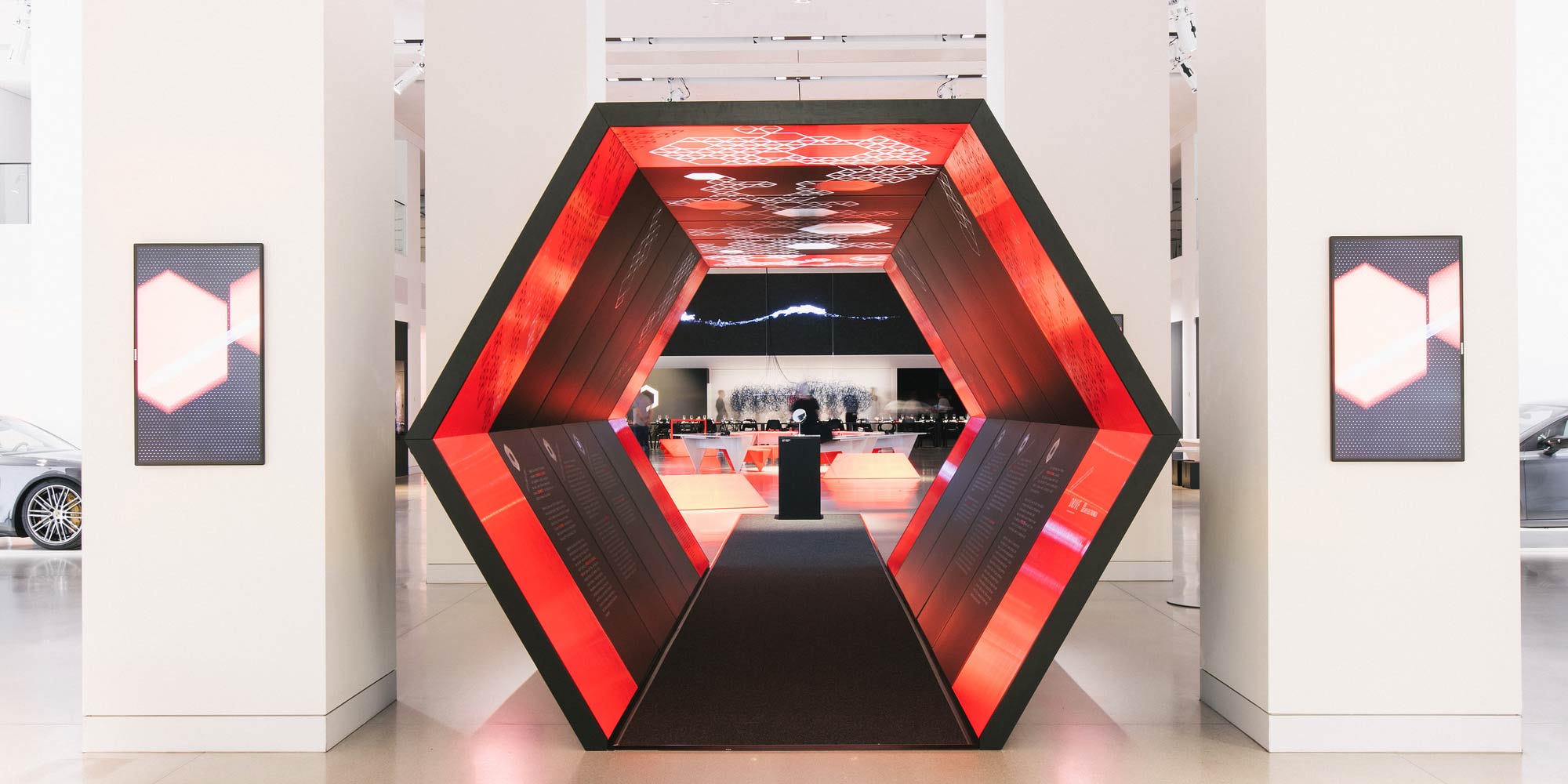 "Ars Electronica in Berlin". Credit: Florian Voggeneder
Another German city in which Ars Electronica made an appearance in 2017 is Chemnitz, where an interactive exhibition at the Saxon Museum of Industry entitled "Gestures – in the past, present, and future"—the outgrowth of a joint research project by the Ars Electronica Futurelab and the Technical University of Chemnitz—is an encounter with the history of human-machine interaction.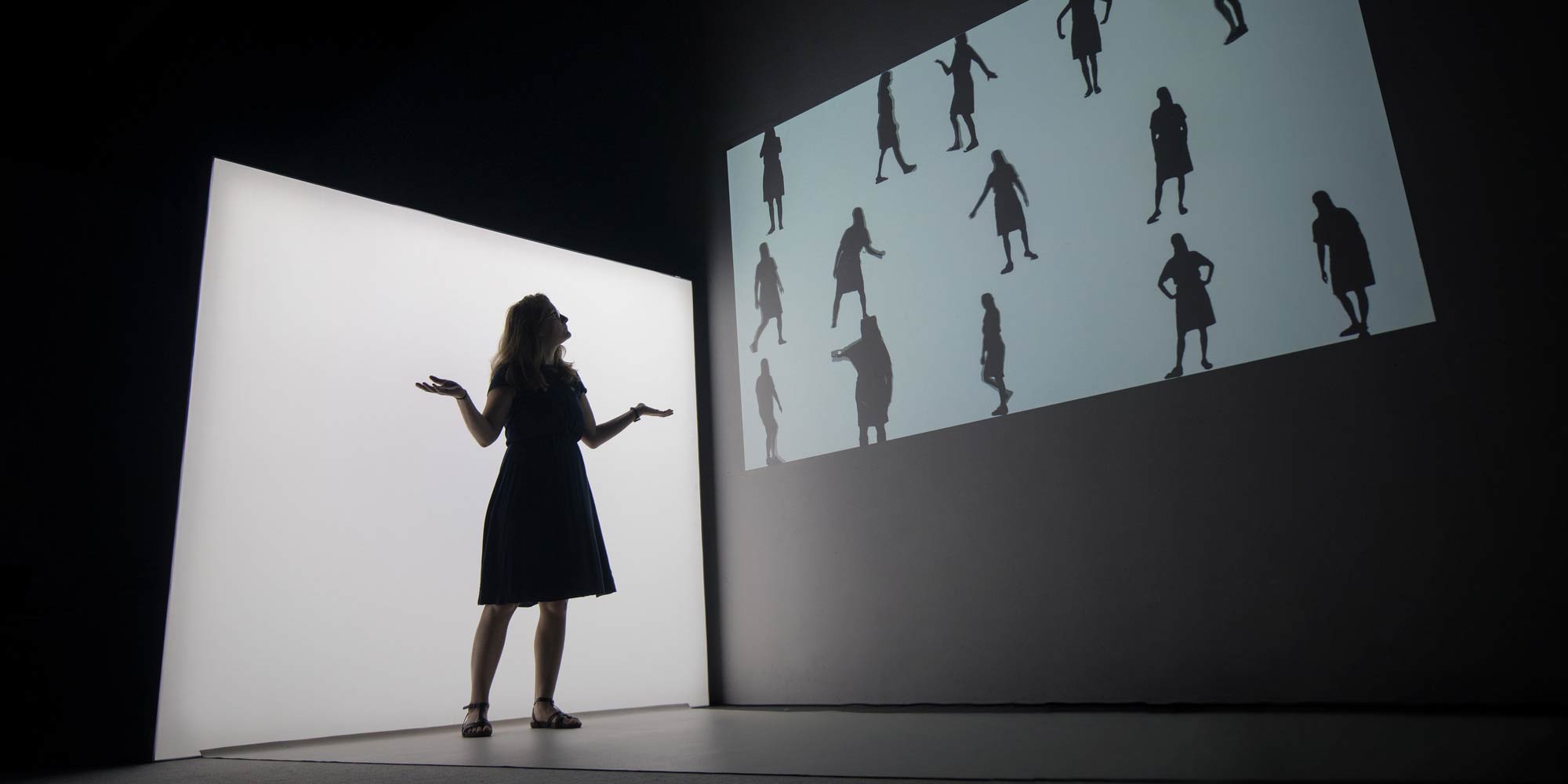 Gestures exhibition in Chemnitz, Credit: Michael Mayr
Back in Austria, experts from around the world gathered in Linz on Jury Weekend to select this year's recipients the Prix Ars Electronica and the STARTS Prize awarded by the European Commission. The respective juries considered all the entries submitted for prize consideration—3,677 and 2,977 respectively—in the process of naming the world's best works of media art.
Accomplishing the seemingly impossible took intense deliberations among the jurors. The outcome: six grand prize winners in four Prix Ars Electronica categories and two STARTS Prize categories.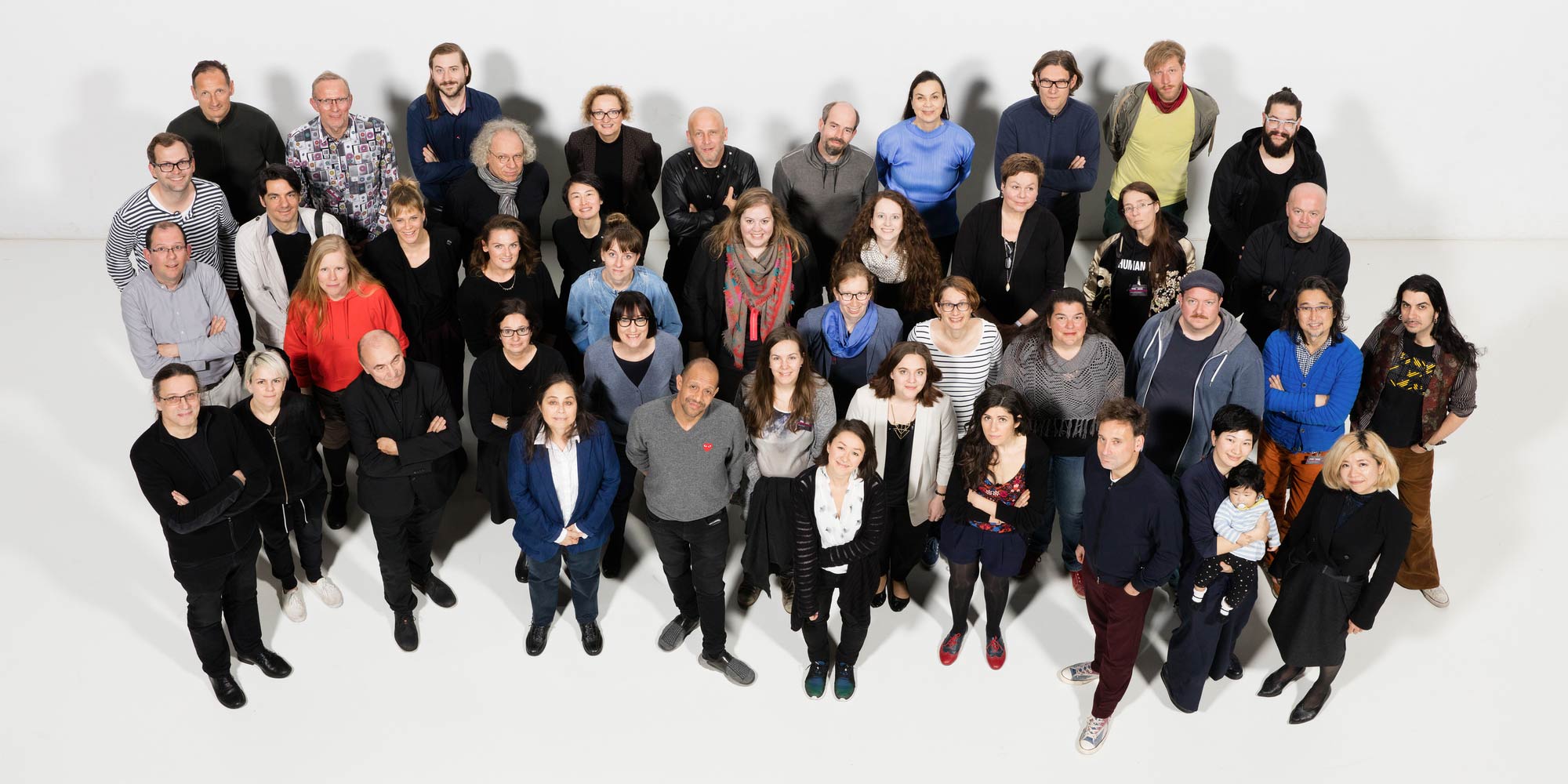 The jurors 2017, Credit: Florian Voggeneder
The recipients took center stage at the Ars Electronica Gala in September. The 2017 Prix Ars Electronica Golden Nica prizewinners were: David OReilly (IE) for "Everything" in Computer Animation; Cedrik Fermont (CD/BE/DE) and Dimitri della Faille (BE/CA) for "Not Your World Music: Noise In South East Asia" in Digital Musics; Maja Smrekar (SI) for "K-9_topology" in Hybrid Art; and Lisa Buttinger for "non-visual art" in u19 – CREATE YOUR WORLD. The European Commission awarded 2017 STARTS Prize to two honorees—Etsuko Yakushimaru in the Artistic Exploration category for "I'm Humanity", and the prize for Innovative Collaboration went to "Rock Print" by Gramazio Kohler Research at ETH–Swiss Federal Institute of Technology in Zürich and the Self-Assembly Lab at MIT.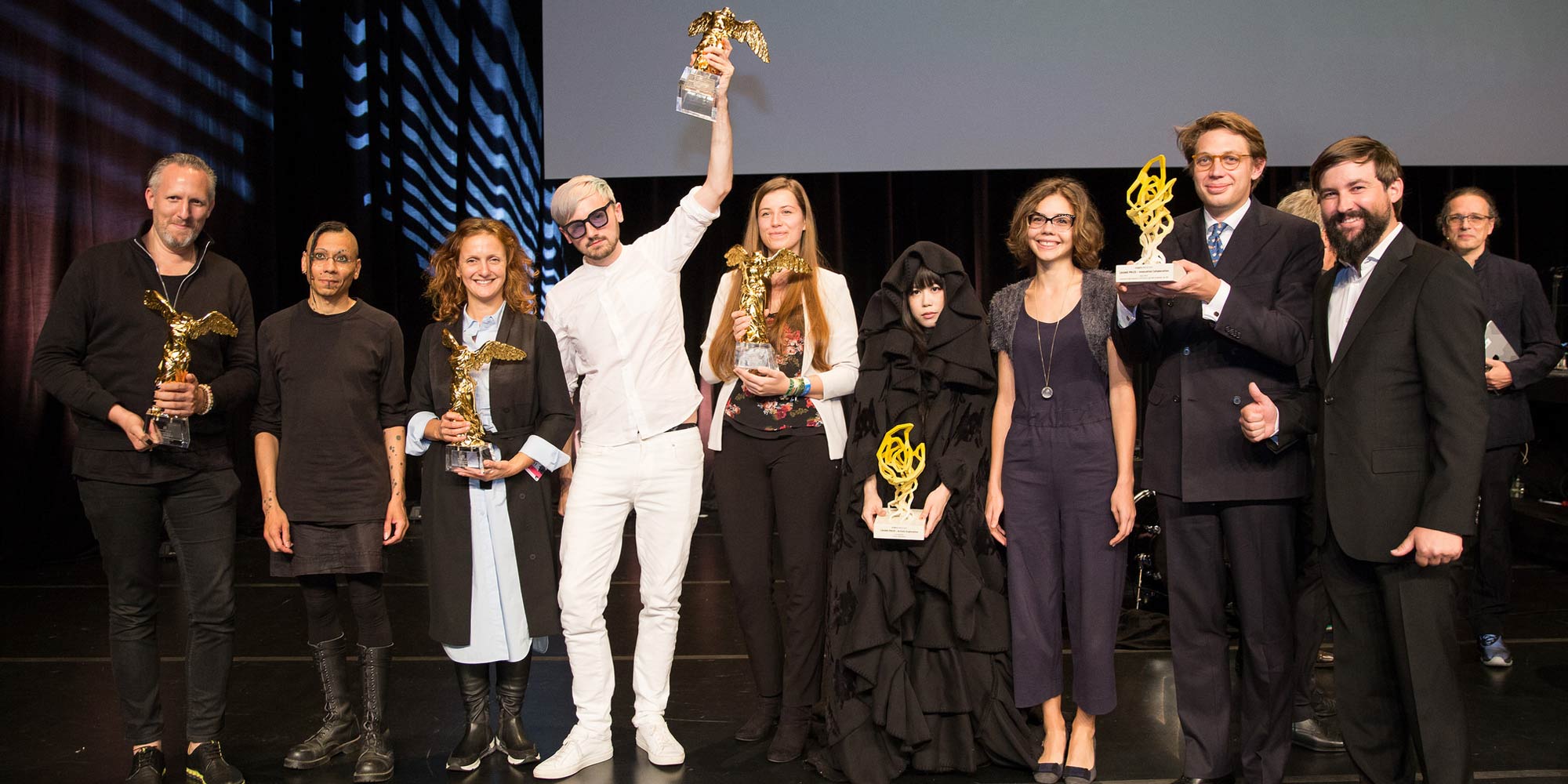 The winners of the 2017 Prix Ars Electronica und 2017 STARTS Prize, Credit: Florian Voggeneder
"Get Inspired" was the programmatic title of an evening event held at the Ars Electronica Center, a rapid-fire series of quickie presentations of innovative projects made in Linz and Upper Austria.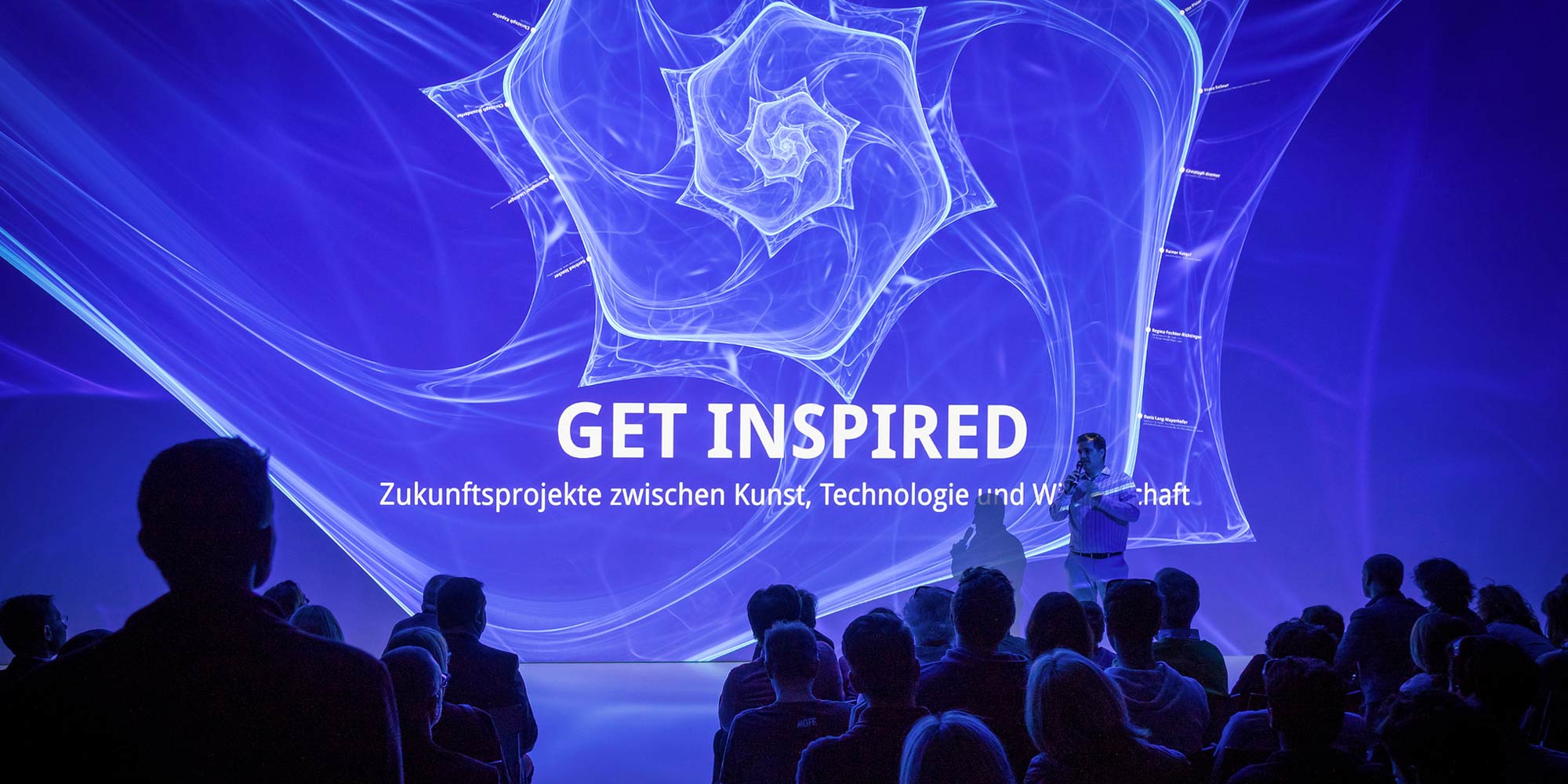 Get Inspired, Credit: Robert Bauernhansl
Two exhibitions at the Ars Electronica Center showcased work by media artists based in Linz and Austria: "TIME OUT .07" featured projects by students in Linz Art University's Time-based and Interactive Media program, and "What would Ted Kaczynski´s daughter do?" by Kathrin Stumreich.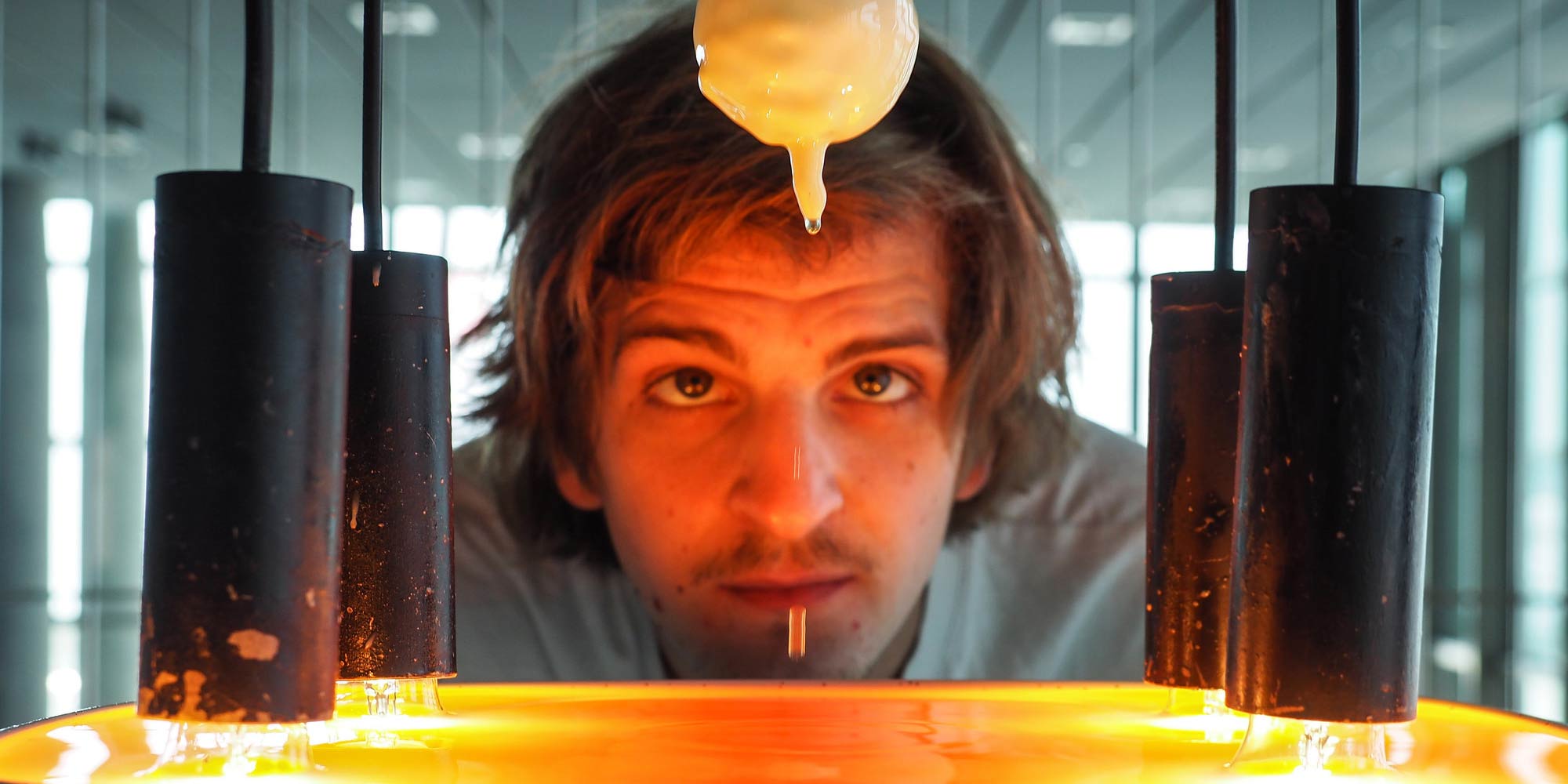 Wachstropf by Domas Schwarz, Credit: Martin Hieslmair
In the courtyard of Kremsmünster Monastery, the Pneuma Fountain by American artist Chico MacMurtrie provided a foretaste of the then-upcoming 2017 Ars Electronica Festival's confrontation with its "Artificial Intelligence – The Other I" theme, preparations for which were then proceeding in high gear.
Thanks to the concerted efforts of 474 partners and associates, we were able to stage a huge and hugely successful festival held for the third consecutive year in POSTCITY, the Austrian Postal Service's mothballed logistics facility adjacent to Linz's main train station.
The festival production crew worked intensely throughout the summer and right up to the festival opening to make the 100,000 m2 of interior space in POSTCITY a suitable setting to exhibit great media art. Among other challenges, the 2017 Ars Electronica Festival's technical infrastructure reached a new level of sophistication this year.
The 2017 Ars Electronica Festival was a smash hit. Within five days—September 7-11—more than 600 individual events at 12 different locations in downtown Linz drew 100,000 visits. A collection of great photos taken at the festival is available online at ars.electronica.art/feature/festival2017/!
More than 1,000 artists and scientists from 40+ countries convened at the festival to speak at conferences, do Q&A, engage in discussions, hold lectures and workshops, give concerts, and personally present their works of art and research projects.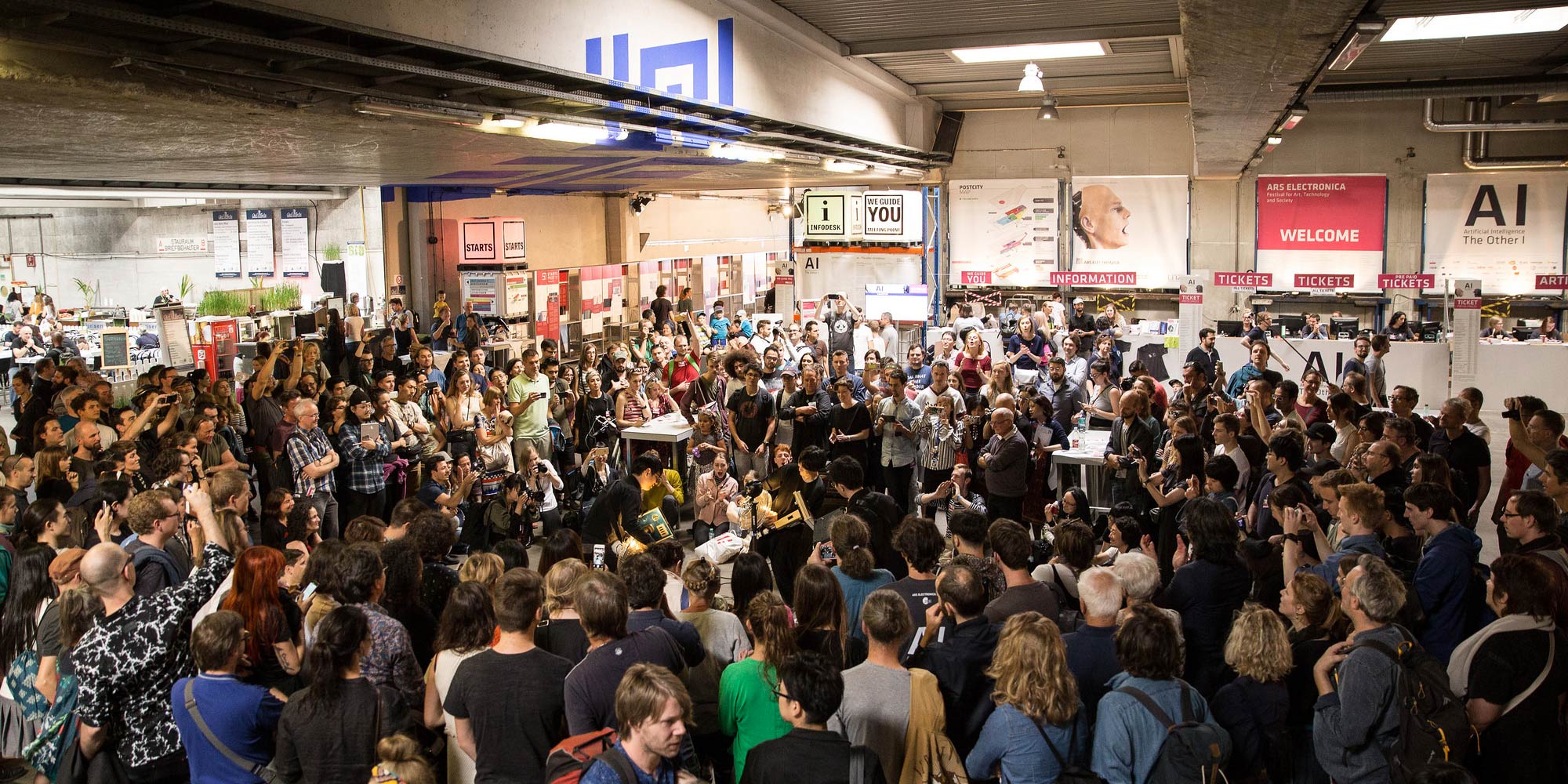 Visitors at POSTCITY, Credit: Florian Voggeneder
The POINT ZERO exhibition in POSTCITY's spacious catacombs was one of the top draws at the 2017 Ars Electronica Festival.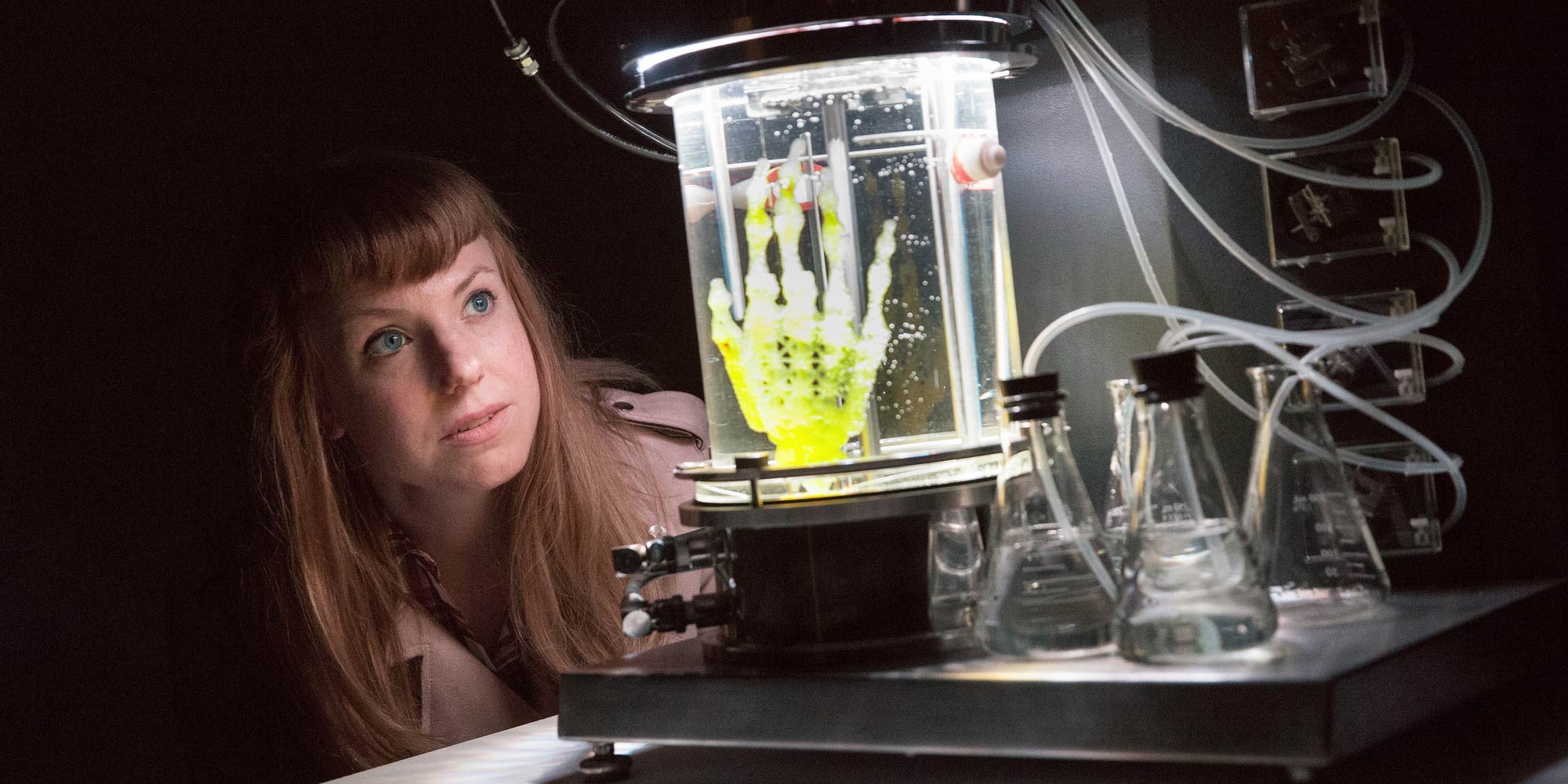 Regenerative Reliquary by Amy Karle (US), Credit: Florian Voggeneder
Another festivalgoer favorite was CREATE YOUR WORLD's lively playground on the Upper Level of POSTCITY, which was designed in cooperation with kids and young people.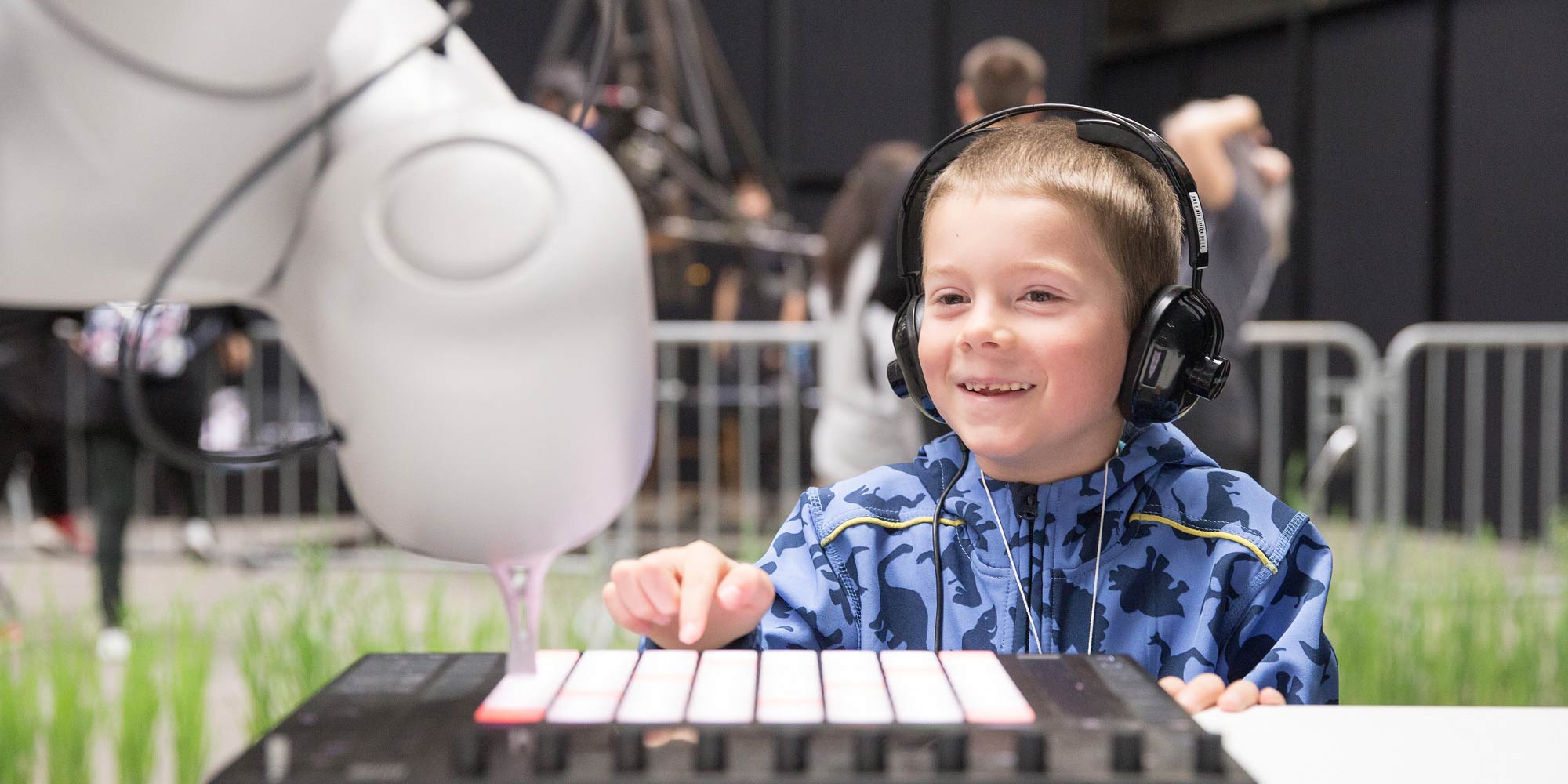 AI Music, Credit: Florian Voggeneder
New York artist Joseph Herscher constructed an "Unintelligent Machine" together with 20 European youngsters and transformed POSTCITY's monumental bank of spiral packet chutes into the backdrop for a video entitled "Secret Life of a Postal Worker".
Another festival highlight was the extraordinary attention to detail that went into the design of "Turnton Docklands", a parallel universe that the Time's Up artists collective installed on the Lower Level of the LENTOS Art Museum.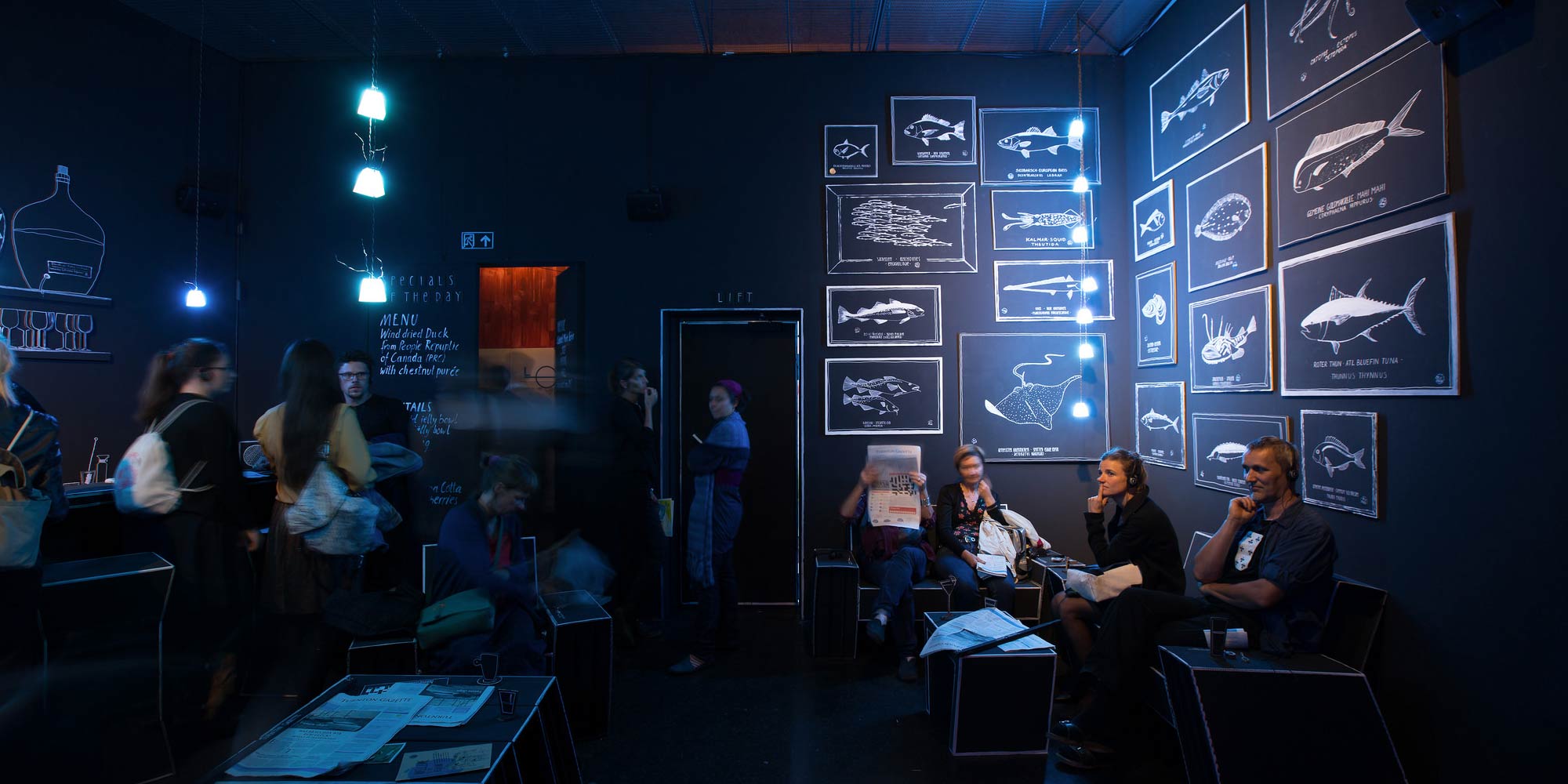 Turnton Docklands by Time's Up, Credit: Florian Voggeneder
Festivalgoers were blown away by "Lightscale II", Uwe Rieger's colossal audiovisual installation in Mariendom, Linz's cathedral that served as a festival location once again this year.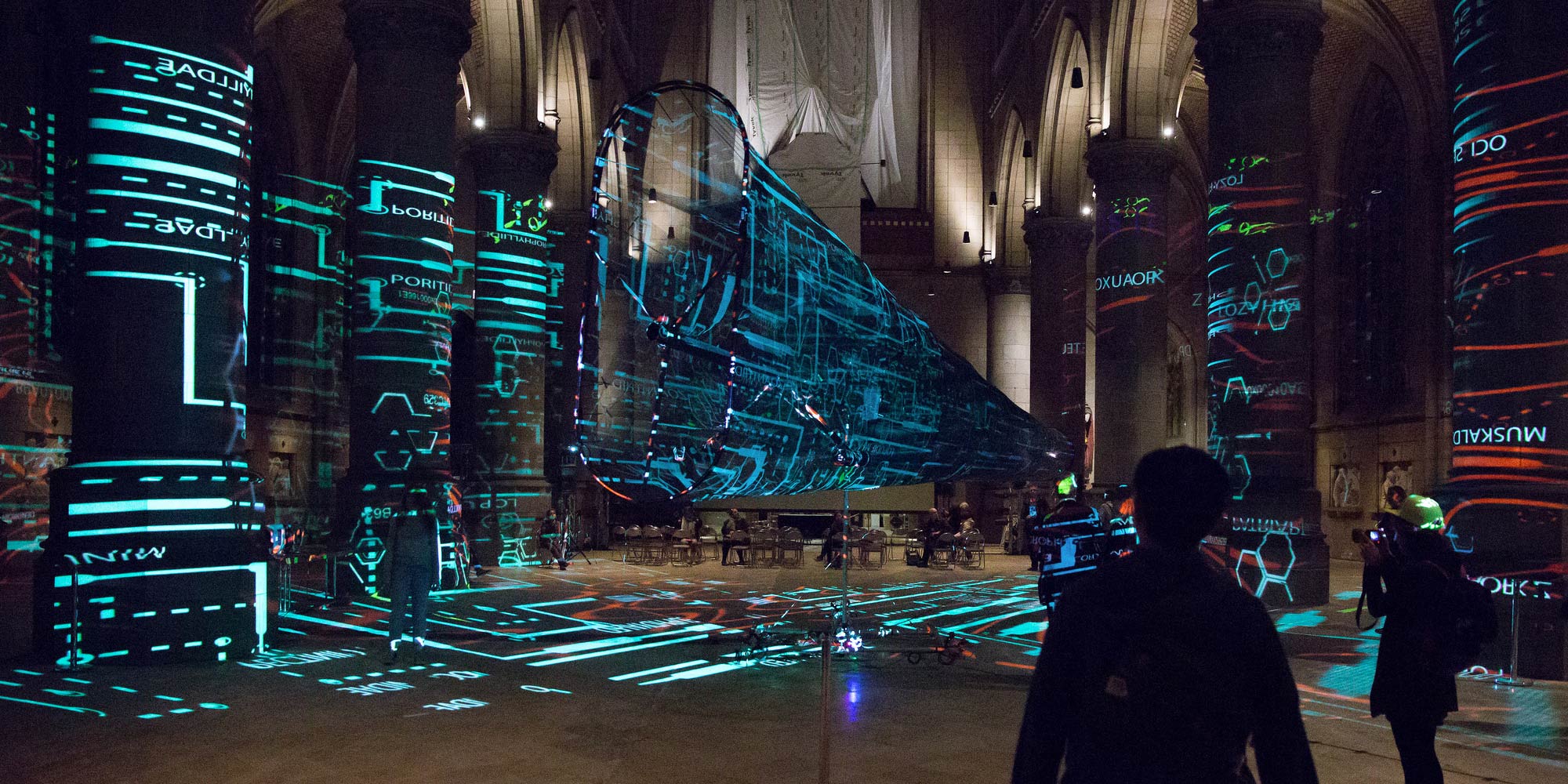 LightScale II by Uwe Rieger (DE), Credit: Tom Mesic
The CyberArts show in the OK Center for Contemporary Art showcased work singled out for recognition by the 2017 Prix Ars Electronica—for instance, "Light Barrier 3rd Edition" by Mimi Son (KR) and Elliot Woods (UK). Tremendous interest was elicited by the University of California at Los Angeles' "Feminist Climate Change: Beyond the Binary" exhibition.
This was the first time that the "Big Concert Night" in the Track Hall at POSTCITY bore the artistic signature of Markus Poschner, the new conductor of the Bruckner Orchestra.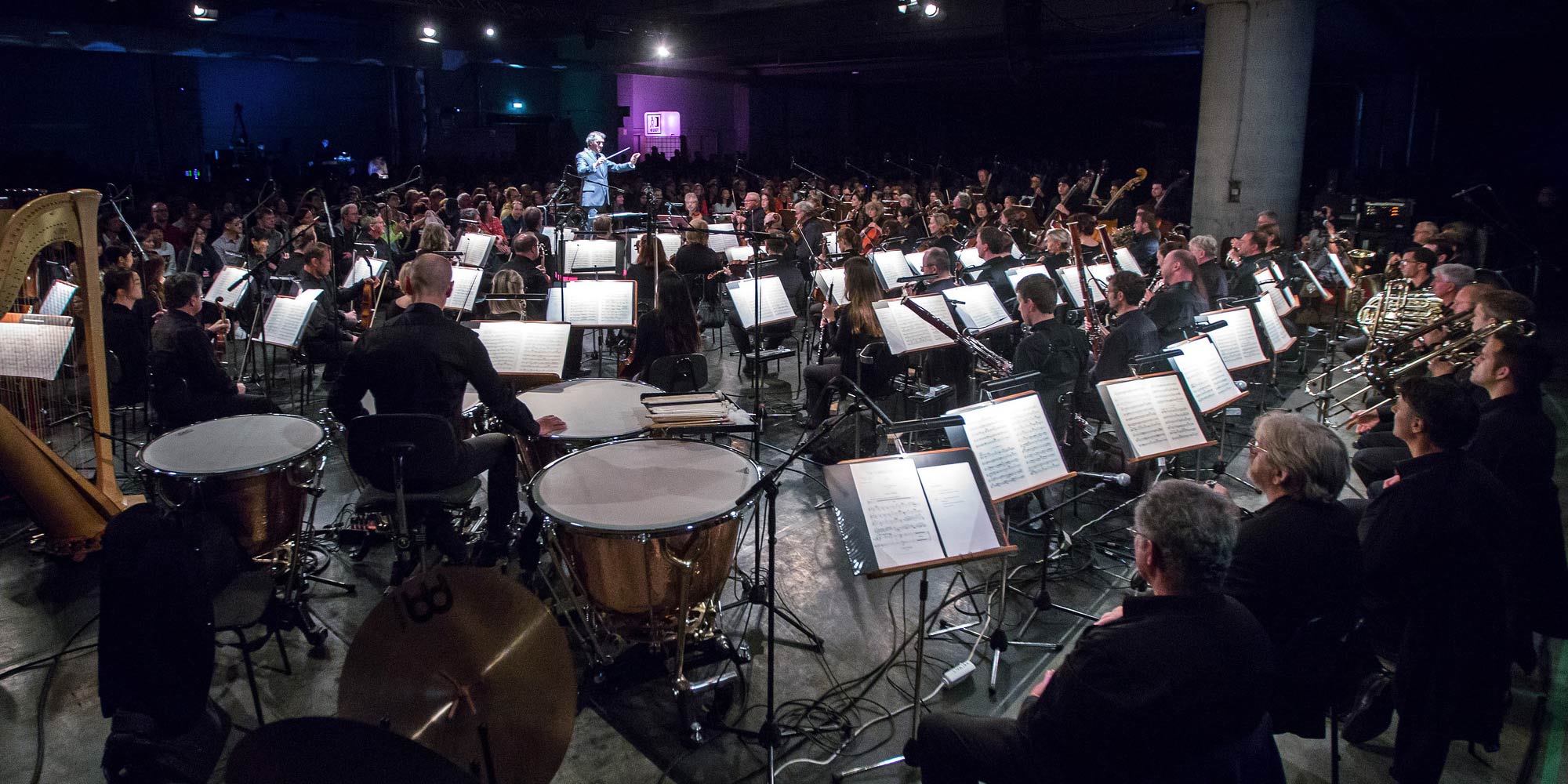 The Big Concert Night, Credit: Tom Mesic
"Rock Print" by Gramazio Kohler Research at ETH Zürich was honored by the European Commission with a 2017 STARTS Prize. Festivalgoers could watch the robot assemble the stone wall while chatting with the developers.
Two artists, Aoife Van Linden Tol and Sarah Petkus, presented works they created in conjunction with their recent residencies at the European Space Agency and the Ars Electronica Futurelab under the aegis of the European Digital Art and Science Network. Also on hand was Yen Tzu Chang, who worked together with Fraunhofer MEVIS on the development of her project.
New programmable materials were added to the Ars Electronica Center's "Radical Atoms" exhibition by Prof. Hiroshi Ishii and his Tangible Media Group, an interdisciplinary research facility at the MIT Media Lab in Cambridge.
This year's festival lineup was extensive and wide-ranging even by Ars Electronica standards. It included in-depth symposia on the festival theme, a piano concert by Maki Namekawa Namekawa in Deep Space 8K, collaborative brainstorming on artificial intelligence at the Future Innovators Summit, a Hackathon, a backhoe that could be operated via brain-computer interface, 27 different WE GUIDE YOU tours in various languages, and lots more!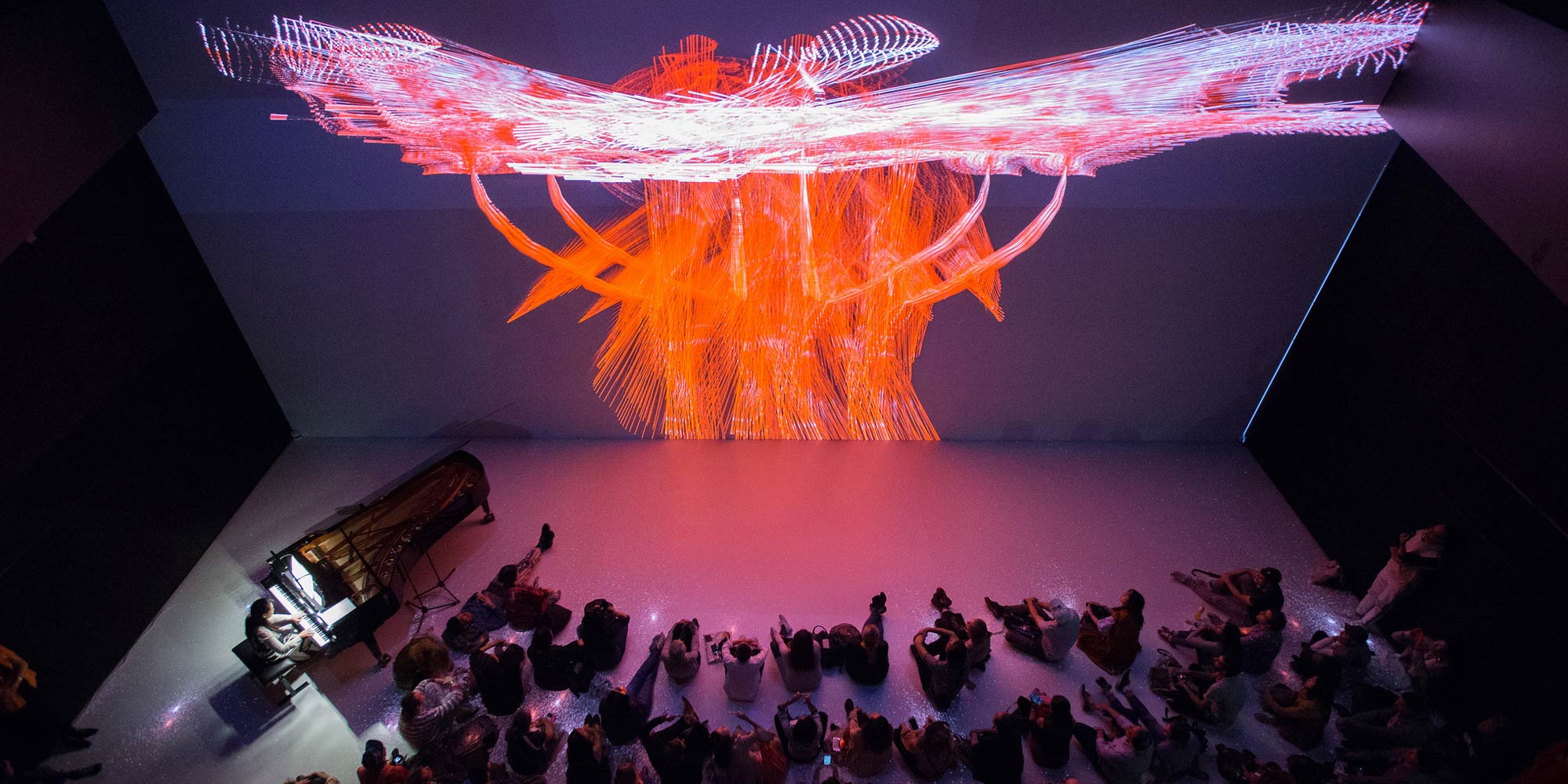 Maki Namekawa in Deep Space 8K, Credit: Florian Voggeneder
Unfortunately, all good things must eventually come to an end, and Ars Electronica had to shift back into Normal Operating Mode—though that, of course, depends on how you define it.
No sooner had the festival concluded than it was time to head down to Brazil for Rock in Rio, the annual musical extravaganza that featured a world-class drone show this year. Every evening of the festival, the Ars Electronica SPAXELS® took to the airspace above Rio de Janeiro's Barra Olympic Park to form spectacular light sculptures and get the crowd in the right frame of mind for a lineup of stars that included Justin Timberlake and the Red Hot Chili Peppers.
In preparation for this big show, the SPAXELS® crew had begun conducting test flights with a swarm of 100 LED-studded unmanned aerial vehicles at a proving ground on the outskirts of Linz last spring. These computer-piloted drones were developed in 2012 by the Ars Electronica Futurelab. Some of the other exciting projects that have emerged from that lab-atelier recently are featured in a Web series entitled "Homo Digitalis".
Test flight by Ars Electronica SPAXELS for"Rock in Rio", Credit: Martin Hieslmair
Meanwhile Solutions, Ars Electronica's division that creates innovative commercial applications, was orchestrating a one-of-a-kind marketing instrument for Fronius, the global leader in robotic welding, at the 2017 SCHWEISSEN & SCHNEIDEN in Düsseldorf, the world's premier trade show for welding and cutting technology. Other recent feathers in Ars Electronica Solutions' cap are interactive media displays for the Republic of Austria's Parliament and the Vienna Giant Ferris Wheel.
Trade show of Fronius, Credit: Fronius
As the days get shorter, the Ars Electronica Center Center broadens its focus. The Museum of the Future hosted the "Upper Austrian Industrial Association's Kids' Day", fascinating talks in the "Brains for Everybody series", as well as fashion shows, experimental music and dance performances in Deep Space 8K during the Long Night of the Stages.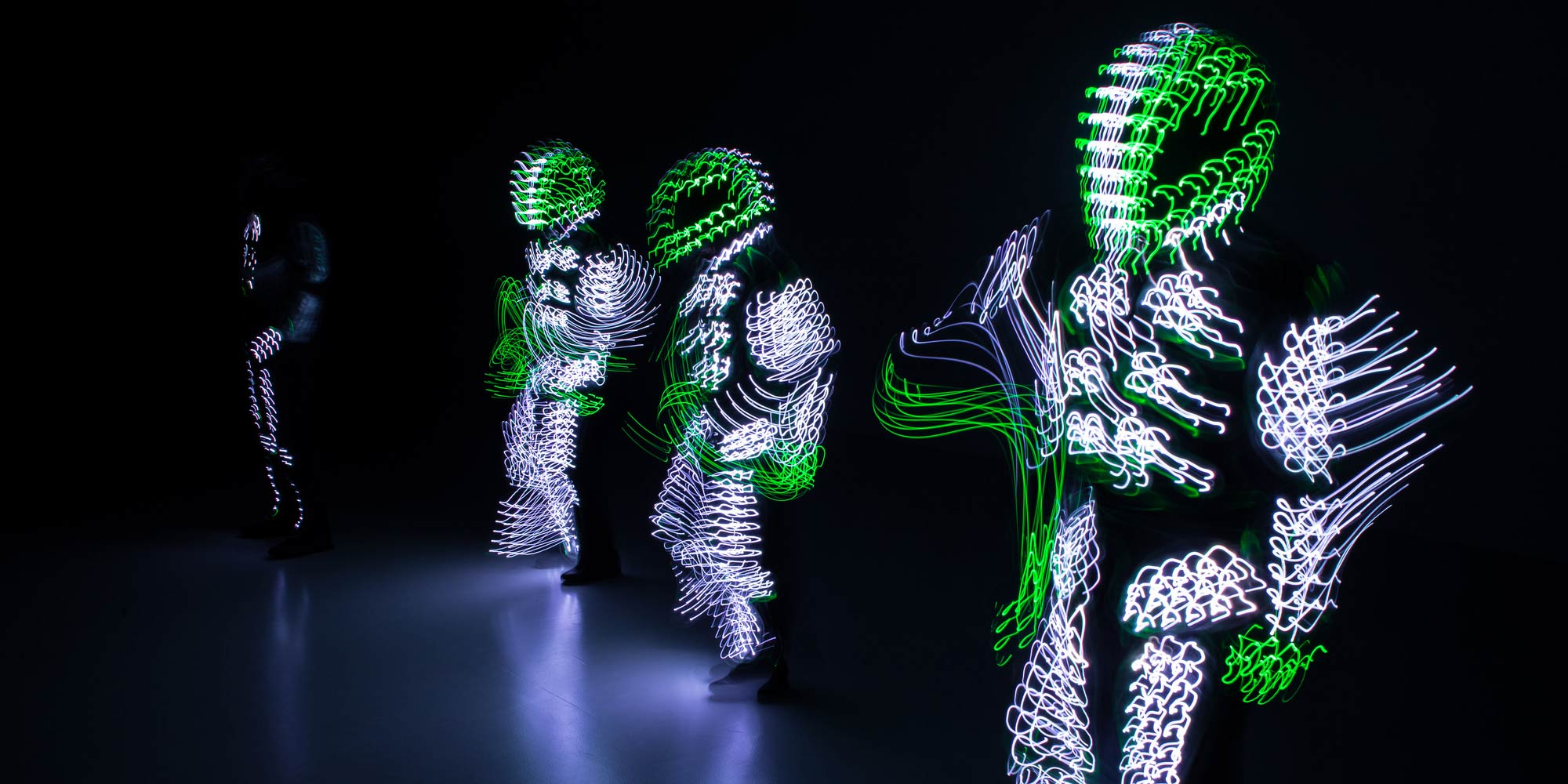 Long Night of the Stages, Credit: Vanessa Graf
An event entitled "DE/MATERIALIZE" was the highlight of the redesigned VRLab featuring the New Views of Humankind exhibition. The Ars Electronica Center is the place to go to get hands-on experience with virtual reality.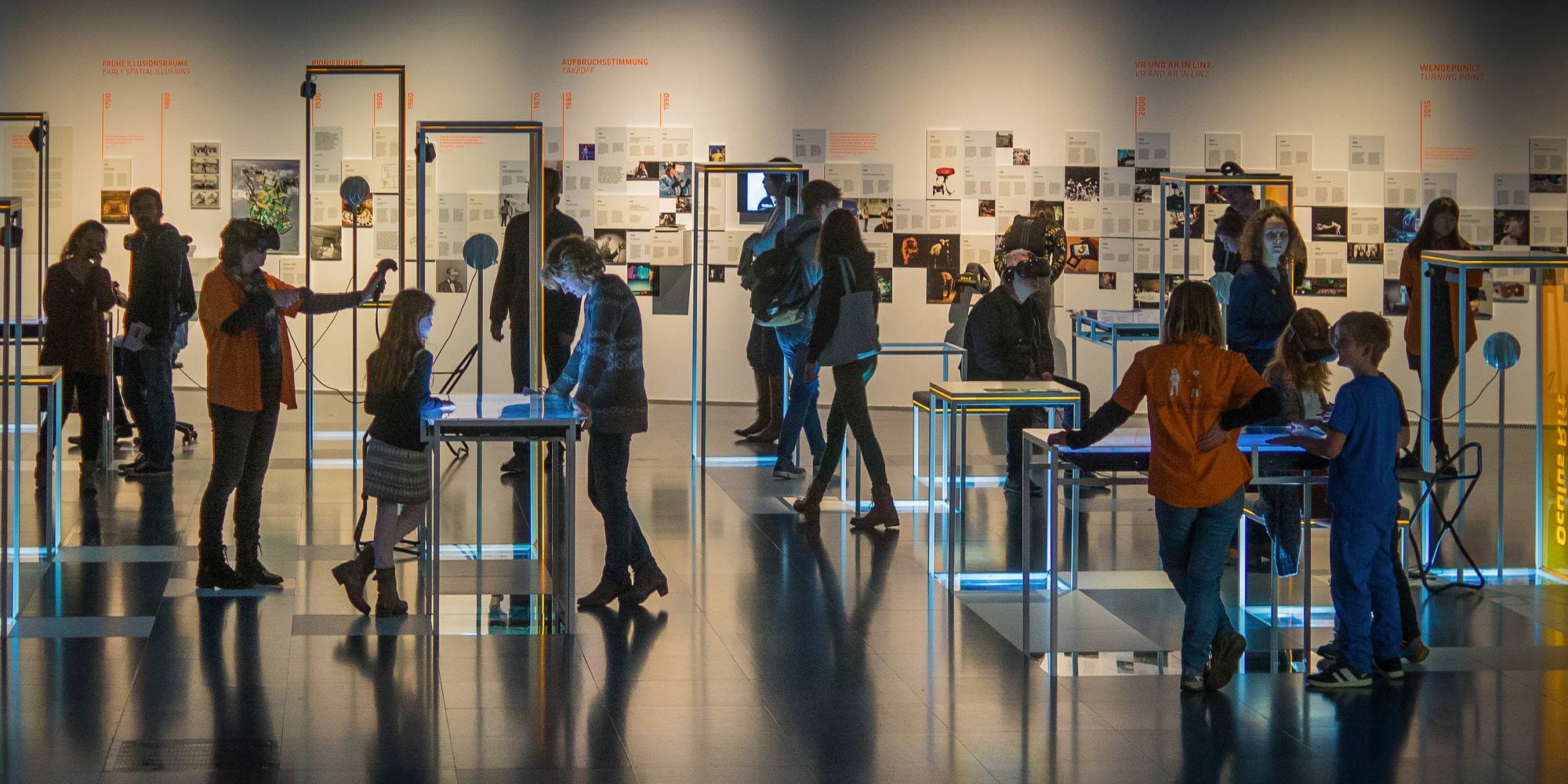 The VRLab at the Ars Electronica Center, Credit: Robert Bauernhansl
In its role as European Space Education Resource Office on behalf of the ESA, the Ars Electronica Center invited students and teachers to take part in a live remote hookup with astronaut Paolo Nespoli aboard the International Space Station.
UNESCO City of Media Arts Linz is ringing out the old year with a message of peace brilliantly emblazoned on the cityscape. This stylized visualization of the word PEACE on the Ars Electronica Center's LED-illuminated façade is the work of 80-year-old media artist Waltraut Cooper.
We're delighted that you share our passion for and interest in what's happening now at the nexus of art, technology and society. The Ars Electronica Center in Linz, Austria, is open year-'round from Tuesday to Sunday (with a couple of exceptions). Open calls for submissions for Prix Ars Electronica and STARTS Prize consideration will be issued in mid-January 2018. The next Ars Electronica Festival will be held September 6-10, 2018 in Linz. To stay updated about the upcoming activities of all of our divisions, subscribe to our Newsletter, visit the Ars Electronica Blog once in a while, and follow us on Facebook, Twitter, Instagram, Flickr and YouTube.
We wish you Happy Holidays and a great New Year!