A four-work series garnered Maja Smrekar the Golden Nica in the 2017 Prix Ars Electronica's Hybrid Arts category. "K-9_topology" is a collection of hybrid works at the nexus of bioethics, science and art: "ECCE CANIS" deals with the serotonin of the artist and her dog, Byron; "I Hunt Nature, and Culture Hunts Me" is about synergies of interspecies collaboration; the subjects of "Hybrid Family" are the instrumentalization of the female body, and breast feeding; and "ARTE_mis" symbolically represents the connection between human being and dog.
At the 2017 Ars Electronica Festival, these four works were on display in the CyberArts Exhibition at the OK Center for Contemporary Art. In this interview, artist Maja Smrekar reveals which questions her "K-9_topology" series deals with, and why dogs and wolves are so essential to it.
Don't miss the deadline for this year's Prix Ars Electronica – you can still submit until March 12!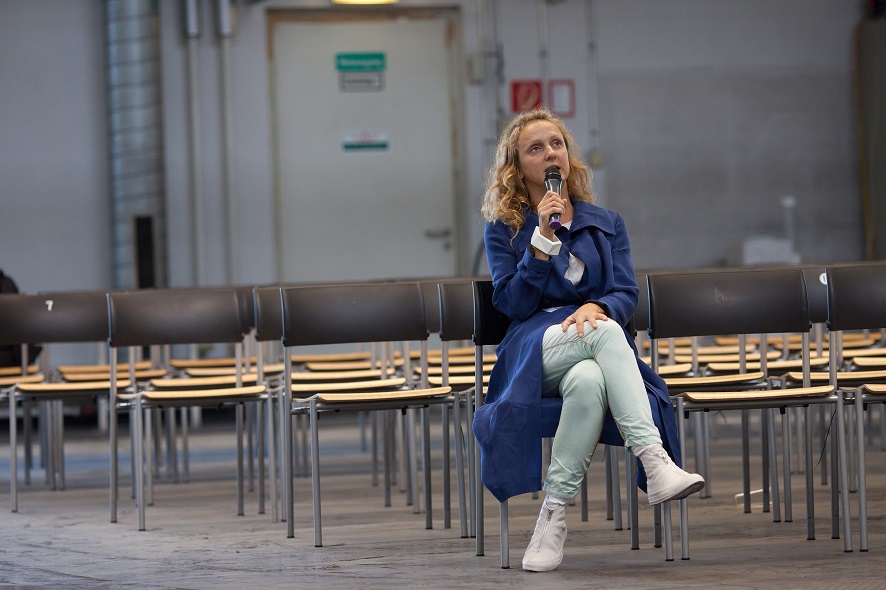 Credit: Florian Voggeneder
You have been honored with last year's Golden Nica in the category Hybrid Arts not only for one of your works, but a series of projects. Can you tell us a little bit about them?
Maja Smrekar: "K-9_topology" places the co-evolution between a human and a dog as a matrix to ask the question: What defines humans as a superior species in an ecologically ruined, overpopulated and economically compromised world? In the first project, called "Ecce Canis", I was researching the parallel evolution between wolves, humans and dogs, and have as a result merged the serotonin of me and my dog companion Byron to transform it into an odor. Serotonin as a consequence of a common evolution enables us to better tolerate each other. Therefore it turned out that dogs and humans have been taming each other mutually for thousands of years.
Preparation for the next project called "I Hunt Nature, and Culture Hunts Me", took place at the JACANA Wildlife Studios in France, where I have been establishing a relationship with wolves and wolf dogs through a collaboration with animal ethologists. In a performance with the animals, I juxtaposed my childhood emotional memory on living with dogs along with some contemporary theories regarding nature and culture, and with the works of Joseph Beuys and Oleg Kulik.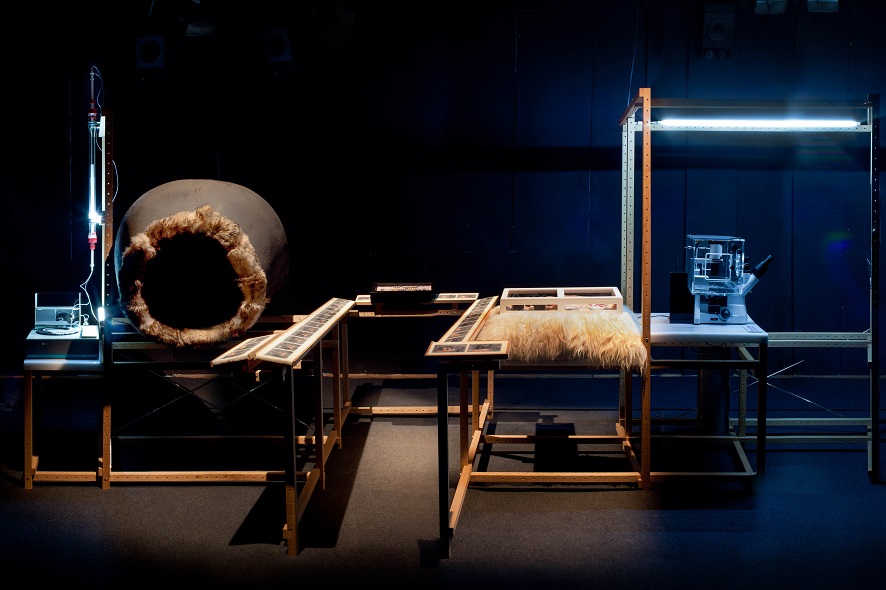 Credit: Miha Fras
Hybrid Family as the third project had the aim to establish the emphatic distance towards the Other. It was about confronting whomever is different from a majority, so to say the cultural Other, as something foreign, which is much often being mystified because it demands an effort to be understood. I think a mature first world society should be able to endure this kind of effort.
In the last project called ARTE_mis I was wondering about who manages our reproductive position and who establishes the rules of ethics in general – aren't those the same ones that remain in positions of power? Clearly not everyone in the society is given the opportunity to participate in the establishment of those rules.
Credit: Florian Voggeneder
What immediately strikes you when looking at "K-9_topology" is the strong connection to canines – how did this fascination develop for you?
Maja Smrekar: The connection to canines addresses the issue of an emotional memory from my childhood. The memory is one of living with many dogs in a family that was professionally involved in the fur and leather production business, as well as dog breeding. The incorporation of the canines into my work happened very organically, as soon as I started intertwining scientific research with the contemporary interspecies communication theories.
Another very prominent theme is that you examine the role of humans, and especially women, within society. Your project "Hybrid Family" for example questions the social and ideological instrumentalization of the female body. Why have you chosen the topic of breastfeeding for this work?
Maja Smrekar: With the breastfeeding act and its hormonal consequences, I wanted to establish the resistance against positions that want to claim the ownership of ones body. In the K- 9_topology installation breast pumps are symbolically displayed as guns; as a weapon, which I used to subjugate my body, but at the same time as a weapon, which enabled me to resist the cynicism of our zeitgeist.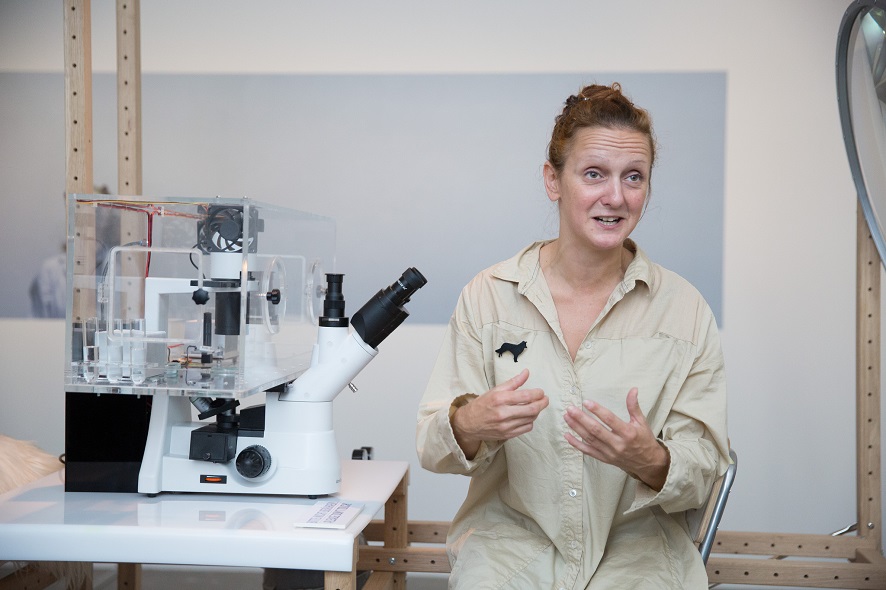 Credit: Tom Mesic
Your work is heavy with symbolism, and it often scrutinizes or exposes ethical questions that we face as a society. It is especially animal ethics that often comes up in the series – why is that? Which are the questions that you explore in "K-9_topology" in this regard?
Maja Smrekar: I am exploring the challenges that call for new 'ecologies' and am therefore thinking in terms of social justice for all living beings including the animals called humans. In the face of disappearing natural resources and the increasing demand for them, the global migration flows, overpopulation and consequently threats to the environment and biodiversity, all evoked by a globalized capitalist system that seems to pursue its path of destruction until everything is consumed, I try to explore the arts of living on a damaged planet, the possibility of life in these capitalist ruins. I am further dwelling on the myth of humanity, which has been based on universal values and exceptionalism, always excluding some that didn't correspond to the ideal which underlies the apparent. There have always been fine gradations within the category of the human, according to gender, race, class, culture, nation, religion, species and so on. Therefore, not all of us can say, with any degree of certainty, that we have always been human, or that we are only that. By dwelling on problems of our current social ecology, I am trying to initiate a debate on what conventional law-based ethical phrases such as "compromising human dignity" even mean.
Which do you think will be the biggest challenges that humanity will have to face as a result of scientific developments and the application of biotechnologies?
Maja Smrekar: I think yet in the posthuman future the main question to ask ourselves will be: What (still) makes us human? That is why in K-9_topology the concept which can be, among other interpretations, read as a speculative fabulation, of a dog-human werewolf exists as a reminiscence of an extinct culture of man; a conclusion suggesting that it is our own animality that makes us the most human.
"ARTE_mis" is one of the projects that investigates animal ethics and possible outcomes of scientific novelties. In it, you crossed one of your cells with that of a dog to create an artistic symbol of a chimera. You have said that if these cells were really viable, the resulting lifeform would have higher chances of survival on this planet – how come?
Maja Smrekar: Ecologically, "ARTE_mis" connects three carnivorous species: human, dog and wolf, where the last two are genetically 99.9% identical. Ever since the beginning of our existence, all three species have been regulating the environment together, although the wolf is now an endangered species, and therefore nihilistically absent from the formal dimension of this project. On the other hand, humans and dogs became the largest invasive species on the planet. Therefore, I symbolically placed our cell materials in an equal, cohabitating relationship, as an artistic artefact. What we get is not a chimera, but a statement. Despite the fact that the project carries a plethora of biotechnological potentials, it at the same time primarily serves as a civil tactical media act. Even though the cell exists frozen in liquid nitrogen, it also evokes a public discourse and serves as a reference to the theory of Rosi Braidotti, who requires us to think beyond humanist limitations, in order to embrace the risks that becoming other-than human will bring in the future.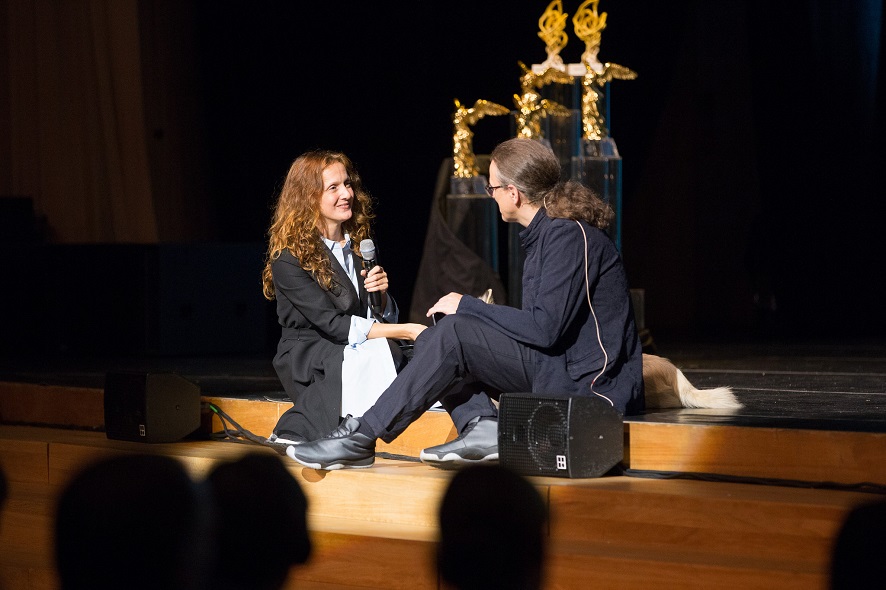 Credit: Florian Voggeneder
There have been strong reactions to "ARTE_mis" in Austria. The project was created in your country of origin, Slovenia – how were the reactions there? What do you think strikes the public so intensely?
Maja Smrekar: The most obvious reason for such strong reactions in Austria were clearly the elections last fall. There have been some negative reactions against the project in Slovenia, but not as much organized and collective until just recently, regarding the forth coming elections in July. Nevertheless, I understand the global right-wing fundamentalism, populism, and sensationalism merely as a proof of concept within the zeitgeist, established as the state of a general crisis. Whether this crisis really exists or not, it is systematically exploited to increase the feeling of fear in public. Those who are receptive to this kind of fear usually consequently blame the representatives of the most vulnerable groups (immigrants, Islam, LGBT community, women, animals, etc..) for this fear. However, the ethical duty of the artist is to address these current issues, and therefore to resist the radical sensationalism with radical artistic works. That way, in the service of the freedom of speech as our constitutional right, art enters into the discourse of everyday life. What usually happens then is very well put in the song "Anthem" by Leonard Cohen, who says: There is a crack in everything, that's how the light gets in.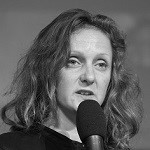 Maja Smrekar was born 1978 in Slovenia. In 2005 she graduated from the Sculpture Department of Fine Art and Design Academy in collaboration with the Academy of Theater, Radio, Film and Television in Ljubljana, Slovenia, and has an MA in New Media. In 2010 she led an international festival HAIP10/New Nature, which took place at the Multimedia Centre Cyberpipe in Ljubljana, where she has been active as an artistic director for three years. She won first prize at the Cynetart festival by the European Centre for Arts Hellerau (Dresden/Germany), has received an Honorary Mention at the Ars Electronica Festival (Linz/Austria), and the Golden Bird Award–the national award for special achievements in the field of visual arts by a Liberal Academy (Ljubljana/Slovenia). Maja Smrekar lives and works between Ljubljana (Slovenia) and Berlin (Germany).
Submissions for Prix Ars Electronica 2018 are still possible until March 12. Find out more on our website.
To learn more about Ars Electronica, follow us on Facebook, Twitter, Instagram et al., subscribe to our newsletter, and check us out online at https://ars.electronica.art/news/en/.