Sound blended with visualizations into an extraordinary ensemble at the Abu Dhabi Festival on March 24, 2018. Pianists Maki Namekawa and Dennis Russell Davies collaborated on three highly contrasting pieces for one or two grand pianos while artist Cori O'Lan's real-time visualizations shed light on their stylings. This performance entitled "Pianographique," a co-production of the Abu Dhabi Festival and Ars Electronica, showed just how fascinating it can be when sounds and images coalesce.
We met with pianists Maki Namekawa and Dennis Russell Davies before the concert to find out more about the works on the program, their collaboration, and the interplay of music and visualization.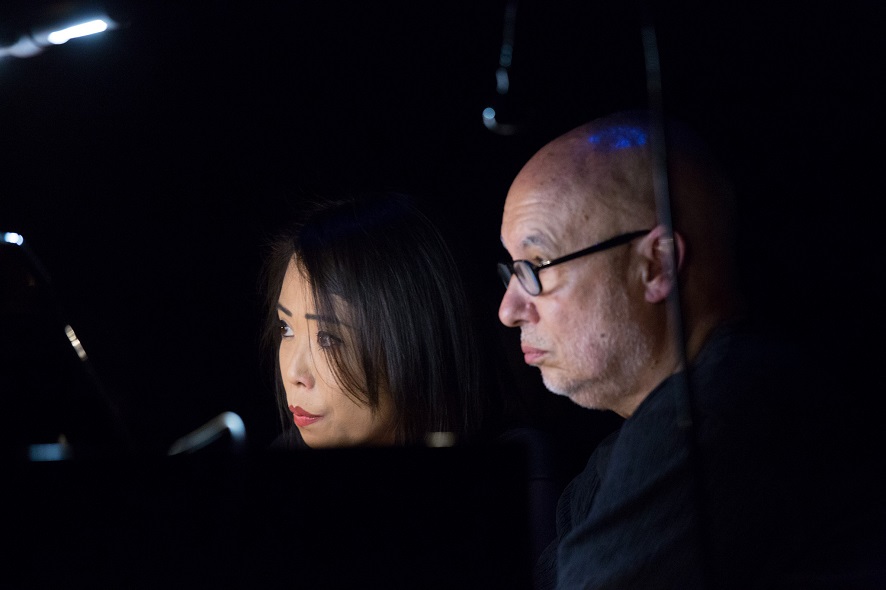 Credit: Tom Mesic
What does performing together at this year's Abu Dhabi Festival mean to you?
Dennis Russell Davies: It's our very first appearance in an Arabic country, which we're really looking forward to. And, of course, it's wonderful that Ars Electronica could make this happen. It's simply a new life experience, one that we've never had throughout many years touring worldwide. This makes it especially interesting!
Maki Namekawa: I've been so fortunate that music has enabled me to visit numerous countries and to experience many different cultures. But for me as well—this is the first time that I'll visit an Arabic country to perform there. I'm absolutely delighted and I'm so curious about how the audience will respond to the live visualizations and to our music! I'm positive that it'll be well-received—many of the concertgoers might never have experienced something like this before. We're proud to present this import from Upper Austria. I often play unaccompanied—that is, without visualizations—but this is a completely different atmosphere. When I play together with visualizations by Cori O'Lan, I always have the feeling that I'm receiving support from someone. The combination is excellent! I'm delighted every time I can go on stage with Cori O'Lan's visualizations.
What works will you be playing?
Dennis Russell Davies: The program consists of three works, each with a connection to Ars Electronica. The first piece is Steve Reich's "Piano Phase," which Maki Namekawa and I once performed at the Ars Electronica Festival, where it was also visualized, but Cori O'Lan has now created a new version, which we will be premiering. The second work as well, "Mother Goose" by Maurice Ravel, was produced and performed by the LA Philharmonic at Walt Disney Hall with visualizations by the Ars Electronica Futurelab. Now, Cori O'Lan has adapted it for the four-handed piano version we're performing in Abu Dhabi. And finally, we'll play "Four Movements for Two Pianos," a work Philip Glass composed for us. And Cori O'Lan will visualize this piece too with a new version. Our appearance at the Abu Dhabi Festival will be the first time we'll perform all three works together.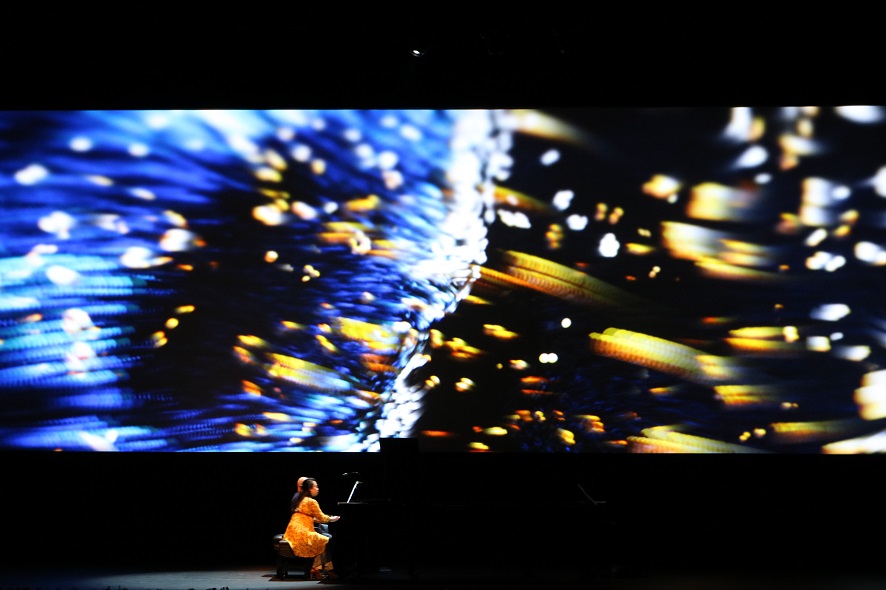 Credit: Abu Dhabi Festival
Maki Namekawa: The three pieces have totally dissimilar tonal colorations. When I collaborate with Cori O'Lan, I often play only one piece by one composer, but at the Abu Dhabi Festival we're performing three very different ones. Ravel, for example, is known for his magical palette of colors—musicologists refer to this as magic because he brings forth so many magnificent colors with the orchestration. When I play the four-handed version of the piece, of course, the color is different than if an orchestra were playing it, but it actually brings out the intensity of the music much more.
Steve Reich is totally different. Piano 1 and piano 2 start to play together. Gradually, I shift the tones—the first note at each position, strictly mathematically. This art that Steve Reich created is ingenious, modern and minimalistic. Philipp Glass is also a minimalist like Steve Reich, but the two are totally different! And the four movements by Philip Glass are, in turn, very different than Ravel.
We're playing works by these three great composers, each of them a version for a piano duo, together with visualizations by artist Cori O'Lan. This is very interesting for me, and I'm sure it will be for the audience as well.
Dennis Russell Davies: Two of the works—the ones by Philip Glass and Steve Reich—are for two pianos. The work by Ravel is the original version for one piano played four-handed.
What's the challenge for you as pianists to play a piece with two pianos?
Dennis Russell Davies: These are two very different works, so it differs. The work by Steve Reich has to do with rhythmic delays. It's become a classic of Minimal Music. Steve Reich has also composed a version for two marimbas—but basically it should always be two of the same instrument. This creates a melodic-rhythmic structure in rapid sixteenth-notes that, due to the slight shift into approximately 32 different elements, come into play in a variety of formats. This poses a twofold challenge. Maki's job is to play this slight acceleration a bit faster, while my job is to not get carried away by that and to maintain the tempo. Both assignments are difficult, but I believe Maki has the harder task.
The work by Philip Glass is a classic piece for two pianos with four movements. It's quite interesting for a pianist—technically demanding but musically comprehensible, and it always makes a strong impression on the audience.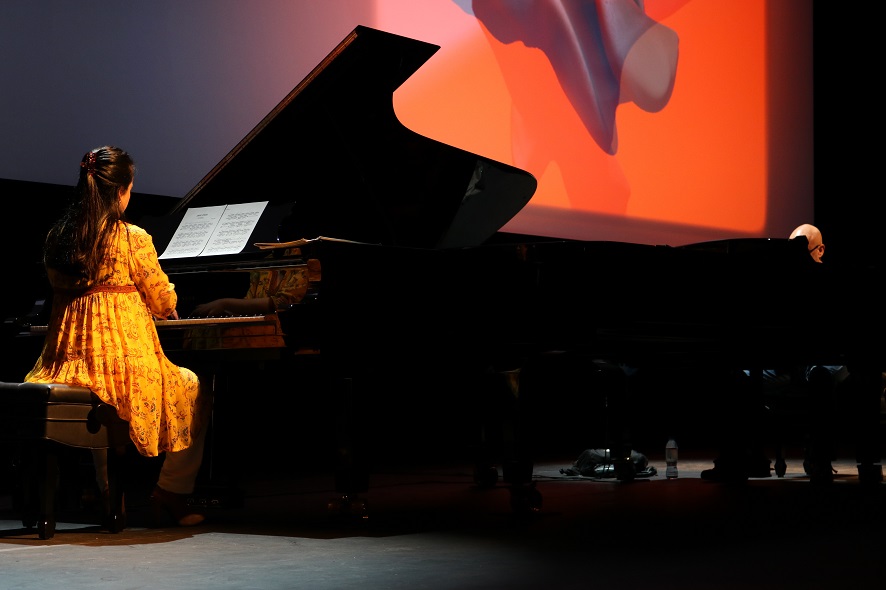 Credit: Abu Dhabi Festival
What do you have to keep in mind when there are four hands playing on a single keyboard?
Maki Namekawa: Sitting next to each other at the keyboard of a concert grand piano and playing together with four hands at once is much more intimate. Playing two pianos each individually is very harmonious. At a single piano, you're in close contact—when the musician next to you takes a breath, you can hear it! Another difference is the tonal coloration—if there are two pianos, the audience hears the sound sectorially from the right or left but above all mixed in the middle.
Dennis Russell Davies: The challenge of two people at one piano is that you have to like each other and understand one another. I believe that working in this way has brought many couples together, as was the case with us. It's a very intimate way to make music, one that has a long tradition in classical music. In the 19th and 20th centuries, there was a piano in many homes, many more than today. Playing the piano four-handed was a wonderful form of family musical entertainment. All the great composers wrote symphonies for four hands. That was a way to bring music to the people. This is a beautiful way to make music and we enjoy it very much.
Cori O'Lan's real-time visualizations accompany the performance. How do these visualizations enrich the pieces?
Dennis Russell Davies: This is an ambivalent issue. I wouldn't say that the pieces need enriching, but I find this sort of visualization very satisfying. The more you see and hear, the better you develop the capacity to do both simultaneously: intensively listening and intensively watching. This isn't easy to achieve; listening in and of itself is a big challenge for the audience. The fact that the speed or the intensity of the visualizations is initiated by the sound, because that's the way it's conceived, is, I believe, conducive to the audience developing a feel for the performance when they hear and see it.
Maki Namekawa: I think that many, many people have already tried to bring together music and visualizations on stage, but this was mostly done parallel—the artist took a recording, created a graphics program, knew the length of the piece or just simply let the two elements play together. The real-time visualizations by Cori O'Lan react instantaneously to precisely what we play. This is something special. I enjoy it every time I play with visualizations. When I see the screen, I realize that I sometimes play differently—sometime I have more waves; sometimes more lines. I see my music.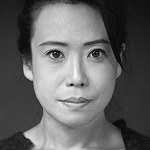 Maki Namekawa is one of the notable artists in her field. She regularly performs classical as well as contemporary music by the great international composers before huge audiences, and has displayed her artistry as a soloist and chamber musician at such major venues as Suntory Hall in Tokyo, Carnegie Hall in New York, Cité de la Musique in Paris, Barbican Center in London, Musikverein in Vienna, PianoFestival Ruhr, Rheingau Festival and at the Musik-Biennale Berlin. A CD containing all of Philip Glass' piano etudes performed by Maki Namekawa was released in 2015 by Orange Mountain Music. It topped the iTunes Classic Charts and received high praise from BBC Magazine.

Dennis Russell Davies is currently Chief Conductor of the Bruckner Orchestra and Opera Linz as well as the Basel Symphony Orchestra. In 2016 he will have held principal positions with orchestras, opera houses and festivals for a continuous 46 years that have also included the Beethovenhalle Orchestra, Vienna Radio Symphony Orchestra, State Opera Stuttgart, Bonn Opera, American Composers' Orchestra, St Paul Chamber Orchestra, Norwalk Symphony Orchestra, Cabrillo Music Festival, Stuttgart Chamber Orchestra. An avid sports fan, especially baseball, and father of six children, he lives in Linz, Austria, and in New York with his wife, pianist Maki Namekawa. Also a pianist and chamber musician, his activities show an extensive repertoire from the Baroque to today's new music that he uses in fearlessly structured programming to successfully challenge and inspire audiences on both sides of the Atlantic alongside his close working relationships with composers who include Luciano Berio, William Bolcom, John Cage, Manfred Trojahn, Philip Glass, Heinz Winbeck, Laurie Anderson, Philippe Manoury, Aaron Copland, Hans Werner Henze, Michael Nyman and
Maki Namekawa and Dennis Russell Davies performed "Pianographique" accompanied by Cori O'Lan's real-time visualizations on March 24, 2018 at the Abu Dhabi Festival. Here's more information about the festival.
To learn more about Ars Electronica, follow us on Facebook, Twitter, Instagram et al., subscribe to our newsletter, and check us out online at https://ars.electronica.art/news/en/.