Breathtaking imagery, a 16-by-9-meter projection surface, 8K resolution, and accompanying floor projections—Deep Space 8K is truly one-of-a-kind. And no less impressive are the manifold possibilities of using this amazing venue! Across the entire spectrum of dance, music, art and sport, this is a world-class setting for an astounding variety of events and performances.
We asked Juliane Leitner, Ars Electronica's project manager for Deep Space 8K, why Deep Space is so unique. And we were also curious about her most memorable events. Finally, two artists—Michael Polli (Indorsia) and Chris Bruckmayr (raum.null)—told us about their work in and with Deep Space 8K.
Juliane, what were the craziest things you ever experienced in Deep Space?
Juliane Leitner: The first thing that comes to mind is Jonglissimo, a group of jugglers who used the whole room as a stage. While they were performing, their act was recorded by a small camera, which beamed a projection onto the wall. This means that the jugglers' lightshow worked together simultaneously with our system!
Deep Space has often served as a concert venue too. Many a Bösendorfer concert grand piano has graced these premises! Often, the music and visualizations work together, for which our system offers completely new possibilities as well as challenges. These are above all of a technical nature—how to make music and visualization compatible so that both function simultaneously. Such a concert has to be well coordinated, so many rehearsals are necessary, but that's exactly what makes it so fascinating. And you also get some insights into the life of a pianist, which you would otherwise never have an inkling of.
We also host dance performances—for instance, by The Crew, who use the space as a dance floor and work with the laser tracking system designed by Gerhard Funk [director of the Time-based and Interactive Media program at Linz Art University]. Another very interesting act was by Viktor Delev, who used his own mixing console and sound system for a dance performance entitled ANATTA, and developed his own concept for the wall & floor projections including the image of a dancer. Didi Bruckmayr, who's known for his sound installations, has also performed here. This is incredible—when Deep Space is totally blacked out and only a single voice is audible, and you realize the creative possibilities of such vocals, it makes your hair stand on edge! The "Music in Space" format was also interesting because instruments can be used completely differently here. The artist, Karen Schlimp, installed a violin string in the piano, brought offbeat instruments along, and was accompanied by a vocalist who produced only sounds. I've never heard anything like this—at least not live.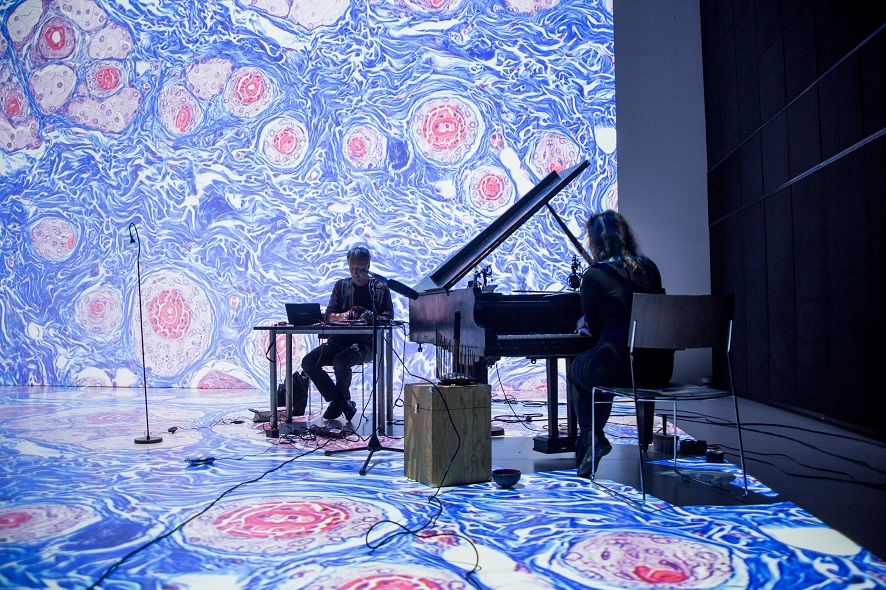 Credit: Vanessa Graf
Why is Deep Space a marvelous setting for such extraordinary performances?
Juliane Leitner: The space is meant to hold 160 spectators, which means that it's anything but a huge hall. That's the first point—it makes the performance more intimate, more direct; you experience everything more immediately; it's as if you were seated in a concert hall and the performance took place right in front of you. There's no grandstand in Deep Space and no seats like in a movie theater, which makes the space even that much more special. But what a lot of people aren't aware of is that when you stand in the Gallery, you get yet another perspective, a new point of view.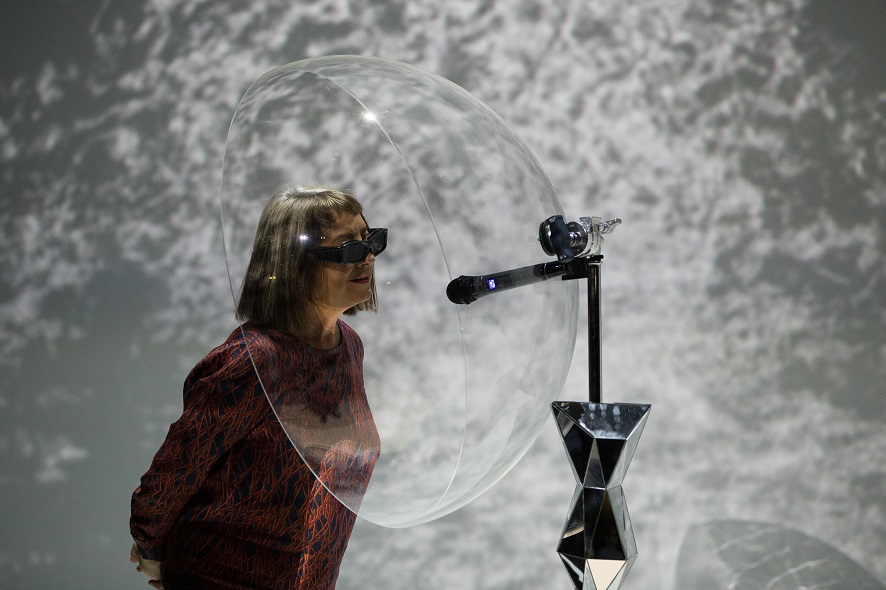 Credit: Florian Voggeneder
Plus, Deep Space is also technically versatile…
Juliane Leitner: It can do a lot! The 1st Upper Level, where the Gallery is, also houses the server room and the main mixing console. But Deep Space also features an auxiliary cabinet with a small console that devices can be hooked up to. Since the 2017 Ars Electronica Festival, we have a mini-loudspeaker in Deep Space, a directional speaker that came from Victoria Vesna. Her work entitled "Bird Song Diamond" was another project, the likes of which I've never seen anywhere else. The audience in this darkened space could hear the singing of birds, which imparted an extraordinary feeling that is a stark contrast to the clinical coldness of the technology.
What can Deep Space 8K do on the visual level?
Juliane Leitner: Of course, the visual level is the star of the show! There are eight 4K projectors. The computing power that runs them amounts to 25 gigabytes/second!
Why, in your opinion, do artists like Deep Space so much?
Juliane Leitner: The feedback we most often get is delight about the white walls, the white floor, and the dimensions of these projection surfaces—16 by 9 meters—which make them really great to work with. For dancers who who'd like to work with visualizations, it's often a problem to find suitable spaces. Photographers as well often need a white background to make a good photo. And many artists who shoot videos like the fact that they have a white surface as a starting point and thus have a choice as to what the background will be. Whether it's purely a video or one that features additional animated elements, you really get the feeling that, for instance, you've entered the world of a computer game. Often, we're even surprised ourselves. We think: Wow, you can do that? We had no idea that was possible!
Michael [bassist for Indorsia, a metal band that used Deep Space 8K to shoot a music video], what was it like for you to work in Deep Space?
Michael Polli: To shoot a visually appealing video to accompany our new musical material, we considered it important for the setting, on one hand, to live up to our own aesthetic standards as well as to do justice to the content of the song's lyrics, and, on the other hand, to get across a level of professionalism that's high enough to stand comparison to the top bands in our genre—and perhaps also to enable our work to stand out a bit from run-of-the-mill music videos.
But as a small, local band, there would have been a slim chance of bringing this endeavor to fruition without the corresponding support and contacts. This is why we're so grateful to have had the opportunity the Ars Electronica Center gave us to use this incomparable venue, Deep Space. Having access to a stage in the form of this impressive cinema right in our hometown isn't something you can just take for granted. It was a tremendous honor to play this stage ourselves, and it was great to receive guidance from skilled, interested experts in carrying out our project.
We're thankful to have immortalized our experiences in the AEC's Deep Space in our video "Mindfall" that we're looking forward to presenting to lots of enthusiastic viewers.
Sound artist Chris Bruckmayr—better known in the music scene as raum.null—has made several appearance in Deep Space, most recently "Chant of the Proto-Alchemists" during the 2016 Ars Electronica Festival. Chris, what does Deep Space mean to you?
Chris Bruckmayr: For me, Deep Space is an "empty" room in the most positive sense, one without a history, a Nothing meant as a complement. It's superbly suited to staging a space within a space, an immersive experience for the audience members who, in the best possible case, forget that they're even in a physical space. The reason why this works so brilliantly is that both the walls and the floor can be transcended with projections. The room-filling sound environment produces a very special atmosphere. At my performances in Deep Space, the audience and the sound artists always sit together on the floor—without barriers separating them, amongst one another. And this engenders a sort of shared ritual, something archaic, timeless, a collective modern shamanism that transposes the space-within-a-space into the psyche. Deep Space within and without. A trippy, loud, sub-bass-heavy journey undertaken by the spontaneous collective assembled there.
Complete information about upcoming events in Deep Space 8K is available on our website.
To learn more about Ars Electronica, follow us on Facebook, Twitter, Instagram et al., subscribe to our newsletter, and check us out online at https://ars.electronica.art/news/en/.