All eyes will be on Virtual and Augmented Reality at the Ars Electronica Center April 6-8, 2018. "Virtual Worlds – New Realities," a lineup of workshops and talks elaborating on these new technologies, is being produced in cooperation with the Upper Austrian Industrial Association.
In Part 1 of our interviews, Ars Electronica producer Kristina Maurer and artist Jürgen Ropp gave us their takes on the potential of VR and AR in artistic fields. Here in Part 2, Jeremiah Diephuis of the Playful Interactive Environments research group at the Upper Austria University of Applied Sciences' Hagenberg Campus explains what impact VR and AR could have on the gaming industry. And for all those who are curious—on Saturday, April 7th, Jeremiah will give a talk at the Ars Electronica Center for the themed weekend about the work his research group is doing.
Jeremiah, at the upcoming themed weekend, you will give a talk about "Hybrid Spaces for Play" this weekend. What can we expect?
Jeremiah Diephuis: Computer games have left the living room as their only place of habitual residence behind and are starting to be used in different areas than traditional entertainment. More and more, they are played with other people in the same, real-life room. This is true for well-known Augmented Reality games like Ingress or Pokemon Go, but also for the growing number of games at Deep Space 8K, where the entire room can be turned into an interactive playground for several people by using laser tracking technology.
Like I said before, this trend does not only affect the entertainment industry, but is also gaining a foothold in educational or cultural institutions, theaters, and museums. In comparison to conventional Serious Games, spatial factors play a bigger role here, because in the context of an exhibition, the inclusion of several people is usually desired. This is an especially critical factor for Virtual Reality applications, because VR headsets usually shut off users from their environment and allow other visitors only a passive viewing experiences via an additional screen. The new VRLab at the Ars Electronica Center provides, other than many other VR exhibitions, a very open and communicative environment for VR applications, and several stations can be used simultaneously. However, there are more ways to conceptualize VR installations in a way that several people take part in the game and therefore directly interact with each other or work on the same content together.
This is one of the focal points of our research group Playful Interactive Environments at the University of Applied Sciences Upper Austria, Campus Hagenberg: the so-called "co-located interaction". Playful VR installations turn into a cooperative experience for an entire group of people by combining the available technologies and the use of different user roles. We developed an example of this approach to interaction two years ago for the 2016 Ars Electronica Festival, the multi-player VR game Cargo. Two VR players steer a spacecraft together and defend it, while players without VR headsets collect virtual cargo and carry it to the spaceship. We built on our experiences with Cargo to create more projects, like the virtual House of Medusa, where several People can have a playful and cooperative go at virtual archeological work by using a VR headsets and tablets.
Where do you see VR and AR going in the next few years? What is the potential of these technologies?
Jeremiah Diephuis: Even though a lot of hype about the different possibilities of use, enthusiasm but also skepticism about AR and VR technologies have been spread in the last couple of years, the potential for mixed reality is humongous, especially in the areas of interactive art and games. Media artist Golan Levin said a few years ago, that apps will become their own form of art and will enable easier access to a diverse public thanks to the wide spread of smartphones. This possibility is just as real for mixed reality projects, which are by now able to run on most smartphones. With projects like this, self-made animations could be layered upon analogue works of art to create dynamic mashups, to name just one example. The possibility to distribute your own mixed reality works via well-established platforms for games and apps holds a lot of potential for the future, even if this is not yet common practice.
It is still very hard to say in which directions these technologies will take us in the future. There are already virtual reality arcades for several people like The Void, but for the moment, they remain a niche market. Virtual experiences based on 360° video footage could become more common in the future, so users can experience extremes like a parachute jump or parkour for a small fee and without the risk of injury. The use of VR for therapy, for example to rid patients of certain fears, is also increasing.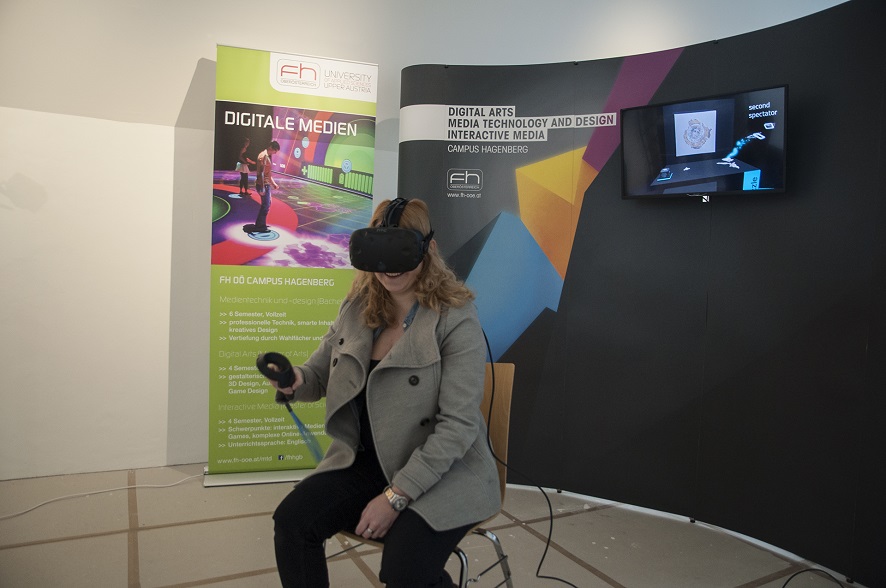 Credit: Playful Interactive Environments
Which aspects of VR and AR should we, as a society, look critically upon if we want to use the technology in a meaningful way in the future?
Jeremiah Diephuis: At the beginning, many worried that VR applications could become a complete substitute for real experiences. The idea of people running around with head mounted displays and primarily doing virtual tasks is well-documented in Sci-Fi novels and films. These fears now definitely seem to be relatable, you just have to take a look at our daily use of smartphones. However, with the current technological possibilities we do not see any real danger, even despite the steadily rising degree of immersion – an adequately haptic experience is still very far off. Until we develop a human-machine-interface which practically circumvents the sensory organs and processes the information of the brain directly, the fear that we cannot distinguish between the real and the virtual world surely has to be subordinated to more acute threats like climate change or resource scarcity.
Of course, this does not mean that there shouldn't be any criticism directed towards VR and AR or that we should not reflect upon the usage of these technologies. Even though the visualizing and tracking technologies are steadily improving, the current state of technology is at a point where there are still problems to be solved, so that many applications fall by the wayside and remain prototypes, albeit impressive ones. This state of affairs sometimes contributes to a general disappointment, which further proves that we are currently seeing a hype. Both the developers as well as the consumers will have to be a bit more patient and refrain from judging the future relevance of these technologies prematurely. One thing we definitely have to keep in mind is that VR and AR are also communication technologies, which means that we should consider social aspects in the coming developments.
The "Virtual Worlds – New Realities" themed weekend produced jointly by Ars Electronica and the Upper Austrian Industrial Association will run Friday to Sunday, April 6-8, 2018, at the Ars Electronica Center. Program details are available on our website. 
To learn more about Ars Electronica, follow us on Facebook, Twitter, Instagram et al., subscribe to our newsletter, and check us out online at https://ars.electronica.art/news/en/.