Imagine this—climbing aboard a rocket and getting launched into outer space, where you float weightlessly through the cosmos, observing the Blue Planet far below from a perspective that few human beings have ever had. As an astronaut, this fantasy can become reality, though the career path to professional space traveler isn't an easy one. Nevertheless, Advanced Space Academy that NASA annually stages at the International Space Camp, a part of the US Space & Rocket Center in Huntsville, Alabama, brings students from throughout the world one step closer.
Once again this year, ESERO Austria, the Austrian Research Promotion Agency, the Austrian Federal Ministry of Transport, Innovation & Technology and the Ministry of Education, Science and Research made it possible for a teacher and two youngsters to travel to Huntsville to attend the camp and partake of workshops, talks and space travel simulations. In Part 1 of this interview series, the participating teacher reported on her experiences; now, the two students will give accounts of their time at the Advanced Space Academy.
Sophie Birnbaum: When I found out about the student competition, I immediately got information about what exactly the Space Camp is. I was enthusiastic right from the start. Ever since I was little, I've been interested in astronomy and astrophysics, I like to travel, and I love meeting new people.
Alexandra Waldherr: Even as a little girl, I dreamt of being an adventurer, discoverer or inventor. Not engaging in an ordinary occupation, but doing exactly what I enjoy: finding out new things, learning new things, gaining new experiences, and meeting new people. When they announced the competition to win a one-week stay at the NASA Space Camp, I knew right away—being an astronaut would fulfill many of my dreams, and there's probably no better place to get started than this extraordinary facility! In 2017, I applied for the first time and was rejected. Needless to say, I was disappointed, but now I also knew what I had to work on. Until the next application in 2018, I enriched my life—as you can see in my application video—and when I received my acceptance letter, I knew that my training had made the difference. Now, I was ready for Huntsville!
What was your take-away from your week there?
Alexandra Waldherr: Many memories of an incredible week. Our team won the Teambuilding Award, and I already miss working together with the others. They were all so motivated to make a contribution, to help out, but also to listen, and to appreciate others.
At a time in which some people strive to be stronger, better and smarter than all the rest, it's impressive how NASA succeeds in creating an appreciative, rewarding, productive working climate—and not only in Huntsville. And for a good reason—nobody gets to the Moon alone!
I'll really miss the adventure with my team. I'm happy that Jack, our Australian, gave each of us a little koala doll to take home with us. Now, we can experience our adventure virtually all over the world—on our shared Instagram account, our koalas report what they've been up to in Costa Rica, Norway, Canada, New Zealand, the USA and other places. It was truly an international week. I want to again express my thanks to ESERO Austria for enabling us to represent this country!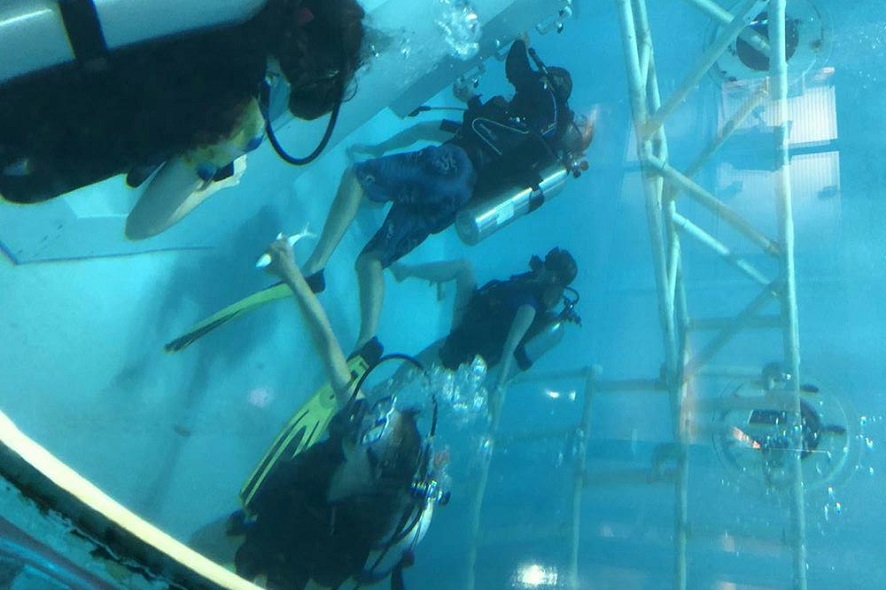 Credit: Alexandra Waldherr
Sophie Birnbaum: What I've definitely taken away from this are lots of new friendships with people from all over the world. I was very impressed by how quickly we grew together as a team and how different each person is despite the fact that we share this common interest. This was a wonderful opportunity to help one another over the course of the various activities in which a particular person is better than the others. For instance, prior to the Space Camp, I didn't know how to program a Lego robot, but now I have a pretty good idea of how it works. And you could learn new things not only directly from the other trainees but also naturally in the course of each activity.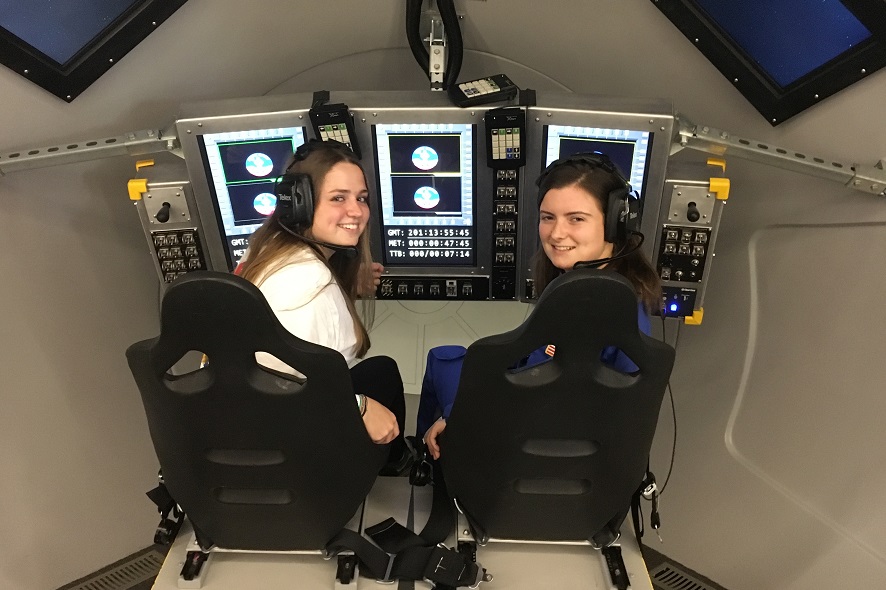 Credit: Sophie Birnbaum
What activities were the most fun?
Alexandra Waldherr: Definitely the scuba diving, which is based on astronaut training in the Neutral Buoyancy Lab. In a complete scuba outfit, we could spend 45 minutes underwater in a "weightless" state, learning to operate switches and launching plastic rockets powered by air from our breathing tanks. This extraordinary experience was also breathtakingly beautiful to behold, what with all the dancing air bubbles! In addition to all the simulations, G-force attractions, the tasty food and the group-building activities, the Engineering Challenges were the most exciting activities for me.
Sophie Birnbaum: Each scheduled activity was exciting and challenging in its own way. What I liked best were the three missions we had to carry out during the week. Everyone had to concentrate on their own job and, at the same time, lend the others a hand. You had to collaborate with the entire team and this greatly strengthened our sense of community. Regardless of whether we ultimately completed our mission or not, we were all always very proud of what we achieved as a group. My personal highlight was the first mission in which I served as Mission Specialist—I and a boy on my team donned space suits and we were hoisted aloft. Floating in midair like real astronauts, we carried out our assignments.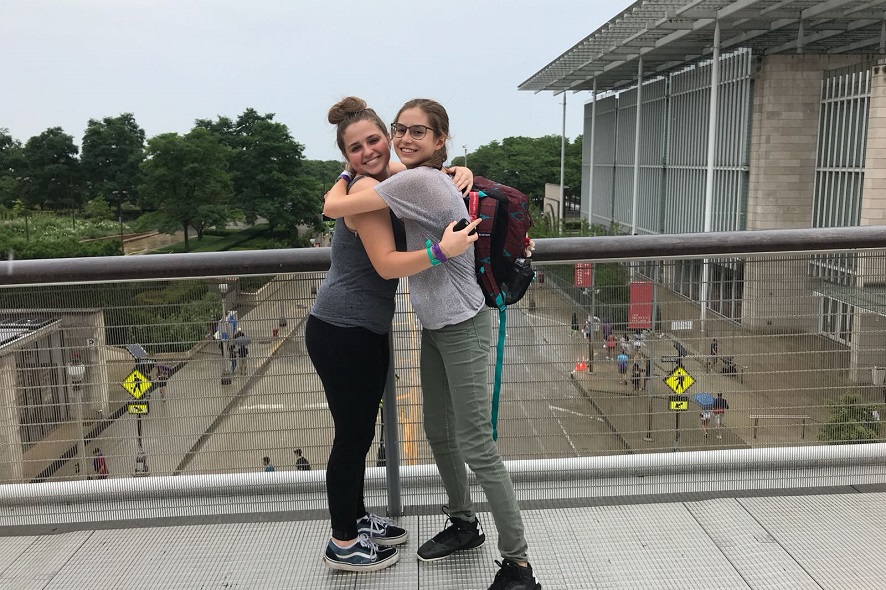 Credit: Sophie Birnbaum
How will you take what you've learned and apply it in your life?
Sophie Birnbaum: We learned a lot in our Space History classes, and I'm considering doing something in this area for my school science project. This experience also demonstrated to me that it's possible to realize a career choice such as astronaut or some other uncommon occupation. A big inspiration for me was astronaut Dottie Metcalf—during the camp, she gave a speech in which she repeatedly mentioned how important it is to believe in yourself and to pursue your dreams. Plus, next summer I want to travel to New Zealand to visit a girlfriend from camp.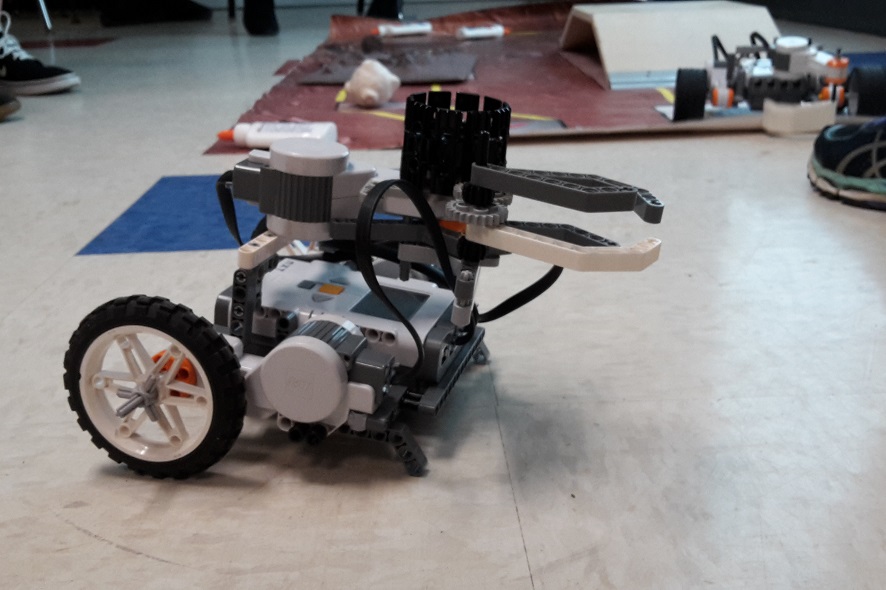 Credit: Alexandra Waldherr
Alexandra Waldherr: First and foremost, the Engineering Challenges—in a limited time and under material budget constraints, to come up with a solution to a space-related problem such as heat shields, miniature space suits, rockets and robots. This demonstrated that more is possible than you would have thought!
We had a very strict schedule, much of which seemed unrealistic at the outset—like building a robot in 40 minutes! A heat shield made of lasagna noodles and aluminum foil? Between dinner and bedtime, three more activities? But we learned in the process, and in the end it was all a lot of fun! Our solutions were maybe not 100% perfect, but they almost always worked, and a prototype can be developed further—and often with little prior knowledge.
So, the knowledge I acquired will serve as a basis that I can built upon: The sky is NOT the limit; there is always more to know! For example, the end effect of 40 minutes of learning Russian wasn't much more than the word один (odin) meaning "one." But the most important lesson is: The point isn't to learn everything right away; the main thing is to want to learn, to take an active approach to problem solving and to find solutions as a team. And above all: Time is relative! It was all too soon that we were seated in the plane back to Austria.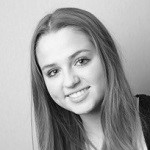 Sophie Birnbaum is 16 years old and lives in Salzburg, where she attends the High School for Music and Art.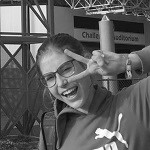 Alexandra Waldherr is into science. She attends Vienna's Rosensteingasse School with an enriched chemistry program including theory and practical lab work. Her extracurricular activities range across the STEM spectrum: she enjoys tinkering and soldering; was a member of the Vienna Open Lab youth advisory council; took part in the Viennese Physics Olympiade and other competitions; and writes a blog specialized in microbes. She spends her spare time outdoors, swimming, hiking and ice skating.
To learn more about Ars Electronica, follow us on Facebook, Twitter, Instagram et al., subscribe to our newsletter, and check us out online at https://ars.electronica.art/news/en/.