Filmmaker Kalina Bertin and her team were awarded with the Golden Nica in the computer animation category for ManicVR in 2019. The film is a very personal reappraisal of her family history, which is marked by bipolar disorders and their effects on human relationships. Originally created as a "classical" film, ManicVR uses the additional level of virtual space to make the "inner worlds" of the siblings understandable not only for their relatives, but also for the outside audience, and to make them more accessible. We asked Kalina Bertin about the background of her work, what effects the film had on her family and herself, and how she dealt with criticism.
Manic VR is a very personal work. Can you tell me a bit more about your personal connection with bipolar disorder?
Kalina Bertin: My brother François was diagnosed with bipolar disorder type 1 when he was 18. I was 15 at the time. I didn't understand what was happening to him, I was frightened by his manic and psychotic states, so I withdrew from our relationship. Nine years later, my sister Felicia experienced her first manic episode. This was a wakeup call for me. It was the beginning of a journey to understand what was happening to our family and really comprehend what bipolar disorder is, how it operates, so that I could learn to help both my siblings. I also wanted to attempt to discern what belongs to the illness and what belongs to them. Later on, while I was making Manic, the documentary film I made before ManicVR, I discovered my father, as well as my grand-father also had bipolar disorder. There was a recurring cycle of mental illness that was manifesting in our family. We couldn't deny it or hide from it anymore, we had to face it, understand it and attempt to overcome it. My films have been part of this very process.
Manic VR gives the user a quite realistic insight, the possibility to empathize, on living with bipolar disorder. How did you create the images, did you get professional advice as well?
Kalina Bertin: Creating the visual world of Manic VR was a collaborative effort between myself and fellow co-creative directors Sandra, Nicolas, Fred; my siblings Felicia and François and our amazing creative coders Josquin, Alexandre, Paul and our 3D artist Hugo.
Firstly, throughout the ideation stage, it was important for me to consult my siblings to make sure their voices were being heard and that they felt included in the creative process. I wanted to assure the way their inner worlds were being represented felt true to their experience. So we had many discussions regarding how to visually represent what I like to call "their inner worlds". From there, I would show them reference images, inspired by the talks we had. The visuals you see in ManicVR are fundamentally based on the vivid imagery that emerges from the phone recordings my siblings left on my answering machine, which I carefully selected and put together to illustrate the various phases of bipolar disorder. For example, when my sister talks about this infatuation she felt with the universe, with God, all while feeling deeply connected to the cosmos, it made sense to create a galaxy that would help represent the exuberance she felt during her manic episodes. We created six immersive environments that acted as milestones of the experience. Each of these environments represent a stage of bipolar type one.
"It was important for me to consult my siblings to make sure their voices were being heard and that they felt included in the creative process."
From the mood boards we put together during the ideation process, our creative coders and 3D artists also added their own contributions to the visual world. They worked extremely hard.
I should also mention that during the ideation process, we consulted psychiatrists and scientists from the Douglas Mental University Institute, the MIT McGovern Institute for Brain Research in Cambridge and the Stanley Center for Psychiatric Research at Broad Institute to make sure our approach in designing the piece could make sense to others living with bipolar disorder, and their loved ones.
The jury said in their statement: "Although we were not without cynicism for the cliché of VR as an empathy machine…" What's the role of VR for you in your work?
Kalina Bertin: In an age where our attention span is often limited due to the constant stimulus in our surroundings, VR allows us to create a bubble which cuts us off, momentarily at least, from the constant noise distracting us. In this immersive space, your user's attention is wholesome. In this bubble, you can allow your visitor to be physically and emotionally immersed in environments that might be impossible to experience otherwise. Through embodiment, interactive VR experiences have the potential to amplify a user's take away from a story, which in some cases, can generate a deeper connection with the subject matter. The agency a user feels and practices over its environment personalizes the experience, creating an echo realism on the context of this new reality. In ManicVR, the use of real-time interaction and virtual reality allows us to feel present in my siblings' inner landscapes. It allows us to feel closer to what their voices are describing, because on some small level, we feel like we are experiencing it with them, right now.
That being said, I don't believe VR is an empathy machine. A poorly designed VR experience can have adverse effects and could easily become less effective than other mediums. It's all about how you use the technology.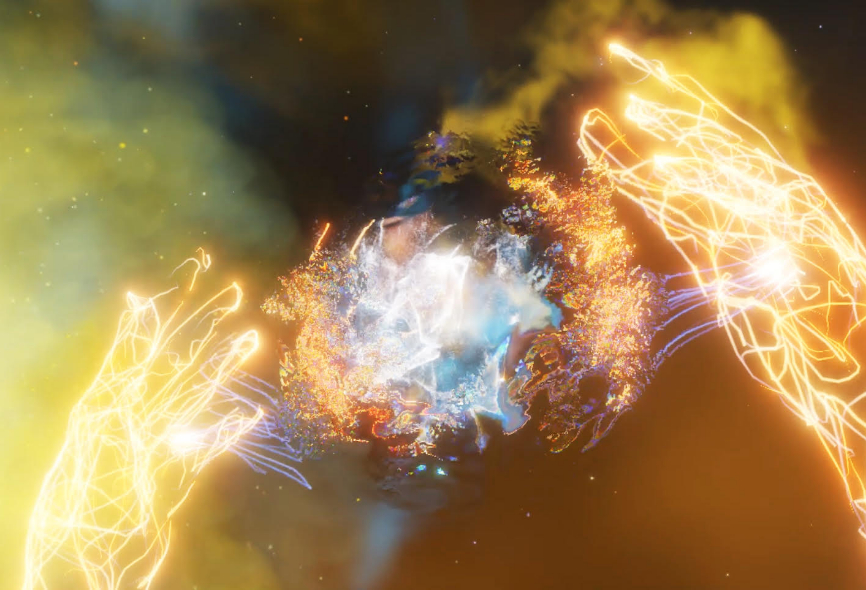 Which stylistic devices and forms of expression do you use?
Kalina Bertin: The whole architecture of ManicVR is inspired by the natural, built in narrative arc of bipolar disorder type 1 (the type that Felicia and François, my siblings, have been diagnosed with). To visually flesh out the phases of bipolar disorder type 1, we created six immersive environments to act as milestones of the experience. These environments were all based on the same fundamental blueprint – the structure of Felicia and François' bedroom – anchoring them in a reality that builds, transforms and collapses around the user. At the core of the bipolar experience lies a tension between the impression of a gain of control and the reality of a loss of control which grows as the disorder progresses through each of its phases. This notion of control was used to inspire the interactive design for ManicVR.
 Who should watch/experience Manic VR and why?
Kalina Bertin: Part of the motivation behind ManicVR was to create a piece that could generate a conversation between those who have experienced bipolar disorder and their loved ones. It would be impossible to recreate perfectly what it's like to live with such a complex condition but if somehow we could build a bridge between those two worlds, that would be really meaningful. That being said, this piece is also for anyone who wishes to better understand what it's like to live with mental health issues, to get a sense of the highs and lows, as well as the challenges of the journey.
How did creating Manic VR affect you, personally and professionally?
Kalina Bertin: ManicVR was part of a deeply healing process which allowed my siblings, my family, and me to address the legacy of mental illness which was plaguing our family. This allowed us to open up and have conversations we had never shared before. The most rewarding part was to see my sister's daughter, Fatima, experience ManicVR for the first time. She was 10 years old.  After she removed the headset, her eyes lit up. She sat down next to her mother and asked "So that's what it's like to be in Mania?".  Felicia replied "That's what it feels like for me, yes." For the first time, I could see in her daughter a deep sense of understanding setting in. She was beginning the process of coming to terms with a phenomenon which had remained largely a mystery to her. It was powerful to see that happen. On a professional level, I had the opportunity to learn and develop new storytelling techniques through ManicVR by collaborating with such a talented and inspiring team. I was also fortunate to travel around Europe to share this experience with a variety of different audiences. To see firsthand users and their reactions to the piece was deeply enriching.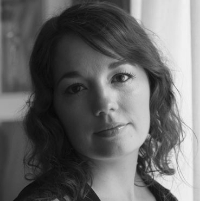 After completing her degree in filmmaking in Montreal, Kalina Bertin quickly realized that if she didn't set out to understand the mental illness in her family it would destroy her. This process gave birth to her award-winning documentary film Manic (2017), which explores the legacy of bipolar disorder in her family.  Manic was nominated for two Canadian Screen Awards and won an Iris Award for best editing in 2018. Highlighting the power of her voice within the industry, Kalina is a recipient of the Don Haig Pay it Forward Award at Hot Docs. She has been an invited speaker at the MIT Open Doc Lab, the Busan Int. Film Festival and the London Open City Doc Fest. Her new virtual reality experience, ManicVR, premiered at the prestigious Sheffield Doc/Fest in 2018 and is now being shown in festivals around the world. ManicVR is the 2019 winner of the Ars Electronica Golden Nica for best Computer Animation.
ManicVR is shown in the CyberArts Exhibition at the OÖ Kulturquartier, where the most outstanding entries from the Prix Ars Electronica, the international competition of computer art, can be seen during the Ars Electronica Festival until September 15, 2019. Kalina Bertin will also be present for the Prix Forum I – Computer Animation on Friday, September 6th, from 12:15 to 13:45 in POSTCITY. Consult our website for details. 
To learn more about Ars Electronica, follow us on Facebook, Twitter, Instagram et al., subscribe to our newsletter, and check us out online at https://ars.electronica.art/news/en/.