Imagine this: It's the near future, you are trying to self-check-out at a supermarket, and instead of being frustrated by the complicated procedure or the inefficient interaction design, you are actually enjoying yourself. Immensely so. Why? Because the interface has been designed to be fun.
How this – and playful human-to-object interaction in general – could be achieved is the aim of a shared research initiative betweenBANDAI NAMCO Research Inc., Hakuhodo , and the Ars Electronica Futurelab. With FUNGUAGE, a mix of fun and language, the three partners are trying to create a new design strategy for interaction that appeals to something deeply embedded in human nature: Our need for play.
The current research outcomes and past projects that have used design processes akin to FUNGUAGE are being displayed at the 2019 Ars Electronica Festival (September 5 – 9) at FUNGUAGE ROOM within the Open Futurelab at POSTCITY Linz. There will also be a panel discussion on Saturday, September 7, from 2 – 4:30 PM at the Open Futurelab, about the same topic. To find out more, we have talked to Koichi Araake, Head Researcher of the FUNGUAGE project at BANDAI NAMCO Research Inc., and Kyoko Kunoh, artist and researcher at the Ars Electronica Futurelab.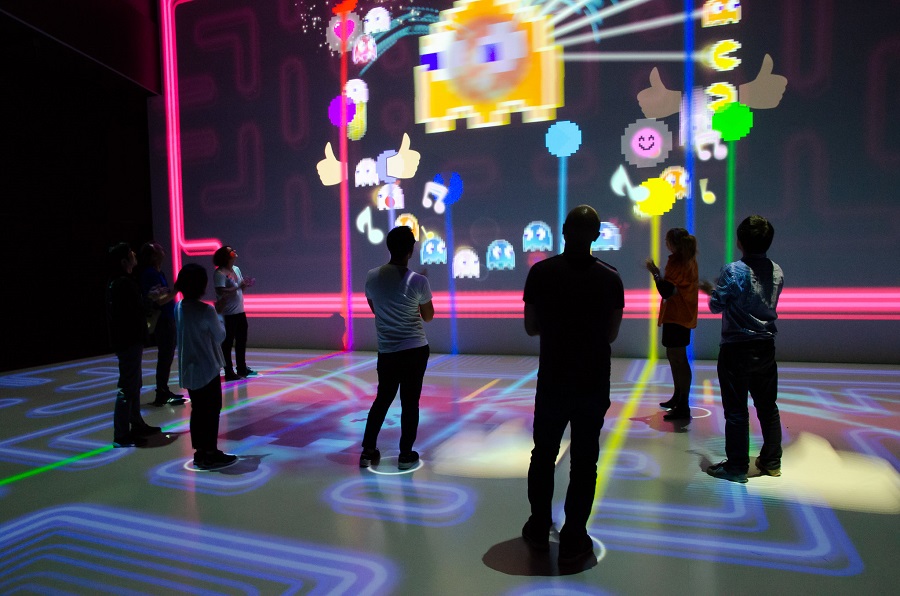 Credit: Magdalena Sick-Leitner
FUNGUAGE is a design concept that aims to incorporate FUN into communication and interaction. How did it come into being?
Koichi Araake: Here at the BANDAI NAMCO Group, we have been researching the possibilities or power of playfulness with the Ars Electronica Futurelab and Hakuhodofor a few years already. In 2019, we have not only founded BANDAI NAMCO Research Inc., but also defined FUNGUAGE as a new design concept for our entire company. FUNGUAGE wants to spread the fun and incorporate the power of playfulness into relationships between people or between people and inanimate objects. This is of course based on our history and experience with interaction design, which we have been working on throughout our video game development activities way back to the times of arcade games.
Kyoko Kunoh: When we started working with the BANDAI NAMCO Group, two years ago, we worked on using their very famous game PACMAN for future design strategies and innovation. At that time, we developed four projects that built on this idea, and one of them was FUNGUAGE.
This initial project has now evolved into a much bigger research field. FUNGUAGE is, first and foremost, a design strategy – but you have also developed prototypes to illustrate the concept.
Koichi Araake: Yes. We set three research topics within the frame of FUNGUAGE that we wanted to pursue. The first one is about how to apply FUNGUAGE to interfaces – we were thinking about user experience design and interaction. The second topic is focused on exploring how FUNGUAGE can make use of personal emotions and feelings. Since it is fun-spirit-based, we are dealing with very powerful emotions here. Last but not least, we are thinking about how to apply FUNGUAGE to communication media. With this one, we are hoping to generate a chain reaction – fun generates more fun.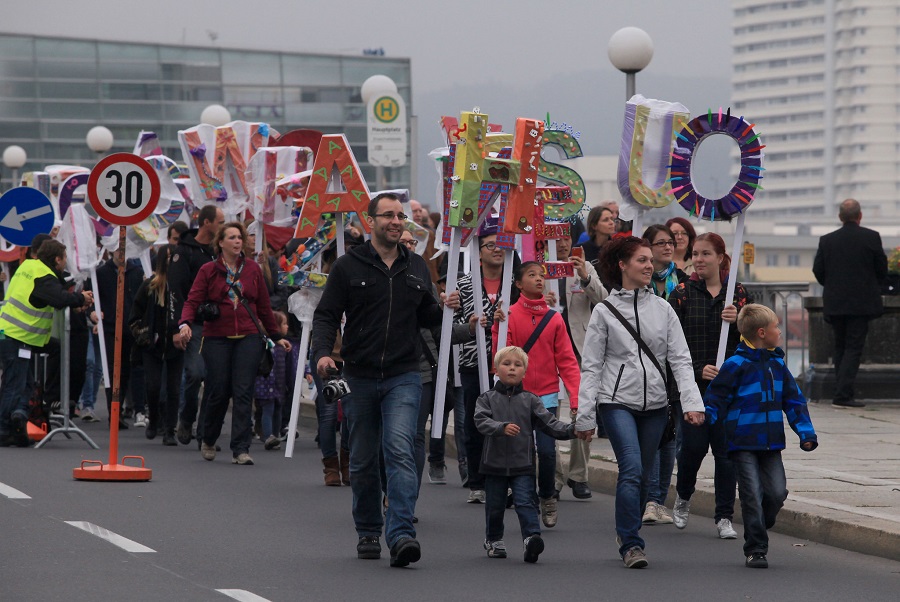 Credit: rubra
You are presenting some of your research outcomes at this year's Ars Electronica Festival. How will visitors be able to see what you are working on?
Kyoko Kunoh: This year, we have set the FUNGUAGE ROOM inside the area of the Open Futurelab on the first floor of POSTCITY Linz. We are not only showing newly developed prototypes, but also previous work of the Ars Electronica Futurelab in which we have identified elements of what could be FUNGUAGE. One example is the Klangwolke ABC, where, a few years back, visitors could design letters to participate in a performance at the Klangwolke open air spectacle. Another example are our Spaxels – drones that were developed to use the sky as their canvas, drawing and creating images above our heads. There will also be one of my own old works from almost 20 years ago, back when the idea of an Internet of Things didn't even exist yet – "Tool's Life". Visitors could touch objects on a table and see them come to life.
What about the projects that have been newly developed – can you tell us about them?
Koichi Araake: We are showing three prototypes, each one corresponds to one of the research areas I have mentioned before. The first one is called "Animation of Things" by Michinari Kono.
Kyoko Kunoh: The artist uses small servomotors to make everyday objects or products move. The projects asks the question: How can we model behavior in objects? Some movements seem very shy, or very active, or even angry or sad – the artist was trying to create exactly these impressions. It is also interesting to see what happens when we let several objects with different motor settings interact with each other.
Koichi Araake: The second prototype is called "Leaking out Feelings from our Bodies", by Eiji Iwata. The movement of visitors are tracked with a sensor and then translated into sounds. You can create melodies or even a little jam session with your body! We are hoping that this playful approach will motivate people to come in and make music together.
Kyoko Kunoh: People are exchanging their emotions via sound.
Koichi Araake: The third project is called "Emotional Connect". We were trying to visualize how people are feeling. This is done by putting up hammocks in the exhibition area, which are connected to a display. Depending on how much movement people are making in the hammock, sensors will interpret the mood of the visitors and display the information on screen, color-coded. Blue stands for relaxed, red shows more active emotions. Blue or red dots will start to fill the display depending on the visitor's movements.
An earlier project that was created with FUN in mind: Spaxels. 
You are researching interaction and communication with inanimate objects – quite serious research topics, but using a fun approach. How do you incorporate fun into your research?
Koichi Araake: For us, FUNGUAGE is a kind of philosophy. We would like this philosophy or design concept to be embodied in a book or a guideline at the end, a manual on how to include FUN in our communication and interaction. Right now, we cannot yet define exactly how this will look like, but this is what we are exploring with our prototypes. FUNGUAGE should take shape as a guidebook or a new kind of language.
Kyoko Kunoh: You probably already know that BANDAI NAMCO brings fun and joy to people with their entertainment products. But how will they, and how will we, be able to do this in the future? This is a big topic for a company in the entertainment industry – but it's not only relevant for entertainment. We want to create good communication between people and also between people and objects. The research that we are doing with BANDAI NAMCO Research Inc. has a much broader scope. How can people express their feelings without language? In a new way? Our shared research goes very deep – we are not only talking about fun, but about expression emotions in a new way of communication.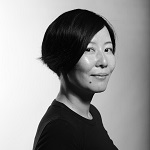 Kyoko Kunoh is an artist and a researcher of Ars Electronica Futurelab. She has created extensively on art works in the interactive art field, and has been active in a wide range of fields such as directing in the public and commercial space, design of exhibit products, and joint project with companies and universities. Her projects have been featured in many different locations both domestically and internationally including Ars Electronica (Austria), SIGGRAPH (USA), Centre Pompidou (France) and Japan Media Arts Festival (Japan).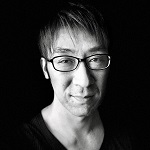 Koichi Araake has varied experiences in video game development including producing, project managing, game direction, designing, localization and internationalization. When he joined BANDAI NAMCO Group, he was a game designer and project manager for the TEKKEN 6 PS3, Xbox360 and Arcade versions, and also game director for the TEKKEN 6 PSP version. Recently, he has shifted his working field to Research and Development and started the collaboration with the Ars Electronica Futurelab and Hakuhodo. Since then, he has exhibited FUNGUAGE at the Ars Electronica Festival in three consecutive years.
You can see the FUNGUAGE ROOM, current prototypes on a new kind of language and past projects of the Ars Electronica Futurelab that use FUN as a design strategy at the 2019 Ars Electronica Festival(September 5 – 9) at the Open Futurelab at POSTCITY Linz (first floor). There will also be a panel discussion on Saturday, September 7, from 2 – 4:30 PM at the Open Futurelab , about the same topic.  To find out more about Ars Electronica…
To learn more about Ars Electronica, follow us on Facebook, Twitter, Instagram et al., subscribe to our newsletter, and check us out online at https://ars.electronica.art/news/en/.