"All new ideas are first laughed at by experts, then severely criticized; at last they say: we already knew that." This quotation from Hans Müller, the co-founder of "Organic Agriculture", has guided BIO AUSTRIA since its beginnings. As early as the 1930s, the first impulses were given to organic farming, and from 1962 the first courageous farmers in Austria started organic farming – often smiled at, sometimes hostile to. 40 years ago, the same year that Ars Electronica was launched, the first BIO AUSTRIA association was founded.
At the Ars Electronica Festival 2019, however, the two institutions will not celebrate their birthdays together, but rather a BIO AUSTRIA farmers' market will be held once again and with great success on the Saturday of the festival from 10.00 a.m. to 5.00 p.m. due to the great success of the event. We have summarized for you which companies are represented and how well these visionary ideas fit with Ars Electronica:
At the Pevny organic farm in Niederneukirchen, organic grain is refined into crispy organic bread and pastries. The delicious organic bread is available in various varieties (bacon bread, meat bread, etc.) to combat small hunger. There are also cakes and other treats.
In the Apfelwerkstatt everything revolves around the apple. With a lot of care and love they take care of their orchards and sweet hedges all year round. The results are delicious apple juices, vinegars and even mustard as a surprise!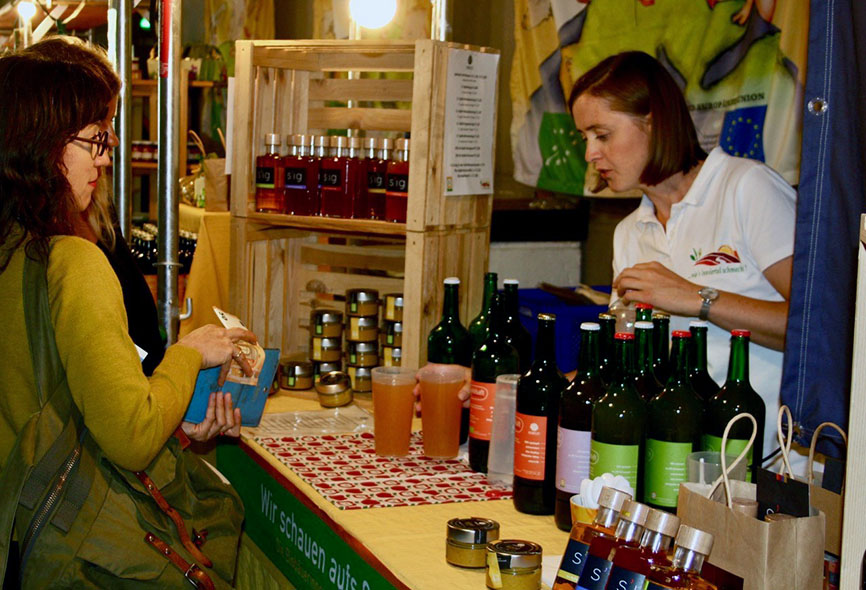 Hedwigs Gartl from Bad Zell prepares herbal syrups, the popular Zischerl – a lemonade mixture, fruit spreads and chutneys.
The herb farm Riederer cultivates original cereals and threshing spices (cumin, coriander etc.), various herbs and recently also mushrooms such as oyster mushrooms and elm mushrooms. In addition, they spoil visitors with spreads and cakes.
Fine sausage and meat products from turkey are available from the Beismann organic farm in Kirchberg ob der Donau. A matter close to the heart for the organic farmer are his ostriches. At this stand you will find delicious organic liver cheese rolls.
Two generations work together at the Raimund organic farm in Kirschschlag and for generations, in addition to keeping young cattle, their own fruit and berries have been refined into cider, schnapps and liqueurs.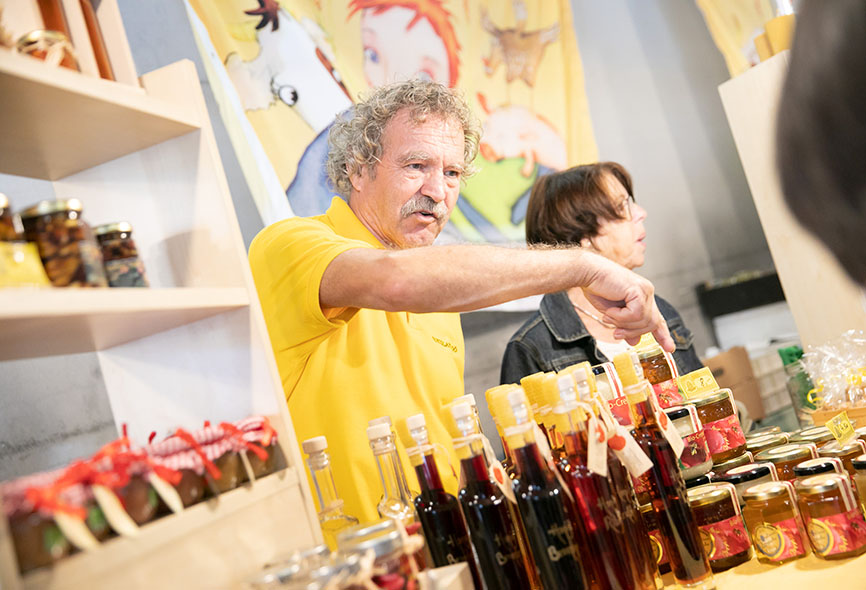 For more than 20 years the Kastner family has been running their organic agriculture. They bring a wide variety of fresh, soft and semi-hard cheeses from goats.
The Haslinger organic farm is also committed to biological diversity. With its tasty assortment of organic cheeses, it inspires every cheese lover.
Innovations can be found at Biohof Krammer-Pinter. In addition to organic spelt muesli with hemp nuts or cranberries, various seeds, nuts and hemp oil, there is sweet lupine as a high-quality source of vegan protein.
The founders of the Schlattbauerngut, Klaus Fronius and Roswitha Streif, work on their farm with a team of nature-loving people. They produce high-quality oils with great pleasure and respect for nature.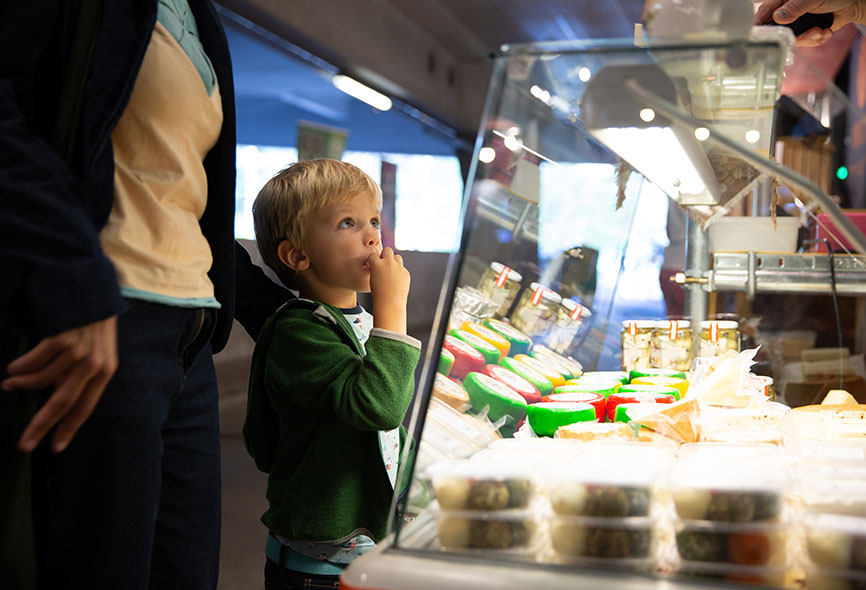 Juliberg, a BIO AUSTRIA partner, has recently started to bring spiciness to organic farming with his various varieties of organic chilli salt.
The Bio-Obst society is an association of Upper Austrian BIO AUSTRIA fruit growers who provide kindergartens, schools and offices with a healthy apple break.
At Biohof Reisenberger, a smallholder farm, the focus is on the cultivation of organic vegetables in the form of Solidarity Agriculture or CSA (Community Supported Agriculture). He enriches the assortment at the organic farmers' market with lamb salami and vegetables.
The organic vegetable farm Achleitner from Eferding has been managed organically since 1990. The small organic shop in the garage and the "Die Biokiste" delivery service were soon so successful that the organic fresh food market and culinary delights are now housed in a separate building. At the organic farmers' market you can get information about the bio box.
The organic herb farm Mathiasnhof is run by Magdalena and Thomas with a lot of love part-time. After their parents had been out of business for years, the organic herb farm Mathiasnhof moved in a new direction. Herbs and medicinal plants are now scented on around 1.5 hectars. In addition to tea, they offer emmer rice and noodles.
The organic beekeeping Russmann has been active in the name and for the welfare of the bees since 1983. Its beehives are located in the secluded valleys of the Kalkalpen, where nature is still untouched and where the local vegetation is extremely rich in species. The range of honey products they bring to the organic farmers' market is just as varied.
The BIO AUSTRIA farmers' market takes place at the Electronica Festival on September 7, 10 am to 5 pm. You can find the whole program on our website.
To learn more about Ars Electronica, follow us on Facebook, Twitter, Instagram et al., subscribe to our newsletter, and check us out online at https://ars.electronica.art/news/en/.