Had you visited the Galleria Borghese in Rome's Borghese Gardens about a year ago, you would have been able to catch a glimpse of a stunning oil painting after its restoration, with bold colours and a sophisticated composition: The Deposition by artist Raffaello Sanzio da Urbino, better known in English as Raphael. At the same time, a few hours away from Rome, a museum visit to the Ars Electronica Center in Linz might have been a very different experience for you – equally intriguing, but instead of the classically beautiful marble and canvases you would have been face to face with artificial intelligence and large scale 3D projections.
Sadly, the severe restrictions during the COVID-19 pandemic lockdowns meant that for a while, visits to museums across the world often became both impossible and a low-priority of days past. But during the months spent at home in isolation a common experience was shared across the globe: not just the longing for company and interaction, but a desire to experience culture, arts and the spaces that provide them. With the Ars Electronica Festival providing a vibrant and inspiring setting to thousands of artists and researchers – as well as many more visitors – every year since 1979 and a fantastic 40-year anniversary the year before, the questions of large scale cultural collaboration and interaction in a time of a global health crisis became ever more pressing.
This urgency and many open questions lead to this year's concept of a globally networked festival, with many institutions around the world manifesting themselves in a new style of international cooperation. And the Ars Electronica Center itself is no stranger to this kind of remote collaboration with the aim of bringing culture from across the world into the forefront for a local audience. For many years now since its inception, the capacities of the Deep Space 8K have offered the uniquely detailed window into the world of arts, with, among others, interactive 3D media arts on one hand and high resolution insights into cultural artefacts and masterpieces on the other.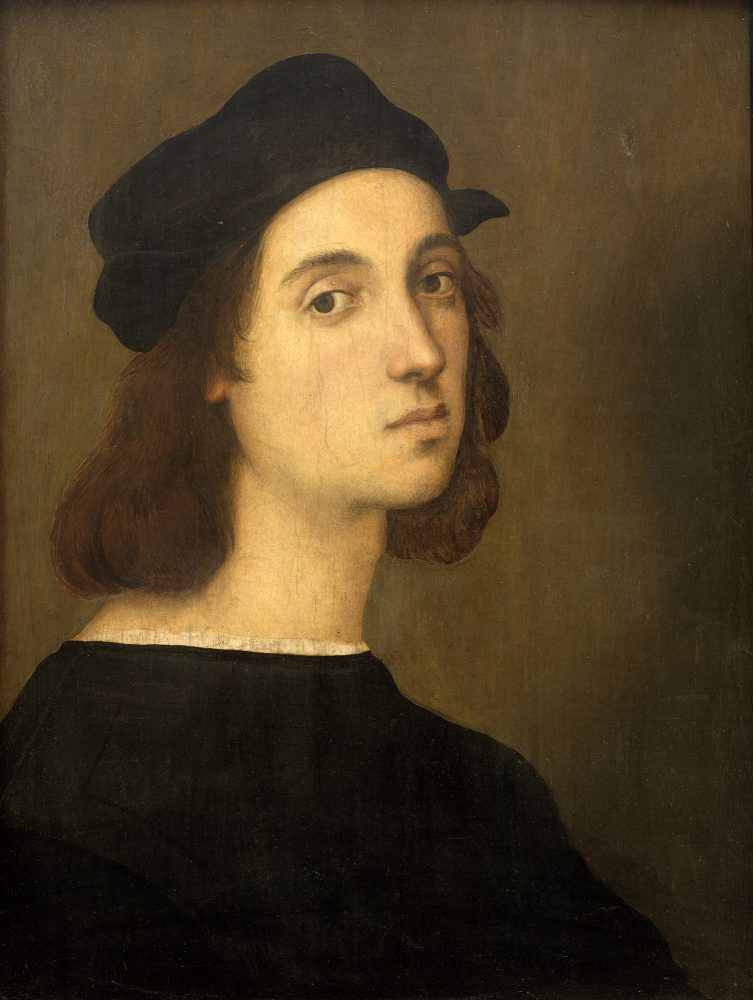 And this brings us back to Raphael. With 2020 being the 500-year anniversary of the artist's death, Magister Art, the enterprise specialising in digital heritage, has created a new cultural project titled Magister Raffaello. Being digital innovators in the field of cultural heritage, content creation and production, Magister Art has risen to the challenge of art experience in not just a digital age but a time period where geographical distances can no longer be a roadblock to interacting with great masterpieces from around the world.
This approach to a new form of communication in art history experience allows the combination of high scientific value with experimentation in new languages and media – a perfect fit for the Deep Space, which has always been an experimental playground for culture, media and arts. With this ingenious project, not just the colours and brushstrokes of The Deposition come to life: among others, we can see the Madonna of the Goldfinch, dressed in bold blues and reds within a pastoral landscape, as she protectively looks down at Christ and a young John the Baptist; and the master himself glances back at us in his self-portrait, turning the canvas – and by extension the Deep Space – into a window to the past.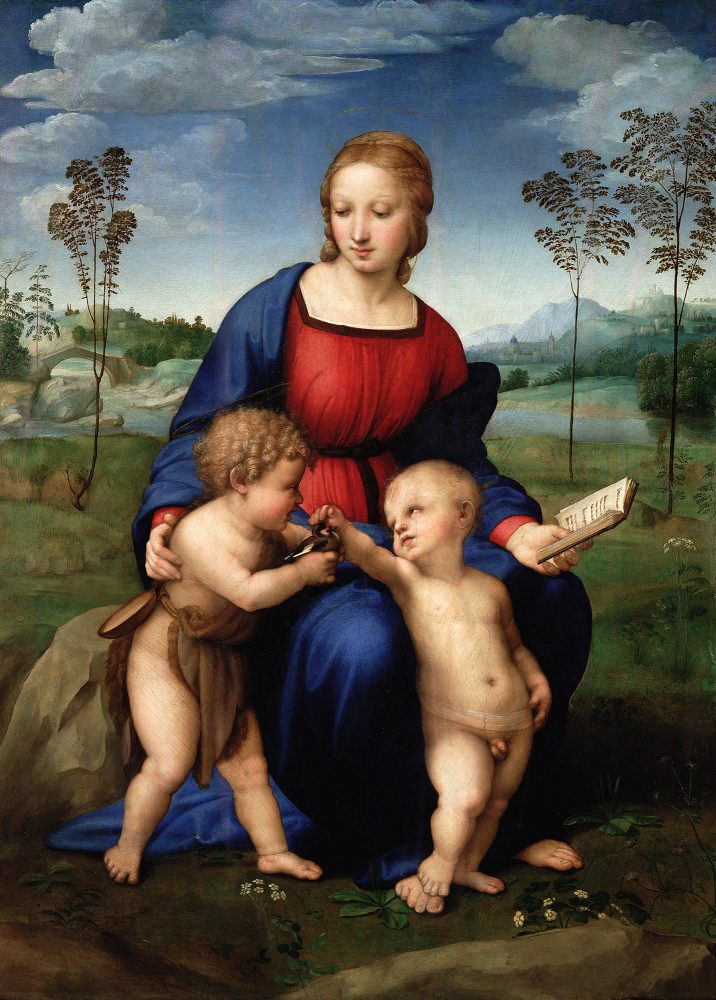 These reproductions of painted masterpieces are more than a tool for art historians or fun gimmicks for enthusiasts of Italian High Renaissance art. Using new technologies like these for immersive cognitive experience opens up spaces for people of all ages, educational backgrounds, socioeconomic levels, and cultures to approach art without the sometimes stuffy air of academia. Thus this project was selected by the Italian Ministry of Foreign Affairs among the initiatives to be promoted by Italian embassies, consulates and cultural institutions and reached Linz in a site specific adaptation as a collaboration between the Ars Electronica and the Italian Cultural Institute in Vienna.
So, as visitors join this year's festival events, there might still be a tinge of unusual and new routines in the sphere of culture and museum visits. But more than ever, the value and importance of projects as Magister Raffaello can be seen as some might long for the days of international travel and trips to the cultural capitals of the world. Being able to teleport audiences, wherever they may be, to the distinguished halls of the Galleria Borghese, without ever leaving their local area, is the kind of new international alliance that is needed for these digital journeys into the 'new' world.
Magister Raffaello 2020 will be presented in Deep Space 8K at the Ars Electronica Center in a site specific adaptation on Friday, September 11 at 11 a.m. with art historian Jelena Jovanović providing insight into Raphael's work. Further viewings of the project are available on Thursday, September 10 at 2 p.m. and on Sunday, September 13 at 4 p.m. Tickets are available online.
Magister Raffaello is promoted by the Italian Ministry of Foreign Affairs and presented in collaboration with the Italian Cultural Institute in Vienna.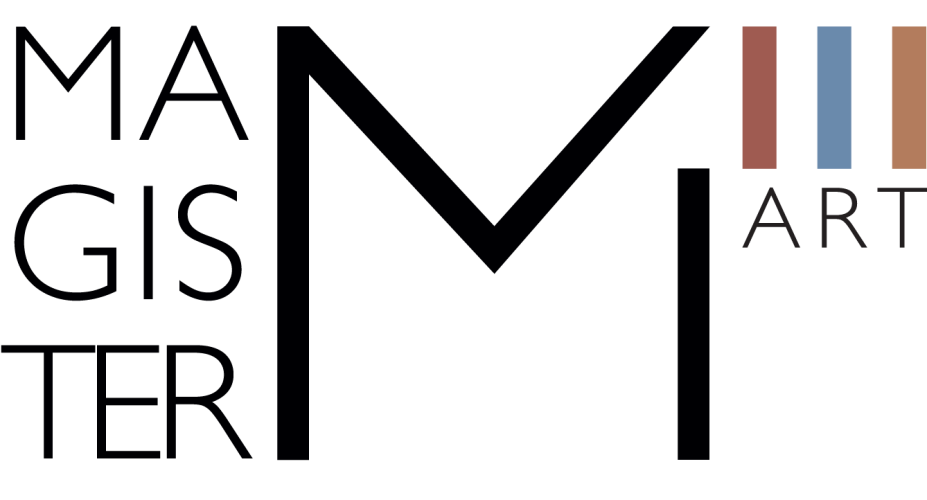 You can read more about the Ars Electronica Festival on this website, moreover, under the motto "Inside Festival" we have exciting new video contributions from all over the world for you every week, and on our social media channels we're also constantly giving outlooks and insights into what to expect this year.