We're coming to you!
Guided tours of exhibitions, excursions to Ars Electronica Labs, visits to the Machine Learning Studio, concerts with real-time visualizations, lectures and visually stunning presentations in Deep Space 8K, workshops with engineers and talks with artists and scientists, all kinds of exciting offerings for schools, universities and companies-all of this is "Ars Electronica Home Delivery". Whether you're at home in your living room or office, in the classroom or lecture hall, on the tram or subway, on the train – from anywhere, you can join us on this artistic-scientific journey into our future and get involved. Whenever you want, for as long as you want!
Get your Ars Electronica Home Delivery Service!
Whether elementary school or a technical college, a local SME or an international corporation, a local public authority or an interest group, an art museum, a science center or a university, you can choose from our virtual and interactive offerings that make Ars Electronica's know-how and thus the creative and innovative potential of artists in the fields of education, events, innovation and art accessible online!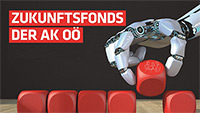 Supported by the Future Fund
"Arbeit Menschen Digital"
of AK Oberösterreich.