Citizen Science with the Natural History Museum Vienna: NHM on tour
The innovative and interactive museum e-bike intends to support the Citizen Science Initiative of the Natural History Museum Vienna (NHM) and was conceptualized and developed in cooperation with the Ars Electronica Futurelab and Inseq Design for the intercontextual knowledge transfer between research and society. It offers a place for interaction and participation and invites citizens and visitors from all social backgrounds to shape science and actively participate in social debates. The multimedia, mobile research station NHM on tour intends to improve networking between researchers and everyday experts and to be used for mutual enrichment at events in public spaces and schools.
"Citizen Science is the dialogue between society and research. It is often interpreted as the return of academic science to its origins. Because first, it was conducted by people at the center of the society before—only much later—it was institutionalized at universities." – Stefan Mittlböck-Jungwirth-Fohringer, Key Researcher & Artist, Ars Electronica Futurelab
Mobilisation of knowledge
"Science has to do with all of us. Research and society need to collaborate to find answers to the difficult questions for our future". – Marianne Eisl, Key Researcher & Artist, Ars Electronica Futurelab
Released from their passive role as recipients of information, visitors to the mobile research laboratory NHM on tour become active participants in the scientific process. Through the interactive use of new media and technologies, complex content can be made directly accessible, but can also be questioned and discussed.
A Shadowgram of the dark side of the light
With Ida 001, the first prototype of the research vehicle is now on tour through the city. It intends to bring the scientific work of NHM astronomer Christoph Goldmann to the districts, which deals with the effects of artificial light on people and nature, because in Vienna, light pollution has already more than doubled in the last 12 years. NHM on tour aims to encourage the participants to examine the topic by providing information critically on the one hand, but also by making people aware of their own responsibility.
The exhibition and interaction vehicle, based on a two-lane e-mobile, is to be used at as many different locations in the city as possible to provide low-threshold access to the scientific work of the NHM. Equipped with thematically associated exhibits from the museum's extensive collection—e.g. affected birds or insects, with two touchscreens and the Shadowgram, a participatory format that allows visitors to print out their own silhouette as vinyl labels and stick it on any surface together with personal statements, NHM on tour reflects socially relevant future issues together with the local population.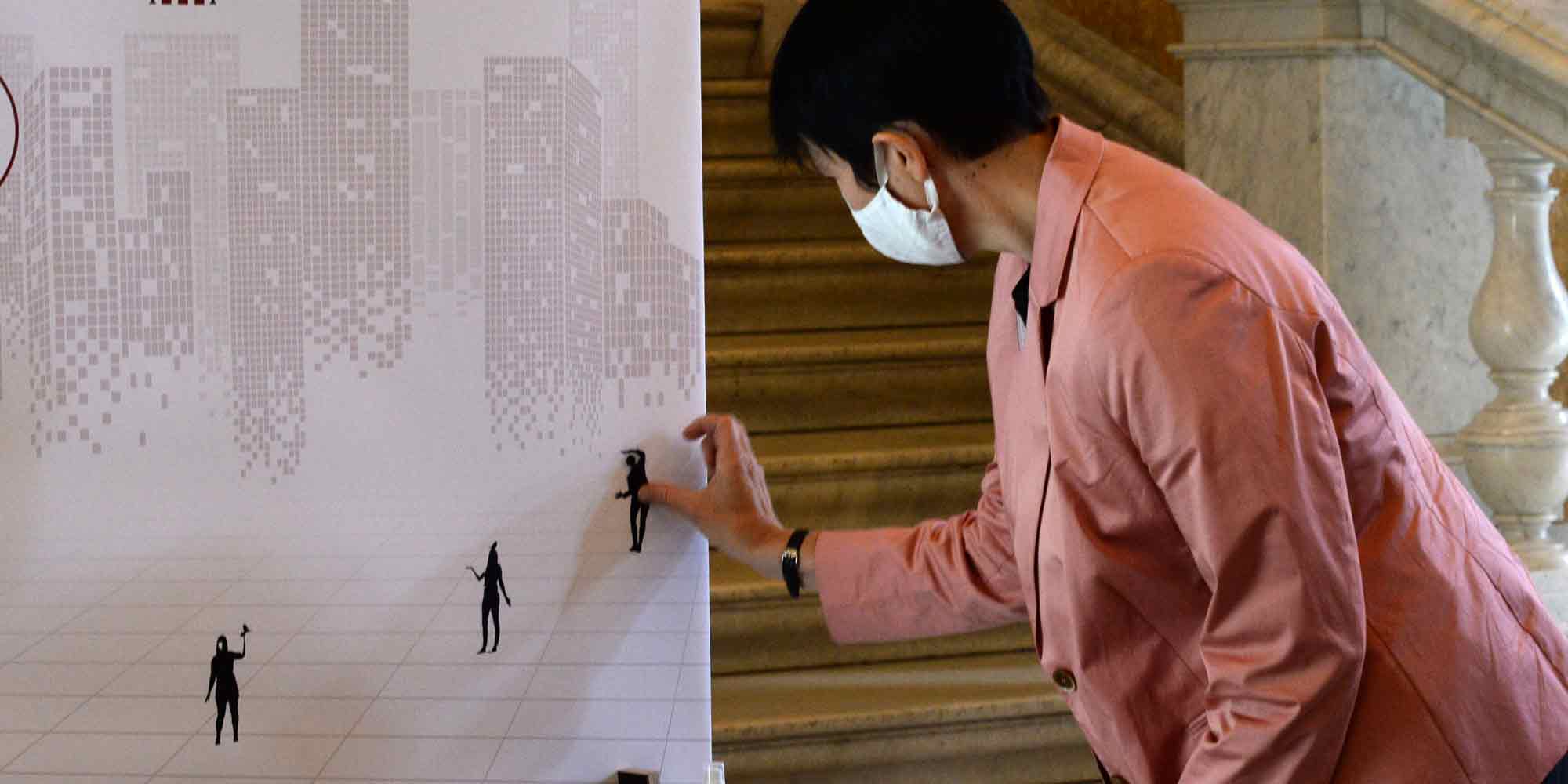 The Shadowgram is a research method developed and tested at the Ars Electronica Futurelab to stimulate valuable thoughts and statements from the general public. Illustrated by the semi-anonymous silhouette of the participant, it creates a high-quality visual representation of moods on specific topics, the complex composition of which can later be interpreted by researchers. NHM on tour also uses this method to identify people's moods in relation to important social issues and to incorporate the results into science. Answers from within society can be collected in this way and incorporated into the museum's research, enabling a location-independent, mutual transfer of knowledge.
And more good news
Further prototypes are following in order to approach people with other important research questions. It remains exciting to see what topics they will deal with and how the research of NHM Vienna will develop in the upcoming years through this intensive collaboration with the urban society. We wish our research colleagues in Vienna lots of success with NHM on tour and new insights for their science, our society and a common future!