While it is true that digital technologies have merely accelerated processes already unfolding across the industrialized world, they have changed our world and our lives radically over the last four decades. Alongside the growing impact, also unease and uncertainty are on the rise, leading the global tech industry into a crisis as we question the impact of new technologies (fake news, human downgrading, cyber-crime, trade in personal data, etc.) on the fabric of our daily lives and society. The worldwide backlash ("techlash") against the tech industry has now become a serious image problem for global internet platforms such as Facebook, Google and Co. Authoritarian ruled countries use surveillance systems such as AI-based face recognition more and more openly to suppress human rights and for social control. A trend that has even been exacerbated in some countries by the opportunities and requirements in times of global pandemics.
Therefore, institutions and initiatives around the globe, including Ars Electronica, are calling for a Digital Humanism that notices these omnipresent transformational processes and reflects on new pathways into a digital society. By initiating the European Platform for Digital Humanism, Ars Electronica and its partners take part in this urgent conversation focused on re-evaluating our relationship to the technologies we've created and how we use them – a conversation that is by no means confined to Europe but needs to be tackled on a global level. The goal is to leave the idea of a European humanism behind and to foster worldwide collaboration hosted by the European Platform for Digital Humanism. It is an invitation to organizations, artists and audiences all over the world to participate in the discussion and to shape their own future. This calls for an approach to digital transformation that empowers and includes every citizen and facing the global challenges by reflecting diverse perspectives. Could there be a digital society between the "data capitalism" of IT monopolists and the "data totalitarianism" of authoritarian regimes? Could digital applications be more oriented towards human needs and based on cultural values that respect the autonomy of users over their data? Could software solutions build on the values of cultural diversity instead of infrastructural uniformity? Could digital tools be increasingly of benefit in cross-culture collaboration, international cultural relations, and mutual understanding?
With questions that are tackling societal rather than technological developments at its core, Ars Electronica's European Platform for Digital Humanism focuses not on technologies but on their impacts. Over the next months, Ars Electronica will elaborate the key topics from this conversation and present them in different formats, form Home Delivery sessions over blog posts to social media activities.
Taking Action
The European Platform for Digital Humanism, initiated in 2019 and built on strong European cooperations and initiatives, encompasses various European projects and a network of partners from the fields of culture, research, arts and industries with a common sense for the intersection of technology and society, the urgency of addressing the rapidly progressing digital transformation and a shared drive to take responsibility. Renowned institutions including BOZAR—Centre for Fine Arts (BE), Waag (NL), GLUON (BE), Onassis Stegi (GR), LABoral Centro de Arte y Creacion (ES), Kersnikova Institute / Kapelica Gallery (SI), Science Gallery Dublin (IE), MEET (IT), Birmingham City University (UK), University of Arts London: Central Saint Martins (UK), Aalto University (FI), Börsenverein des Deutschen Buchhandels—Frankfurter Buchmesse (DE), Quo Artis (ES), IMZ International Music + Media Centre (AT) and Leiden University (NL) collaborate throughout projects that are focused on identifying and creating new strategies for a digital society and increased digital literacy.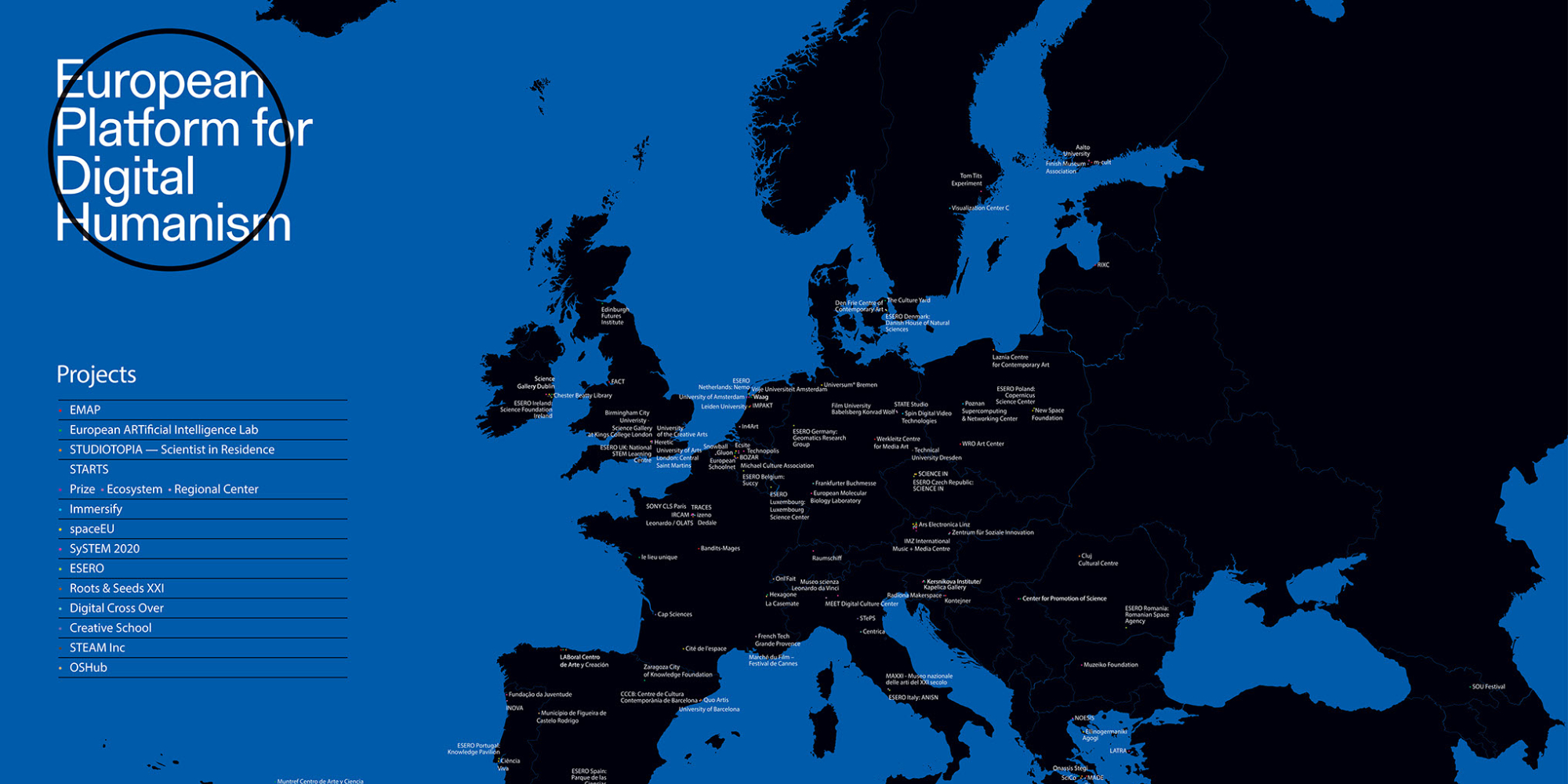 As we must rethink our current approach to technology, we believe that art and human creativity are irreplaceable as essential allies. In their dual function as humanists and futurists, artists are uniquely predestined to exert a positive influence on the development of technological innovation through artistic thinking and critical, unconventional reflection. Therefore, we expanded the Prix Ars Electronica with a special Prize: The Ars Electronica Award for Digital Humanity initiated by the Austrian Federal Ministry for European and International Affairs, which focuses on artistic projects that address social, cultural, and humanitarian issues in our digital society.
We are living with an unprecedented level of interconnection and interdependence on a global scale. As the business world rapidly changes and grows more complex, creativity and innovation have become key resources for societal and economic development. Not only has this interconnectedness brought us new forms of media closely linked to technological trends, it has also significantly affected the role of its users. Our role has changed from being mostly consumers to becoming active producers, actors, prescribers and influencers.
A critical reflection and utilization of digital tools is even more important now, due to the situation created by Covid-19, which obliges players also from the cultural and creative industries, public and private, to rethink their activities with different business models. One of the European Platform's core ideas is that innovation processes, especially in relation to digital and technological innovation, focus on the human first and foremost. These considerations lie at the heart of the STARTS Prize, which emphasizes the role of citizens in not only understanding but also actively partaking in innovation, by supporting artists, researchers and designers who develop new ways to tell and experience stories that raise awareness about societal challenges and do so more and more often in collaboration with high-level industry and technology partners. Innovation between creators, artists, researchers and technologists is predestined for competitive business models, unconventional products and solutions that have the potential to contribute to an enhanced understanding of societal needs. The potential of critical thinking can also be applied in policymaking to raise awareness about the urgent need to develop strategies for sustainable and inclusive innovation. Projects like STUDIOTOPIA propose new relations between nature and culture at a time of alarming phenomena such as climate change, migration and fake news.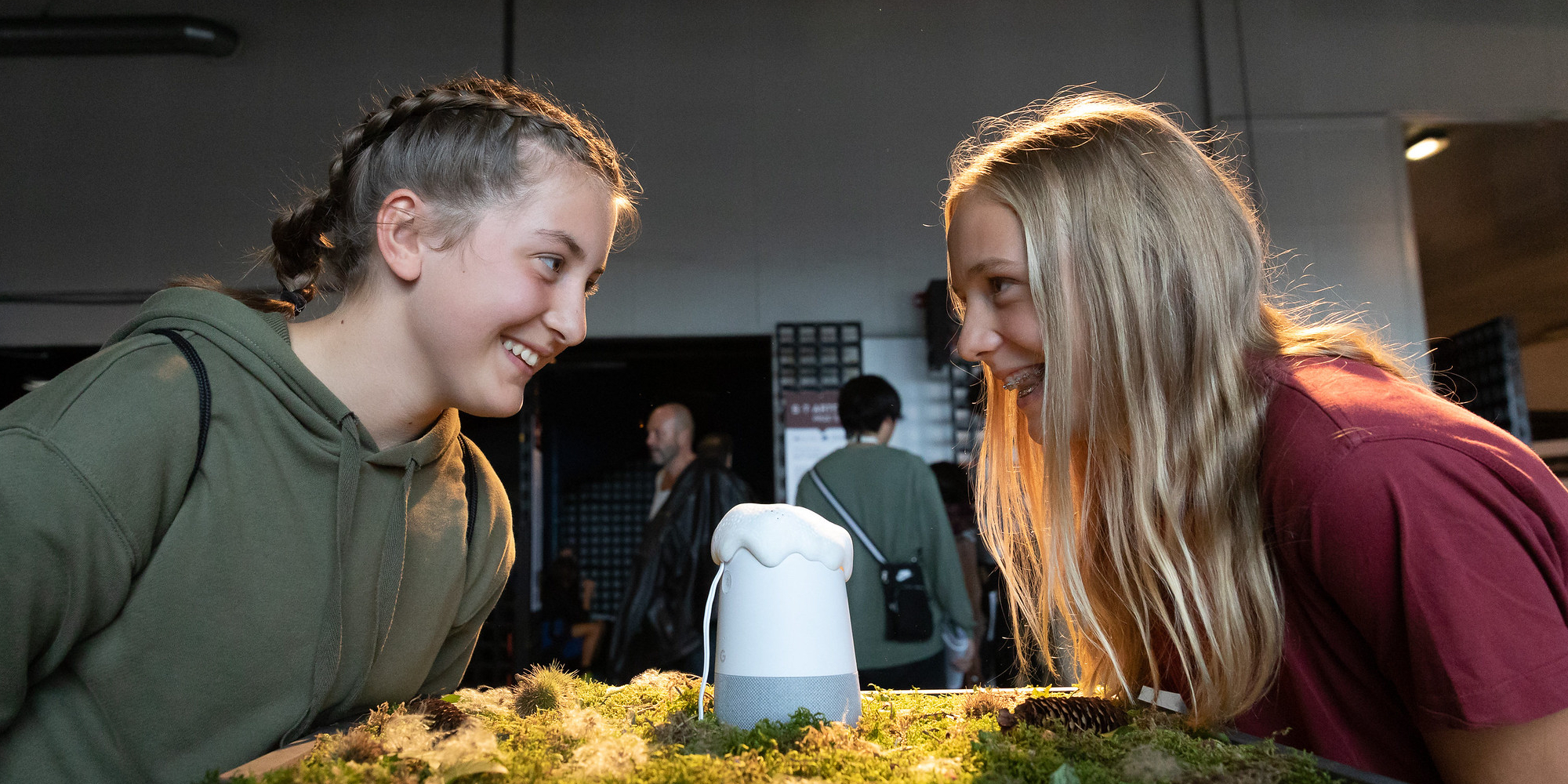 The diametrically opposed understandings of offline and online have completely dissolved and 'digital literacy' should therefore no longer be distinguished from, or considered as supplementary to, our 21st century understanding of literacy: a fundamental human right to the basic knowledge and skills needed for a rapidly changing world. If humanity is to face its challenges, there must be an informed and empowered citizenry that has a critical and adaptive knowledge of digital technologies. Policy ambitions throughout Europe and across the world have recognized that knowledge in science, engineering and mathematics needs to be nurtured to engage with rapid technological advances. However, it has also become increasingly evident that art, as a unique and adaptive form of knowledge, should also be combined with our approach to STEM education. Art thinking offers a holistic way of understanding complex connections and can act as a translator between different communities of knowledge. By including art, STEAM education ensures that there is an interdisciplinary switchboard operator actively integrating different approaches to solving the problems we face today. Societal challenges of the 21st century bring with them an urgent need to integrate the knowledge and expertise of different societal actors, and to develop meaningful and inclusive ways of connecting schools, universities, enterprises, civil society, governments and local communities using more innovative, efficient and open methodologies.
Ars Electronica takes part in projects tackling innovative, digitally focused and art-driven teaching and learning methodologies from higher education programs (STEAM Inc) to ones designed for schools and young learners (Creative School and OSHub.Network). Besides higher and secondary education, the European Platform for Digital Humanism focuses also on informal learning methods in STEAM education: the most innovative teaching programs are more and more often to be found in environments outside of formal learning, as projects like SySTEM2020 show.
Fostering alliances
Many of the social, ecological and economic challenges of our time will only be mastered through creative and cooperative approaches. European funding programs such as Horizon2020 and Creative Europe have already recognized the importance of interdisciplinary exchange and knowledge building in the field of collaborative practices. The cooperation of art and technology is much pined-for, and a large number of EU projects and cooperation initiatives have set themselves the goal of strengthening the role of art, creativity and education in the development of the ideas, concepts and scopes of action necessary for digital humanism.
While there are extensive resources put into the development of cutting-edge technologies by industries, these European projects are connecting artists and researchers to fill the gap in dealing with social and political questions arising from these enormous technological advantages. This led to extensive programs of activities addressing different target groups at various experience levels, including residencies to connect leading artists and researchers, conferences to engage different scientific and artistic fields, to exhibitions and workshops to transmit the questions and potential answers to a general audience in order to foster a critical and reflective society.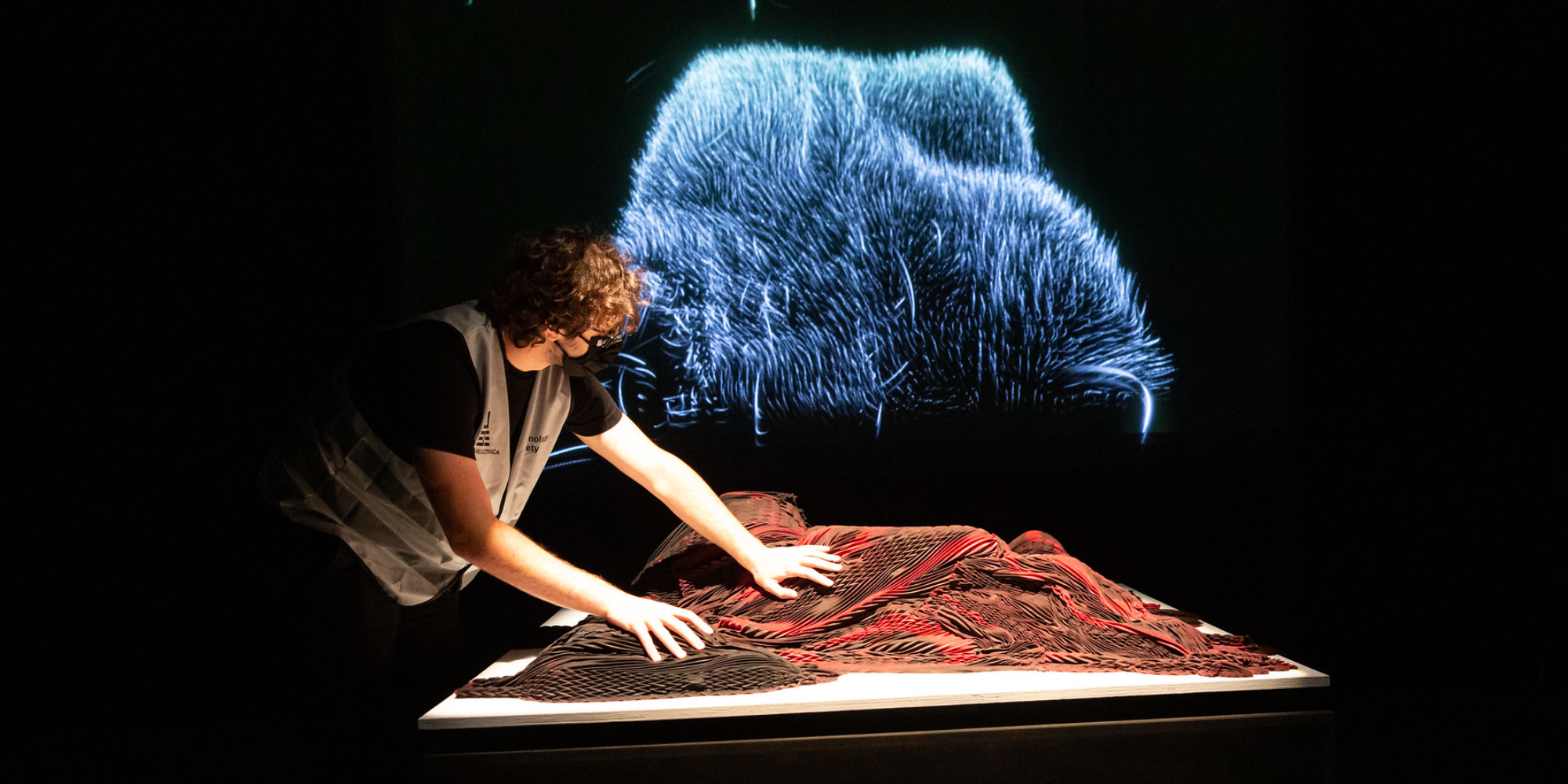 European initiatives successfully demonstrate the potential of bringing together artists, researchers and industry partners as catalysts for innovation and to effectively implement European policymaking to nurture innovation. They offer artists structured access to interdisciplinary exchange and develop the necessary framework conditions to facilitate capacity and knowledge building in the field of collaborative practices for all involved parties. EMAP (European Media Arts Platform), for example, annually awards residency grants to outstanding European media artists and supports research, production, presentation and distribution of media art in Europe and beyond, while Digital Cross Over questions how these (digital) arts and other creative content can be presented in the digital age. Its aim is to demonstrate and explore the current challenges facing the creative and cultural industries. Beyond Quantum Music aims to establish a network of organizations and individuals that continue to perform and promote connections between quantum physics and art.
STARTS is a platform to foster alliances of technology and artistic practice that effectively implement European policymaking to nurture innovation and that benefit the art world. It supports collaborations between artists, scientists, engineers, industry and researchers to develop more creative, inclusive, and sustainable technologies, and focuses on people and projects that contribute to mastering the social, ecological and economic challenges faced by the European continent. Over the past five years, STARTS has developed into a large-scale network across Europe with high level partners across the globe, launching open calls for residencies that connect artists with scientists and technology partners, prize competitions for artists and creative producers operating at the cutting edge of art, science and tech collaborations, educational and capacity building programmes, conferences lectures and talks.
The European ARTificial Intelligence Lab unites science and digital art to address the visions, expectations and fears that we associate with artificial intelligence. High-level research institutions including the Leiden Observatory, Edinburgh Futures Institute, Fraunhofer MEVIS, ESA, CERN opened their gates for artists to jointly develop new approaches, new strategies, new ideas, and potentially even new conclusions. In addition, the AILab hosts exhibitions showcasing critical, art-driven perspectives on human-centered AI development, as well as extensive educational programs ranging from capacity building efforts for adults and professionals to workshops for children and youngsters. Roots & Seeds XXI. Biodiversity Crisis and Plant Resistance is building bridges between the different areas of technical, scientific, social, artistic and transcultural knowledge to raise awareness on the societal challenges and better understanding of the currents Biodiversity crisis by developing and conducting a broad program of activities including residencies, exhibitions, workshops and talks. STUDIOTOPIA seeks to activate the collaborative and interdisciplinary expertise required to face the ecological implications of the Anthropocene and reverses the traditional roles in Art and Science collaborations by installing a scientist-in-residence program calling for scientists to be hosted by Europe's leading artists.
Besides providing a platform for ethics, fairness and trust in digital technologies, Ars Electronica wants to contribute to steady research and development progress and interdisciplinary experimentation with these technologies. Global events like the current pandemic demonstrate the potential of AI technologies and machine learning in the case of organizing the deliveries of the vaccines. However, this also calls for increased active experimentation, testing and interdisciplinary collaborations to exploit the full potential. What combines all the mentioned projects is the aim to connect arts, technology and sciences to profit and question each other's approaches. The exchange can take place in many different formats.
Anna Grubauer joined the Ars Electronica Team after finishing her studies in communication sciences in Vienna. Now she is a project manager in the context of the Ars Electronica Festival and European projects.
Veronika Liebl is currently Director of European Cooperation at Ars Electronica. Since more than 10 years, she is engaged in programming and producing collaborative programs with partners from arts, science and industry. She leads Ars Electronica's European collaboration projects in the field of culture, research & education and developed, launched as well as executed in this position – together with her team – numerous EU projects such as the STARTS Prize or the European ARTificial Intelligence Lab.
Kristina Maurer is a cultural producer, exhibition developer and curator with a background in Cultural Studies, Media and Art Theory. As current Head of European Projects in Ars Electronica's Festival/Prix/Exhibitions department she produces workshops, events, discursive formats, exhibitions and new hybrid, digital formats together with a network of over 80 European partner institutions. Her research interests focus on the social, political and societal implications of new technologies, the evolution of digital cultures as well as current developments in the fields of artificial intelligence, material studies and biotechnology.