Connecting Cities is a EU-funded culture project aiming at building a worldwide expanding network of media facades, urban screens and other digital projection sites. In contrast to their typically commercial usage, Connecting Cities supports the exchange of artistic or socially relevant contents.
In the framework of its In/Visible City 2015 theme, residencies were held by three of the involved institutions: the AEC in Linz, FACT in Liverpool and PAL in Berlin. Every city was putting a different focus on the topic 'Visible City', so that in total three artistic approaches were researched and became visible through the residency. In the case of Linz four outstanding art projects were produced for the Ars Electronica Center's interactive LED surface. Furthermore, the projects were presented at the audiovisual festival sound:frame in Vienna, as well as during the Connecting Cities conference at the 2015 Ars Electronica festival.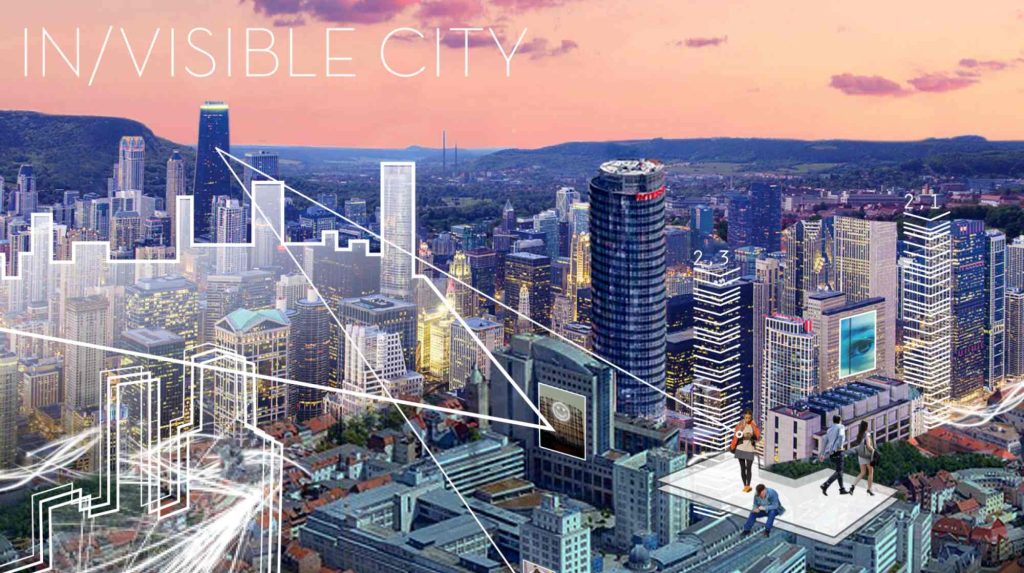 The Ars Electronica Futurelab is a fertile ground for artists to develop such challenging projects. In the Ars Electronica Futurelab the artists can work with technical experts of the Ars Electronica façade to realize their projects. Furthermore, they can work with other members of the Futurelab for inspiration and to gain new input.
AEC Blog recap of the presentation at the sound:frame festival:
Residencies
Anita Brunnauer (AT) – blindage
*blindage.is the French word for a wall, a shield or an envelope, which protects what's inside.
inbetween disclosure and disguise. how can you hide your face without losing it — how can you divulge it without getting the human glass. blindage. is the trial & poetic defense of freedom of the natural human in a world of monitoring & data superabundance. the projects topic are digital masks, it refers to traditional ethnological masks & their meanings & also sets it in a new contemporary context with the digital human being. blindage. is divided in 3 chapters — fleurêve. synanthrope. abîme. — this division can be understood as evolution of the project. showing visually transferred metaphers — archetypical as well as surrealistic imagery containing dance, taxidermic & organic masks. a facade as itself is a mask. blindage invites the audiency among the surface of the AEC facade.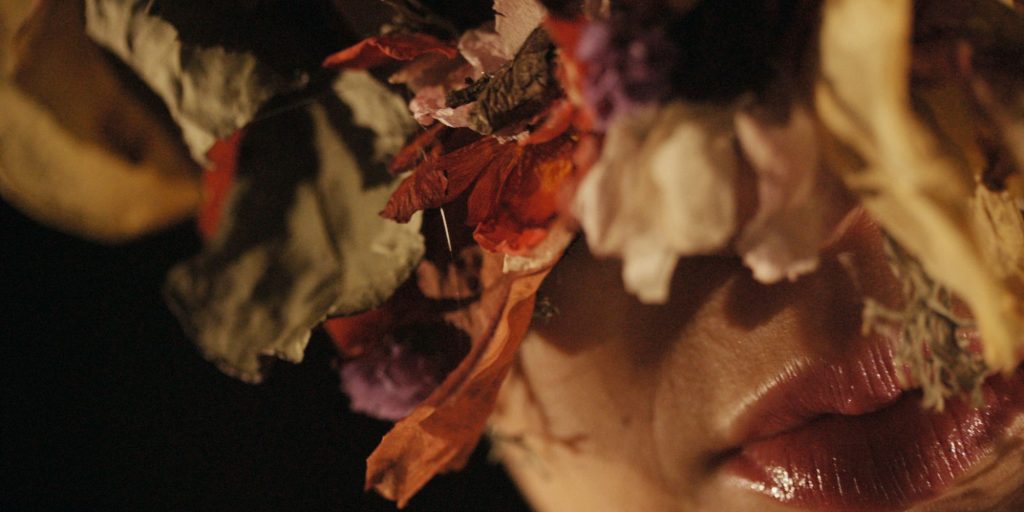 anita brunnauer aka. nita. is a vienna based graphic designer, studied multimediaarts at the university of applied sciences in salzburg, interned at lovely nitrocorpz™ a small designstudio in Goiânia/Brasil and later worked as artdirector for servus tv. beginning of 2014 nita. founded her own multidisciplinary studio for visual arts. nita. is also part of the sound:frame av label. proud & silent graphic ghost of duzz down san records. the visual style can be understood as constant interplay between daydream & night watch, surface & depth of flotation. a visual funambulation among kitch & melancholia — hijacking into a surreal forrest, where animals mutate & forgotten ancestors reveal on leaves.
Dietmar Offenhuber — Urban Entropy
"Maintenance is a drag; it takes all the fucking time" Mierle Laderman Ukeles, 1969
The city is in a constant state of repair. It is never under control. But we are noodling along. Someone has crashed again into the transformer box. Trash behind the bus stop. Why is the pedestrian sign always showing a man with hat, gender equality anyone? Better make sure people see you when you fix that pothole, they should know what they get for their taxes. Is complaining an act of civic participation? Urban entropy is a public display of complaining and repair. The façade of the ars electronica center reflects the daily routine of maintenance using live data from the city's feedback system. Infrastructure is a process: things + organized practices. A random binary pattern on the façade is continuously sorted into regular shapes, until the next incoming complaint frustrates the effort and the story begins again.
Dietmar Offenhuber is Assistant Professor at Northeastern University in the departments of Art + Design and Public Policy. He holds a PhD in Urban Planning from MIT, studied at the MIT Media Lab and TU Vienna. Dietmar investigates urban infrastructure such as formal and informal waste systems and has published books on the subjects of Urban Data, Accountability Technologies and Urban Informatics.
Ursula Feuersinger — DEEP CITY
Just as a city's history can be uncovered by an archeological dig, the collective information that defines its present and potential future can be represented as a digital cross-section, emerging from underneath its concrete, visible structures. The Ars Electronica Center façade will put these underground samples on display: Observers of the project transform into participants by physically extracting hidden artifacts from the deep, bringing them to the surface, and examining them. The resulting layers of visualized data emphasize various political, sociological, cultural, or even personal characterstics of an urban space, encouraging the inhabitants of that space to critically engage with their surroundings.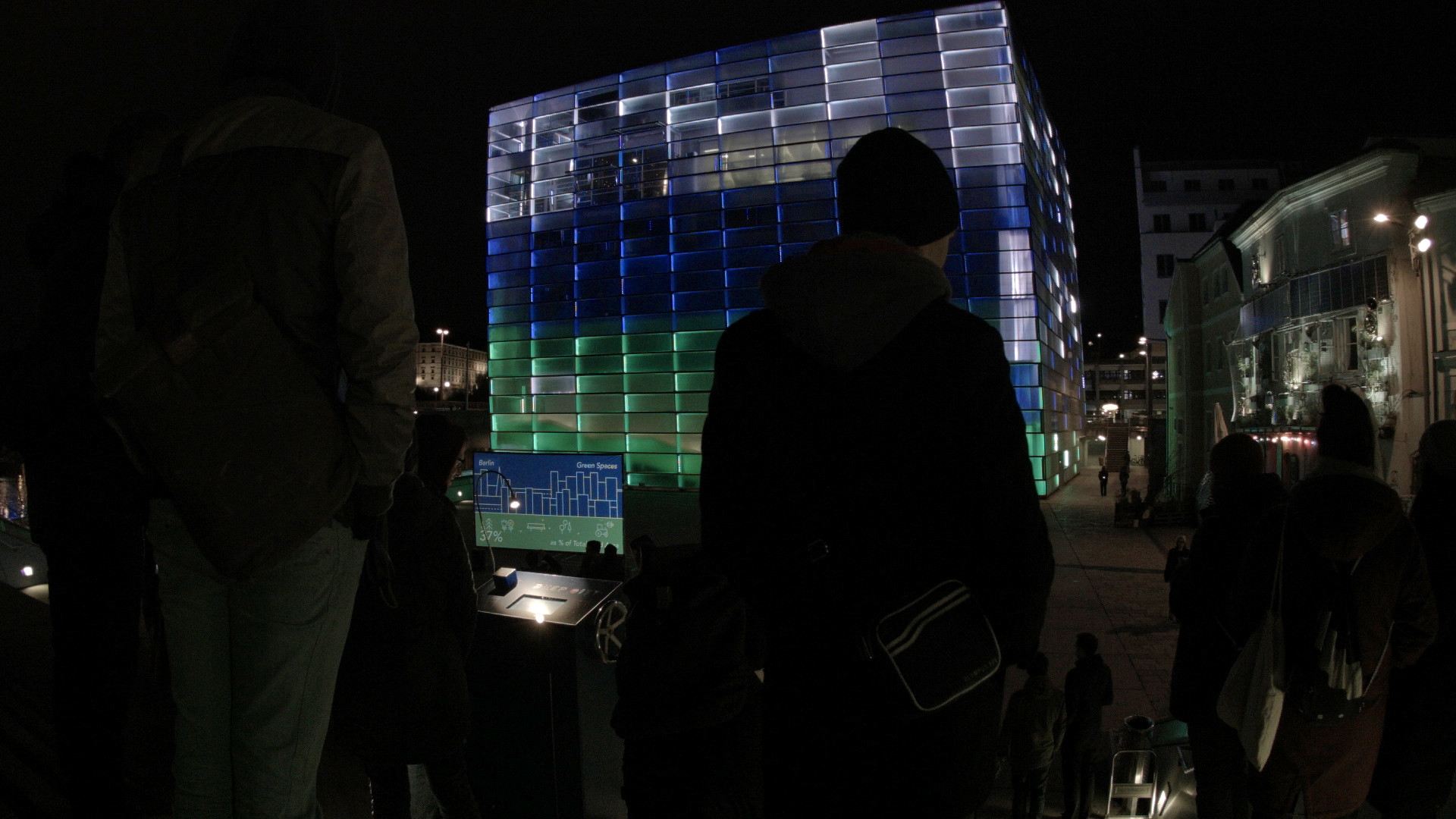 Ursula Feuersinger is a graphic and video designer based in Vienna, Austria. After studying Information Design with a focus on media and interaction, she worked in Berlin as a video designer and produced stage projections for theatrical works. In 2007 she moved to Vienna, where she has been active as a video artist, visual performer, exhibition-, brand-, web- and print designer. She has been collaborating with the sound:frame festival since 2008, and her work has been presented in Shanghai, Melbourne, Geneva, Moscow and Trieste. Ursula founded her own graphic and motion design studio in 2013.
Florian Born & Christoph Fraundorfer – ESEL-Complain
Urban space can be distinguished into many different types of spaces: living space, space to relax, space for interaction, or space for unexpected things to happen. Moreover, it is also a space of noise or lost places.
There is an intense connection between urban mobility and the quality of public spaces in cities. ESEL-Complain shows opportunities and the potential provided by the use of bicycles in public spaces. It connects two projects that are trying to make riding your bike in a city as pleasant as possible. Auto-Complain detects potholes by mounting your smartphone on the handlebar of your bike. These potholes are entered into an online database and marked with a spray can. myESEL develops bikes that can be adjusted to everybody needs because of its individual manufacturing process. With this flexibility it offers the perfect possibility to integrate the auto-complain system into a bike.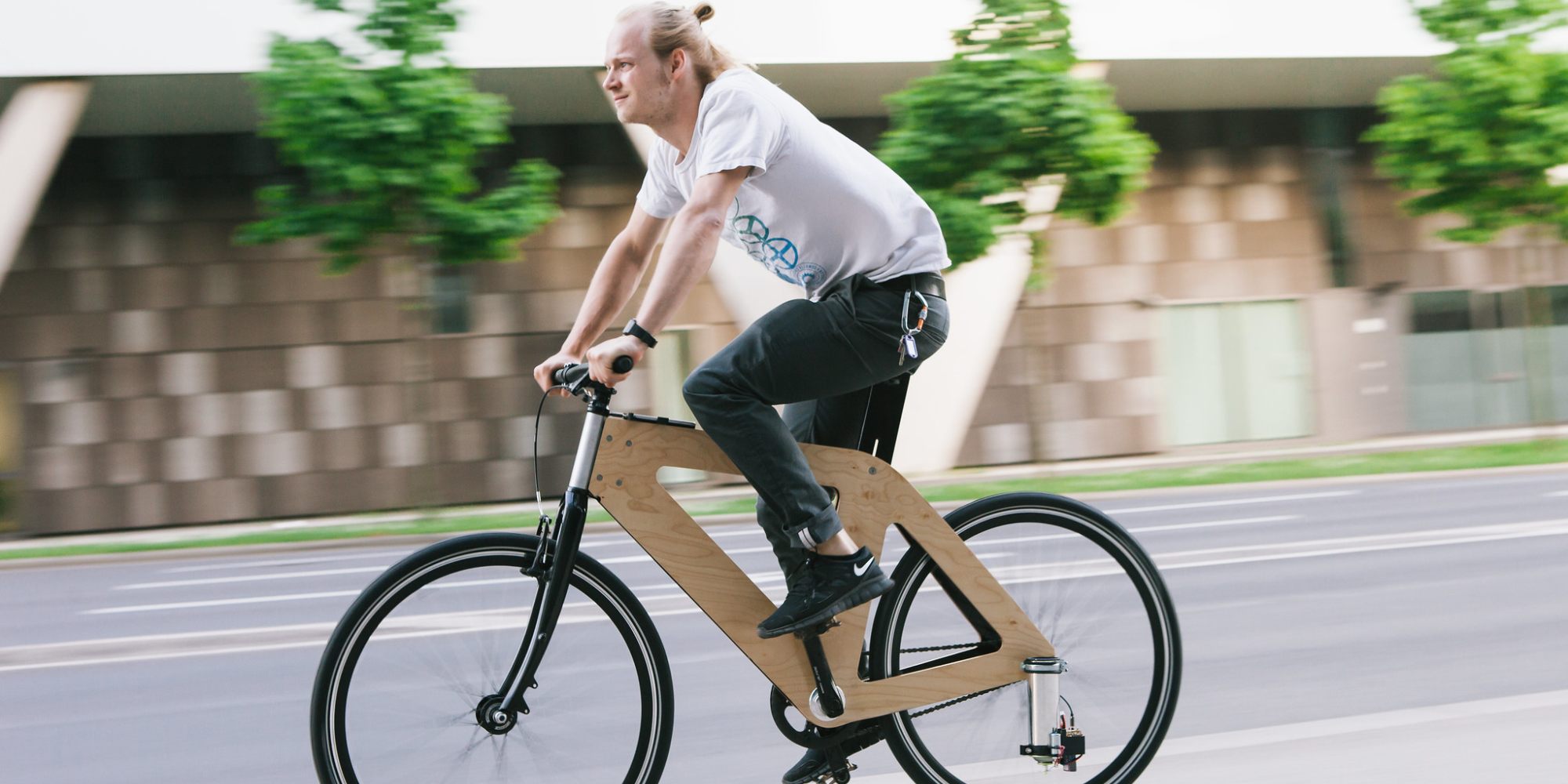 Christoph Fraundorfer from Upper Austria is architect, designer and founder of the bicylce-startup "myESEL" located in Linz. During his studies of architecture in Vienna he focussed on product and furniture design — "Rocking Chair", exhibition Zumtobel, 2010 — and realized various projects with "THUM architects", "Atelier Löwy" and "Querkraft architects" — "Lichtbäume", Technisches Museum Vienna, 2011. Since 2012 he runs his Company "Von Johann" — design and prototype production (carbon & fiberglas composites). Projects: "Stretched Bench"; "Tree Pots", Linz 2013.
Florian Born is an interaction designer, who is working between media arts and media design. His projects focus on connecting the virtual with the physical world. He works with new technologies, the field of creative coding and crafting things. In 2013 he graduated from the digital media program of the University of the Arts Bremen with a bachelor of arts.
In 2015 he won a New Face Award at the Japan Media Arts Festival for his project Auto-Complain and the German Newcomer Award Gold for his work as a whole.
 He currently lives in Berlin, where he studies new media in a master program at the University of the Arts Berlin. He also works for the German research agency Fraunhofer-Gesellschaft.