In Kooperation mit der Wirtschaftskammer Oberösterreich.
Moderation: Nadav Hochman (US)
Speakers: Mar Santamaria Varas (ES), Pablo Martínez (ES), Bjørn Karmann (DK), Tore Knudsen (DK)
Im Rahmen der STARTS Initiative prämiert der STARTS Prize die bahnbrechendsten Ergebnisse und Kooperationen im Bereich Kreativität und Innovation an der Schnittstelle von Wissenschaft, Technologie und Kunst. Bei den STARTS Talks präsentieren die STARTS Prize'19 GewinnerInnen ihre Ansätze und Perspektiven, ihre Arbeitsweisen und erzielten Ergebnisse.
Mar Santamaria Varas & Pablo Martinez (ES)
https://www.youtube.com/watch?v=kO72Tiy9RXQ&t=363
Bjørn Karmann & Tore Knudsen (DK)
https://www.youtube.com/watch?v=kO72Tiy9RXQ&t=1349
Nadav Hochman (US)
https://www.youtube.com/watch?v=kO72Tiy9RXQ&t=2235
Biografien: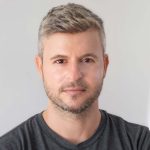 Nadav Hochman (US)
Nadav Hochman is the Associate Director of Gray Area Foundation for the Arts, San Francisco's premier center for promoting the intersections of art, technology, and community through exhibits, music events, R&D incubator, and educational programs.
Prior to joining Gray Area, Hochman was the co-founding director of The Tech + Arts Initiative at The Tech Museum of Innovation in Silicon Valley (CA, USA), facilitating creative collaborations between global artists, designers, industry partners, and research institutions.
In the past Hochman led acclaimed projects in the tech industry, academia, and the art world. His work has been exhibited in MoMA (NYC), SXSW, Google Zeitgeist, and featured in media outlets such as Popular Science, the Atlantic, Wired, and the Guardian.
Bjørn Karmann (DK)
Bjørn Karmann is a Danish designer working at Tellart, Amsterdam. He holds a Master's Degree in Interaction Design from the Copenhagen Institute of Interaction Design and a Bachelor's degree in Communication Design from Kolding Design School. Graduating from CIID with highest honor, his graduation project (The Objectifier) has won multiple awards and pushed the thinking of machine learning as a means of prototyping and enriching spatial interaction. Bjørn combines his curiosity for new and emerging technologies with his passion for physical and human interactions, while finding a balance between nature and technology. With experience in design, installation art, robotics, and physical computing, he works across multiple disciplines and manifests between physical and virtual space.
Tore Knudsen (DK)
Tore Knudsen born in 1992, is an Interaction designer based in Copenhagen, Denmark. He holds a Master degree in Interaction design from K3, Malmö University, and has previously worked as a digital designer. Currently, he is working as a User Experience designer at Topp Innovation & Design in Malmö, Sweden. Tore's interest in design and technology started with photography and has expanded into many different mediums, ranging from web to physical installations. His work is often driven by an interest to explore and challenge our relationship with modern technology and he mainly does so through design and prototyping.
Mar Santamaria Varas (ES), Pablo Martínez (ES)
300.000 Km/s (www.300000kms.net) is an urban innovation office based in Barcelona that explores the potentials of data and new computation paradigms to extract relevant information with the aim to improve urban planning and decision-making.
Directed by Mar Santamaria Varas and Pablo Martinez Diez, our interdisciplinary team works in the fields of urban analysis, cartography, strategic planning, development of digital tools, and digital humanities. In the last five years, we have collaborated with public entities, international firms, cultural and scientific institutions and non-profit organisations.
3000.000 Km/s projects have been recognized with various awards and mentions – among others BBVA-Civio Data Visualisation Award (2014), Open Data Institute Awards (2016), CityVis Prize (2017), Biennial Española de Urbanismo y Arquitectura (2018), LLuís Carulla Award (2018) and S+T+ARTS Prize (2019)- and have been exhibited at the Biennale of Venice, the Chicago Arts Institute, the Center of Contemporary Culture of Barcelona and Madrid CentroCentro, among others.