Immortality'anti-marta
I'am ist ein Installationsdiptychon, bestehend aus "Immortality for Two" und "Anti-Marta", das die Grenzen der menschlichen Individualität angesichts einer sich entwickelnden biotechnologischen Gesellschaft auslotet. Es stellt die Beziehung zwischen einer Künstlerin und einem Wissenschaftler dar, aber auch die Grenze zwischen Kunst und Wissenschaft sowie die Grenzen unserer eigenen Identität. Marta und Luis, Künstlerin und Immunologe, haben einen Pakt für das Leben geschlossen: gepaart, verheiratet, vereint.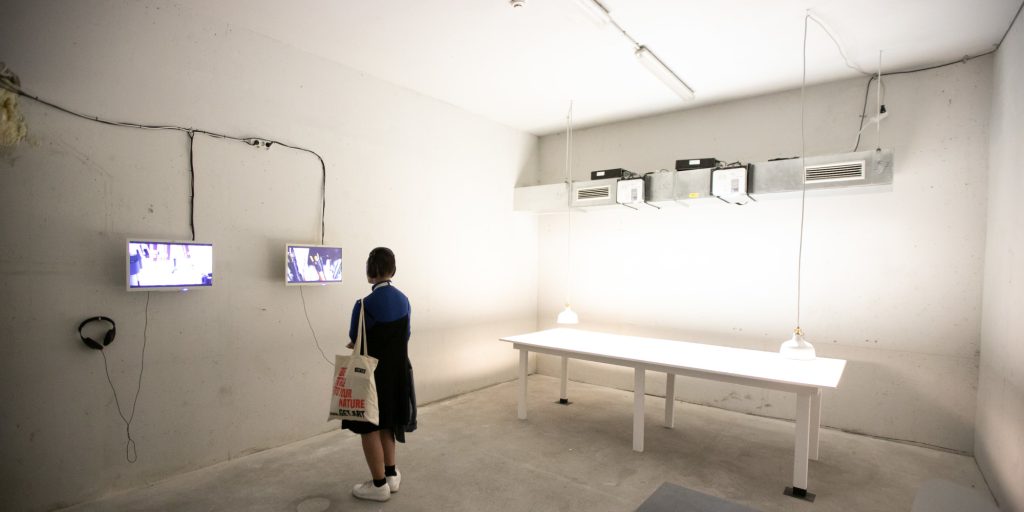 Die Suche nach einer künstlerischen Repräsentation eines solchen Paktes führte zur Immortalisierung der weißen Blutkörperchen des jeweils anderen durch Viren, oder durch Hauttransplantate. Da die unsterblichen Zelllinien an der Immunabwehr beteiligt sind, müssen sie isoliert gehalten werden. Auch die Hauttransplantationen wurden aufgrund der Immunitätsunterschiede schnell abgelehnt. In beiden Fällen kann der Pakt jedoch weiterleben. Die unsterblichen Zelllinien koexistieren im virtuellen Raum durch die Videoprojektionen der beiden lebenden Zellkulturen. Die Abstoßung des Transplantats führte zudem zur Produktion von Molekülen (Antikörpern), durch die es immer möglich ist, den anderen zu identifizieren, ähnlich, wie der Erwerb eines siebten Sinnes.
Projekt Credits:
This project was developed with support from Cultivamos Cultura, Ectopia and the Enlight-ten Marie Sklodowska-Curie Initial Training Network.
Video director: Jamie Hurcomb
Assistant director: Katrina Singleton
Surgery: Dr. Ales Laskovsek
With support from Camões – Instituto da Cooperação e da Língua, I. P.
Biografien:
Marta de Menezes (PT) is among the first artists to work with biotechnology, contributing to the creation of bioart. She has shown that biology research laboratories can be used as art studios. Her many artworks have incorporated materials and expertise from different disciplines (CRISPR/Cas9, MRI, structural biology, microbiology, among others). Her work has been presented throughout the globe in exhibitions, conferences, and publications. https://www.martademenezes.com
Luís Graça (PT) is a MD and Professor of Immunology at the University of Lisbon Medical School, where he directs a research group in cellular immunology. His most significant scientific contributions have been related to the fields of transplants and autoimmunity. Graça has collaborated with several artists, and artworks developed in his lab have been exhibited worldwide.
https://imm.medicina.ulisboa.pt/en/investigacao/laboratorios/graca-lab/