Miraikan's Tsunagari-Project has landed in Linz, in the Deep Space of the Ars Electronica Center. For the first time, the visualisations of the GeoCosmos, a 6 metre wide sphere covered with millions of organic LEDs, are shown outside of the biggest technology-institute in Japan. We have talked to Maholo Uchida, curator of Miraikan and member of the jury of the Prix Ars Electronica 2013, she shares her experiences with the project and talks about future possibilities of collaboration between Ars Electronica and Miraikan.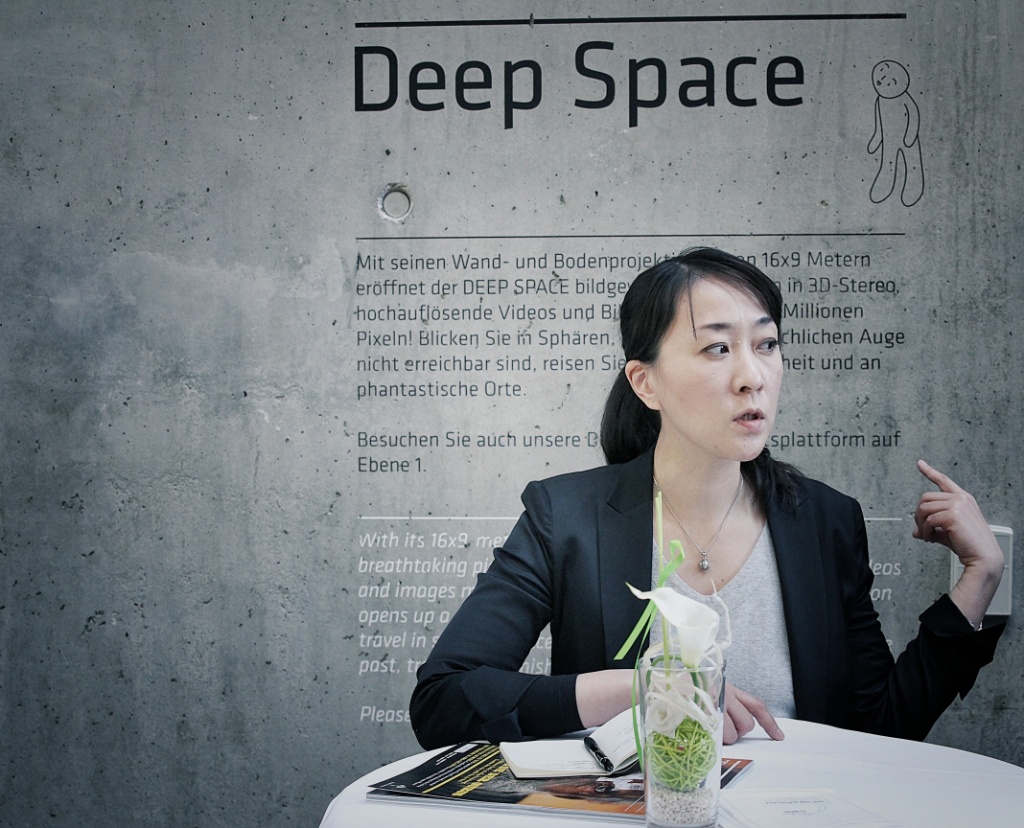 This is the first time I see our data-visualisations outside of our Geocosmos, and I like it a lot. Of course there's some room for adjustments, for example the globe should be a sphere (at the time of the interview, the sphere was still 2D and partly projected onto the floor), but those are small things. We already discussed a lot of things with the engineers at the Ars Electronica Futurelab, which is really exciting, to have so much data, which of course can be found on the internet, but it feels like we are combining to things that belong together.
It is so nice to have the partner in Europe to share the data, it is a beautiful cooperation. Usually when we are contacted, our partners simply want to use our data, but with Ars Electronica, you are motivated to create content together with us.
Since the beginning, Miraikan tries to be a specialist in visualising scientific data, we have partnered up with artists, architects, a big variety of people from the creative domain, but it is still kind of domestic.
Now it is time to expand our scope, and Ars Electronica knows how to deal with the data we provide, you know, it is 8K, there's not many institutes that know how to handle this kind of data, so this is a perfect match and we are very motivated.
Two years ago, we updated the LED-system of our Geosphere, now the resolution is 10 times higher, we can show finer lines, better colours, better gradiations. Also the shape of the panels is different, it actually is quite a challenge to find the correct layout to put screens on a sphere, before we had a lot of gaps, now we use a triangular shape, which closes the gaps, so it looks much more like a sphere now then it did before.
This of course is not a problem that we share with the Deep Space. To see the data in such high resolution, some of the data looks better here, because it's a higher resolution, it's smooth, it's beautiful. It's a completely new experience compared to what we have at the Miraikan. There, it is hanging in the lobby, 6 meters wide, and you can see it at daytime as well, because of the LEDs.
What is the collaboration going to look like?
First we are going to find a convenient system to share the data, then we hope that Ars Electronica is going to pick up artists who want to work with the provided data, with the globe, so essentially, we provide the scientific data, Ars Electronica provides the artistic side, so this part of the collaboration is really simple.
We have about 30 to 40 sets of data, about half of them is designed by Japanese artists, we would like to give the other half to international artists, through Ars Electronica, for example. So Ars Electronica is our node into the world.
The next step of course will be live-collaboration, although they are a bit of a challenge to organise, because when it's night in Japan, it's daytime in Europe and vice versa. But we really want to try to make this happen, to have artists work on a live basis, both ways.
Overview, the data of Geo-Cosmos, is part of In Touch With The Earth, the new exhibition at the Ars Electronica Center.