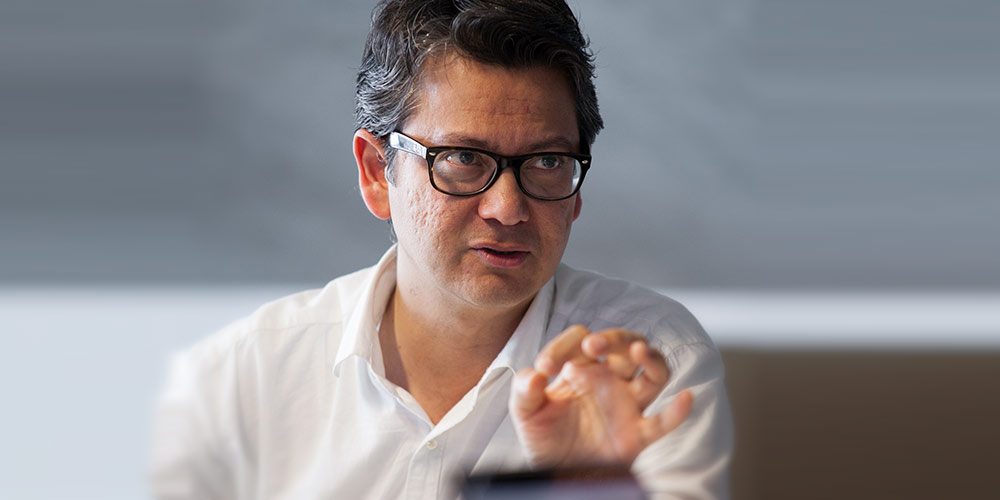 Ian Banerjee, Photo: Florian Voggeneder
The category "Digital Communities" of the Prix Ars Electronica is dedicated entirely to the cross-linking of people and their coexistence with technological support. Ian Banerjee – architect, urban planner and educational researcher – is one of five members of the jury, that made the decision to award the "Project Fumbaro Eastern Japan" with a Golden Nica after intensive discussions within their jury sessions in early May 2014. Ian Banerjee has taken a little time to talk about what he understands about a "digital community" and what phenomena we will have to deal with in urban planning in the future.
What's a digital community for you?
Ian Banerjee: The term community has been discussed by sociologists since over a hundred years. Ferdinand Tönnies spoke about 'Gesellschaft' and 'Gemeinschaft'. In a 'Gesellschaft', translated as 'society', ties between people are rationally constructed and are more impersonal; their existing value systems can be very heterogeneous etc. In a 'Gemeinschaft', translated as 'community', the ties are more personal, more direct, their bonds are stronger. In a digital community we have a convergence of new types of communication technologies with new or old types of community building.
Digital communities are groups of people, operating locally or globally, who have shared or consensually negotiated values, identities and missions.
You've visited a lot of cities in your life. If you collect all of your experience, has technology the power to improve our living together?
Ian Banerjee: I differentiate between technology as a determinant and technology as a facilitator. If it is a determinant, it is imposed upon people. Technology often goes its own way, without any critical reflection. Then it becomes a determinant – often disconnected from real needs of people, or it addresses only the needs of certain groups of people. We see a trend today that sees technology being created from bottom-up. In this way, technology becomes a facilitator. I think then it would create more socially relevant effects.
I'm just coming from a conference in Medellin, in Colombia. The city is focused on an interesting track of urban and social development that uses community building in many clever ways. Also the urban technologies they develop are focused on facilitating social development and social innovation. I hope this social approach to design and technology will play a more important role in the future.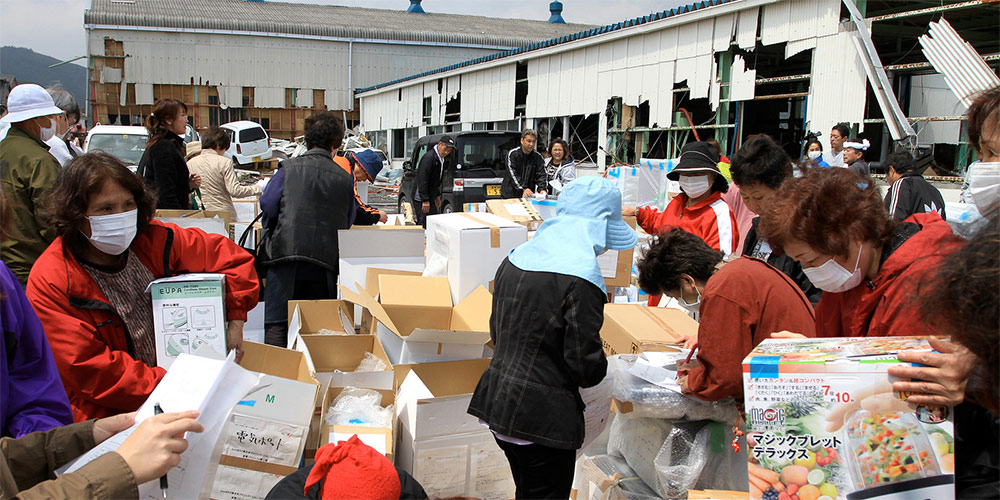 "Project Fumbaro Eastern Japan" recieved the Golden Nica 2014 in the category "Digital Communities". Photo: Project Fumbaro Eastern Japan
"C… what it takes to change", that's the theme of Festival Ars Electronica 2014. Do you have a word with C at its beginning that we need for a change?
Ian Banerjee: (laughs) The two words that I immediately think of is community and change. But you need something new I guess. (thinks again) I would like to add catalyst as another word. How are catalysts being used in community building processes? The great urbanist Jane Jacobs said that cities are all about "bits and pieces that support each other". You can look at cities in different ways: one way to look at it from very high above – then you get a big picture. With that view, you usually tend to build big things like highways or other huge projects.
But I think the future city will build with the help of many different small projects – Jane Jacobs' bits and pieces. They will be created by many different urban actors & catalysts that will be operating on many micro-levels. It will be a very complex layering of a multitude of projects and social processes created by many different communities. Urban planning will become much much more complex. That's another C!
Ian Banerjee (AT/IN) is an architect, urban planner and educational researcher living in Vienna. After spending his childhood in Africa, Asia and Europe, he studied architecture in Vienna. He did his Masters thesis on the city of Curitiba, also known as the 'ecological capital' of Brazil. He then worked for several years for the Austrian Broadcasting Corporation (ORF) and the German satellite TV (3Sat) as a consultant for documentaries on urban innovations. During this time he travelled extensively through the world – especially in Asia. The films were made in Tokio, Kioto, Hanoi, Shanghai, Hangzhou, Hong Kong, Kolkata, Mumbai, Paris, Washington and Mexico City. Going back to academia, he joined the Centre of Sociology (ISRA) at the Vienna University of Technology as assistant professor. This is where he started researching radical innovations taking place in the educational sector – especially their virtual aspects. During this time, he worked for three years on the National Spatial Strategy for the Sultanate of Oman. The exposure to the complexities of national policy making in the Arab world shaped his conviction for the need of new forms of community based education and societal learning.