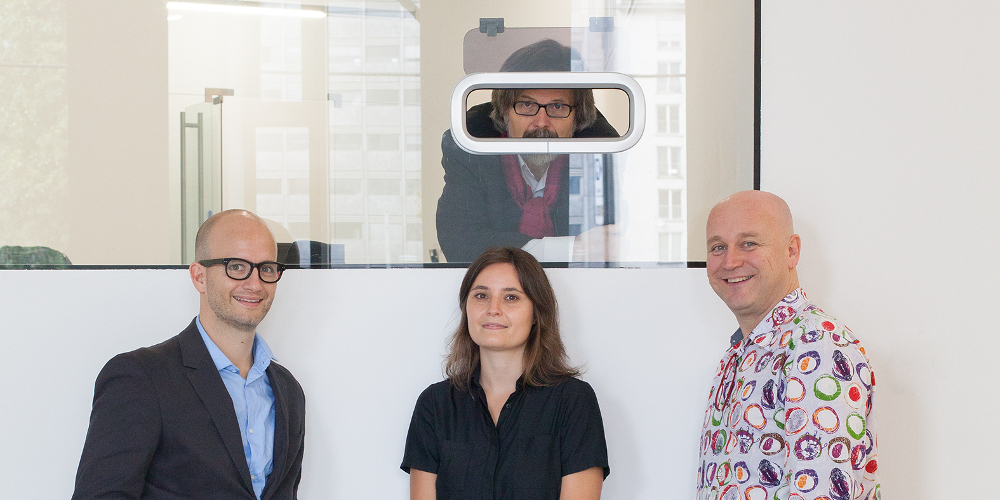 AIL team members director Gerald Bast, Alexander Damianisch, Alexandra Graupner, Jürgen Gschiel (Credit: Johanna Folkmann)

The University of Applied Arts Vienna has launched an Angewandte Innovation Laboratory. Ars Electronica is one of the partner institutions. The Angewandte Innovation Lab is an open platform for unconventional exchange among experts in the fields of art, design, science, business and technology. The lineup of activities includes a daily lounge that will also host speeches, presentations, discussions, exhibitions and performances at irregular intervals. At the opening of the Angewandte Innovation Lab on October 20, 2014, we had a chance to interview project coordinator Alexandra Graupner.
Ms. Graupner, let's start off with the obvious question: What is the Angewandte Innovation Laboratory? What's so special about AIL?
Alexandra Graupner: The unique feature of AIL is that an art school, the University of Applied Arts Vienna, has provided us with a physical space designed to encourage individuals working in a variety of disciplines to engage in communication and exchange. Our source of inspiration was the 19th-century idea of the salon. We want to create an informal, relaxed setting for the discussion of ideas, a space in which interdisciplinary encounter can give rise to new and interesting things.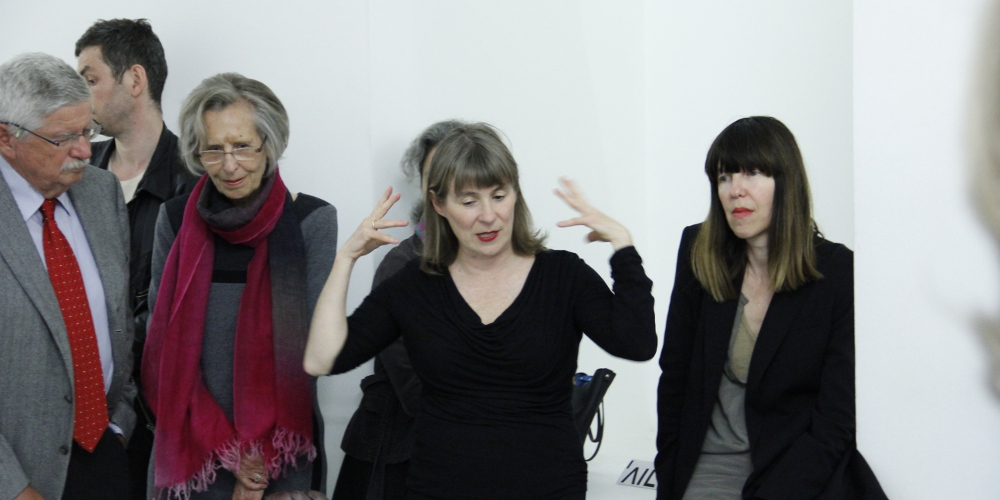 The two curators Eva Maria Stadler and Brigitte Felderer (Credit: Claudia Schnugg)

How did the idea of setting up AIL actually come about? Who was involved and what were their intentions?
Alexandra Graupner: AIL is a vision that Chancellor Gerald Bast has been working on for a few years now. It's been a long wait for the start-up capital to make the implementation possible, but all the pieces finally fell into place late last year. This project's mission is to put a stop to underestimating art as an innovation factor and, instead, to give it a more central role in this process, one that is still viewed to a very great extent from a technological point of view.
When one goes about setting up a lab at the nexus of art, design, science, business and technology, what are the challenges one faces?
Alexandra Graupner: The biggest challenge was generating some enthusiasm for this idea among colleagues in our own area of expertise. Naturally, every new idea faces a great deal of skepticism at first and the initial approach is always: Let's wait and see. Nevertheless, there are also the so-called first followers, and now we have to take advantage of this shared motivation to dispel the reservations of colleagues in other disciplines.
Top priority here is coming up with the right phraseology, and that process commences with a word in our own name, since innovation means something different in each individual field. Communication is the key, and we're confronting this challenge.
Even though AIL has just commenced operation, I'd be interested to know if you already have a clear concept of how this is going to proceed. So, in a nutshell: What do you expect from AIL?
Alexandra Graupner: What I've realized over the last few months is that everybody has his/her own personal approach to this vision and a somewhat different image of AIL in mind. For me personally, the core element is the lounge that will be open Monday through Friday from 10 AM to 10 PM. Guests aren't obliged to order anything; there's Wi-Fi, coffee and a stimulating environment in which to work, hold meetings or just spend some pleasant time. My hope is that a diversified array of people—for starters, the faculty, staff and students at the University of Applied Art in the various fields we want to attract—will meet & greet in this space. And that representatives of the Chamber of Commerce will stop by once in a while. Or that Herr Penninger and his crew will get together here occasionally.
I'm sure that the events, speeches, etc. we'll be staging here will attract highly diversified audiences, and, when they see what a terrific facility we've set up here, they'll come back for more. Organic growth of the AIL's mission, utilization and visitors—that's what I'd like to enable with my commitment to this endeavor.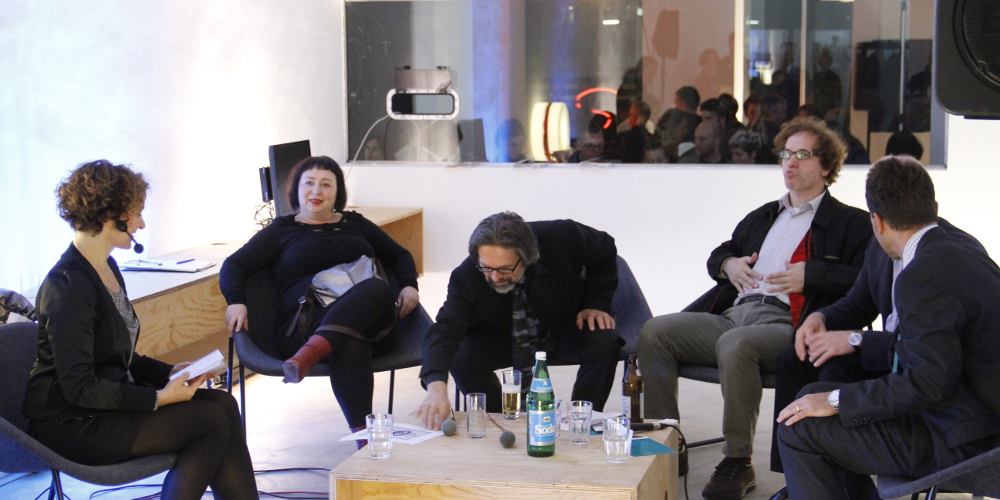 Talks in the AIL lounge with chairwoman Susanne Pöchacker (Credit: Claudia Schnugg)

Is there actually a particular target audience, or maybe even several target audiences, that you would particularly like the AIL to appeal to?
Alexandra Graupner: Of course, we especially want to invite practitioners in those fields that don't necessarily interface with art and artists on a regular basis, and we want to reconnect with disciplines that have been linked to art only in certain very conventional ways and, perhaps, tweak or reconfigure those relationships—for instance, sectors of the business world beyond the so-called creative industries.
Ars Electronica is functioning as a partner. What's the special feature of this collaboration, and how do you envision working together with Ars Electronica's in-house R&D division, the Futurelab?
Alexandra Graupner: Ars Electronica is one of our key partners. Over the course of its 35-year history, Ars Electronica has gained extensive experience in how to cross borders between fields, open up an interdisciplinary field, and carry out projects in it. We are really looking forward to learning about these experiences and areas of potential exchange at the nexus of science and art. Ars Electronica will have some important things to say about promising directions within this process of exchange, and will certainly serve as a great source of inspiration for AIL. We're extremely interested in Ars Electronica, both with respect to content and form. You could even say that Ars is our idol!
A major desideratum on our part is working together with Ars Electronica on the development of formats that dovetail the fields of expertise of both institutions as a way to spinoff projects in promising new directions. Naturally, in conjunction with our collaboration with Ars Electronica, we're also looking forward to making a contribution in what we at AIL see as the University of Applied Arts' prime areas of skill and expertise.
Alexandra Graupner, project coordinator of Angewandte Innovation Labs (Credit: Johanna Folkmann)

And finally, a personal question: What do innovation and being innovative actually mean to you?
Alexandra Graupner: Innovation is the result of a productive state of challenge combined with promise and confidence. One has to permit free thinking, be able to communicate ideas, jointly call ideas into question and test them. AIL will provide a fertile environment for thinking in new directions. Innovation has to start earlier than with the product itself. This is a matter of basic principles, fundamental questions. Then innovation emerges. And that's precisely what AIL is there to facilitate.