It won't be long now! The 2015 Ars Electronica Festival kicks off in one week — on Thursday, September 3, 2015. A series of openings will highlight Day 1. Whoever wants to take it all in and benefit from expert commentary along the way should definitely join the Openings & Introductory Parcours led by Ars Electronica Artistic Director Gerfried Stocker. This is also a great opportunity to meet & greet artists and curators and talk to them about their projects. The parcours sets out at 10:30 AM, runs all the way to the Opening Celebration at 8 PM, and includes all the highlights of the 2015 Ars Electronica Festival. But no worries, this is designed as a hop-on/hop-off tour — whoever can't stick around to see all the locations can drop out at any time and rejoin the group later. Here's a preview of what awaits you on the Openings & Introductory Parcours.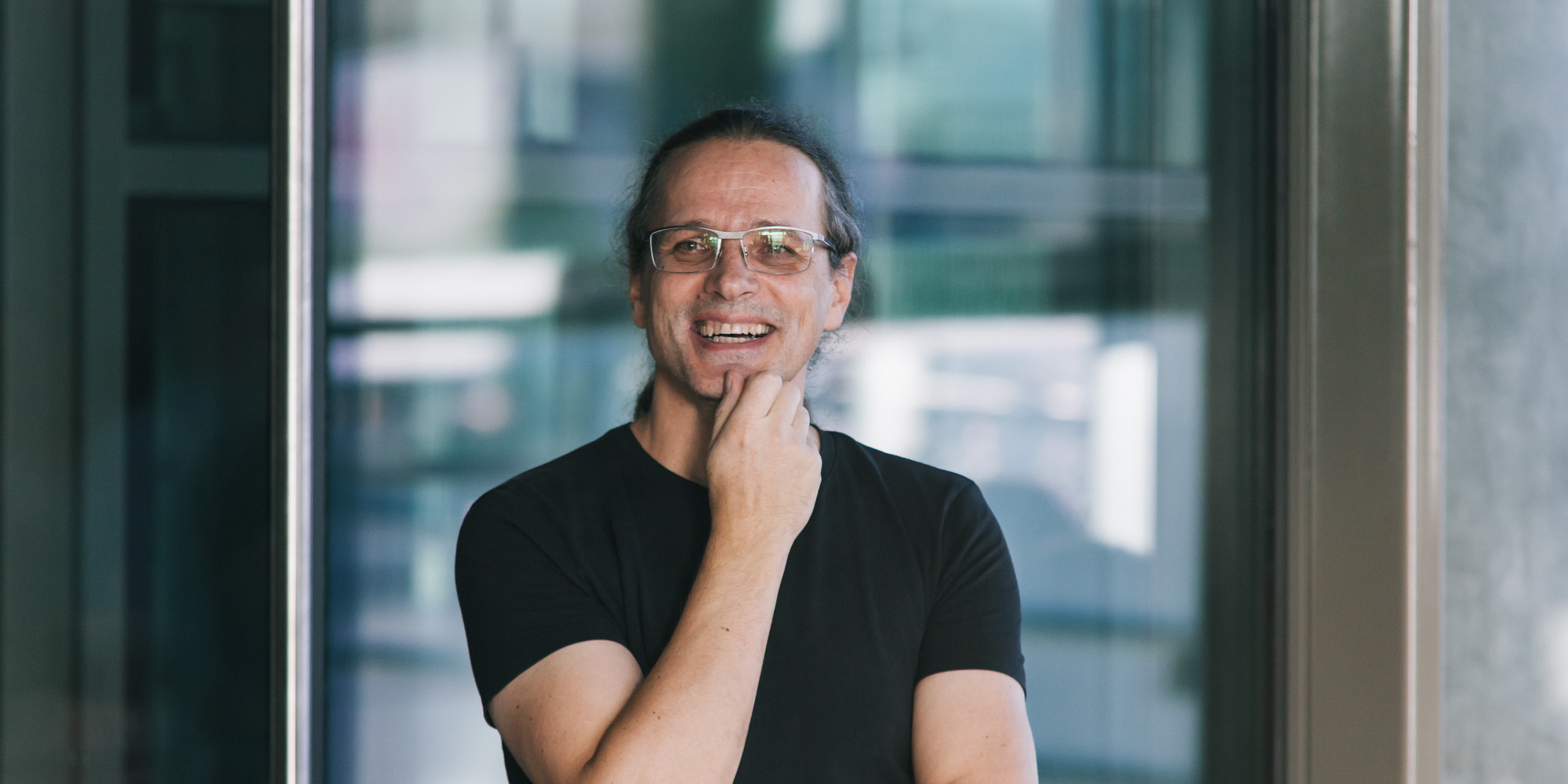 Ars Electronica's artistic director, Gerfried Stocker, will personally conduct the Openings & Introductory Parcours. (Credit: Florian Voggeneder)
The tour on September 3, 2015 begins at 10:30 AM at "Spaceship Earth" on the Ars Electronica Center's 1st Upper Level. The exhibition, which premieres on August 31st, provides insights into the European Space Agency's Earth observation program and features superb satellite images of our planet.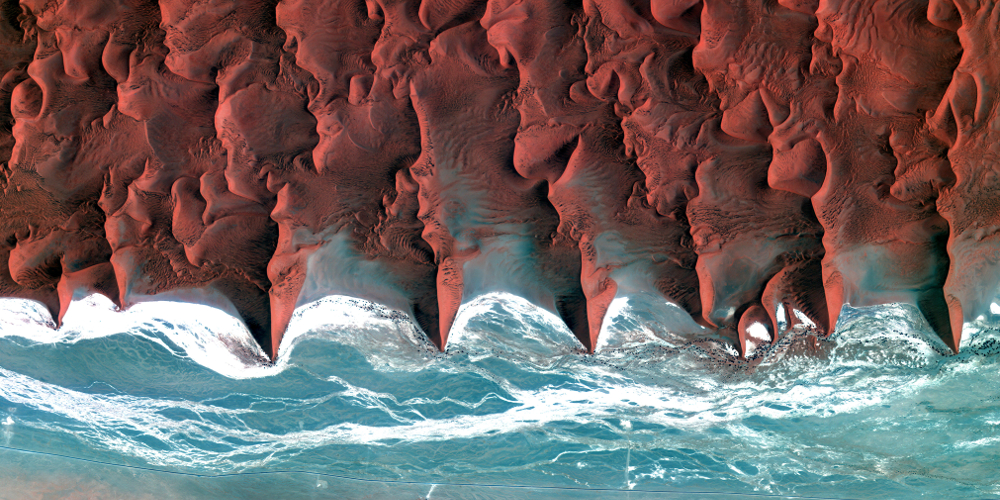 Spaceship Earth (Credit: Namib / Satellite: Kompsat-2, KARI/ESA)
At 11 AM, the group will head up to the 2nd Upper Level for the opening of the "Elements of Art and Science" exhibition. This is a colorful array of artistic projects that have one thing in common: they all combine art with scientific practice. Then at 11:30 AM, it's time to head down to the 3rd Underground Level, where Nick Ervinck will unveil human organs he produced with a 3-D printer.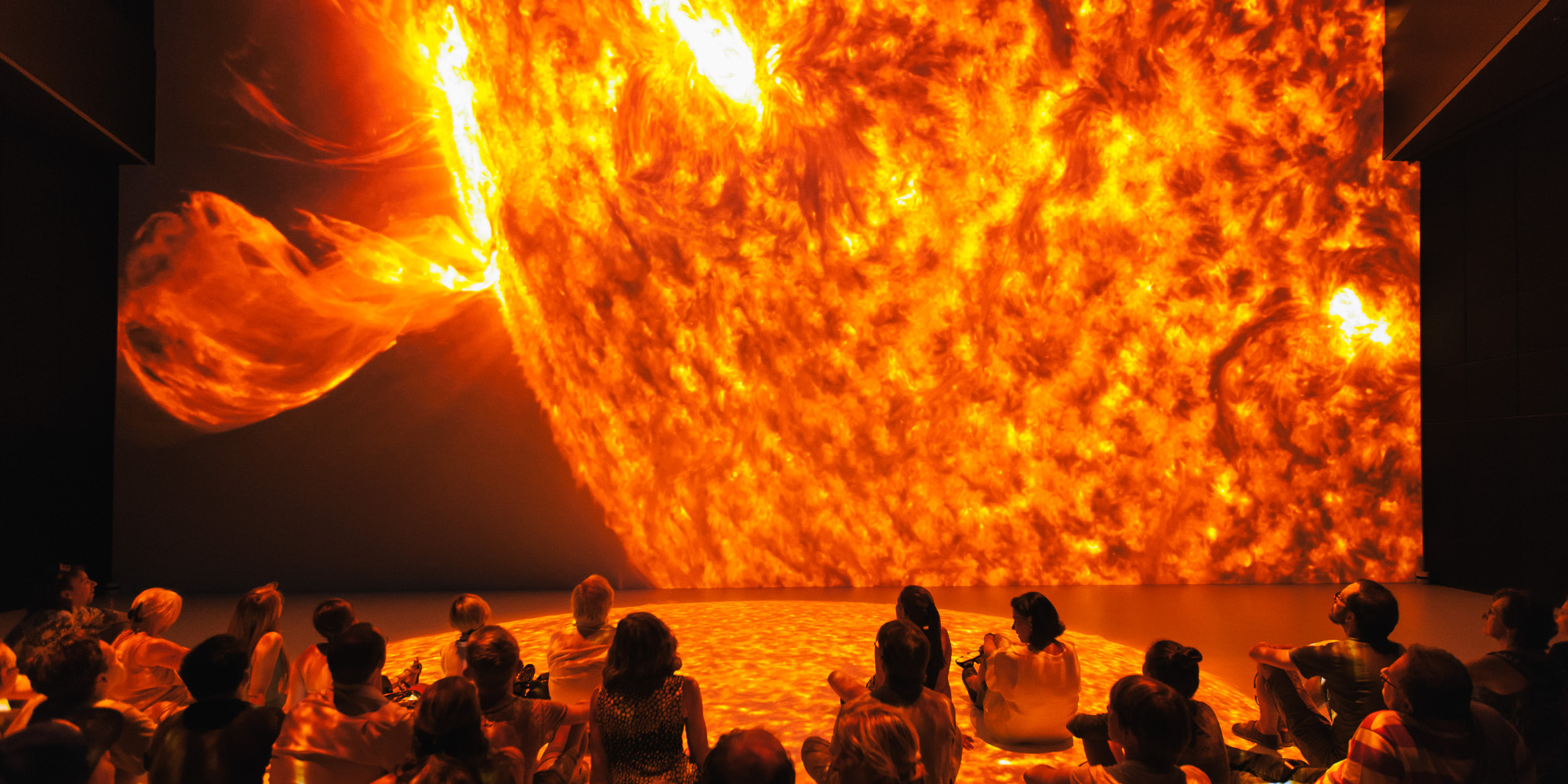 "Sun" at Deep Space 8K (Credit: Florian Voggeneder)
At 12 Noon, Openings & Introductory Parcours participants are expected in Deep Space 8K on the Ground Level for screenings of highlights of the new facility's features. Come and feast your eyes on these state-of-the-art sights in 8K resolution! The Ars Electronica Center's opening hours during the festival are: Thursday-Sunday, 10 AM-8 PM; Monday, 10 AM-6 PM. From Thursday to Sunday, Deep Space 8K is open until 10 PM.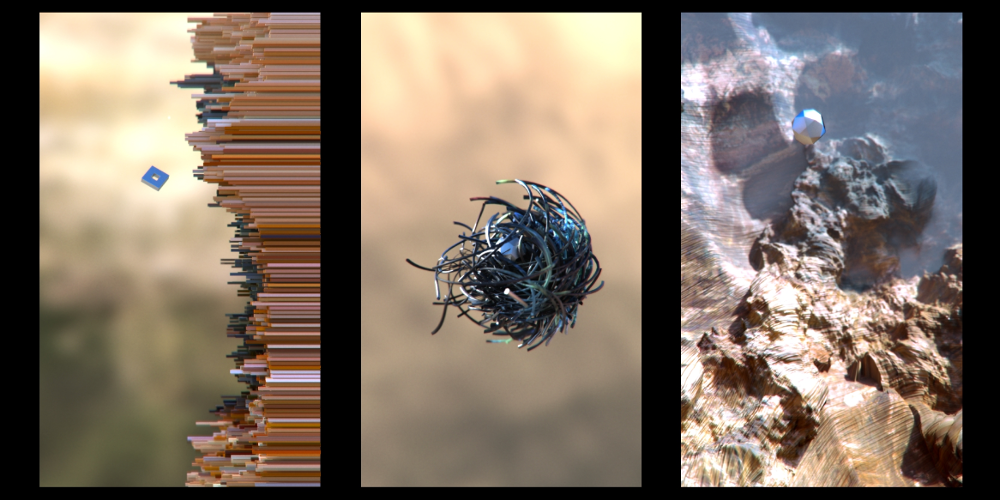 Le désert de Sonora from Bérénice Antoine, Clément Ducarteron, Gaël Labousse (Credit: Bérénice Antoine, Clément Ducarteron, Gaël Labousse)
At 1 PM, the group takes its leave of the Ars Electronica Center and crosses the Nibelungen Bridge for a session at Linz Art University, where this year's guest institution, Université Paris 8, will put their greatest hits of the last 30 years on display.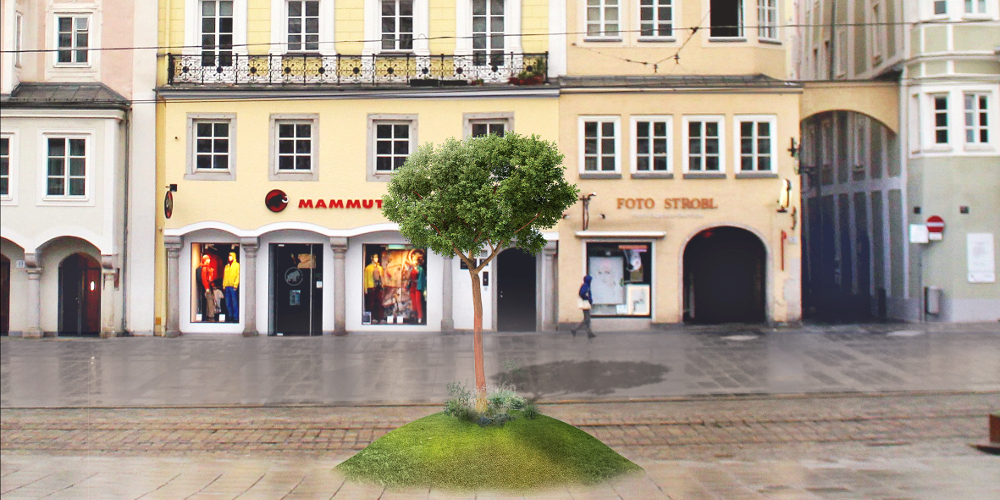 A tree tweets. A tree reacts. from ISI-Dentsu Ltd. Open Innovation Lab
Awaiting the Parcours group on Hauptplatz adjacent to the art school at 2 PM is the Mobile Ö1 Atelier with the ORF – Austrian Broadcasting Company's summer radio series "Land und Laute" and several art projects.
Trailer Ars Electronica Animation Festival 2015
From there, it's just a short walk down the main boulevard, Landstraße, to Central, a former first-run cinema that's this year's go-to spot for computer animation aficionados. CENTRAL will be hosting the Animation Festival, where all the activities having to do with animation — screenings as well as talks on the subject. The lineup on Day 1 includes Narration, Comedy, Young Animations, Music Video, Mental Stages, Position & Messages, Abstraction and Dark Stories.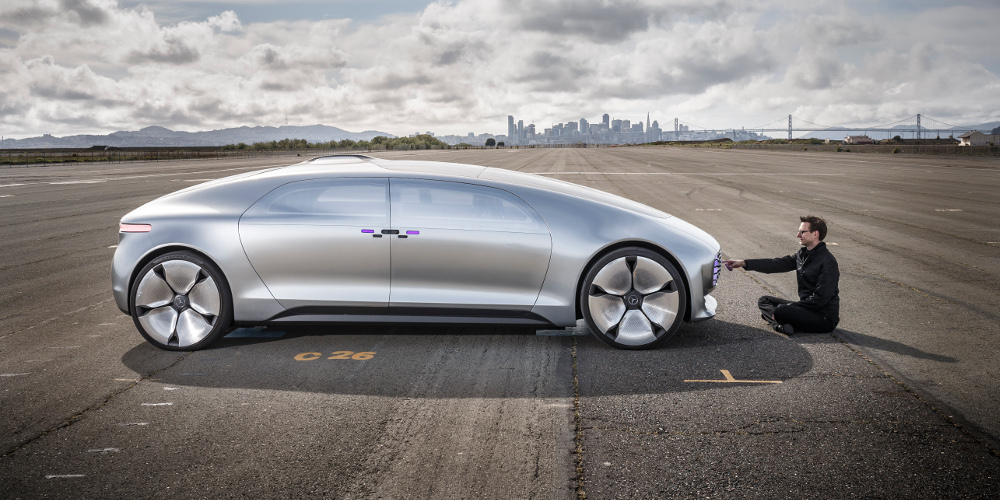 Mercedes-Benz F015 (Credit: Mercedes-Benz)
At 3 PM, the Openings & Introductory Parcours arrives at POST CITY, the prime venue of the 2015 Ars Electronica Festival and the site of this year's theme exhibition. Gerfried Stocker will personally give a guided tour of Habitat 21 spotlighting wide-ranging artistic approaches to and points of view on the physical settings of our urban future, and the Future Mobility area with its spectacular centerpiece, the Mercedes Benz F 015 self-driving R&D vehicle, which Linzers will already be able to ogle on September 1st between 11 AM and 12 Noon on Hauptplatz.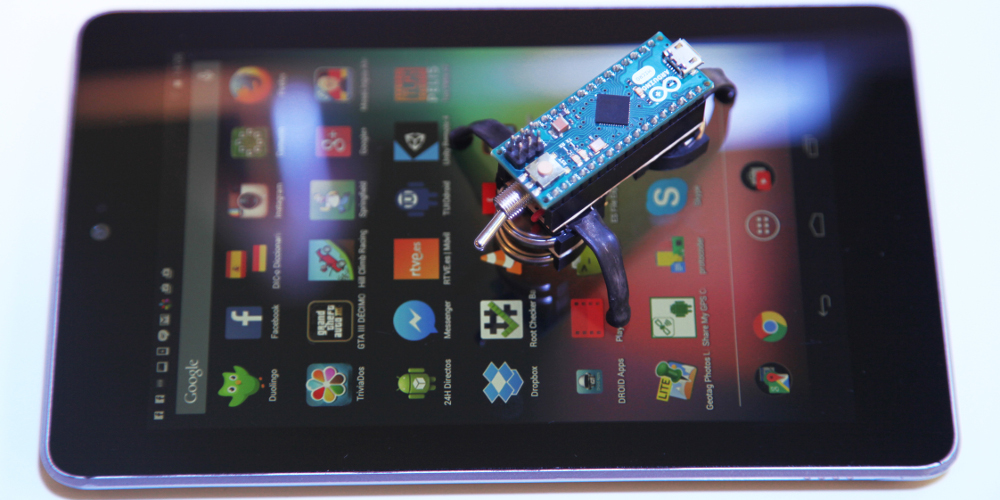 Interfight from César Escudero Andaluz (Credit: César Escudero Andaluz)
Also on display in POST CITY beginning at 3:30 PM are works by undergraduates in Linz Art University's Interface Cultures program at the Campus Exhibition. Next on the tour itinerary are stops at the Knowledge Capital and Post City Kit exhibitions showcasing numerous prototypes and projects demonstrating potential lines of development to the next generation of urban habitats.
But keep in mind: those who just can't wait until 3 PM to check out POST CITY are, of course, free to head off on their own. POST CITY will already be open to the public at 10 AM, and the first symposia and speeches are set to begin before noon.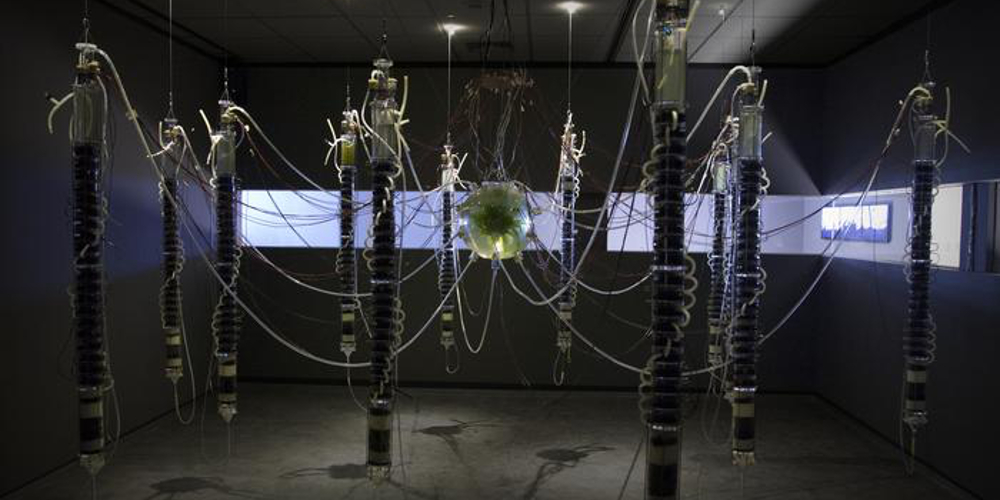 Plantas Autofotosintéticas from Gilberto Esparza (Credit: Gilberto Esparza)
At 5 PM, the Openings & Introductory Parcours undertakes its next inner city outing to visit CyberArts Exhibition in the OK Center for Contemporary Art. One of the highlights of the Ars Electronica Festival every year, this exhibition features the 2015 Prix Ars Electronica prizewinners and thus the state of the art in the electronic arts. Here too, doors open at 10 AM.
Kids' Research Laboratory (Credit: Martin Hieslmair)
The second tour of POST CITY in conjunction with the Openings & Introductory Parcours is set for 7-8 PM. Gerfried Stocker will present the Naked Veriti Project, 1,001 Models, Renaming the City, the Russian Sound Art Project, Hallstatt Revisited and Form/Code/Maps. The parcours' penultimate destination is u19 – CREATE YOUR WORLD, the Future Festival of the Next Generation, a colorful playground made up of open labs, events and exhibitions especially for young people under 19 years of age that's celebrating its fifth anniversary this year.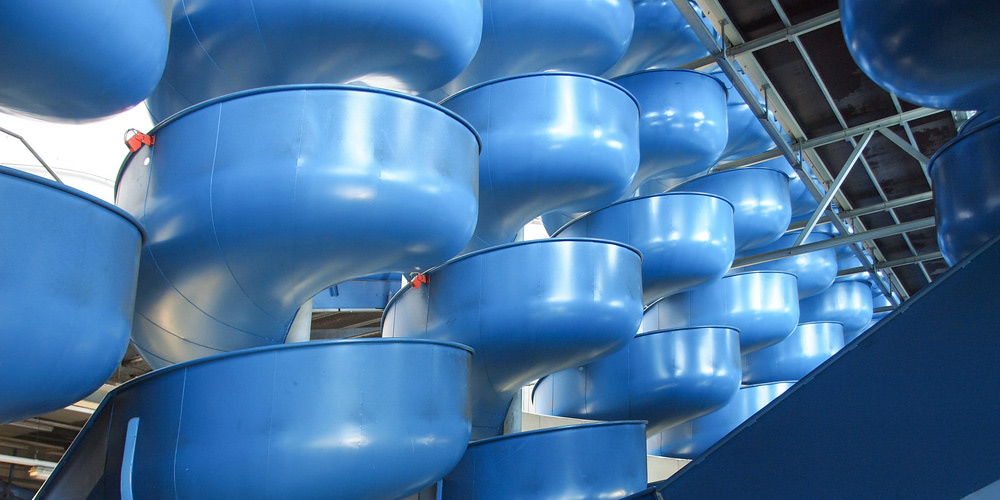 Diaspora Machine von Anatol Bogendorfer, Peter Androsch (Credit: Martin Hieslmair)
The Openings & Introductory Parcours reaches its crescendo at 8 PM with the grand opening ceremony of the 2015 Ars Electronica Festival. One highlight on the program is "Diaspora Maschine" by artists Peter Androsch and Anatol Bogendorfer. This work addresses a highly topical issue — the waves of immigrants currently flowing into Europe — and is meant to spark a public discussion of how we deal with strangers in general. Serving as a giant megaphone are the huge spiral packet chutes the Postal Service left behind. They distribute vocals, sounds and light generated by singers and speakers, trumpeters, choruses and soloists. The extraordinary musical offering on the evening's lineup are by trombonist Bertl Mütter, musician/composer Rupert Huber, and piano virtuoso Maki Namekawa, who'll be performing etudes by Phillip Glass on the concert grand accompanied by visualizations. Next up is a gloomy acoustic and visual performance in which raum.null considers the damage that will be inflicted on this world's cities by the global extinction of flora and fauna. The final act features DJs M.E.S.H and LOTIC, along with Uli Mayr and Thomas Scheutz. Admission to the opening is free of charge!
Don't miss Day 1 of the Ars Electronica Festival on Thursday, September 3, 2015 and the Openings & Introductory Parcours beginning at 10:30 AM in the Ars Electronica Center. And we cordially invite you to join us at the Opening Celebration in POST CITY beginning at 8 PM. Details about the individual events and the lineups of the next four days of the festival are online at https://ars.electronica.art/postcity/en/program/