For the chief protagonist—let's call him Ulrich—it all began on a sunny Monday morning. He had spent the whole weekend preparing for the presentation scheduled for today in his office. After all, a lot was riding on whether he could once again convince a major client to finance another one of his projects. But it would never get that far—only a few minutes into his pitch, Ulrich collapsed onto the conference room floor. What he didn't know at the time was that the metastasis going on in Ulrich's body was already quite advanced and, over the coming weeks—or even days—he would be facing a far bigger challenge: cancer.
With the creation of "Die Entscheidung," 17-year-old Jonas Bodingbauer has succeeded in taking a sensitive, compassionate approach to the plight of a human being battling cancer and, at the same time, inspired by the famous Milgram Experiment, voicing sharp criticism of computer games whose primary aim is killing virtual human beings or even destroying entire states. "I'm concentrating on programming games at the moment. Maybe my next project will be to develop a little game," is what Jonas Bodingbauer told us in an interview two years ago, when he was honored with an Award of Distinction for his Smart Watch. Now, "Die Entscheidung" has been singled out for recognition with the Golden Nica grand prize in the 2016 Prix Ars Electronica's u19 – CREATE YOUR WORLD category. If you'd like to meet this extraordinary individual and several other very creative youngsters being honored this year, you're cordially invited to attend the u19 Ceremony being held in conjunction with the 2016 Ars Electronica Festival on Friday, September 9th, 2016, at 11 AM in POSTCITY.
Jonas, how is "Die Entscheidung" actually played?
Jonas Bodingbauer: My game is for two players whose computers are linked up in a network. Each player assumes one of two roles, and sees the game only from his own point of view. Player 1 has cancer and is struggling to make the most of the short life that he has left. Player 2 acts as the tumor, and does everything possible to advance its growth. It isn't until the game is well underway that the one playing the tumor finds out that the cancer patient would have good chances of recovery if the disease goes into remission. Thus, each player has to decide for himself about the next step—and thereby make a decision that impacts the other player too.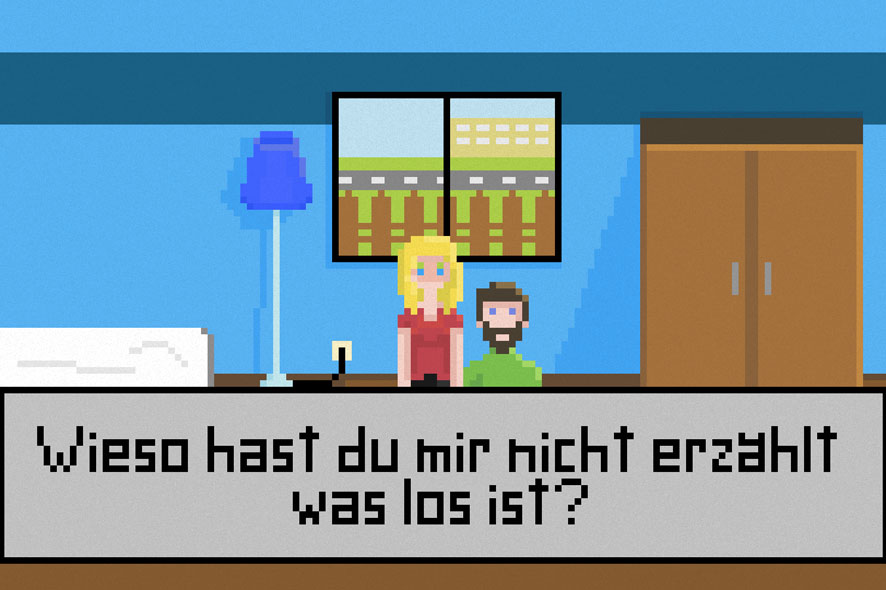 Credit: Jonas Bodingbauer
What motivated you to develop this game?
Jonas Bodingbauer: With this game, I want to show how important it is to question every single task you're assigned to carry out. And that doesn't refer only to some of the peculiar objectives and cruel acts that are called for in certain computer games. Generally speaking, people should also give some thought to the little decisions you're faced with in real life and not just in the world of gaming. It's important to think about something intensively, to reflect on it long and hard, before you arrive at your decision. My game's designed to make people aware of that.
The jury members Conny Lee and Karl Markovics of the u19 – CREATE YOUR WORLD category. In the video they talk about the special features of the computer game by Jonas Bodingbauer.

What did you use to program it?
Jonas Bodingbauer: I programmed it with Java; the game engine is called libGDX, and the network engine is KryoNet. All the pixel graphics that appear in the game were designed by me personally. The programs PyxelEdit and Paint.NET were a big help.
Did your parents try out the game? And what outcome did they decide upon?
Jonas Bodingbauer: Yeah, they helped me out in testing it, but I had told them in advance how they should play. I mean, the whole point of testing is to find out which paths work and which don't. To tell you the truth, I don't have the slightest idea how the game would have played out if I hadn't told them. But it would be interesting to find out.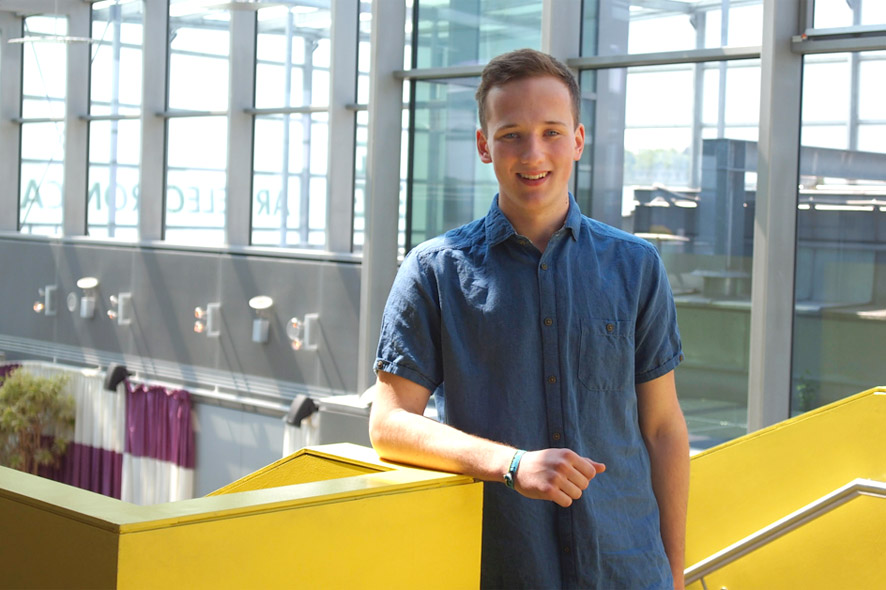 Credit: Martin Hieslmair
What's actually your general take on computer games? Might some of them constitute a danger, in your opinion?
Jonas Bodingbauer: I imagine that most people who play computer games think—at least a little bit—about what they're doing. I myself very seldom play shooter games, and when I do, then only together with friends. When I play alone, then they're point-and-click adventures, games with a story behind them, and not totally conventional games. There are so many really cool and incredibly beautiful indie games that simply don't get enough attention. And many of them feature very lovely pixel graphics. And that motivated me very powerfully in developing my own game.
Can you still recall your first computer game?
Jonas Bodingbauer: Back then, I was constantly pestering my sister to let me use her Gameboy. I was five or six when I played my first computer game—and that was Pokémon, definitely. The Golden Edition. I didn't quit until I got to Hard Gold. That was pretty cool.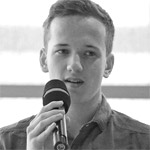 Jonas Bodingbauer was born in 1998. Since 2012, he has attended Leonding Technical College, where he's studying electronics and technical computing. By way of recreation, he likes to work with electronics and do programming, and deploy his skills in projects of his own design. In his spare time, he enjoys making music and doing volunteer work. In 2014 he was honored with an Award of Distinction in the u19 – CREATE YOUR WORLD category for his Smart Clock that displays appointments in addition to telling the time. He also takes part in the annual Physics Olympiad and has twice qualified for the nationwide competition.
And don't forget: At the same time of the "big" Ars Electronica Festival the future festival of the next generation, the u19 – CREATE YOUR WORLD festival, will take place in the POSTCITY in Linz – September 8 to 12, 2016. Information about the program of the u19 festival you will find on ars.electronica.art/u19/festival!
Merken
Merken