A world record kicked off 2016. At a press conference in Ars Electronica Center's Deep Space 8K, Intel and the Ars Electronica Futurelab announced the success of their joint venture: an automated formation flight of 100 LED-studded drones, the Spaxels.
DRONE 100 wasn't only a video that went viral online. A short time later, spectators in Sydney and later in Linz were able to witness this airborne spectacle with their own eyes. But more about that later …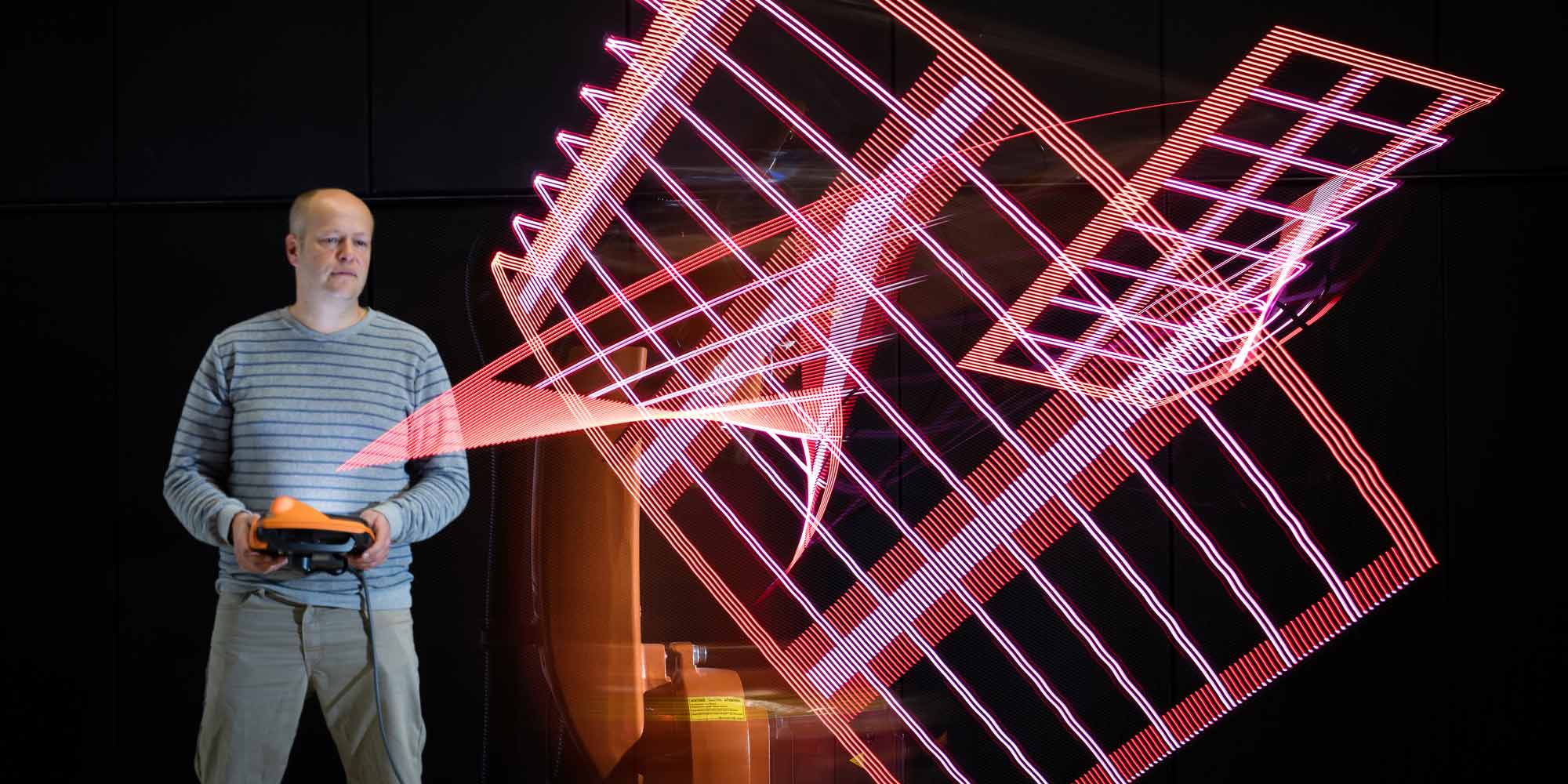 Credit: Florian Voggeneder
Let's stay focused on the Ars Electronica Center for the moment. The Museum of the Future premiered a new exhibit entitled "Creative Robotics" showcasing some of the creative possibilities inherent in robots that were actually designed for industrial purposes. Calligraphy and lightpainting are just two of the techniques that a robot arm masters with tremendous precision.
And then there's the "Hack the Robot" workshop where youngsters learn the basics of programming an industrial robot and deploying it for their own purposes.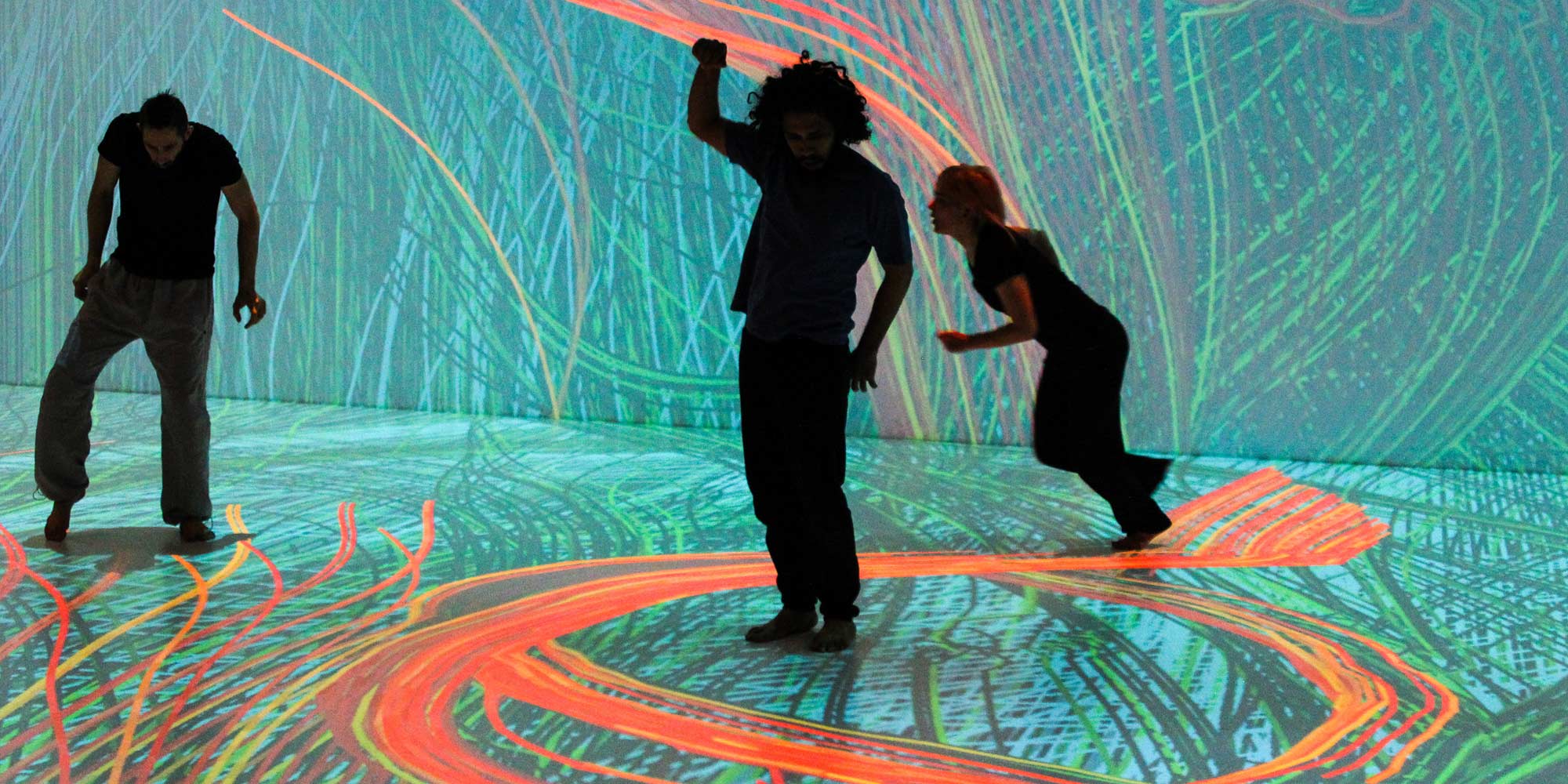 Credit: Martin Hieslmair
The next successful installment in the "TIME OUT" exhibition series was staged by the Ars Electronica Center in cooperation with Linz Art University and young media artists. A dance performance in Deep Space 8K, 3-D printed ceramics and a rotating light storm were among the works showing that there's no shortage of amazing ideas for how to use technology in artistic creativity. Plus, Deep Space 8K served as the subject matter of a course imparting the necessary programming skills to enable up-and-coming young creatives to realize their own visual projects featuring wall-and-floor projections.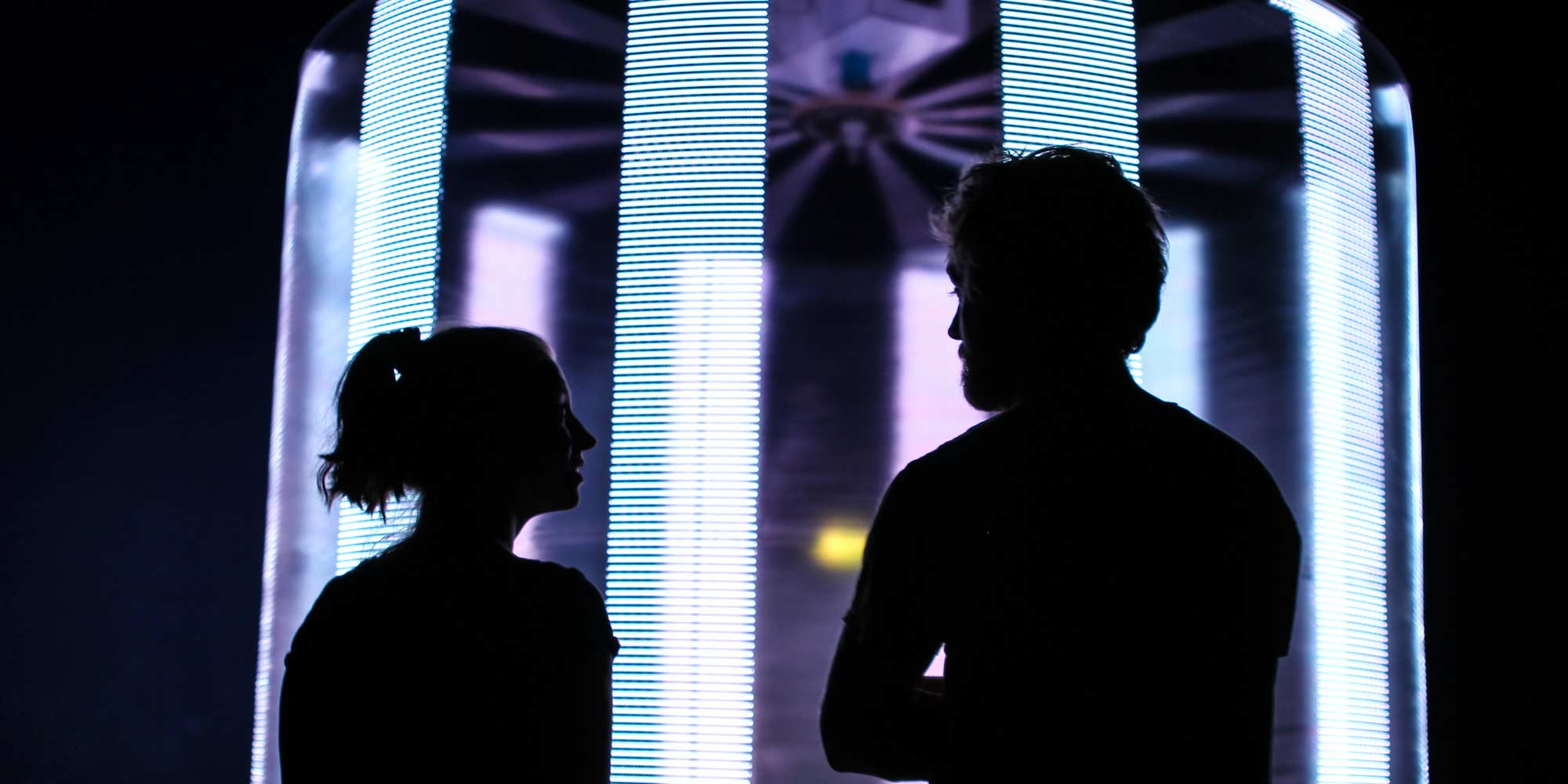 Credit: Martin Hieslmair
In early 2016, artists worldwide were invited to submit their work for Prix Ars Electronica prize consideration. Meanwhile, jurors from throughout the world were getting ready to convene in Linz that spring and evaluate those entries.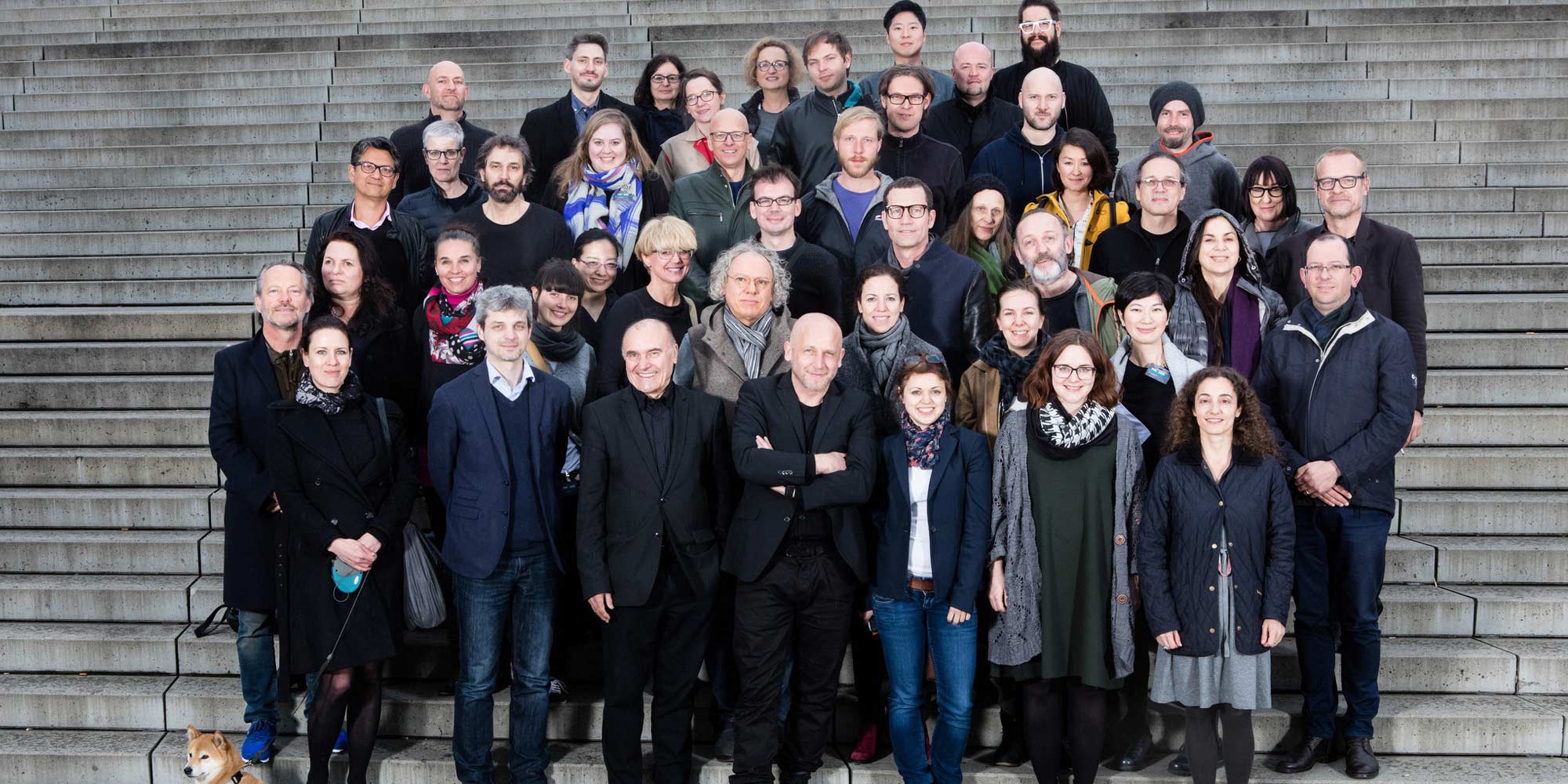 Credit: Florian Voggeneder
The deliberations and voting to single out the year's best works of media art took place over a long weekend. It's no easy feat to reach a consensus about a single grand prizewinner in each category. Deciding which of the 3,159 entrants from 84 countries would be the recipients of the 2016 Prix Ars Electronica's Golden Nicas is definitely each jury's toughest assignment.
Credit: Florian Voggeneder
This surprisingly strenuous decision-making process is a stark contrast to the happy faces of the 2016 prizewinners who gathered at the Ars Electronica Gala in September. The Golden Nicas went to Boris Labbé for his animated film "Rhizome," Christoph Wachter and Mathias Jud for an interactive work entitled "Can you hear me?," the digital community "P2P Foundation," computer game programmer Jonas Bodingbauer for "Die Entscheidung" [The Decision], and Jasia Reichardt for her visionary work in the media art genre.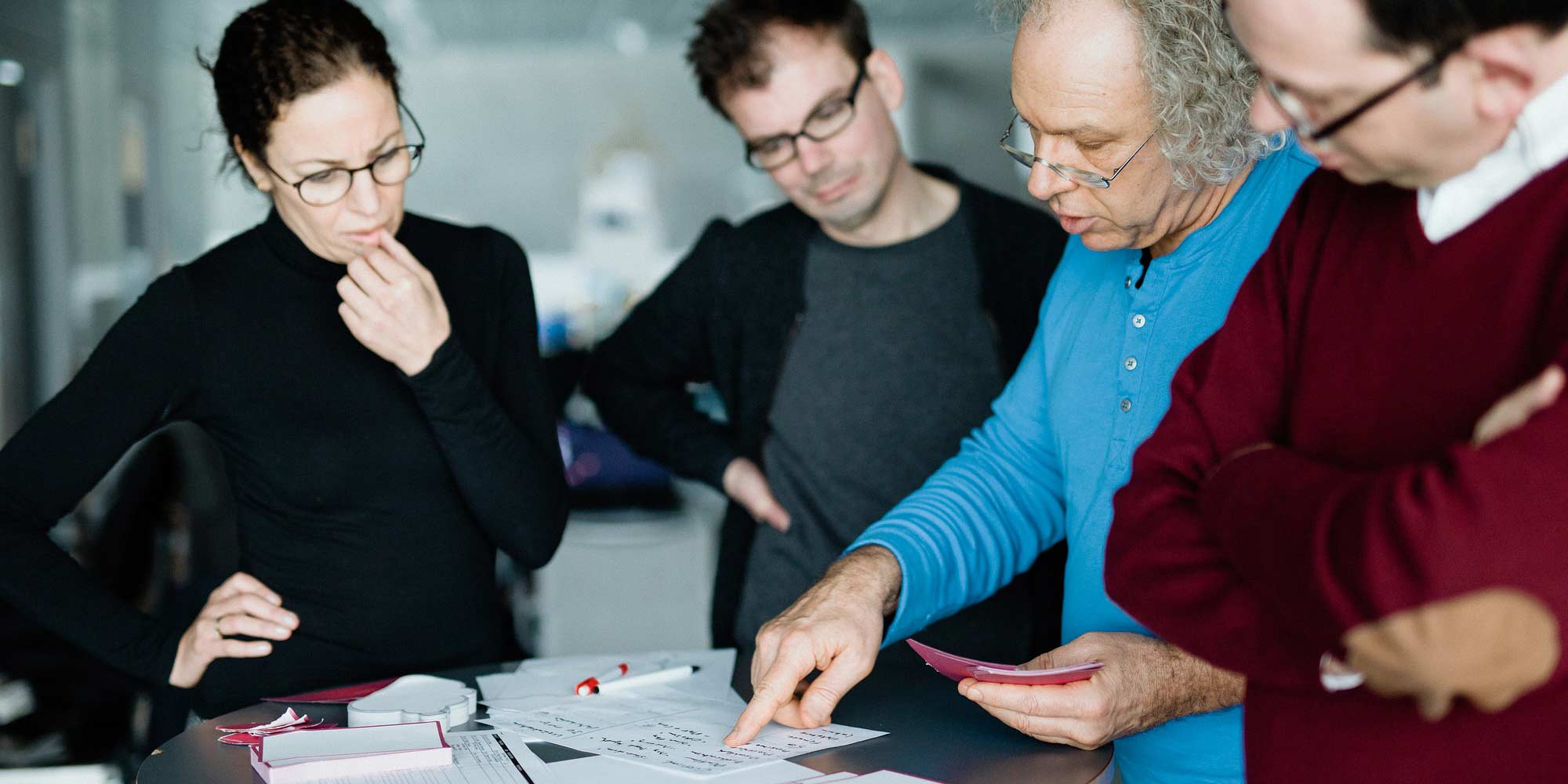 Credit: Florian Voggeneder
While the Prix Ars Electronica juries were convening, a special jury was deciding on the recipients of two generously endowed special awards. The STARTS Prize was launched by the European Commission to honor innovative projects at the interface of science, technology and art. The 2016 honorees are the "Artificial Skins and Bones" group and artist Iris van Herpen.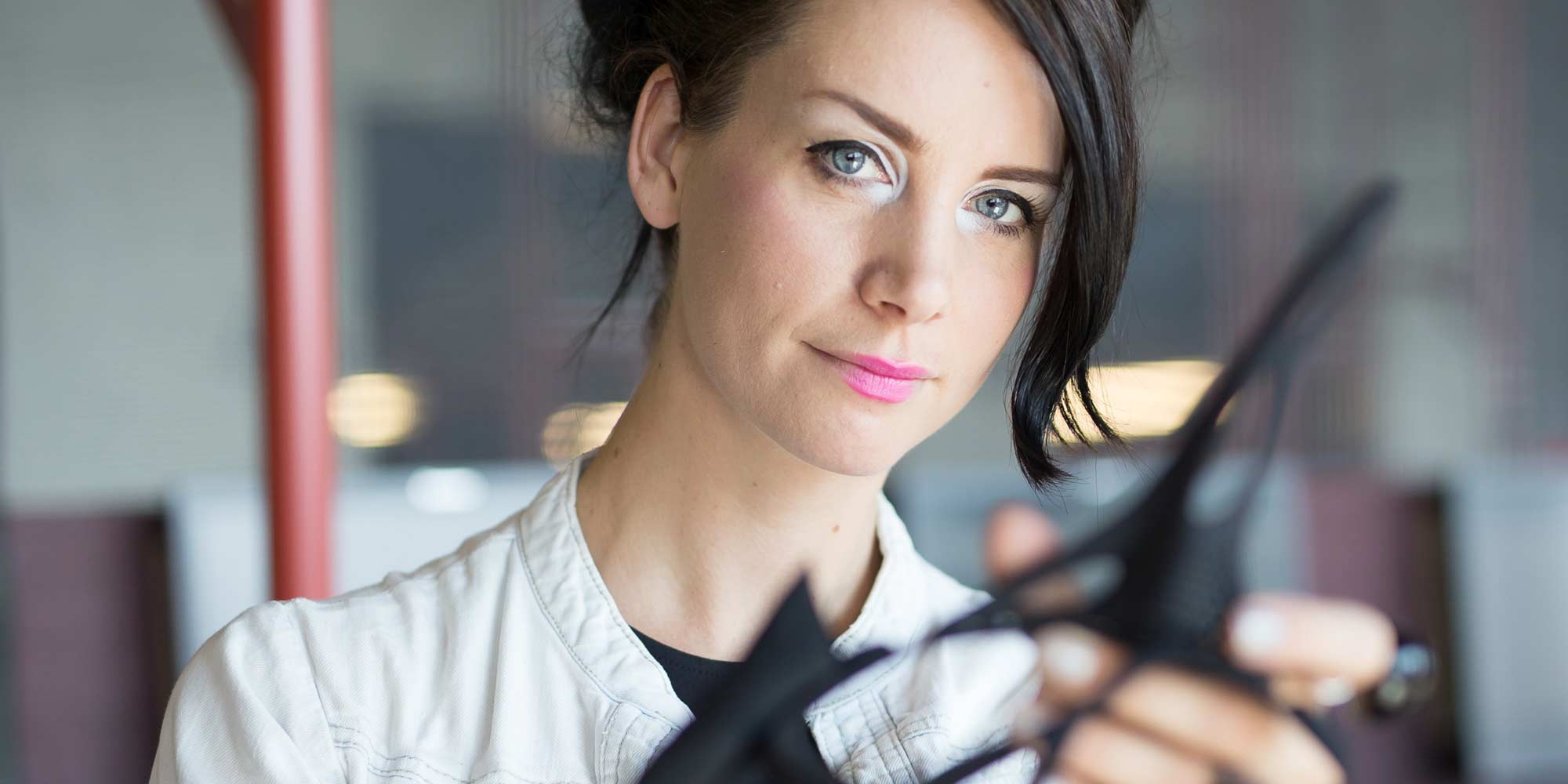 Credit: Florian Voggeneder
The SPARKS project sought artistic visions of health and medicine to be developed and realized during the course of a residency at the Ars Electronica Futurelab—fashiontech designer Anouk Wipprecht's "Agent Unicorn" interface, sci-fi artist Lucy McRae's film "The Institute of Isolation," and artists Jakob & Lea Illera's BeBots nanorobot concept.
The SPARKS traveling exhibition is appearing in 29 countries. Following its premiere in London's Science Museum, it will be running at the Ars Electronica Center beginning in March 2017.
Credit: Claudia Schnugg
Not only exhibitions travel; artists do too. Thanks to the European Digital Art and Science Network and its partner institutions, the ESO–European Southern Observatory and the ESA–European Space Agency, artists have the opportunity to observe scientists at some very exciting workplaces and to derive inspiration from these experiences. Finally, all of these residencies culminate at the  Ars Electronica Futurelab, where the participating artists obtain help in implementing their ideas.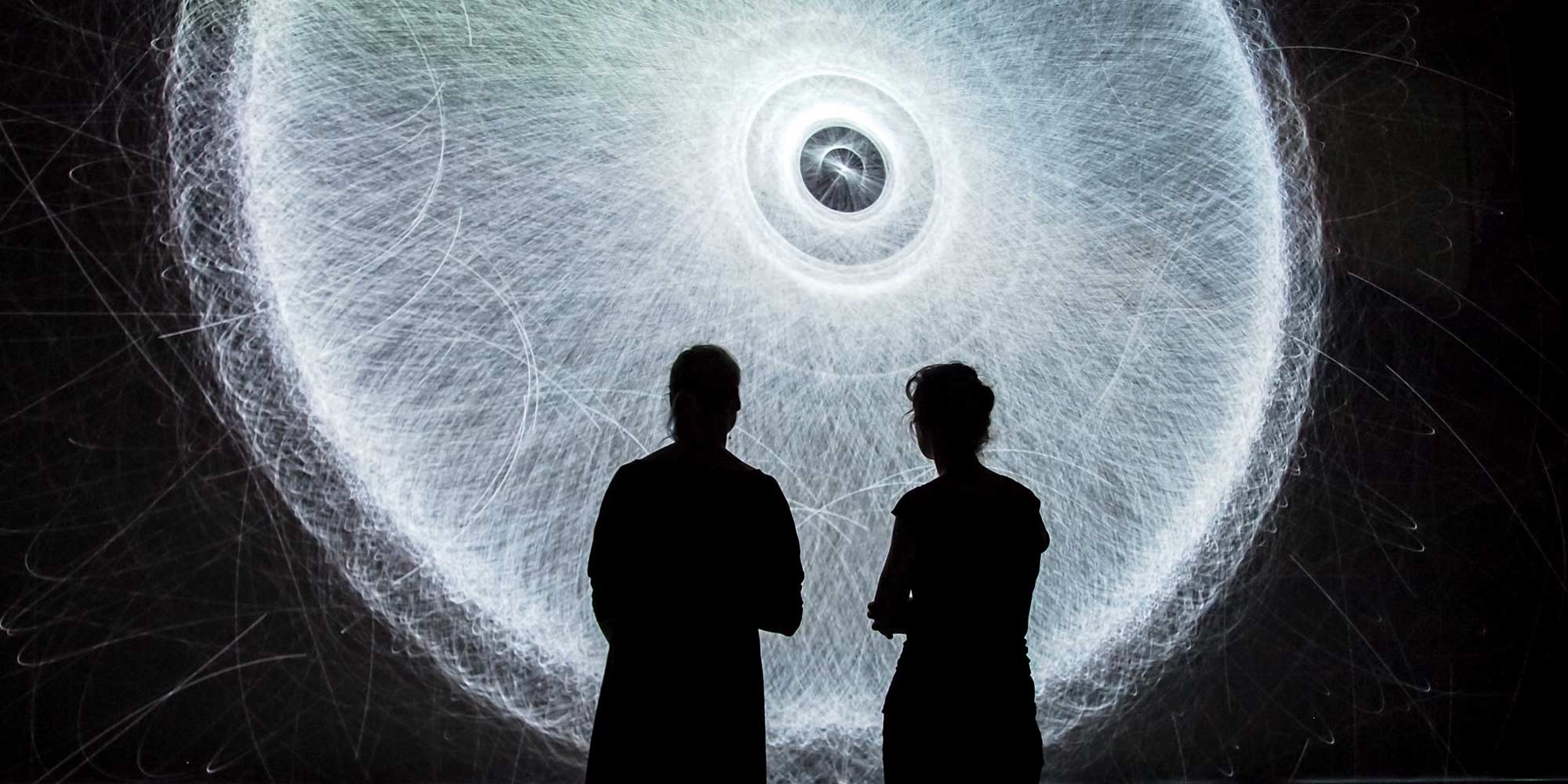 Credit: Martin Hieslmair
This was the second time that the ESO gave artists a close-up look at its huge telescopes arrayed in Chile's Atacama Desert. Last summer, a group of artists named Quadrature took this chance-of-a-lifetime journey through South America, and presented the works it inspired at the Ars Electronica Festival in September.
Credit: Martin Hieslmair
For her part, artist Aoife Van Linden Tol got the chance to see what goes on at the European Space Agency. She followed the progress of the ExoMars missions live at the Control Center in Darmstadt, Germany and then did a stint at the European Space Research and Technology Centre in Noordwijk, The Netherlands.
It's becoming increasingly clear that art and science are coming closer and closer together—and both are profiting from this development. That was the theme of the "Alchemists of Art and Science" exhibition at the Ars Electronica Center.
Thanks to Ars Electronica Export, this institution has been making a name for itself far beyond the borders of the Republic of Austria: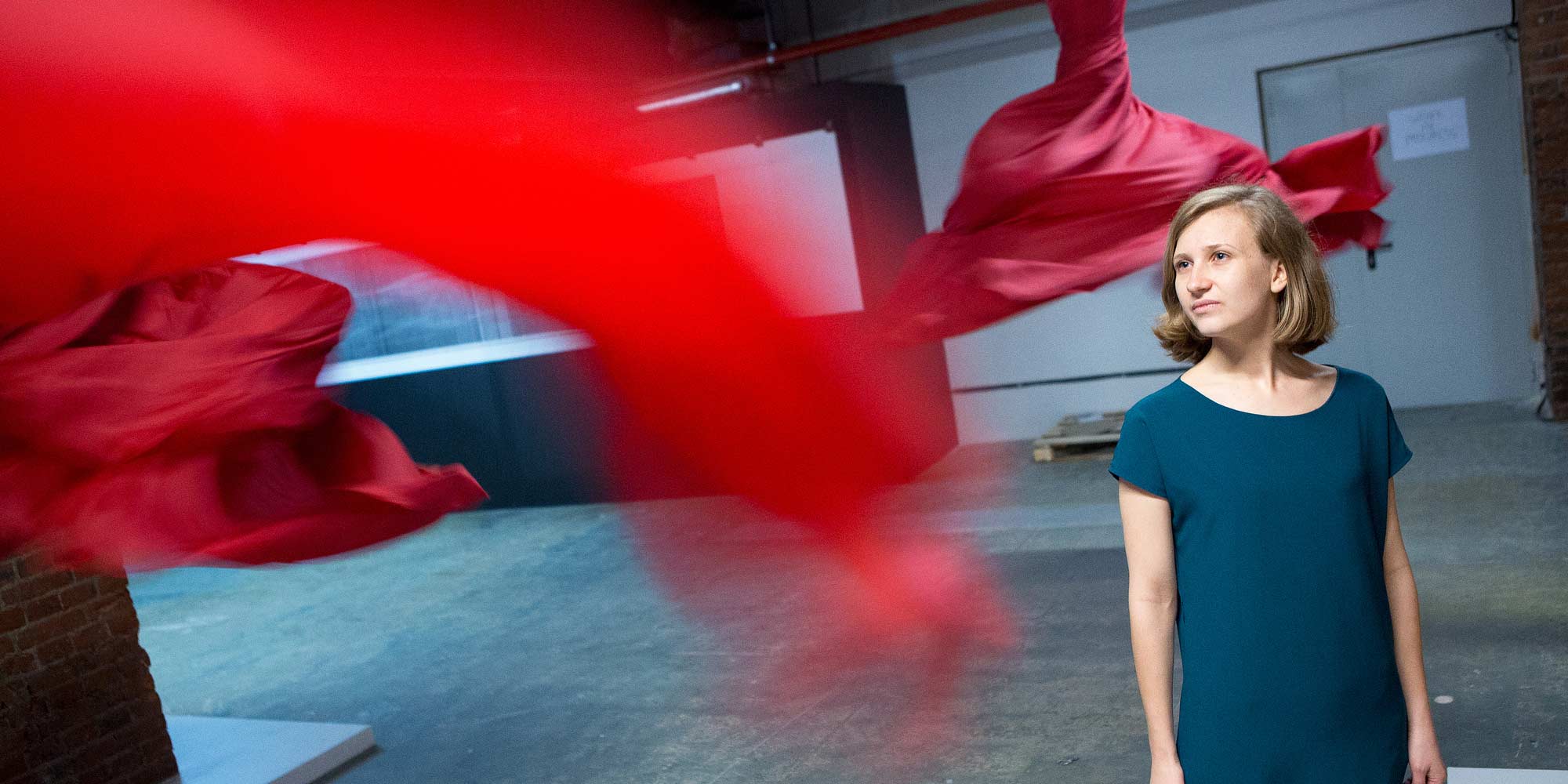 Credit: Daniil Primak, Polytechnic Museum
The Polytechnic Museum in Moscow commissioned Ars Electronica Export to curate the "EARTH LAB – artists as catalysts" exhibition that showcases projects exploring key issues having to do with our planet.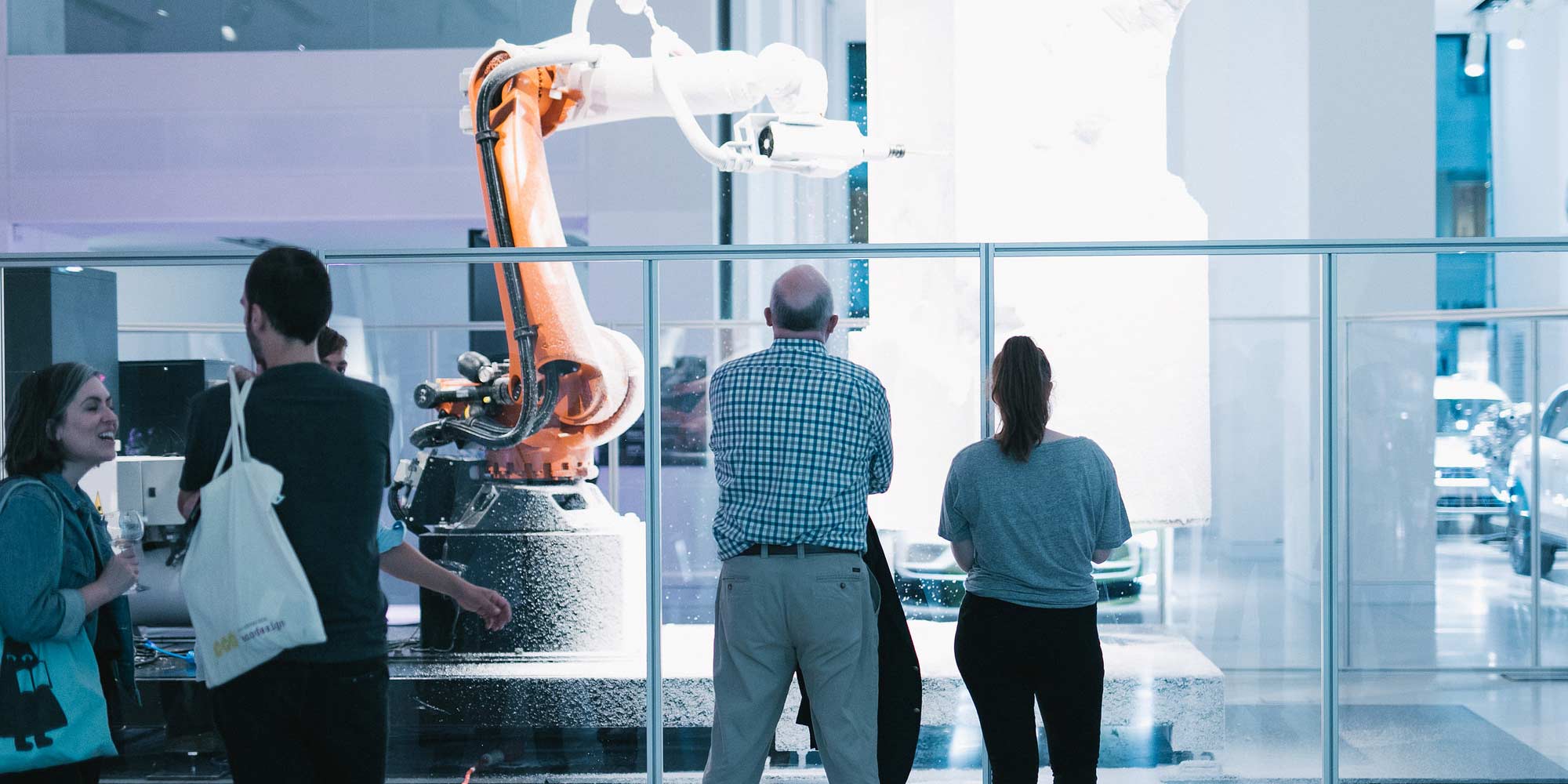 Credit: Florian Voggeneder
In an exhibition entitled "HUMAN FACTOR – Endless Prototyping" at DRIVE. Volkswagen Group Forum in Berlin, approximately 50 artists from all over the world elaborated on the tense interrelationship among the risks and potential rewards of human technological progress.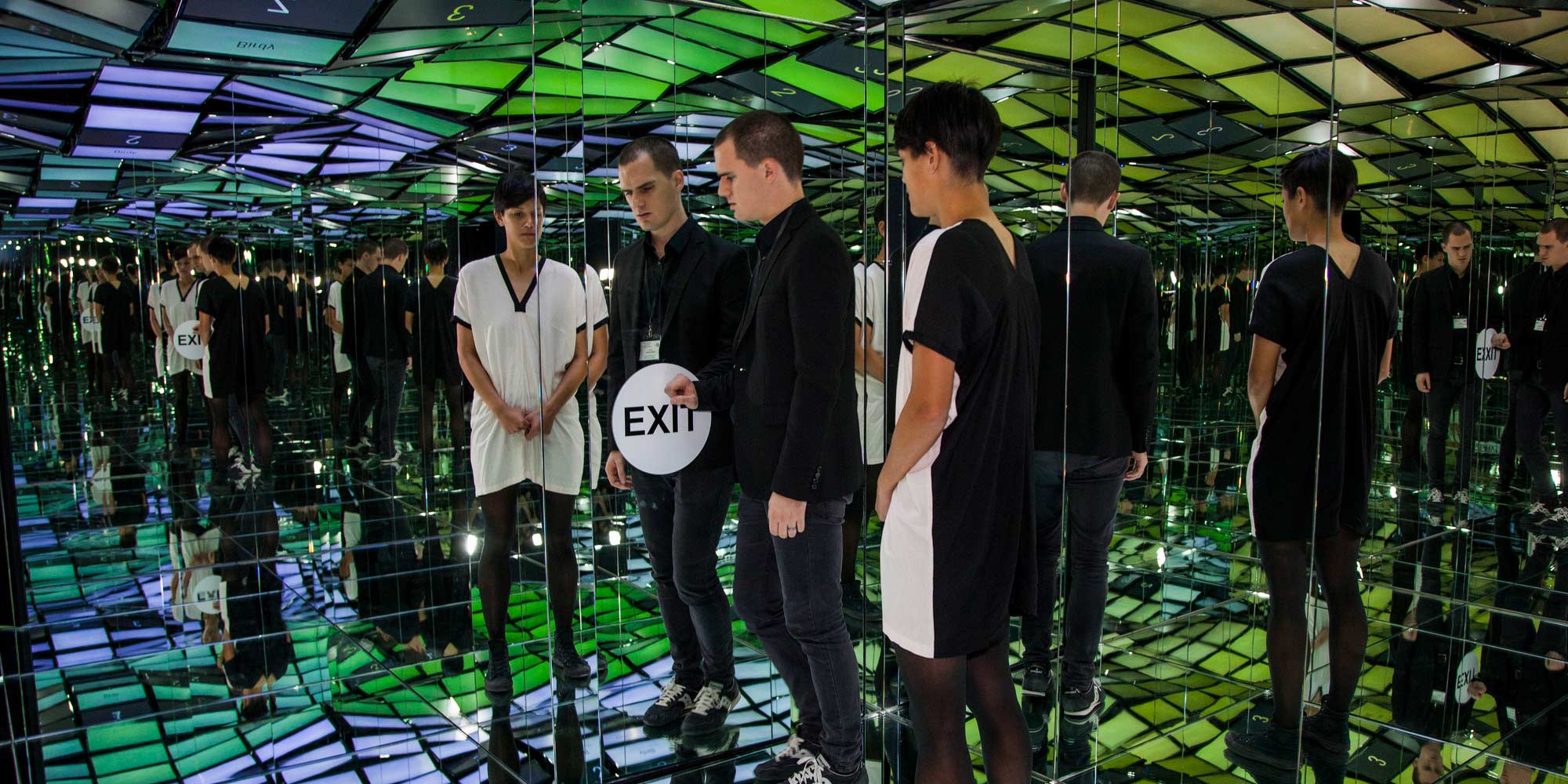 Credit: Andreas Simopoulos, Courtesy of Onassis Cultural Centre-Athens
And the Onassis Cultural Centre in Athens collaborated with Ars Electronica to produce "Hybrids," an exhibition scrutinizing new forms of artistic expression that amalgamate disparate genres and thereby cross over boundaries separating art and technology.
Credit: Roland Aigner
At Walt Disney Concert Hall, the Ars Electronica Futurelab and the Los Angeles Philharmonic Orchestra jointly created a visualized performance of Maurice Ravel's "Mother Goose".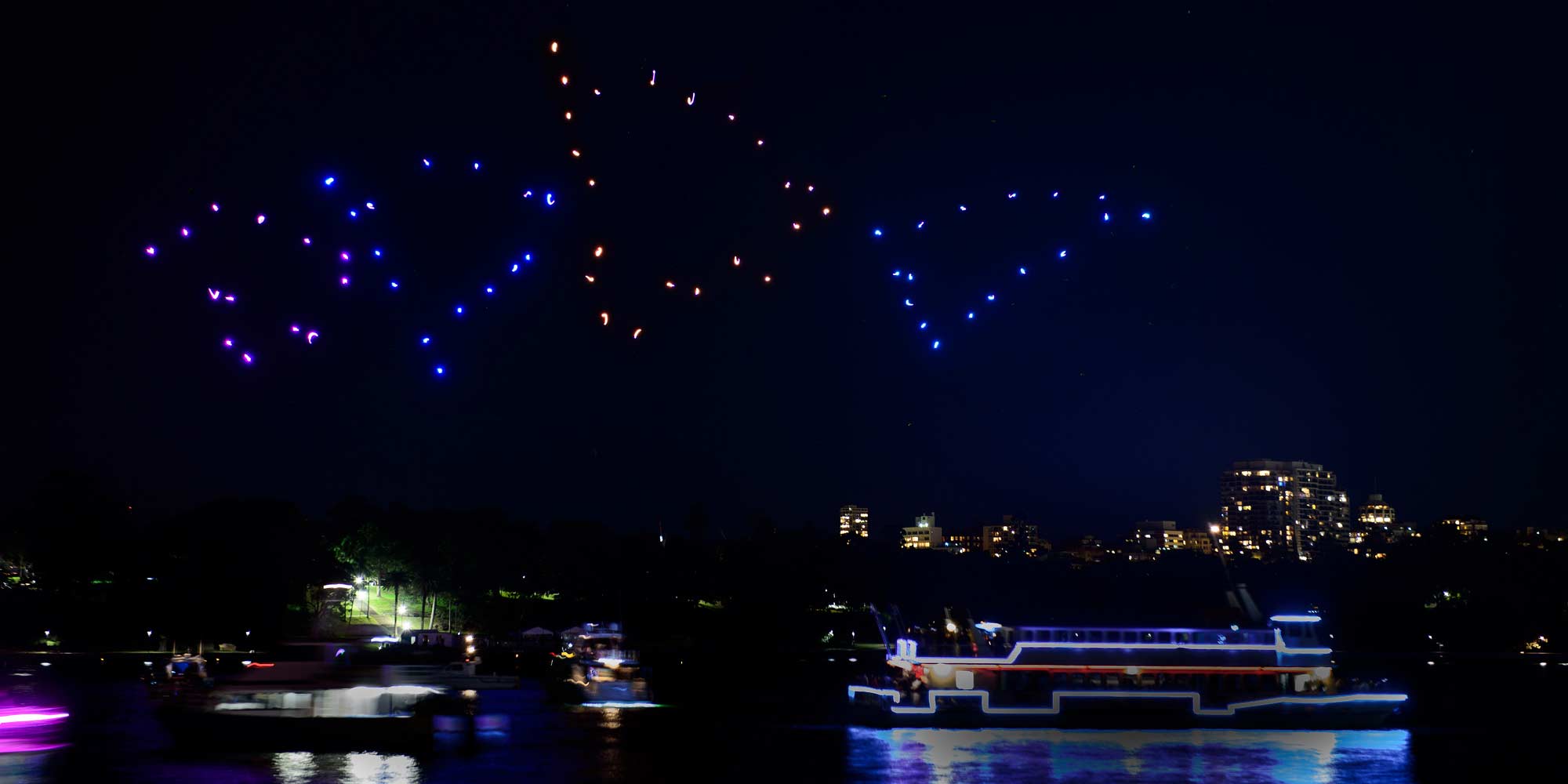 Credit: Sam Syed
The Spaxels, Ars Electronica Futurelab's swarm of unmanned aerial vehicles, went aloft again. The site of this spectacular show produced jointly with Intel for the Vivid Sydney Festival was Sydney Harbour, where the city's world-famous opera house provided the striking backdrop.
Credit: Tom Mesic
Meanwhile, back in Linz—the early-September Festival is the annual highlight of Ars Electronica. The 2016 was theme was "RADICAL ATOMS and the alchemists of our time."
We've already presented our Best-of photo essay. And once again, an old truism is borne out: There's not one single photo that can capture the essence of each of the 534 events—conferences, exhibitions, concerts, performances, guided tours and workshops—over the course of five days with 842 participating artists and scientists from 50 countries.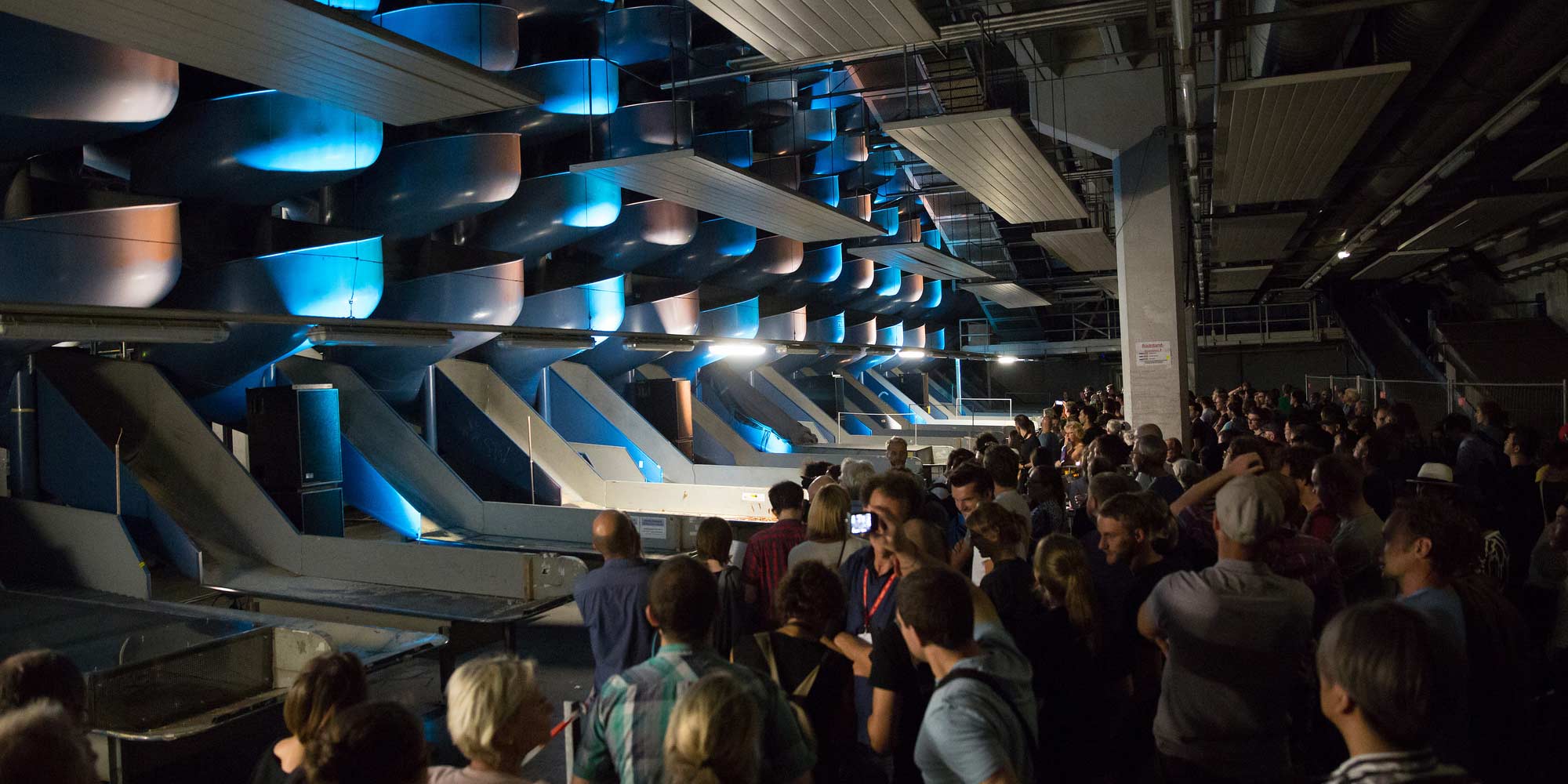 Credit: Tom Mesic
POSTCITY, the former postal service logistics facility at Linz's main train station—with its huge bank of blue spiral packet chutes—served as the main festival venue one last time. The content, on the other hand, was totally new.
Deep within the catacombs of POSTCITY, festivalgoers discovered labyrinthine hallways, high-ceilinged spaces, an atomic bunker big enough for 3,000 people, and a storage room for undeliverable parcels. This year, the so-called "Underworld" was a setting for walk-through audiovisual artworks.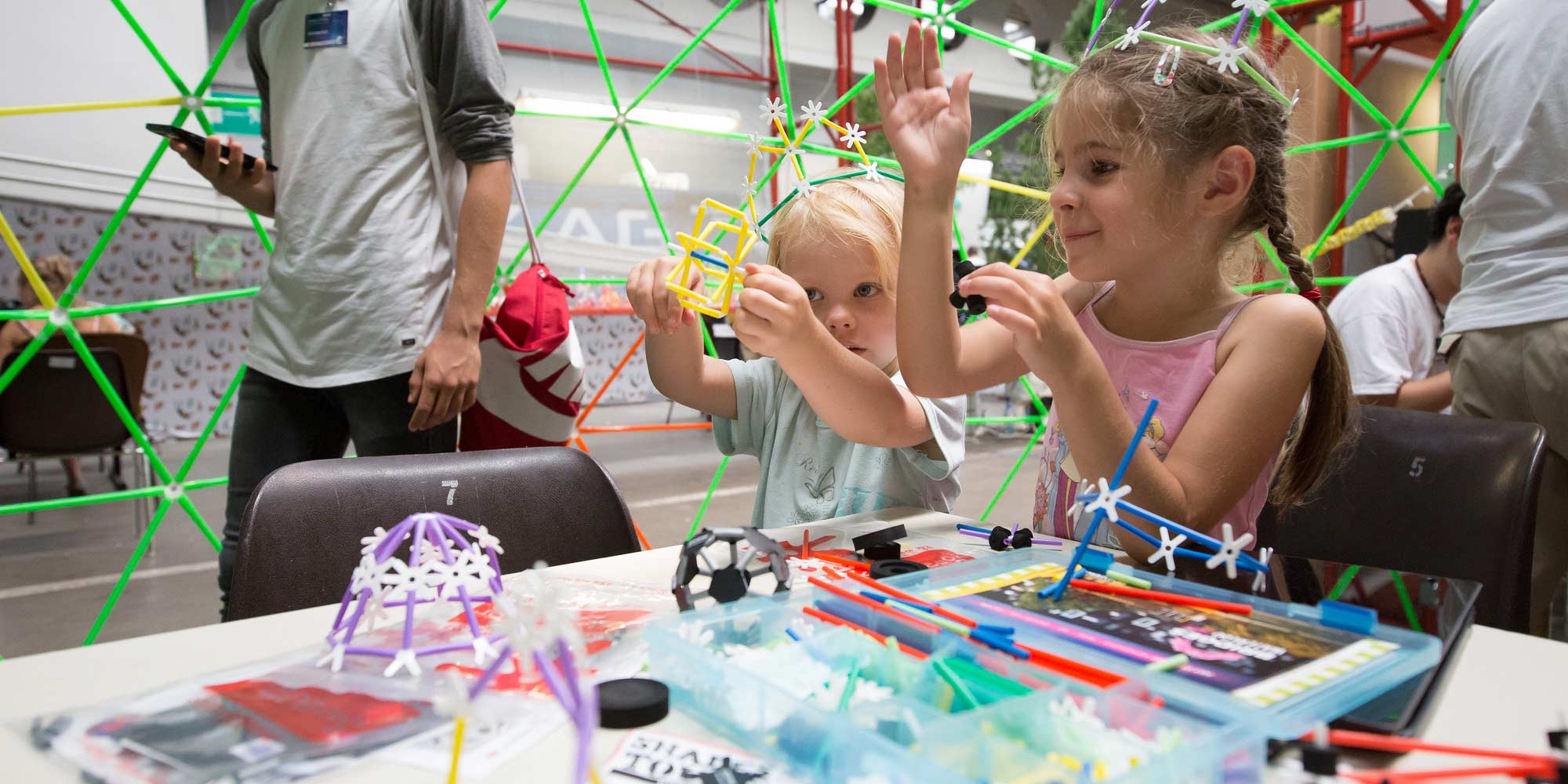 Credit: Tom Mesic
At the u19 – CREATE YOUR WORLD festival-within-a-festival for young people, kids get hands-on experience with 21st-century tools and give some thought to the world of tomorrow—their world. There's a photographic retrospective of these activities as well.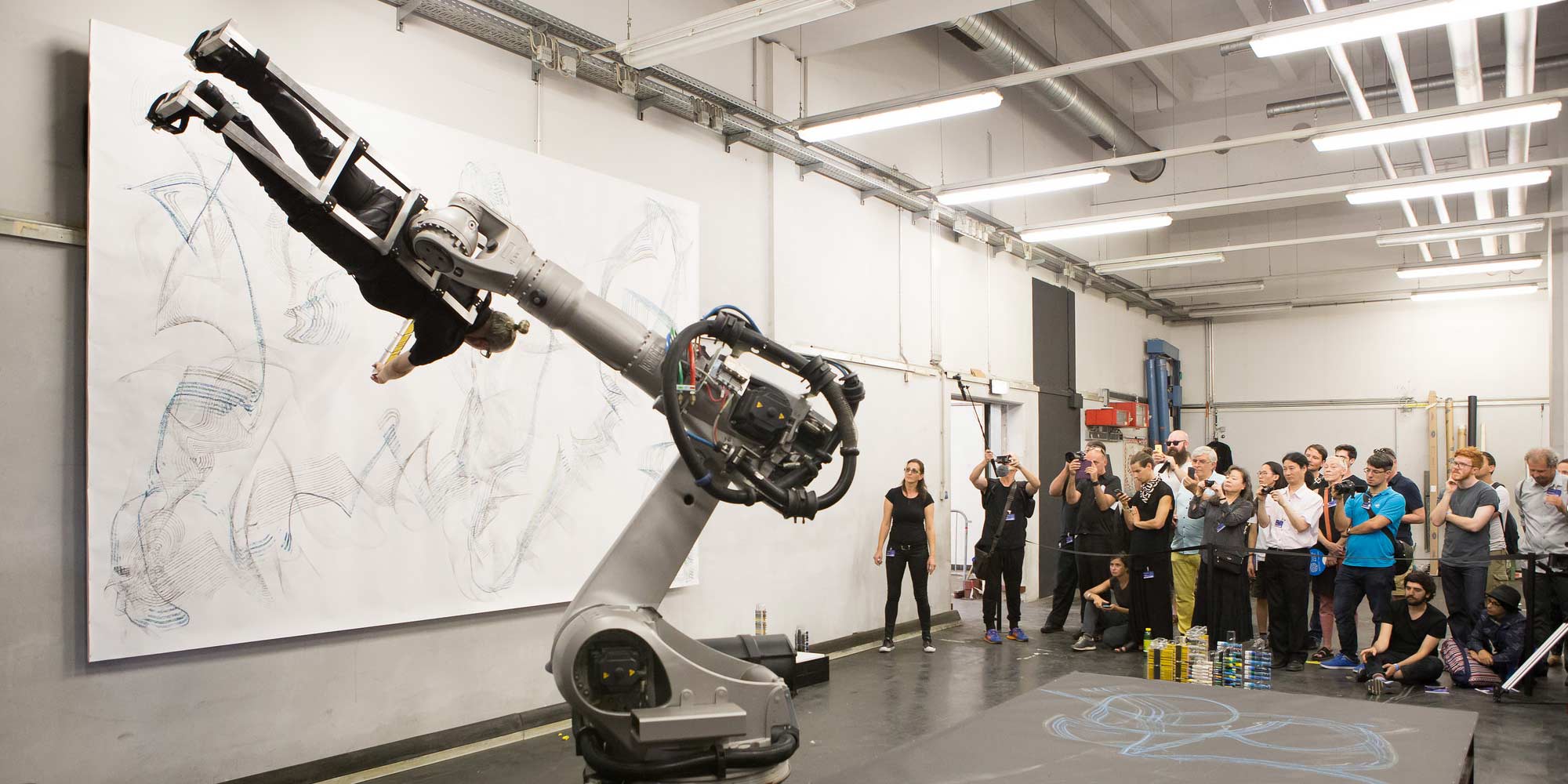 Credit: Florian Voggeneder
What's coming in the wake of self-driving cars and the Internet of Things? Who are the alchemists of our time? Those were the focal-point considerations at the 2016 Ars Electronica Festival.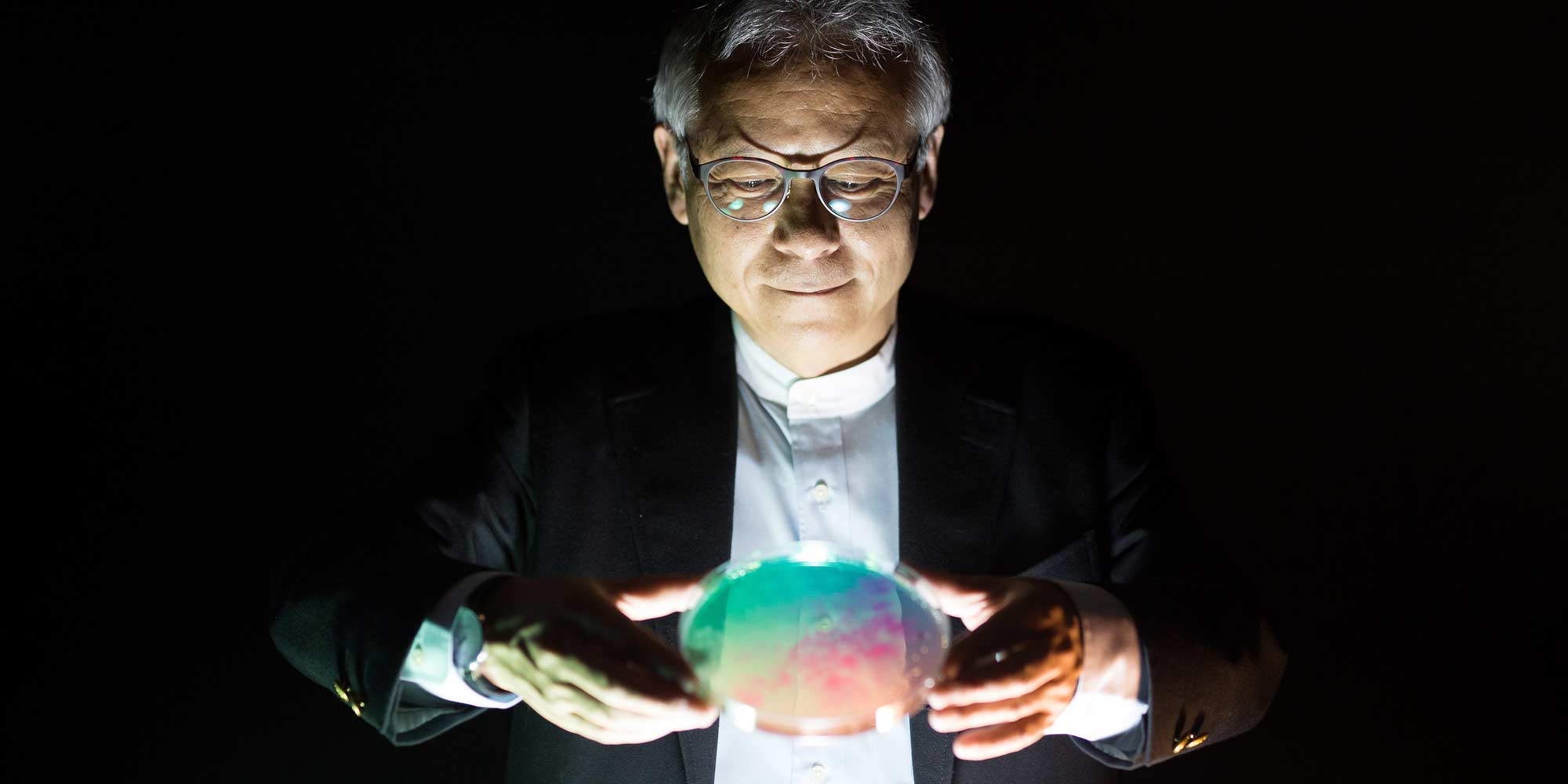 Credit: Florian Voggeneder
Newly emerging human-machine interactions constitute the subject matter of the "Radical Atoms" exhibition that has continued its run at the Ars Electronica Center after the festival. The concept behind the title is a vision by Prof. Hiroshi Ishii, director of the Tangible Media Group at MIT Media Lab.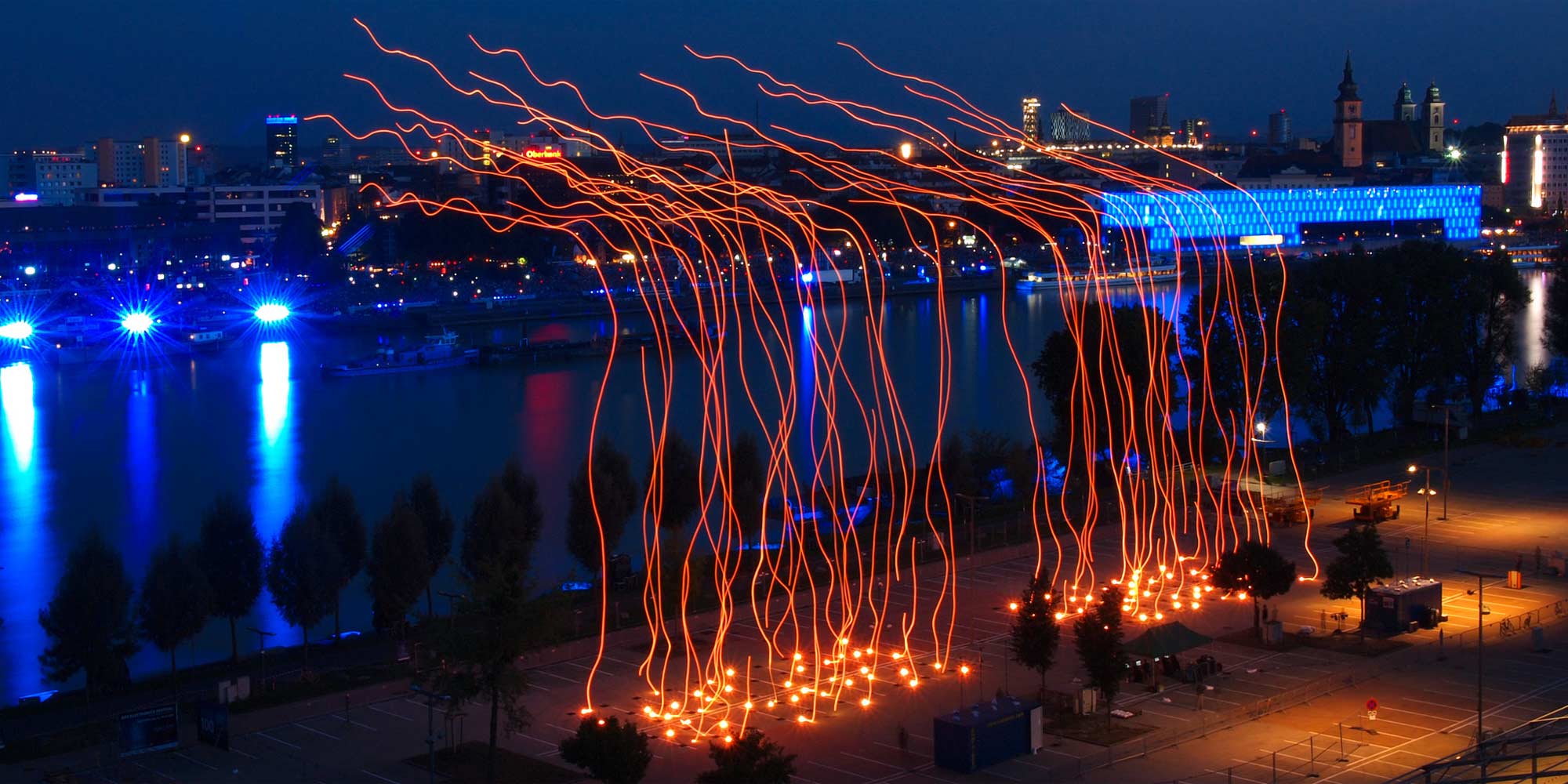 Credit: Martin Hieslmair
On September 10, 2016, the Ars Electronica Futurelab and Intel sent 100 Spaxels aloft before a European audience for the first time—to be precise, 100,000 spectators at the Klangwolke open-air extravaganza in Linz. There's also a feature about the test flights conducted in Upper Austria's Mühlviertel region in preparation for DRONE 100. For in-depth coverage, read the fascinating accounts of the SPAXELS posted to the Ars Electronica Blog.
A documentary film by Robert Pöcksteiner features several interviews and takes a very interesting look back at the five-day media art festival this year.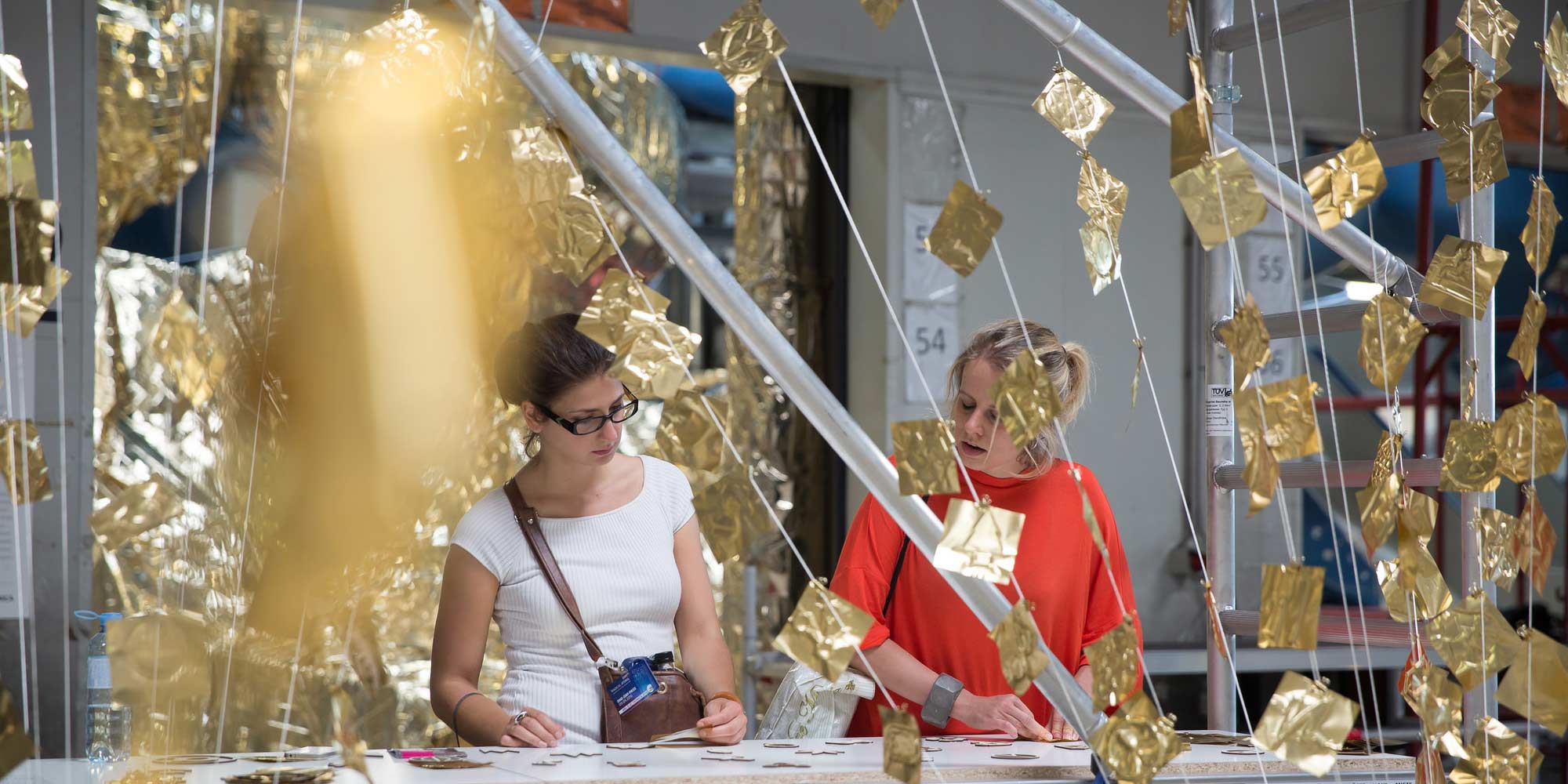 Credit: Tom Mesic
What is the gold of our times? This question was posed by the "Laboratorium" exhibition developed by Ars Electronica Solutions in POSTCITY.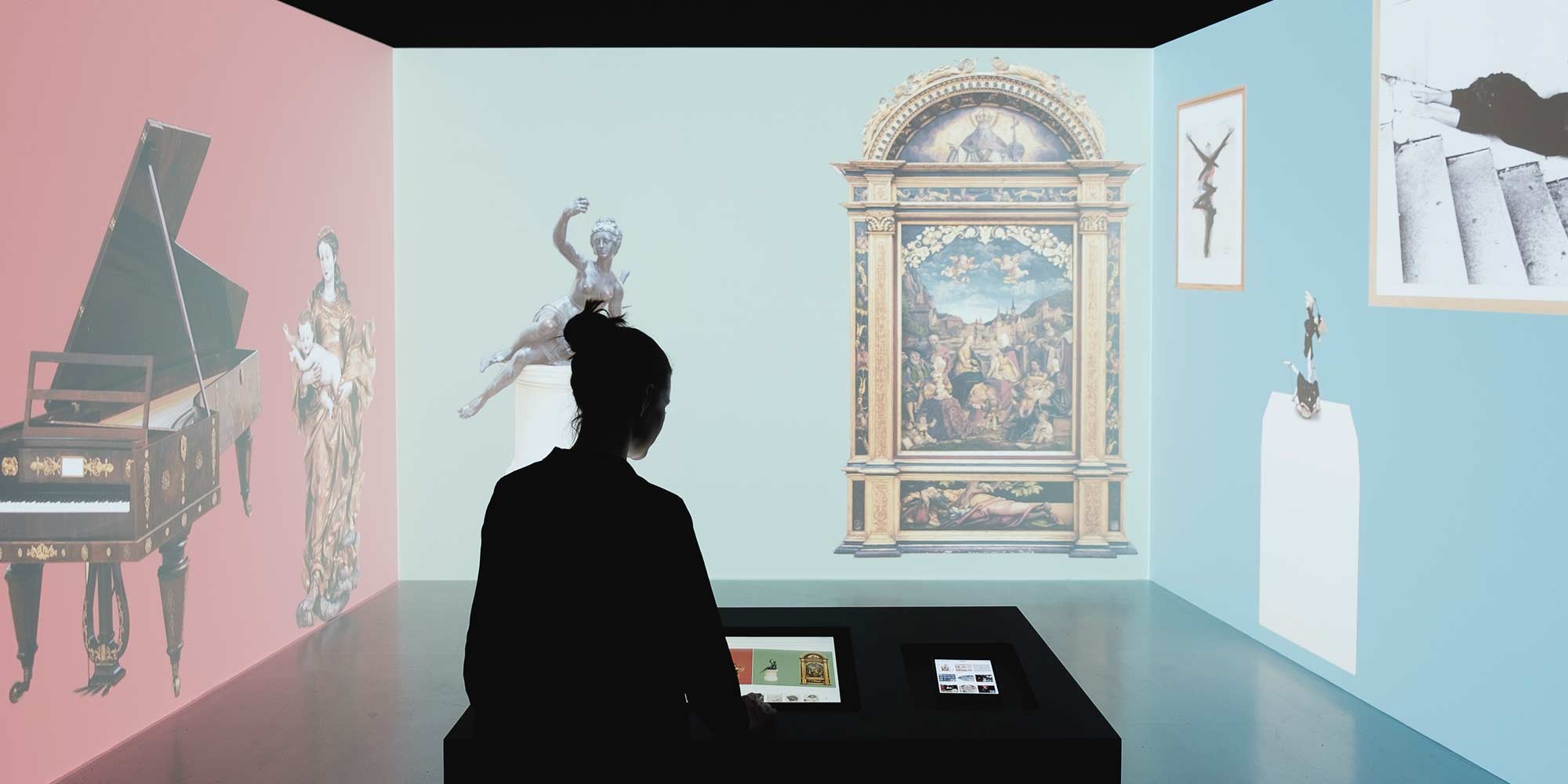 Credit: in the headroom
Ars Electronica Solutions' mission is to provide customized interactive products and services, first and foremost to corporate and institutional clients—for example, the Ferdinandeum, a museum in Innsbruck where visitors can curate their own exhibition space featuring their favorite works.
Credit: Ars Electronica Futurelab
The Ars Electronica Futurelab was involved in the development of a new hub of Berlin's start-up scene. The SAP Data Space is a café and workplace in one. It's a setting that facilitates linking up with associates and, thanks to a sophisticated ordering system, it's also a really cool spot to grab a bite.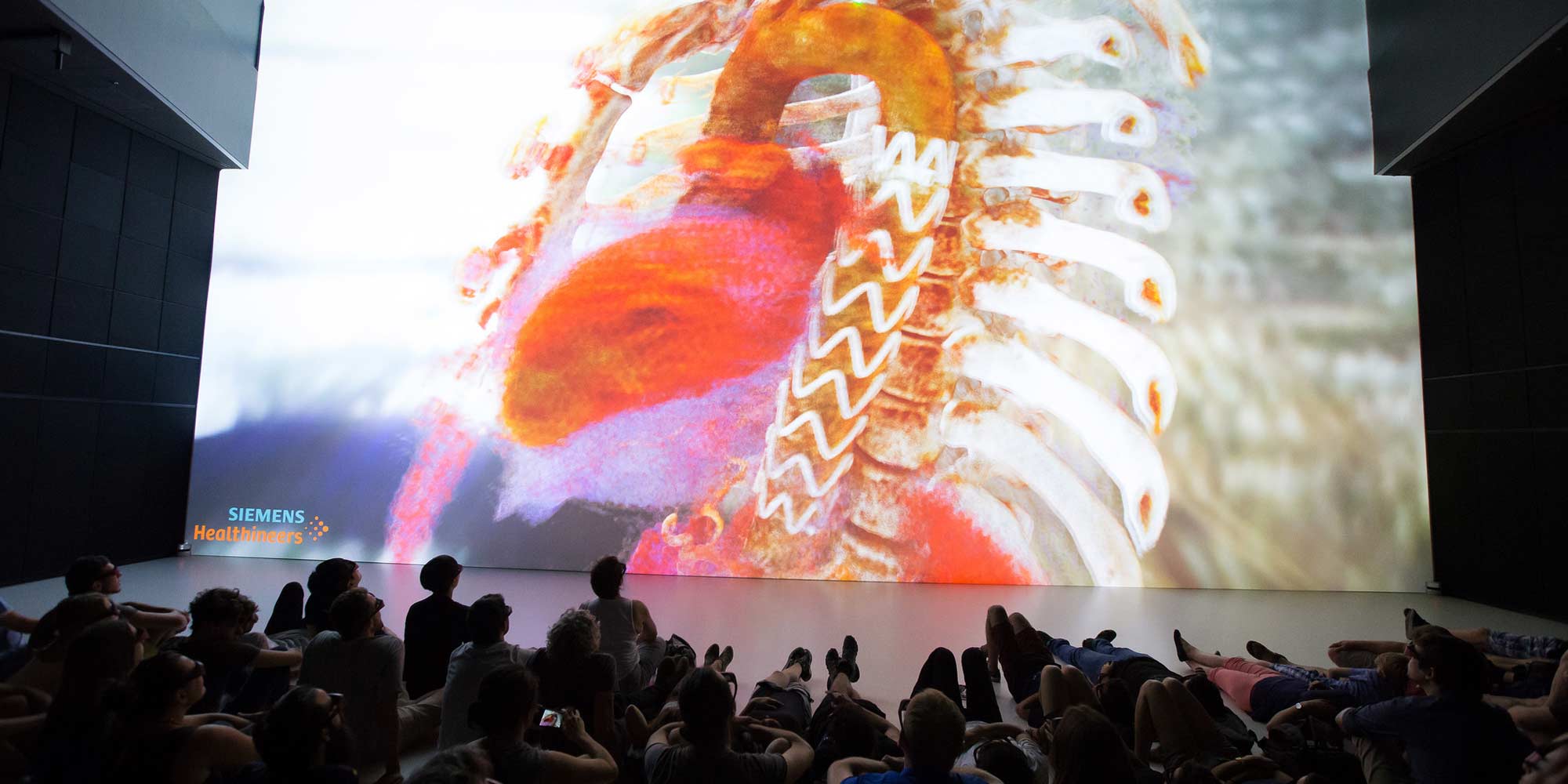 Credit: Florian Voggeneder
Right after the Ars Electronica Festival, the "Deep Space LIVE" series of speeches recommenced at the Ars Electronica Center. There's something interesting on tap Thursdays at 7 PM. And check out "The Universe Within" if astonishing 3-D visualizations of the human body is what you're after.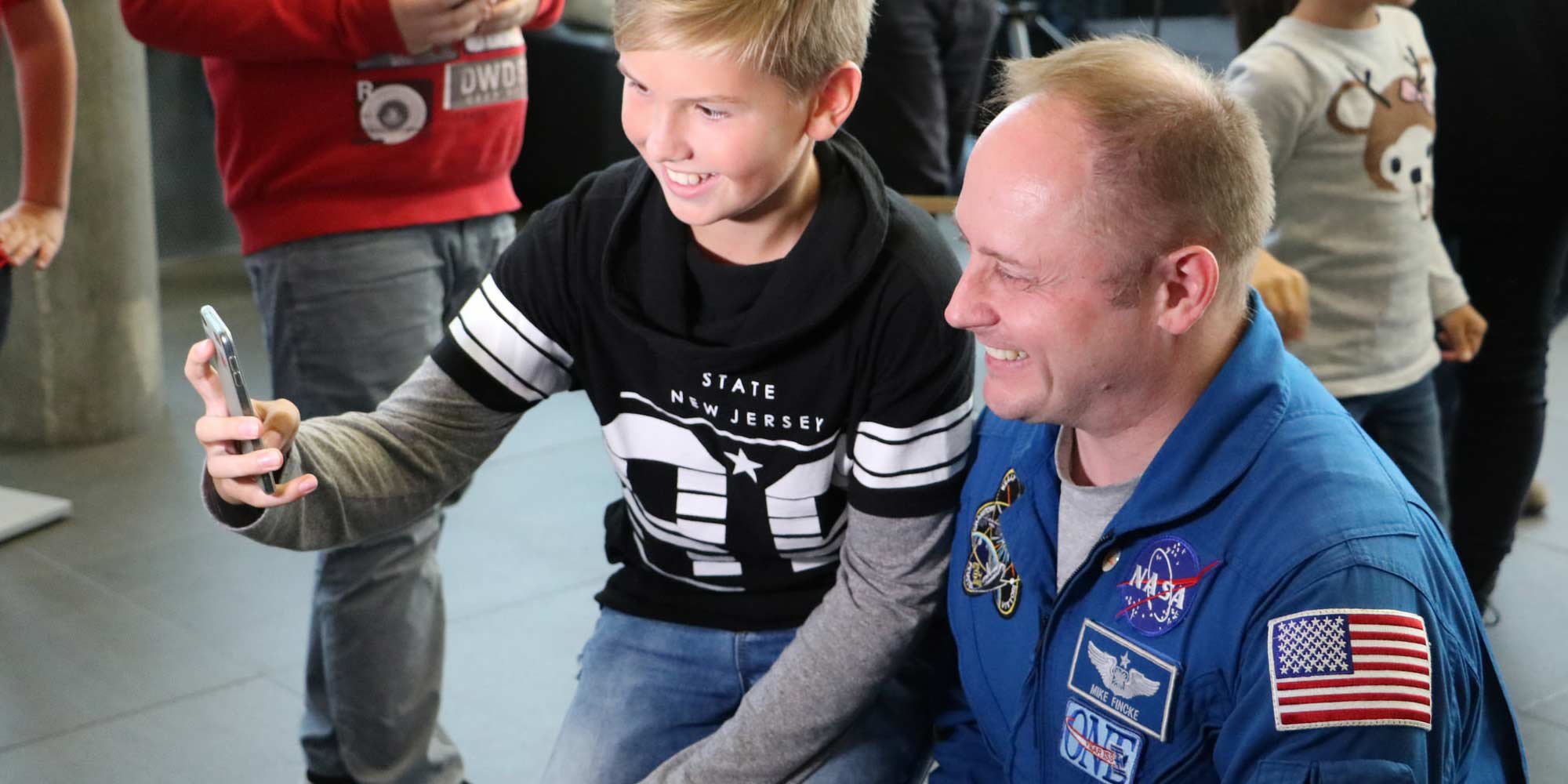 Credit: Magdalena Sick-Leitner
In autumn, several space travelers dropped in on the Ars Electronica Center—among them, astronaut Michael Fincke and cosmonaut Oleg Artemyev, who talked about working aboard the International Space Station. By the way: since summer 2016, the Ars Electronica Center is Austria's official European Space Education Resource Office. ESERO's aim is to further heighten elementary school pupils' enthusiasm for outer space.
Credit: Martin Hieslmair
A virtual reconstruction of the Linz synagogue destroyed by Nazi thugs on Kristallnacht in 1938 premiered in Deep Space 8K in November. Visitors can take a walk-through tour of this impressive edifice.
So, that about wraps it up for the 2016 retrospective. Now, let's start looking forward to what's sure to be another great year! The Ars Electronica Center in Linz, Austria is open to visitors year-'round from Tuesday to Sunday (with a few exceptions). In mid-January 2017, the Prix Ars Electronica and the STARTS Prize competition will begin accepting submissions for 2017 prize consideration. The next Ars Electronica Festival takes place September 7-11, 2017 in Linz. If you'd like to stay updated about all of our divisions' activities, please subscribe to our newsletter pay an occasional visit to the Ars Electronica Blog and follow us on the following social media channels: Facebook, Twitter, Instagram, Flickr, YouTube, Google+ and Pinterest.
We wish you a smooth start to an excellent new year!