We tallied an incredible 100,000 Festival visits over the last five days in POSTCITY and the 11 other locations of the 2017 Ars Electronica Festival, and thereby topped the mark set in 2009, Linz's year as European Capital of Culture. On the last day of the festival, Music Monday, we take a laid-back look back at a fantastic festival that concluded on a high note.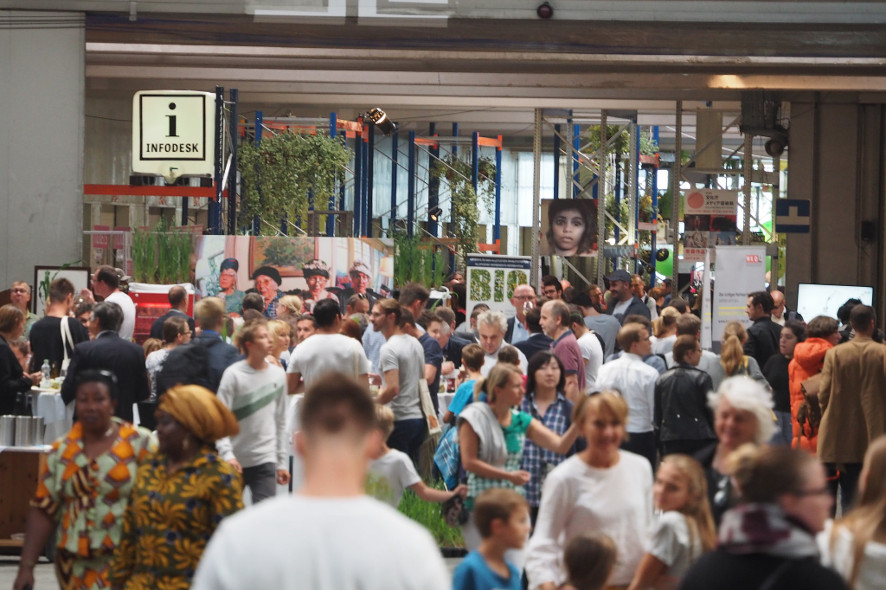 It's become a festival tradition to put the final accent on music. In this spirit, aficionados of Digital Musics & Sound Art convened for a Music Monday Parcours. The opening strains sounded at 10:30 AM, when Anton Bruckner University students demonstrated their artistry.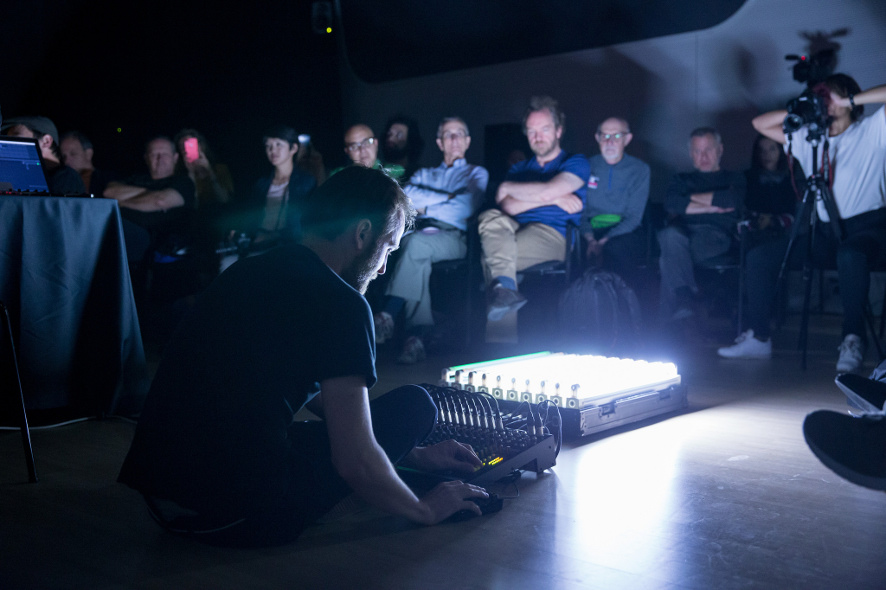 Then it was on to the OK Center for Contemporary Art and POSTCITY, where musician/musicologist Werner Jauk first gave an introductory presentation and then did Q&A with the featured artists.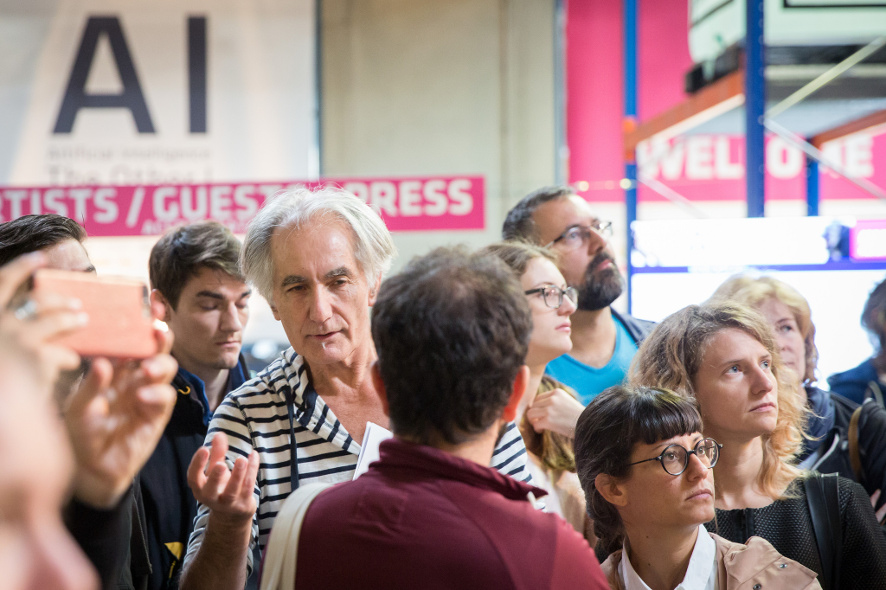 "Future in a Nutshell" was inaugurated in POSTCITY early today as an ongoing series on the Ars Electronica lineup. It's all about providing a sneak preview of what will soon be emerging on the horizon, and thus a great opportunity to obtain an overview of this game-changing technology presented in laypeople's terms by experts in their respective fields.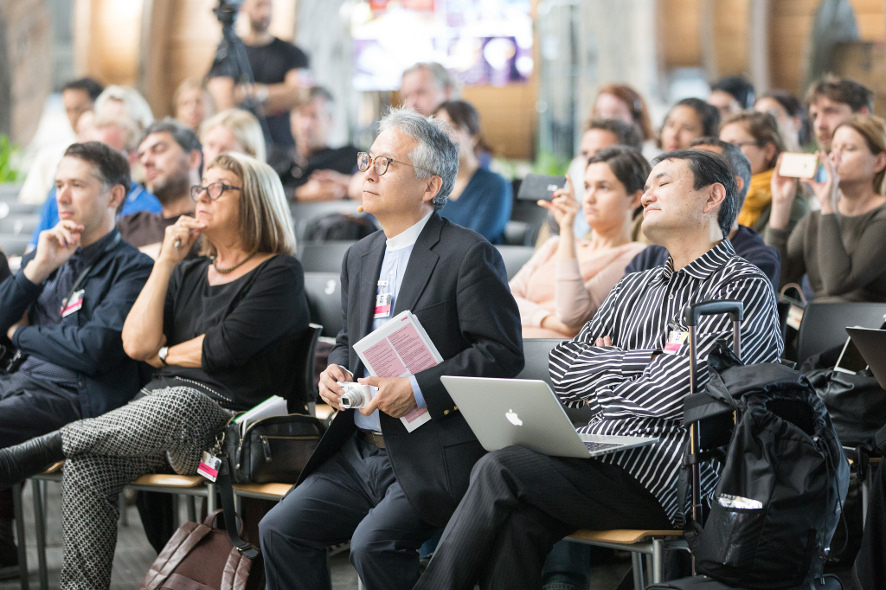 Credit: Florian Voggeneder
A new wrinkle in the world of science and, perhaps, the next big thing in body adornment was demonstrated by "The Dermal Abyss," a project by Katia Vega and Xin Liu that combines leading-edge biotechnology with the traditional methods of tattoo art. Instead of using digital measuring devices that only give a numeric readout of metabolic processes, biotech devices of the future could actually meld into the body itself. At presentations scheduled during the festival, a tattoo artist used pigskin to demonstrate the application of biosensoric tattoos and how they change color.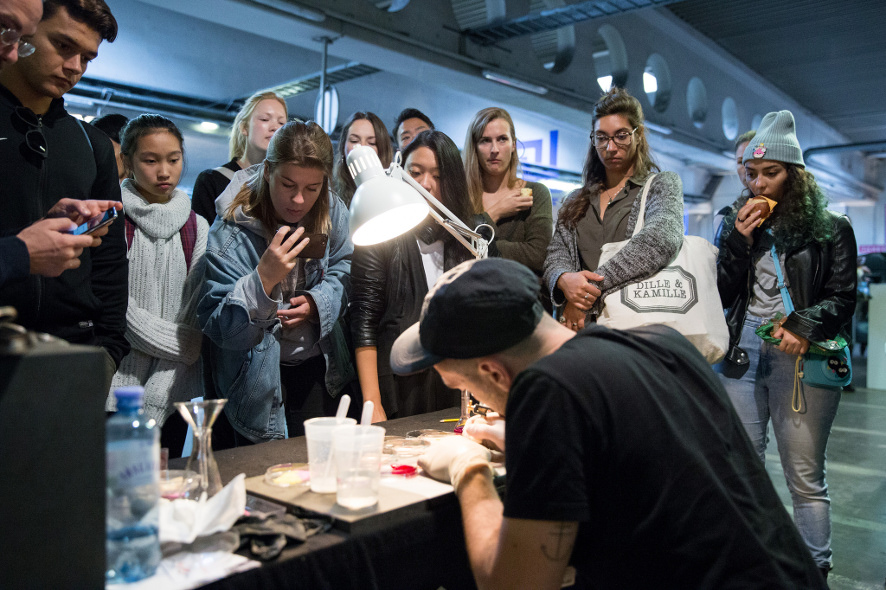 Credit: Florian Voggeneder
It got a bit more acrobatic at SynapSense, a performative installation meant to strengthen our bodily awareness. Sensoric comprehension via enactment is conveyed through three methods: exploring, calibrating and creatively configuring. Interaction engenders the soundscape, touch makes it possible to call phenomena into question, and sound stands for exploration.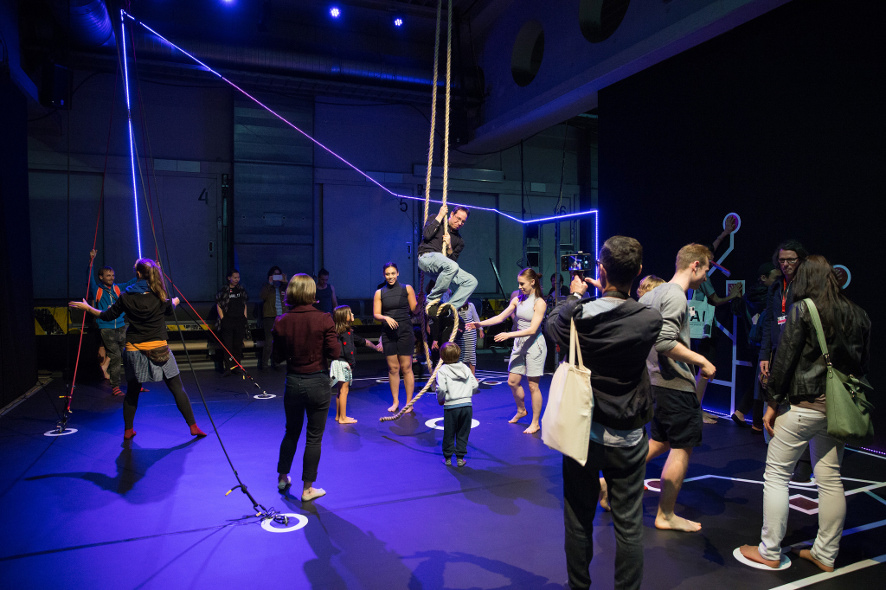 Credit: Florian Voggeneder
No less creative was today's final presentation of "Bird Song Diamond" in Deep Space 8K at the Ars Electronica Center. In this interactive installation, visitors are called upon to imitate the sounds birds make. The more precisely festivalgoers' birdcalls are, the more they change the visualization on the 16×9-meter projection screen.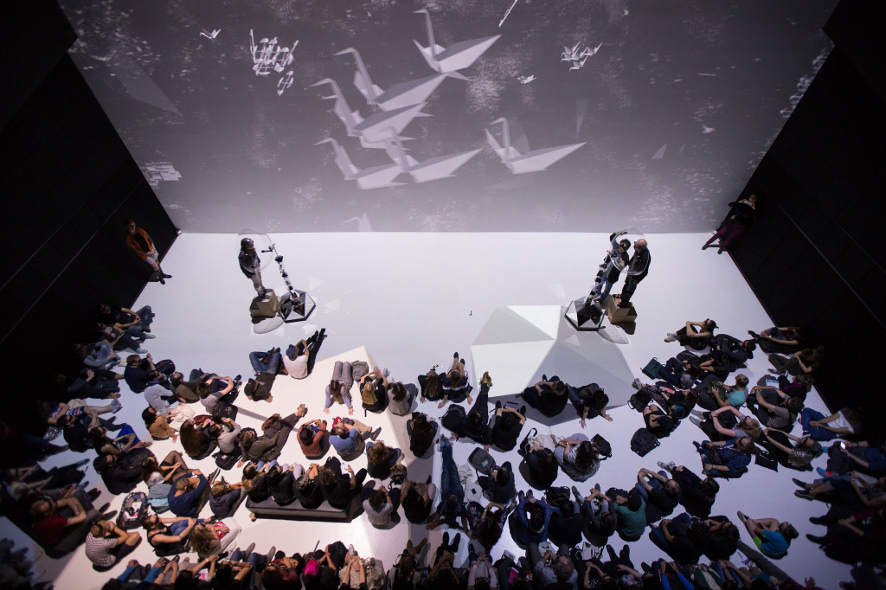 Credit: Florian Voggeneder
Since this was not only the last day of the festival but also the first day of school following summer recess, students under 19 years of age were admitted free of charge today. For the occasion, there was a Kids Tour through POSTCITY that included u19 – CREATE YOUR WORLD, the future festival of the next generation, and lots of other attraction.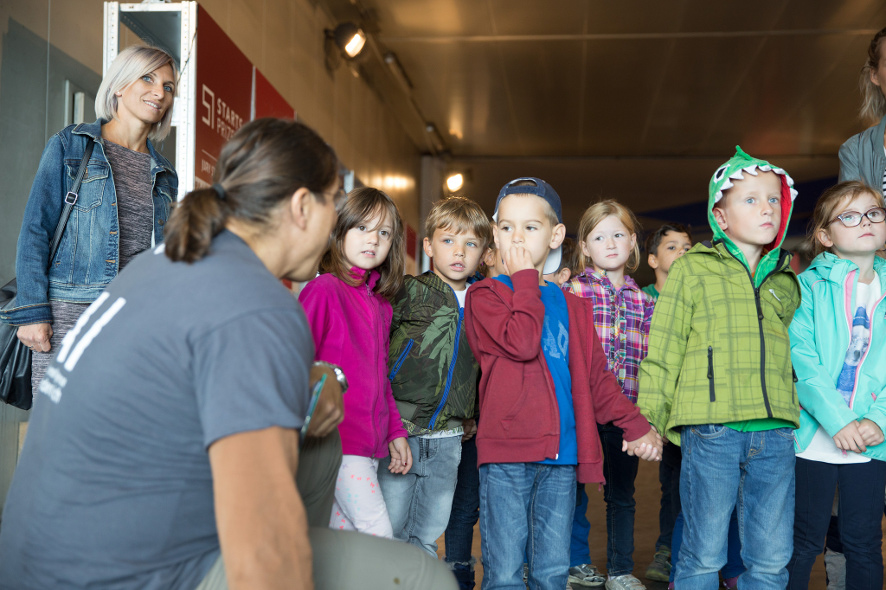 Credit: Florian Voggeneder
Another opportunity for hands-on creativity—this time on the part of grown-ups—was offered by the Fuzzy_Logic Machine, an instrument to control a sound device via analog manipulation. Light parameters trigger sensors arrayed in a grad defined by coordinate axes. It's possible to manually activate any value, which links image and sound via a spatial variable. The mechanism thus reproduces the inner structure of the audible event, while its modifications trigger a feedback reaction between the two media.
Credit: Florian Voggeneder
Even though the POSTCITY closed its doors today; there is still the opportunity until October 22, 2017 to visit the Docklands of Turnton 2047 that this year's Featured Artists, Time's Up, installed at the LENTOS Art Museum. This so-called physical narrative is a walk-through situation depicting the harbor neighborhood of a coastal town named Turnton in the year 2047, after a natural catastrophe had seemed to be inevitable. Together with audience members, the artists rendered socio-politically utopian changes for Turnton Docklands … and beyond its city limits.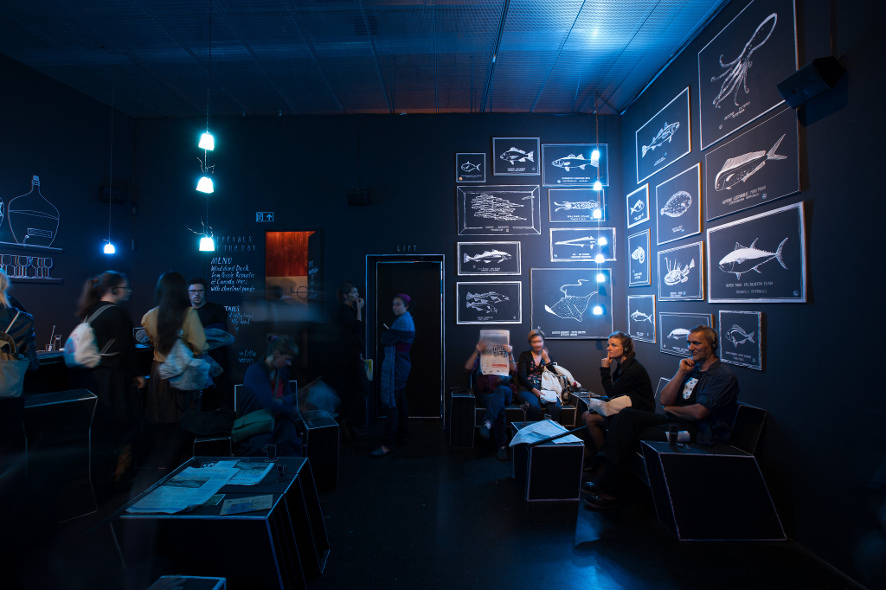 Credit: Florian Voggeneder
Also at the OK, you still have the opportunity until September 17th to visit the CyberArts 2017 exhibition. This is a showcase of excellent work singled out for recognition by the 2017 Prix Ars Electronica competition.Also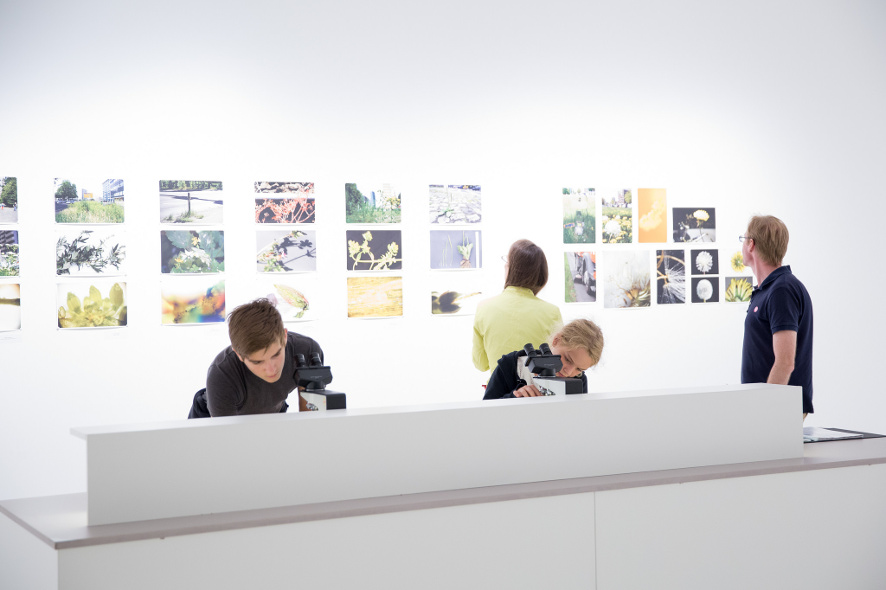 Credit: Florian Voggeneder
And, of course, you're cordially invited to visit the new VRLab during regular opening hours at the Ars Electronica Center, where you can experience the latest in virtual reality, augmented reality and mixed reality technologies and try them out for yourself.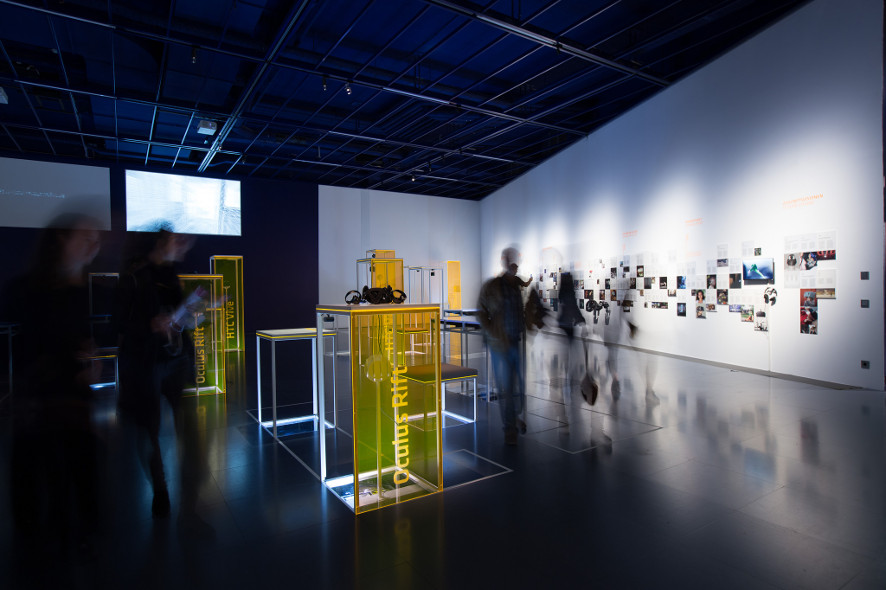 Credit: Florian Voggeneder
Music Monday and the 2017 Ars Electronica Festival concluded with the Austrian premiere of Philip Glass' 20 etudes for piano performed by Maki Namekawa and accompanied by real-time visualizations by artist Cori Olan.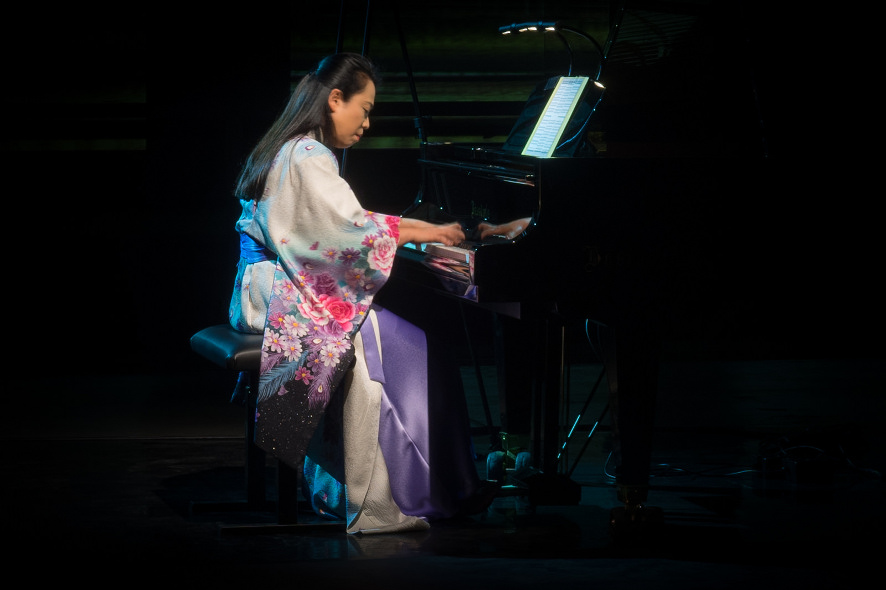 Credit: Robert Bauernhansl
And so ends another fascinating festival. With mixed feelings, we took one last stroll through the deserted premises of POSTCITY—sad to see all these amazing people go their separate ways; glad to face the rewarding challenge of making something equally extraordinary come to fruition again next year. We're looking to seeing you at the 2018 Ars Electronica Festival!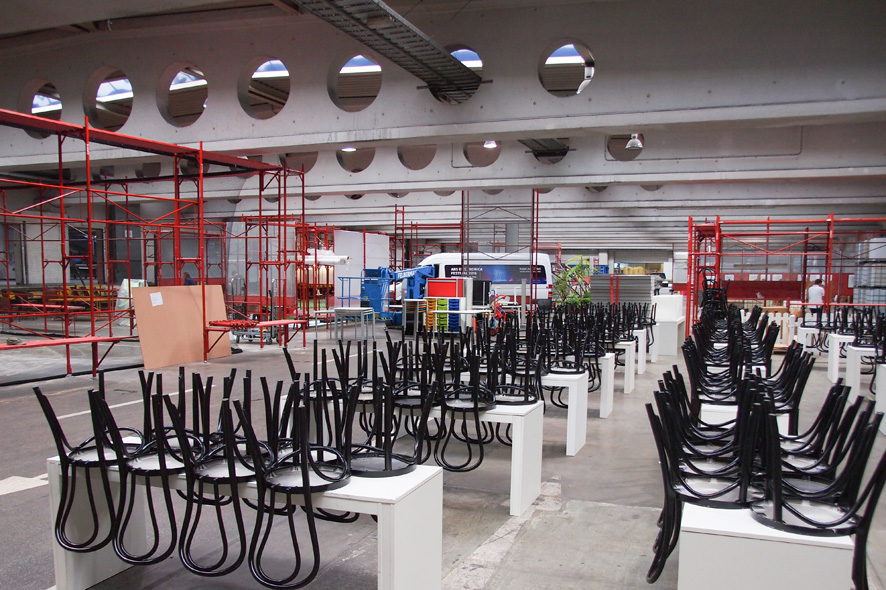 Credit: Martin Hielsmair
And by the way, more info and photos about the festival as well as stories and reportage from the various locations are available on our Instagram channel: https://www.instagram.com/arselectronica/