The "Portrait of Trude Engel" is puzzling indeed. Why did famous artist Egon Schiele paint a portrait of his dentist's daughter? Who stabbed the painting with a knife? And why does a skull seem to appear beneath Trude Engel's head?
This work dated 1912 is one of the masterpieces in the LENTOS Art Museum's collection. To mark the 100th anniversary of the death of Egon Schiele (as well as of Gustav Klimt and Koloman Moser), original works by the three masters—including "Portrait of Trude Engel"—are being shown in an exhibition entitled "1918 – Klimt – Moser – Schiele." At the next Deep Space LIVE on March 15th, restorer Andreas Strohhammer will elaborate on the image's uniqueness and its history—first off, in the form of gigapixel images that bring fascinating details to light. Then, the actual painting can be viewed during a tour of the current exhibition at the LENTOS conducted by the curator.
We recently paid a visit to Andreas Strohhammer at the LENTOS to get a sneak preview of this famous painting.
This is the 100th anniversary of Egon Schiele's death. What is his significance in art history?
Andreas Strohhammer: Egon Schiele is certainly one of the most interesting as well as spectacular artists who was active in turn-of-the-century Vienna. He was strongly influenced by the artistic ferment launched by Gustav Klimt, Oskar Kokoschka and others in the scene associated with the Sezession. Schiele invented his own visual language, which was very eccentric and also highly self-centered. He repeatedly dealt with such subjects as birth and death, all of this during the time of World War I. 1918 was not only the end of the Austro-Hungarian Monarchy; it was also a caesura in art generally since three significant artists—Schiele, Klimt and Moser—died that year.
His distinctive drawing style featuring human figures distorted to an extent that was unprecedented in that day and age was absolutely unique. This might be attributable to the fact that he was also an illustrator. His view of the human body—both the female and the male body, often portrayed naked—this eroticism, this sexuality hidden behind his art—there was surely then a feeling of revolutionary departure from the past that had never before been experienced. Perhaps even a type of sexual liberation! Here, you also have to consider parallels with literature—for example, Arthur Schnitzler's "La Ronde" was published at this time. But ultimately it's impossible to peer inside such a person. Our interpretations or psychoanalytic assessments will always be provisional explanations.
What's the story with "Portrait of Trude Engel"?
Andreas Strohhammer: First off, it's important to note that it's a portrait. Trude Engel was the daughter of Egon Schiele's dentist. Hermann Engel was recommended to the artist because it was known that he was prepared to accept a payment-in-kind in return for dental treatment. That's how the portrait of Trude Engel came about. It was a form of compensation. There are drawings of Trude Engel that were done a little earlier. The portrait itself is a frontal view of an adolescent girl, 13 or 14 years old, with long, dark, wavy hair. The spectacular thing about it is actually that we have established the fact that there's another image beneath this one. We x-rayed and discovered that, under the head of the portrait, there's a second head that looks like a death's head or a skull.
What are the theories as to why this skull is there?
Andreas Strohhammer: Schiele probably used a canvas for this portrait that he had already painted on. Artists often did this—taking a composition or an image they weren't satisfied with and painting something else over it. Schiele is known for having done this. There's an example in Graz, an image with a Krumau landscape with a portrait underneath it. Kunsthaus Zürich also discovered an image in which a landscape was painted over with a view of a city. In all such cases, they're just rudimentary images. In the case of "Portrait of Trude Engel," it was a different composition, possibly a sort of Madonna, and there are watercolors and sketches that might have been preliminary studies.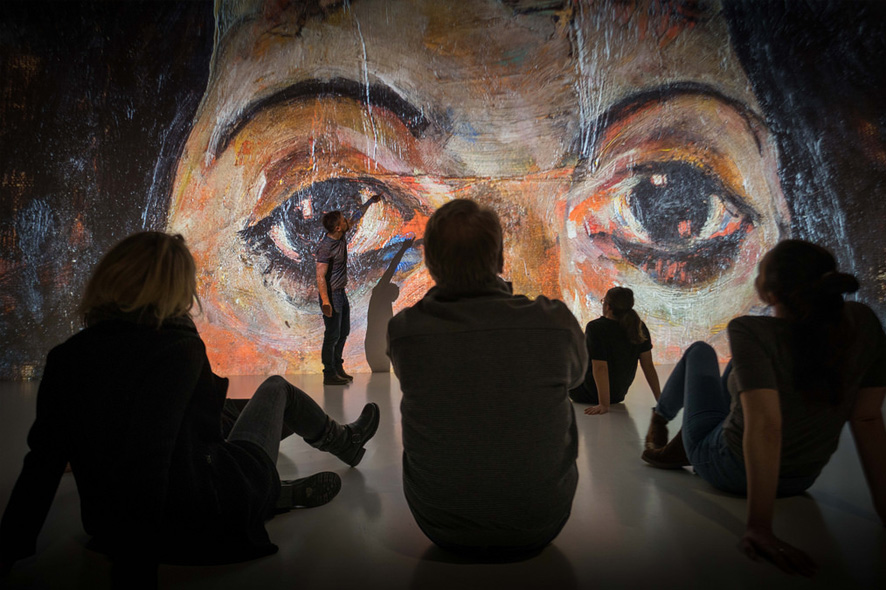 Gigapixel in Deep Space 8K. Credit: Ars Electronica / Robert Bauernhansl
What is it about this portrait that makes it so fascinating for a restorer?
Andreas Strohhammer: The interesting thing about it is the artistic-technological detective work. A restorer is interested in the "making of" an image, how it came about, what materials were used, what about it has changed over time, how the picture has aged, what damages have occurred, and what can be concluded from that? With this image, these are interesting questions. In the 1990s, we received a letter from Fritz Engel, Trude's brother. He was living in London at the time, was over 90 years of age, and had never seen the original portrait, but he knew that Trude Engel was furious about this picture and had stabbed it with a knife. He wrote that she had made a long cut right across the canvas—but that was not readily apparent. But with an x-ray, we could see that there had been several slits, which were later repaired or restored. And actually, it was done in a way that was quite ingenious for that time—cardboard strips were placed over the slits, then putty was used to seal it, and then the paint was delicately retouched. On the front of the painting, these wounds are barely visible; on the back side, you can see them.
Why was Trude Engel so enraged by this portrait?
Andreas Strohhammer: It's hard to say. There are various hypotheses. It could be that she was very displeased with Schiele. Perhaps the two had had sexual relations, but there's no proof of this and it's simply incredible. Nevertheless, there is the theory that he was very much infatuated with her. Maybe he wanted her to pose nude for him, but she was still just a girl, so there was no chance of that happening. But there must have been some sort of dispute between Schiele and Trude Engel. Apparently, Schiele didn't visit the Engels' home for a long time, so he was miffed as well. It could also have been that these slits were made a bit later, possibly after the portrait was completed. Perhaps she took a knife to it in a sort of adolescent tantrum. The sources are very vague and the brother's letter omits many details. When a 90-year-old man looks back at an incident in the distant past, you can't take everything at face value. This sort of source material calls for wariness.
What will audience members be able to see during your talk in Deep Space?
Andreas Strohhammer: In addition to the portrait, we'll also screen the x-rays in Deep Space. This will definitely be very interesting! It's almost like a criminal investigation in which you use forensic methods to evaluate clues.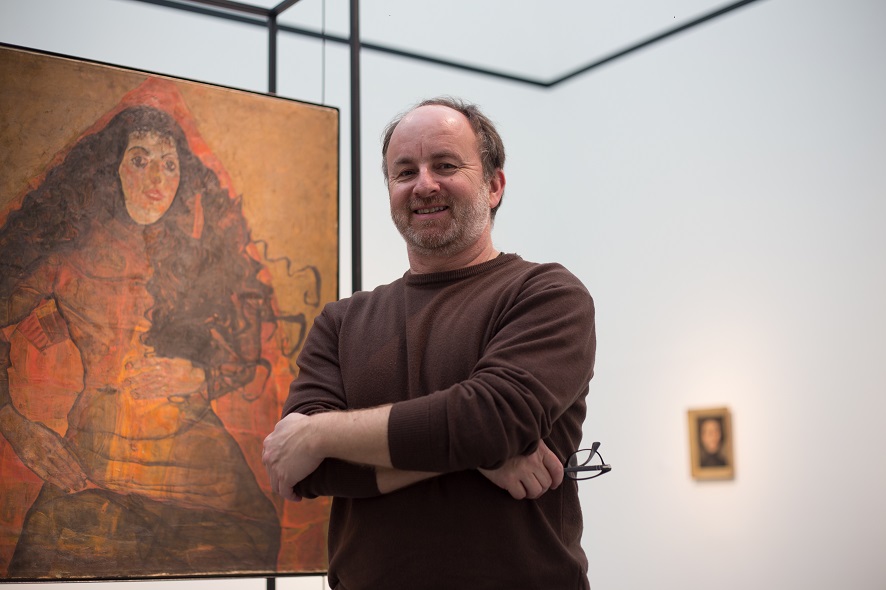 Andreas Strohhammer. Credit: Vanessa Graf
So, new technologies are also relevant to old works of art …
Andreas Strohhammer: Actually, ever since the advent of x-ray technology, it's been used to examine works of art. Of course, the current digital x-ray technology is considerably more advanced and much more precise. It produces many more shades of gray than was the case in older x-rays, which actually entailed developing a film. Now, the intensity of the colors and the ability to register details is much greater. You can see every seam in the canvas! The locations at which the material is thicker appear in a lighter shade. Where it's permeable, the film is blacked out, so to speak. In works of art, this happens when the artist paints primarily with pigments containing metal—with white lead or zinc white, for example. You also have to be able to interpret an x-ray. This technology doesn't simply produce an excellent scientific image that looks spectacular; you have to know exactly what you're looking for and what you can learn from the image. The same goes for investigative techniques like infrared reflectography, whereby the image is captured in the infrared spectrum. So this isn't complete illumination, which makes it possible to spot underlying drawings or changes in the composition.
Are there details in the "Portrait of Trude Engel" that are invisible to the naked eye but can be seen in Deep Space?
Andreas Strohhammer: Schiele used a technique in which he scratched the still-moist paint in parts of the image. The white flecks in the pupils of the eyes, the reflections on the eyes, for example, are not painted with white paint; instead, they're scratched into the paint. The same holds true for the white area between the lips, in the part of the mouth where you can see the front teeth—this is scratched in, not painted. Something like this is visible only when you look at it under a microscope or really zoom in for a close-up.
The Deep Space LIVE event entitled "Egon Schiele – A Closer Look at Trude Engel" is set for March 15th at 7 PM in the Ars Electronica Center. It will be followed by a tour of the "1918 – Klimt – Moser – Schiele" exhibition in the LENTOS Art Museum (starting 87PM) conducted personally by the curator. The museum entry costs 6€, the guided tour is free of charge. To participate, please register at 0732 7070 or info@mag.linz.at . More details are available on our website.
To learn more about Ars Electronica, follow us on Facebook, Twitter, Instagram et al., subscribe to our newsletter, and check us out online at https://ars.electronica.art/news/en/.