Linz Art University and Ars Electronica have been working closely together for many years. The Ars Electronica Center not only hosts TIME OUT, an ongoing series of exhibitions that showcases the talents of students in the Time-based and Interactive Media program, but also provides those undergrads with access to the facility's technology such as Deep Space 8K and even the elevator. In these encounters with Ars Electronica's infrastructure, the accent is always on experimentation and creativity.
Whatever their medium of choice—film, sound, programming or interface technology—the Time-based and Interactive Media program provides students with plenty of latitude for creative expression. And the wide-ranging subject matter is matched by the diversity of the resulting works, a selection of which will go on exhibit at the Ars Electronica Center in TIME OUT .08 March 16, 2018. This time around, the focus is on works for Deep Space 8K and floor projections for the elevator. In this interview, program director Gerhard Funk tells us more.
TIME OUT is a regular series of exhibitions featuring works by undergrads in Linz Art University's Time-based and Interactive Media program. Could you start by telling us a bit about the program?
Gerhard Funk: Time-based and Interactive Media is a bachelor's degree program to train media designers. Our mission is to enable them to conceive, precisely formulate, and execute their own ideas as well as to foster students' personality development and capacity to express themselves. Here, a key role is played by digital media, used alone or in conjunction with analog media.
It's a highly diversified course of study for those with multifaceted interests who seek a detailed and comprehensive encounter with the possibilities of digital media. Students learn to express their thoughts and emotions in creative ways in terms of audiovisual means that can be expanded with interactive elements, some of which they design themselves. To achieve this, we have a wide range of course offerings including camera, sound, programming and interface technology, whereby the accent is always on interlinking theory, technology and design of digital media.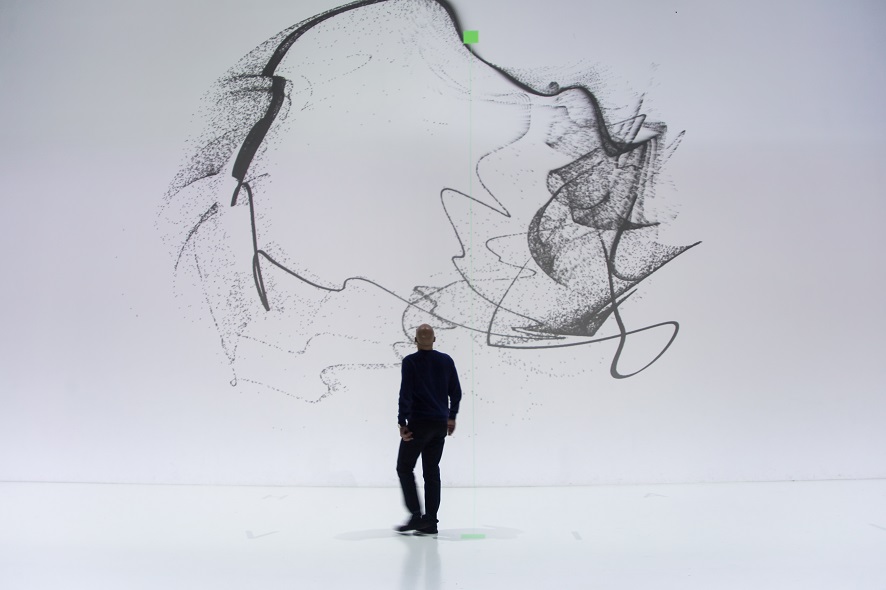 Credit: Vanessa Graf
The quality of the resulting work is extremely high. For instance, I just returned from Teheran, where 12 students, my assistant Holunder Heiß and I produced a very successful and well-received show in the famous Mohsen Gallery in conjunction with the TADAEX–Teheran Annual Digital Art Exhibition. And a performance entitled "Lightstorm" by three of our students was the highlight of the gala event that concluded this festival. By the way—just about all of the works of art on exhibit at TADAEX had previously premiered in a TIME OUT exhibition at the Ars Electronica Center. Ars Electronica Artistic Director Gerfried Stocker was one of the key players who made it possible for us to appear in Iran; however, the initiator of this undertaking was our Iranian student, Teheran native Ashkan Nematian. It wasn't easy to bring this exhibition to Iran, but we gained great experience in doing so.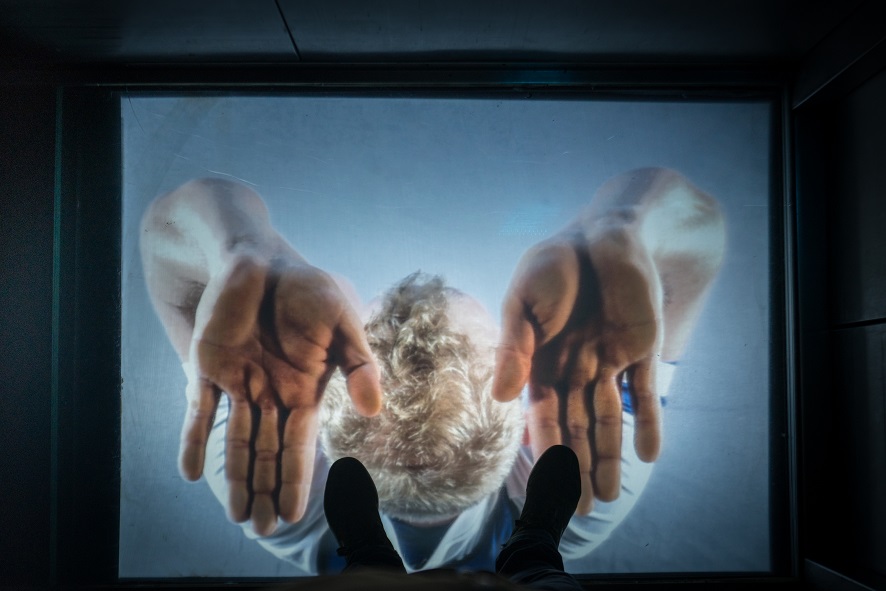 Credit: Robert Bauernhansl
The Ars Electronica Center's elevator is one of the settings of TIME OUT .08. What's on tap here?
Gerhard Funk: Ever since it opened in 1996, the Ars Electronica Center's elevator has featured a floor projection that changes as the lift ascends and descends. In fact, I can still recall a work in which you "rode" through a human body. Needless to say, we were delighted to accept this invitation for our students to create new videos for the elevator. After all, it's always wonderful when students' works can be exhibited in an extramural setting, and we're most thankful to the Ars Electronica Center for this great opportunity.
In our "Ideas, Outlines and Concepts" course, freshmen developed lots of ideas for an elevator video. Then they jointly chose four and produced them as videos—five very different approaches.
Credit: Robert Bauernhansl
Can you give us kind of a sneak preview?
Gerhard Funk: My favorite is a work entitled "Muscleman" in which a weightlifter presses you from the cellar up to the top floor. The passengers can watch and see what great exertion it takes to stem an elevator car with a few people inside. The production process in the video studio was very elaborate—the weightlifter really got a strenuous workout that day, repeatedly raising and lowering a heavy piece of plate glass while the camera set up above him was shooting downward.
The work by Yazdan Zand is also terrific. You see large-format portraits of people whose hair and faces are literally blown back by the elevator's acceleration—their lips are pushed up and their skin drawn back. Yazdan achieved this effect with a leaf blower focused on faces of other students. On an elevator ride downward, you see the reverse—the leaf blower's nozzle is behind the head and you see the person's hair blown forward.
Another highlight is a purely 3-D work, almost a free-fall descent in a dark shaft in which animated three-dimensional figures plunge and float, and the elevator passengers move through the shaft amongst these figures.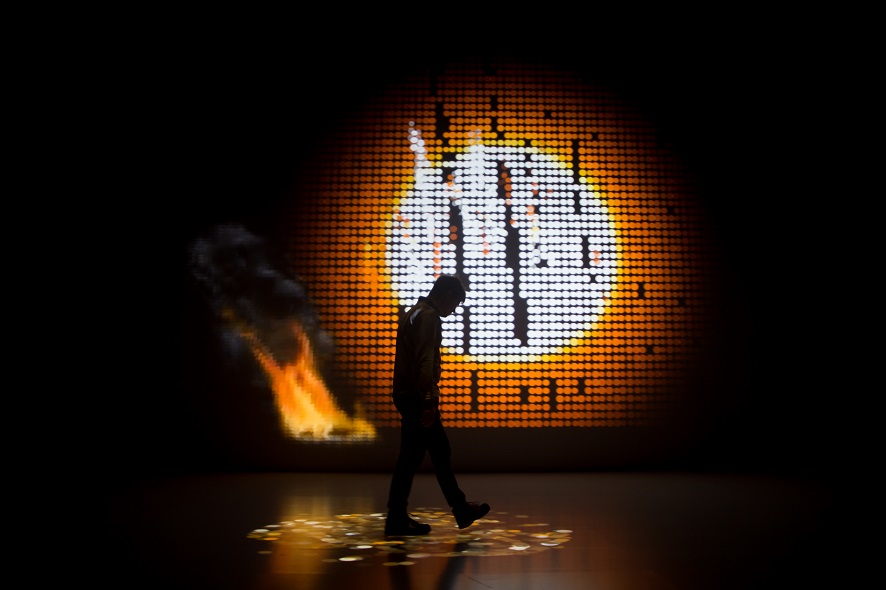 Credit: Vanessa Graf
What are the themes of the works the students did for Deep Space?
Gerhard Funk: It's striking that, this time, there are three works dealing with particle systems, which seem to have something fascinating about them and students just love to experiment with this. But the three examples very different, both with respect to intent and result. What's new this time around is that we're also showing a 2-D animated narrative film with no interaction possibility that treats a serious subject and takes full advantage of Deep Space's jumbo projection screen. Thus, we're also expanding the thematic spectrum of the offerings normally shown in Deep Space.
For example, there's a work in which you stand on the ground and the particles flow past you. It's an extraordinary experience to stand in this particle stream and see how it divides and then flows together again. A work featuring fireworks is something sure to please youngsters but also appeal to grownups. The aim is to stomp as many balloon-like shapes as possible, each of which triggers the launch of a pyrotechnic rocket. And when a lot of people do it at the same time, a very realistic fireworks display appears on the wall.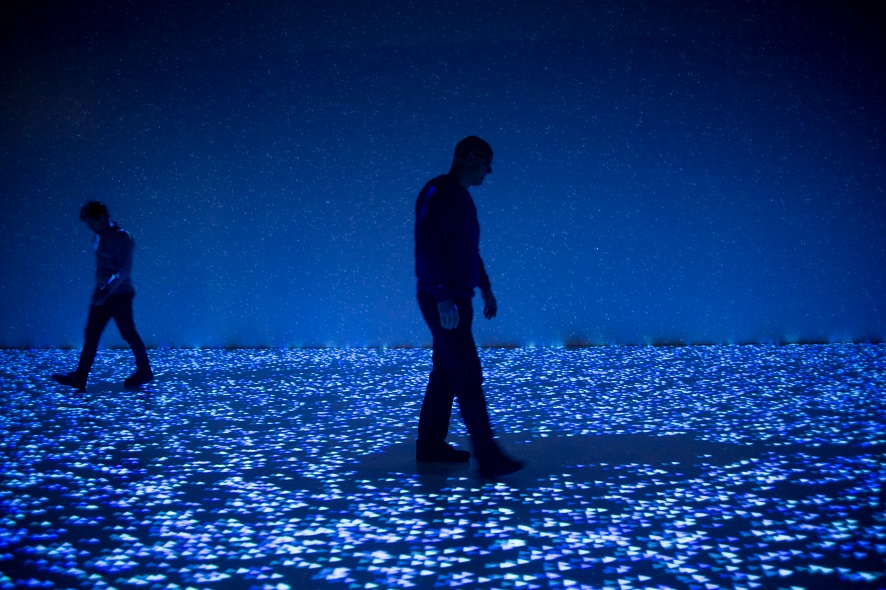 Credit: Vanessa Graf
Why, in your opinion, are so many students working with particle systems?
Gerhard Funk: If you use particle systems, then there are two basic mechanisms: the attractors that attract particles, and, the other element that repel particles—i.e. a negative force, so to speak. When you work with it, you get very soft, fluid movements that are consistently fascinating. And the more particles you have, the more interesting the patterns they form. I think this soft, organic flow is the source of the tremendous appeal of particle systems.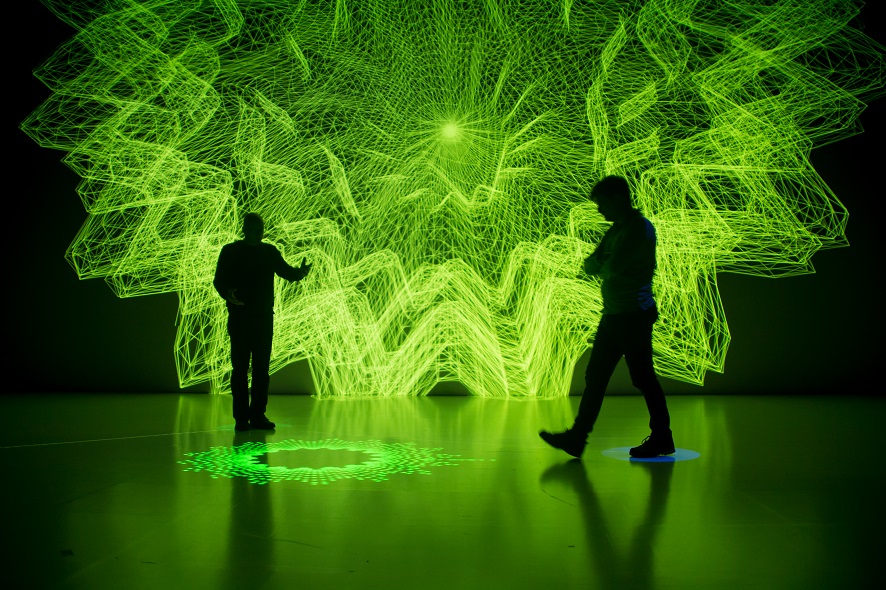 Credit: Vanessa Graf
According to which criteria do you select the works that appear in TIME OUT?
Gerhard Funk: In the case of the elevator videos, as I mentioned before, we choose the best ideas together as a group, whereby we have to keep in mind that they can actually be implemented in the short production time available. The works being screened in Deep Space are the outcome of the course I offer there, which can also be taken as an elective by students in other programs. It's a little showcase of works that vary substantially with respect to complexity; the primary criterion for selection was the capability of being shown in Deep Space.
Gerhard Funk was born in 1958. He studied mathematics and art education in Linz, and got his Ph.D. in theoretical computer science in 1989. He went on to teach art, math and computer science on the high school level, and served as a research assistant at the University of Linz's Research Institute for Symbolic Computation until 1993, when he transferred to Linz Art University to set up the school's digital media training program and develop its Digital Media for Artists (DMA) eLearning platform. Since 2004, he has been a professor in the Department of Media, and heads the Time-based and Interactive Media bachelor program he co-founded with Joachim Smetschka.
The TIME OUT .08 exhibition opens on March 16, 2018 at the Ars Electronica Center. Details are available on our website.
To learn more about Ars Electronica, follow us on Facebook, Twitter, Instagram et al., subscribe to our newsletter, and check us out online at https://ars.electronica.art/news/en/.