What does humanity mean – now and in the future? How do technologies change our everyday lives – and vice versa? Ars Electronica and the Hyundai Motor Group want to find out: In three exhibitions at different locations around the world, artistic works are dedicated to the theme of "Future Humanity – Our Shared Planet". The motor studios in Moscow, Seoul and Beijing will be the setting for works at the interface of art, technology and society.
Together with Ars Electronica and the Central Academy of Fine Arts Beijing (CAFA), the Hyundai Motorstudio in Beijing is showing the most extensive selection – both local and international artists are presenting their works on the theme here. We met with Martin Honzik, Ars Electronica curator, for an interview and found out more.
Hyundai Motor Group is exhibiting three shows in three different locations together with Ars Electronica. How did this come about?
Martin Honzik: This unique opportunity has of course been made possible by HMG – in particular HMG's internal Artlab. HMG has a very broad program of marketing activities, deep into all parts of society. Part of it is also to go into the arts and culture sector. These include classical cooperations with world brands of culture and art, but also many attempts to rethink, reinvent and also implement marketing by definition for such a large corporation in the automotive industry. This is where Ars Electronica comes in, where art and technology come together to form a virtually new field of interest for HMG, and it is almost unnecessary to have to explain why Ars Electronica is already a very suitable partner here. HMG operates motor studios worldwide – places for brand experience. However, the three selected are all examples of alternative approaches to interpreting Brand Experience. But especially the model of the motor-studio in Beijing stands for the most innovative concept – I would even think that from the point of view of the automotive industry the concept Beijing is quite an "exotic" and clever one.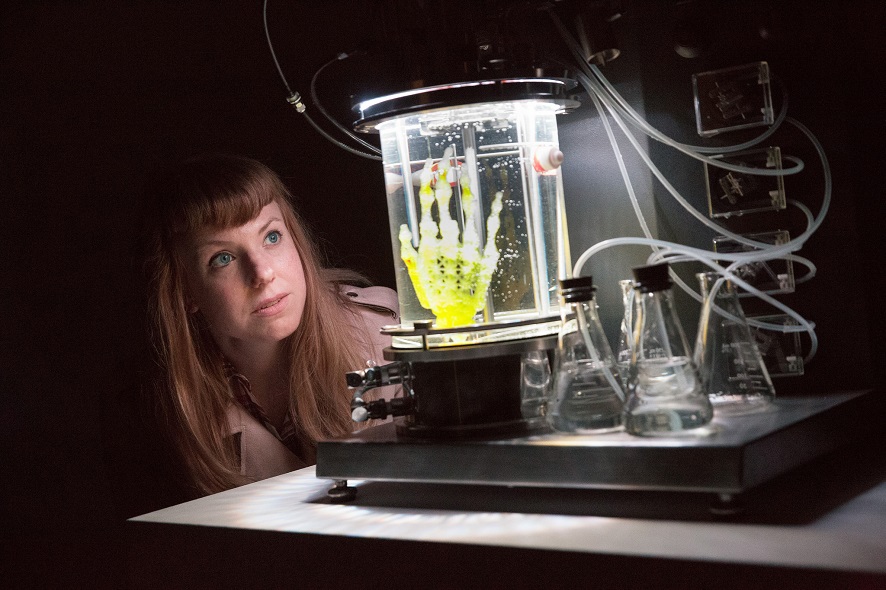 Regenerative Reliquary / Amy Karle. Credit: vog.photo
The series of exhibitions is called "Future Humanity – Our Shared Planet". How do the three shows go together, and can you tell us a little bit about the title?
Martin Honzik: All three exhibitions run under one theme. In the concrete case, however, the three exhibitions certainly benefit from the naturally given cultural coinage and identity. In an even finer consideration all three cultures, the Russian, the Chinese and the Korean, have an individual understanding of the role and importance of technology in their own society. In Russia and South Korea, it will be national artistic perspectives with which the motor studios will be played. In China, in Bejing, there will be the biggest and most diverse show. There, artistic perspectives from all over the world will take part in the thematic discussion. The theme of the exhibitions was defined by HMG as the general theme. Here, too, it can be seen that cars are not sold or advertised superficially, but that the great changes of our time – caused by man and his technology – affect and demand all parts of society; including HMG, as one of the largest players in the automobile industry worldwide. That brand experience suddenly contains such questions or raises such topics and that such a large company is so open to such important topics, suggests on the one hand the sad urgency, but on the other hand also gives courage and reason for hope.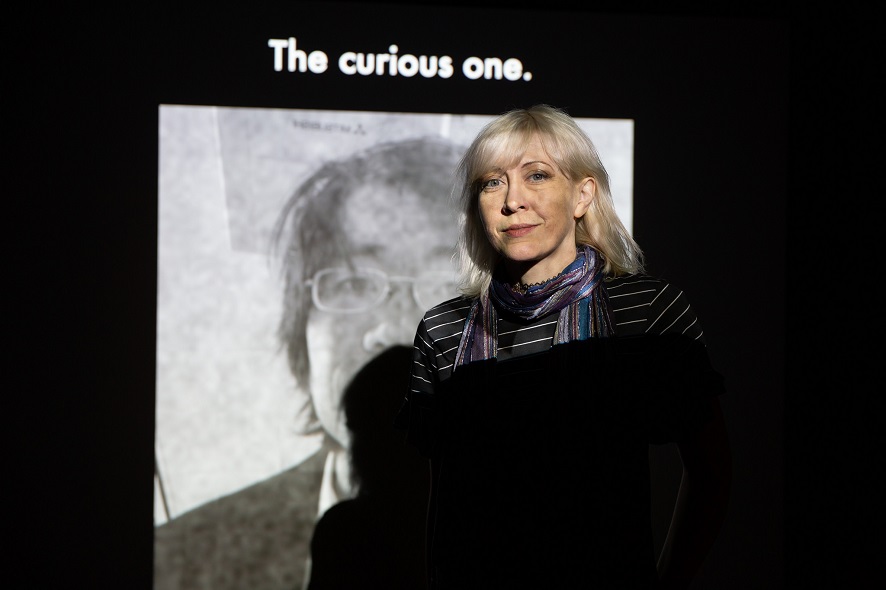 [help me know the truth] / Mary Flanagan. Credit: Tom Mesic
What is Future Humanity to you?
Martin Honzik: This question, I think, has always accompanied us and at the same time is always part of a possible answer. Because actually the answer to this must always end in a new question. The principle of action of evolution is change and this, if one wants to cope with it or make it usable for oneself, results in a constant calibration process. So to speak the constant attempt to adapt the "being human" to a new reality, to align oneself with it or not to do so either. To ask the question what it means to be human in such a field of tension seems to be of existential nature especially in the present time. For the dynamics and speed of the changes around us that we have unleashed ourselves and the resulting massive socio-political and geopolitical consequences create more and more extreme situations in which we find ourselves in existentially threatening scenarios and in which we are subjected to strong tests in being human. With artificial intelligence, neural networks and intelligent machines, we take the question of "future humanity" to an additional, completely new level. The challenge of finding a concept is even more complex when we try to raise the surrounding, intelligent technologies to the level of an own species. With our own intelligence – at eye level with us. How important it will then be to be able to define humanity, we will see when things that have always been assigned to human genius are taken over by machines and are suddenly solved much better and more efficiently. In short and back to the original question: What is Future Humanity? Certainly one of the greatest challenges of our future and hopefully a question, we don´t stop to ask.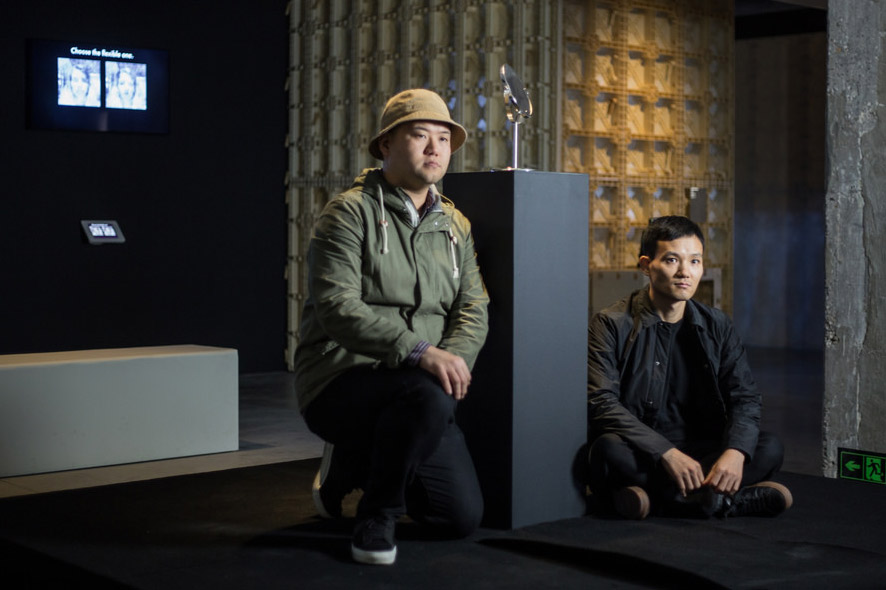 The exhibition at Hyundai Motorstudio Beijing will take place right in the middle of Beijing's 798 Art District. What can visitors expect?
Martin Honzik: The Hyundai Motorstudio Bejing is certainly one of the most exciting models for the representation of a car company. In the middle of the popular and vibrant art district of Beijing 798, in the neighbourhood of galleries, museums and artist studios, Hyundai presents itself with a concept that completely dispenses with the classic elements of advertising cars. At least since I've known the place, I've only seen cars in front and not in the house. Hyundai Motor Group's concept there doesn't boast monumental architecture, but rather charmingly sits on the historically grown and skillfully mixes it with modern architectural elements, such as the façade, which reacts as a living catalyst to the air quality and is able to measure it and filter and improve it. A wonderful example of how modern architecture can combine tradition and high-tech with a fine hand. The Hyundai Motorstudio Bejing is intended to be a place of open dialogue, dealing with the tension between art and technology. The concrete exhibition deals with artistic positions from China, Korea and the whole world, all of which will show how far we have come in our quest to fulfil our "dreams" and what new instruments and innovative technologies we use to achieve them.  But also with what consequences, what risks and opportunities we have to reckon with. In its diversity, it should create versatile approaches and, of course, present itself to the art world, but also make it much more accessible to all other parts of the Chinese population. A specially developed educational program will try to make the quite complex topics understandable for all parts of society. Access points are to be created that directly refer to the everyday life of the guests to create awareness. And of course it will also be about introducing a new, hopeful and talented generation of artists who are capable of recognizing the many complex changes of our time, explaining them to a broad public and offering concrete prototypical solutions for society as a whole.
The three different exhibition venues across the world open up the possibility for a reflection on how technologies influence the culture and daily lives of locals in three different places. How would you say does technology affect (communal) life in Beijing?
Martin Honzik: Yes, this is certainly a very unique opportunity to question one important topic in three different places, in three different cultures at the same time and to make it tangible. By this unusual and diverse geopolitical constellation of the three different cultural perspectives it is obvious that not only the technology has a formative influence on the culture, but also vice versa. And so this aspect should be added to the question posed. What influence does technology have on Beijing's everyday life? And how does Beijing's everyday life influence technology? Personally, I will certainly have more potential answers to this question after the exhibition period, because the exhibition deals exactly with this. The mediation concept is aimed at an audience interested in art, but much more at all other parts of society. It tries to fathom the influence of technology, the chances and risks for the individual and the different genres of our society and to make them tangible. But to return to the question in concrete terms: Beijing has no more and no less technology in and around everyday life than other mega-cities – the question is who uses it and for what purpose. I myself am a curious, attentive traveler, observer and listener here. As such, walking through such a large and contrasting city always allows me to encounter many aspects that could give an answer here. But it remains an outside perspective. How Marco Polo tries to describe the great Kublai Kahn in the book by Italo Calvino – Invisible Cities – as a traveler to those cities that were part of his empire.  I hope that through our diverse questions and perspectives in the exhibition, especially towards Chinese visitors, we will open up alternative perspectives on our own individual situation and reality.
And lastly, what is your personal highlight that you are especially looking forward to?
Martin Honzik: The opportunity to pose a question, a topic simultaneously in three different places, in three different cultures and certainly also to enter into this interesting cooperation, between HMG – a great from the industry, between CAFA – one of the most important places for artistic education in Beijing and us. Above and beyond the theoretical discourse, however, to create a situation with all participants in the exhibitions that enables a stimulating, authentic, inspiring and hopeful access to a common future in which the human being remains in the center and his instruments and technologies serve to create peace and maintain quality of life for all of us.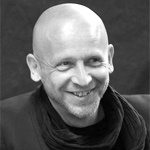 Martin Honzik is an artist and director of Ars Electronica's Festival, Prix and Exhibitions divisions. He studied visual experimental design at Linz Art University (graduated in 2001) and completed the master's program in culture & media management at the University of Linz and ICCM Salzburg (graduated in 2003). Besides being independent Artist in several art projects, he joined the staff of the Ars Electronica Futurelab, where, until 2005, his responsibilities included exhibition design, art in architecture, interface design, event design and project management. Since 2006, Martin Honzik has been director of the Ars Electronica Festival and the Prix Ars Electronica and in charge of the exhibitions in the Ars Electronica Center as well as Ars Electronica's international exhibition projects.
The exhibition "Future Humanity – Our Shared Planet" will open in November at three different Hyundai Motorstudios around the world: in Moscow, Seoul and Beijing. The exhibition in Beijing is the most comprehensive and shows works from all over the world. More information about the Hyundai Motor Group exhibitions can be found on our website.
To learn more about Ars Electronica, follow us on Facebook, Twitter, Instagram et al., subscribe to our newsletter, and check us out online at https://ars.electronica.art/news/en/.