A green oasis in the midst of the big city, a peaceful place where Japanese tradition takes visible form and historic dwellings stand next to modern concrete buildings and high-rise apartments – from November 16 to 17, 2019, it's also a place for art, science and new media: the Tojogaoka Historical Park in Matsudo, Japan. That's where the two-day Matsudo International Science Art Festival will take place, and the Ars Electronica Futurelab will be taking part with its own curated Ars Electronica Salon. Responding to the theme "Future Citizen," the Salon will show not only works by the Japanese artist Etsuko Ichihara, but also three works by the Futurelab team – Nicolas Naveau, project manager at Ars Electronica Futurelab, told us more about it in an interview.
Nico, can you first of all explain to us the context in which the Ars Electronica Salon in Matsudo is taking place?
Nicolas Naveau: We are putting the so-called Ars Electronica Salon together for the second edition of the International Science Art Festival in Matsudo, Japan. It's taking place in Tojogaoka Historical Park, a gigantic park with a couple of traditional Japanese houses in the middle. They are protected buildings and constitute a part of Japan's cultural heritage. We are exhibiting in two areas, one in the main house with a display of works by the artist Etsuko Ichihara, curated by us, and in the little teahouse next door, where we are showing three installations from our own production. With our program, we are part of the festival as a whole, which will be taking place there from November 16 to 17, 2019 and is dedicated to different perspectives of art and science. Something I find especially exciting about it is the tension between this very historic building and the contemporary approach of media art.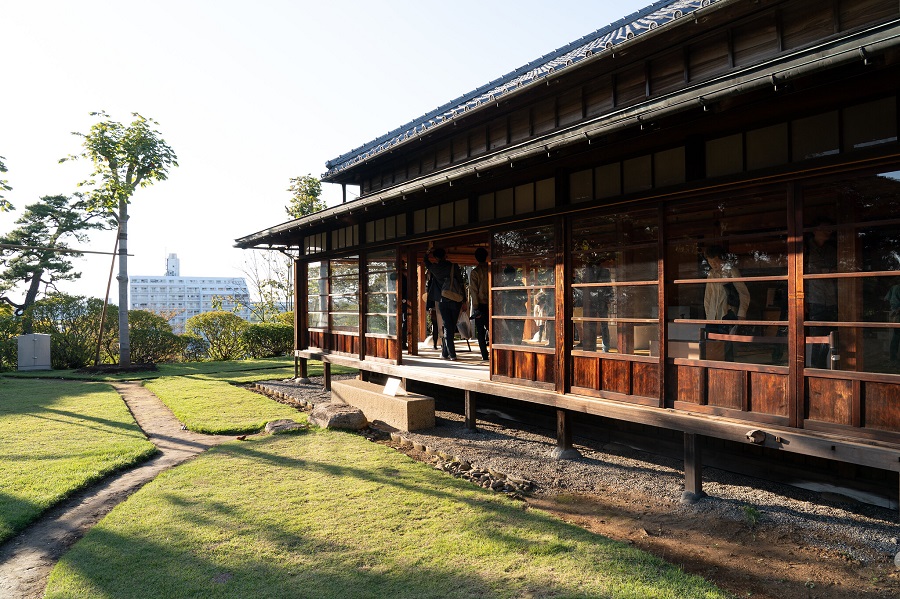 Let's stick with the main house for starters, and the works by Etsuko Ichihara – what is being shown there?
Nicolas Naveau: Two works are on display there: the Digital Shaman Project and the Virtual Currency Offering Festival. Etsuko is an artist we've worked with a few times at Ars Electronica. In 2018 she even received an Honorary Mention in the Prix Ars Electronica for the Digital Shaman Project. In that project she engages with ancient Japanese farewell rituals: In Buddhism there is a belief that the soul of a deceased person remains on earth for 49 days. Etsuko translates this idea into the modern age and transfers the personality of a deceased person onto a program that runs for 49 days on a little robot. In the second project, the Virtual Currency Offering Festival, traditional offerings at temples and shrines are made with Bitcoin, adapting longstanding patterns of behavior to the present time.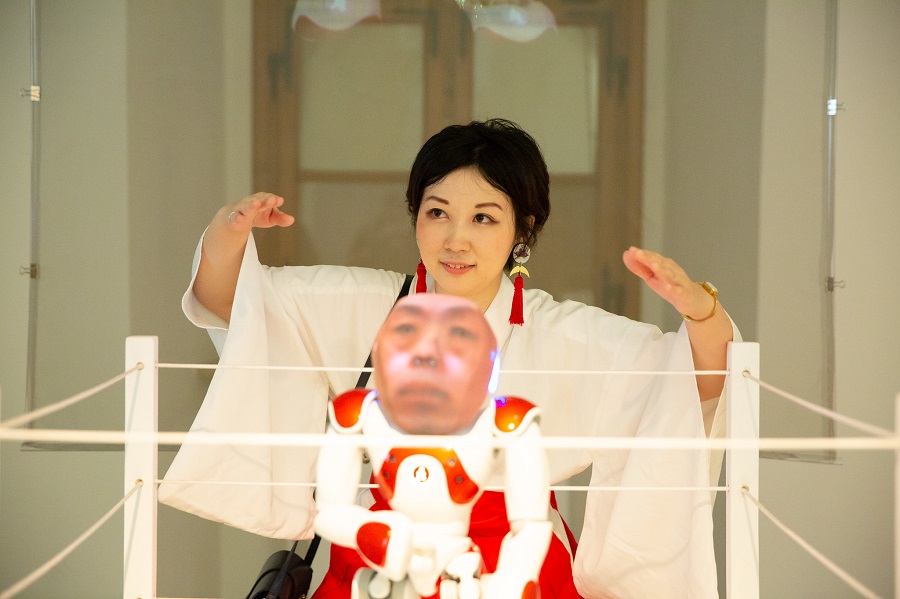 Credit: Tom Mesic
Which Ars Electronica Futurelab installations await us in the Teahouse?
Nicolas Naveau: In keeping with the theme Future Citizen, we are showing three works. The first is called Questioning News and deals with critical media consumption. On a vertical display you see a very poetically designed particle system that calls up Japanese news from the Internet and shows it every two minutes. The important thing here is that it puts a question mark after every headline. That completely changes your perception of the news – it makes a big difference whether you read "Trump denies climate change" or "Trump denies climate change?"! As critical Future Citizens, this type of media consumption, questioning things, is essential. What can we trust, and what is trust, what even are the facts in the 21st century?
This very peaceful and appealing representation of the headlines is almost meditative ….
Nicolas Naveau: Exactly, and it's intended to be that way. We are also taking a cue from our surroundings and the context in this old building in Matsudo. That's a good lead-in to our second installation, called Listen to Nature. We are playing with rituals a bit here, just like Etsuko Ichihara in the house next door – for us, it's simply about creating a space for thinking. So in one room of the teahouse you can put on headphones and listen to sounds from the surrounding garden, which are broadcast live, accompanied by an electronic soundscape. At the same time, you are presented with a selection of questions by a supervisor, the Master of Ceremony, as we call them. The questions are Creative Questions that come out of our Think-and-Do Tank, the Future Innovators Summit, and deal with important issues of the digital age. The idea behind this installation is to focus on a question and a sound. The space should be as empty as possible; you sit on a Japanese cushion and are able to concentrate entirely on thinking. You hear what's going on a few meters away but in the kind of focused way that is hardly possible anymore. It's like going for a walk with headphones  – you suddenly feel like you're watching a movie, you're in another world. It's very meditative. In addition, there's the fact that you're sitting and thinking yourself and at the same time other visitors pass by and watch you thinking, so to speak. That doesn't happen every day.
Isn't that a strange kind of alienation from nature? The fact that engaging with nature as a Future Citizen only works with the aid of technology, in this case the headphones?
Nicolas Naveau: It's a bit like the help you get from a telescope or a camera with a macro-lens, or a magnifying glass. Without those things, you don't see certain details; it's the same with the headphones. For example, in the garden there's a bamboo pipe that fills with water and tips over every 30 seconds. It makes a very specific sound, which normally would be drowned out by the other sounds of the garden and the city. Here you can perceive the sound in isolation. In this case, technology helps you to tune out the external stimuli and narrow your focus to a single source.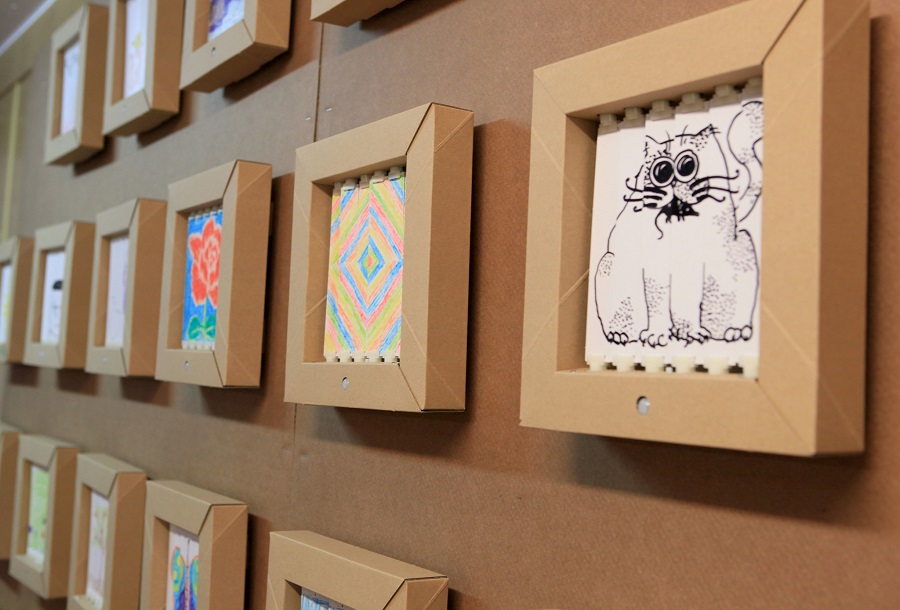 Credit: rubra
And then the third work is more of a call to action …
Nicolas Naveau: Right. Whereas Questioning News is a critical examination and Listen to Nature deals with letting go and focusing, the third work is about becoming active yourself. We offer a Switch Workshop – a Switch is an edutainment building kit developed in the Ars Electronica Futurelab, where you can switch manually between two pictures. We set up the workshop in Matsudo for children and young people; it's supposed to be about a young perspective on the city of the future and the Future Citizen in Matsudo. On one side of the building kit, there's supposed to be a question, a problem, or a thinking prompt, while the other side offers a suggestion for action. Something you could change in the direction of the question or how you could contribute to solving a problem. The Switches are exhibited afterwards – to create a point of intersection between the city, the designers and the visitors.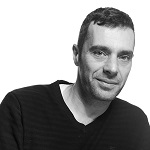 Nicolas Naveau graduated at the Fine Arts School of Angers, France (Master of Arts). He went then to Vienna (Austria) where he taught French Culture (Art History, Comic and Cinema) in a Adult educational School. Due to his knowledge and skills in Art, Graphic- and Information-Design, he started to work for Ars Electronica Linz in 2002. Since 2006 he works for the Ars Electronica Futurelab as Artist and Senior Researcher in the field of Information Design.
The Matsudo International Science Art Festival takes place from November 16 to 17 in Matsudo, Japan. The official website can be found here.
To learn more about Ars Electronica, follow us on Facebook, Twitter, Instagram et al., subscribe to our newsletter, and check us out online at https://ars.electronica.art/news/en/.