The first Bavarian university, which gave rise to today's Ludwig Maximilian University in Munich, was founded 550 years ago in Ingolstadt. Under the heading "Artificial Intelligence – Innovations for the City of Tomorrow", a prestigious science congress was held from June 30 to July 1 to mark this anniversary. To prelude the event, the tradition-steeped Georgian Chamber Orchestra of Ingolstadt enthralled the astonished audience on June 29 under the direction of Timo Handschuh with a forward-looking musical and technical concept from the Ars Electronica Futurelab: The compositions performed there were composed in collaboration with an artificial intelligence and performed by the musicians of the chamber orchestra together with a self-playing piano and live visuals by Cori O'lan.
The music for this audiovisual performance was provided by the AI composition system Ricercar, which was developed by AI researcher and artist Ali Nikrang at the Linz Futurelab. It was intended to represent the connection between art, technology and science, and the state of the art of AI-composed music, to demonstrate to the astonished audience the tremendous creative potential of this future technology. Accompanied by the vibrant, organic forms of Cori O'Lan's live visualizations, the concert also showcased the visual expression of AI-generated music and the different levels on which human-machine interaction can take place on behalf of art and culture.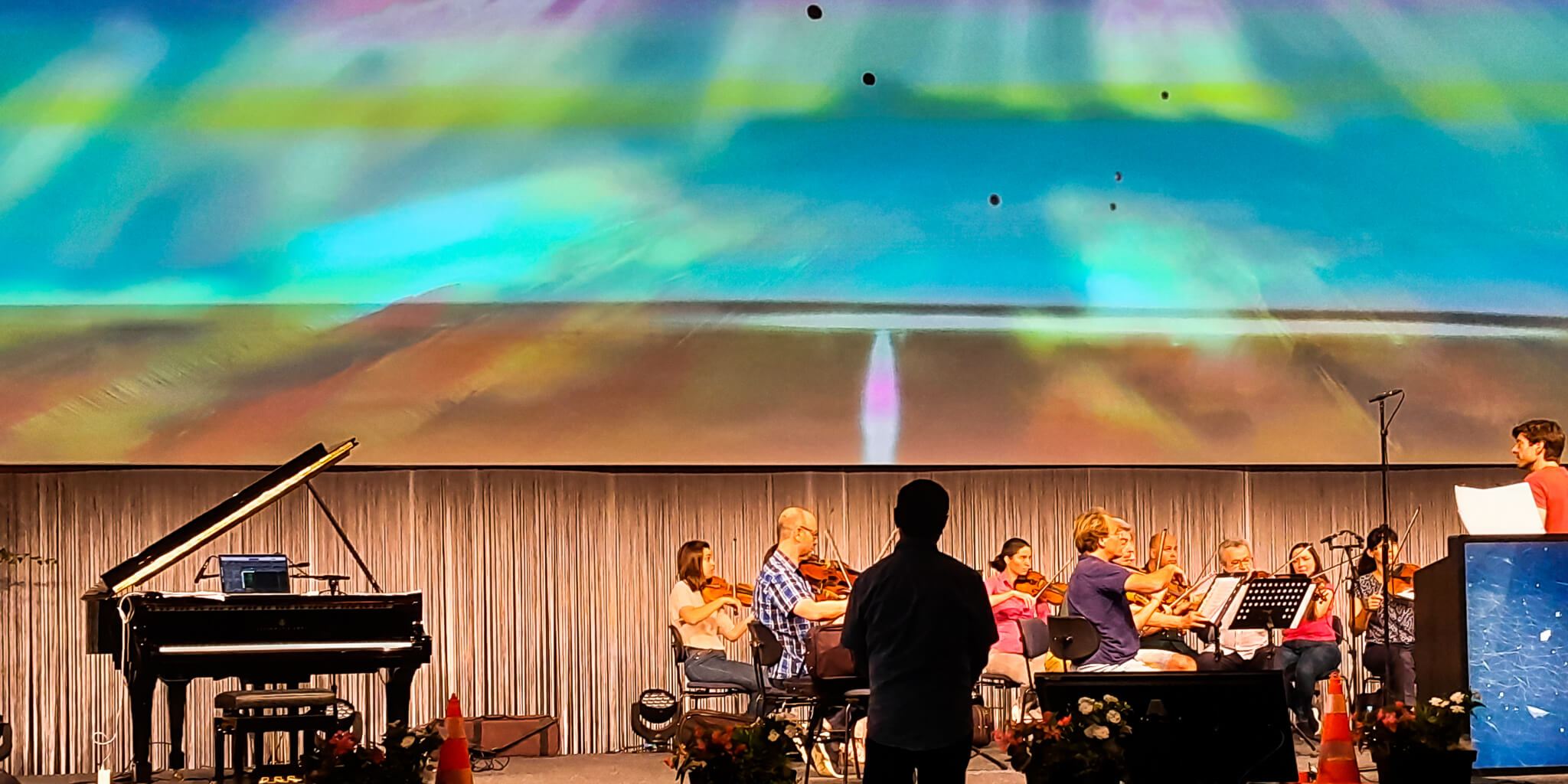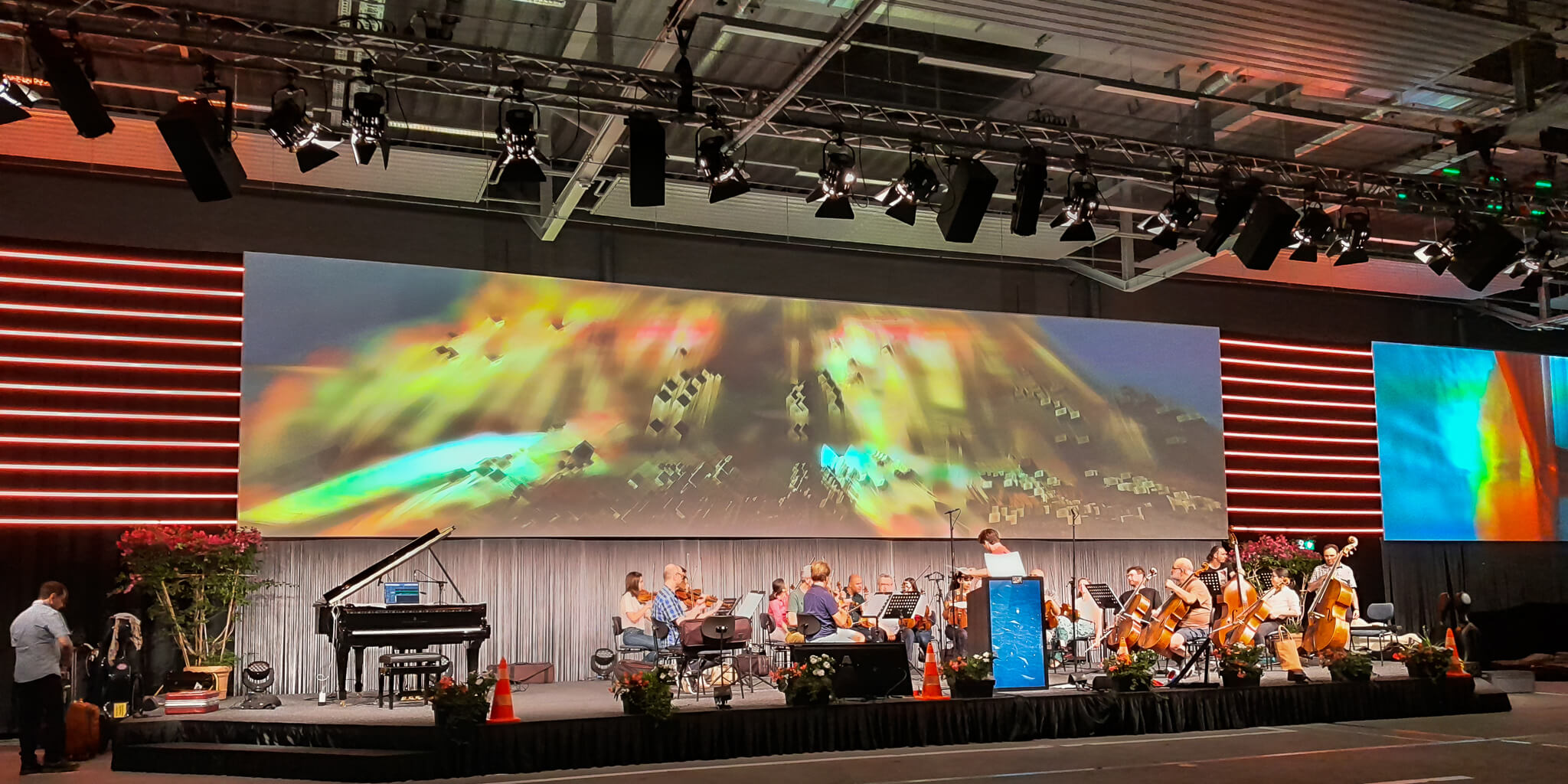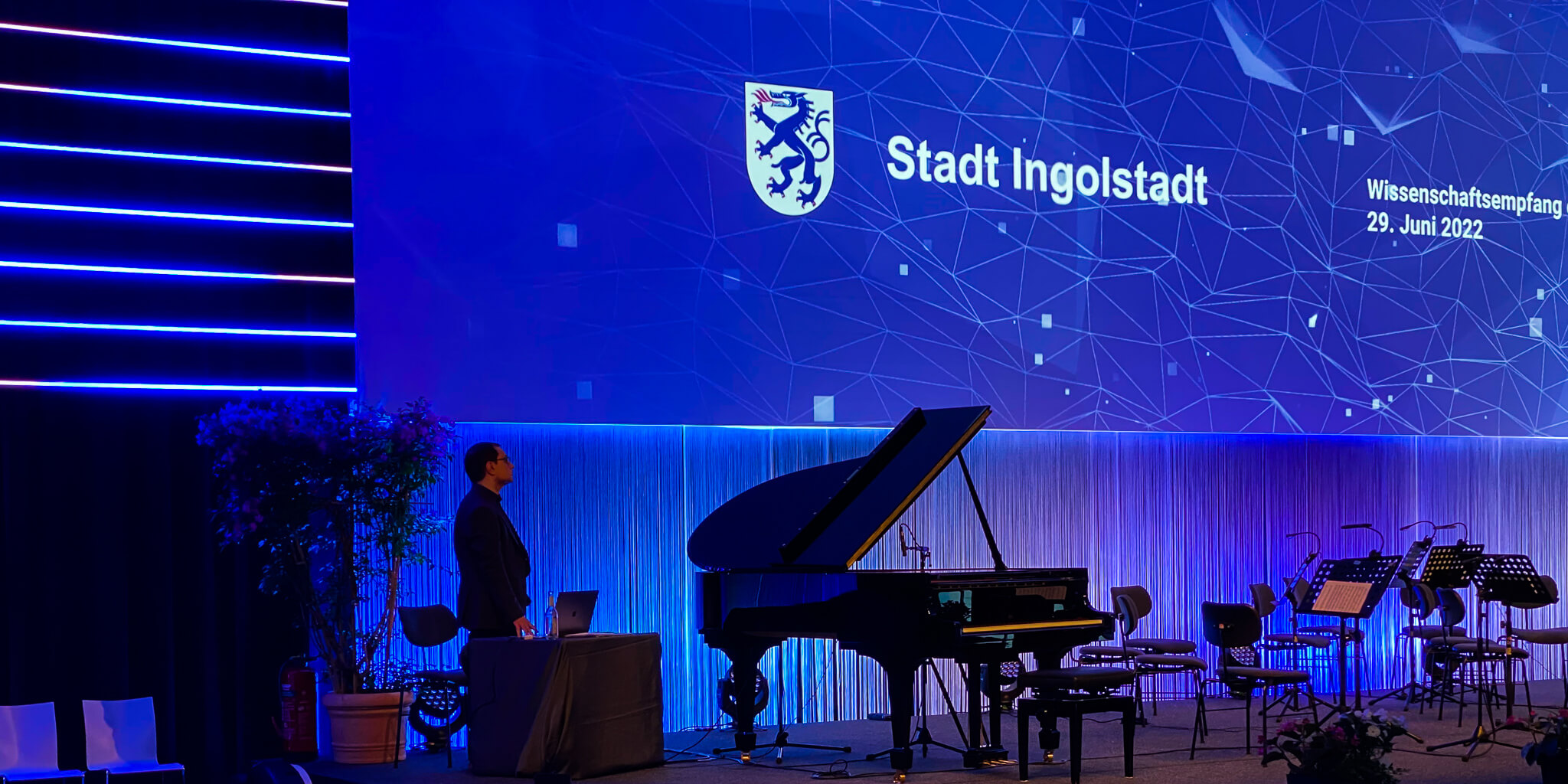 Composed for a self-playing piano and played as if by magic by a Steinway Spirio grand piano, the first piece AI-Reflection #1 demonstrated the current state of the technology: a direct rendering of the AI's musical output without human accompaniment. In a joint performance, together with three human musicians from the Georgian Chamber Orchestra and the self-playing piano, AI-Reflection #2 then demonstrated another quality of this creative collaboration: music created in the harmonious interplay between humans and machines. Finally, the third piece AI-Reflection #3 represented a joint performance of the orchestra and the self-playing piano, with the AI's composition arranged by humans for this instrumentation, as in the second piece. A musical theme by one of the university's earliest students served as a prompt for the AI: Petrus Tritonius (1465-1525) was a schoolman, humanist and musician with a wide range of interests. In Ingolstadt, he studied with Conrad Celtis, one of the most famous humanists of the time.
Both the AI compositions and performance of the self-playing piano demonstrated the increasingly intense collaboration between humans and machines in the field of music. The impressive performance already gave an idea of how much future for creativity already lies in the application of artificially intelligent systems.
Learn more about Ali Nikrang and his key research on Creative Intelligence.