How can stories of the future change the here and now?
Future Narratives explores existing and emerging stories of future and their meaning for society. Like a seismologist looks for elastic waves through the earth, this research aims to locate tension fields, ripples and tears where future-relevant topics arise. These topics emerge in the form of narratives, woven into the fabric of cultural expression, may it be art, advertisement, journalism or science. The examination of such Future Narratives and their connection to certain technologies allows to draw conclusions about society, its wishes, its fears and its ability to transform. But the research of Future Narratives not only focusses on finding existing stories, but also on methods to create them.
What is a (Future) Narrative?
A narrative is a meaningful story – in the broadest sense. In structuralist literature theory, narratives are defined by a temporally organized sequence of actions in which an event changes the situation. A narrative can be told in the form of written word, visual means or any other form of communication and creative expression. In a sociological sense, a narrative is a shared image, that has the ability to transport and consolidate collective values, emotions and standards. The practice of sharing stories is a core element of human culture and forms a society's believes and identity. Everybody acts on such believes, on fictions, if you will, things that only exist in a shared consciousness like moral values, laws or traditions. Narratives therefor play an important role in triggering and guiding change processes. Future Narratives are always stories about change.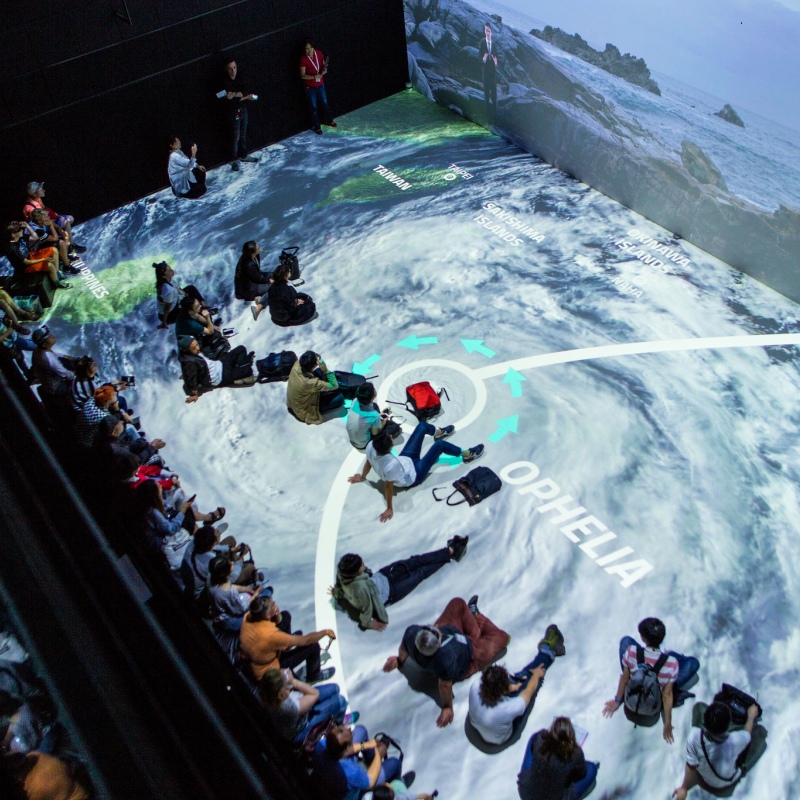 Photos from top left to bottom right: Vanessa Graf | rawpixel, Ars Electronica Futurelab | tom mesic | Bilderfest Gmbh, BR—Bavarian Broadcasting, ORF, ARTE
What stories of the future do we tell (in a time of crisis)?
The potential of change is inherent to the concept of future. As uncertain as it is, the future, as a narrative, is always different to the present. Change happens all the time, but how can you steer global change? If a society wants to a change for the better, it can either try to reanimate the past or conserve the status quo – or transform itself to meet the challenges it is facing. This transformation comes by the costs – or profits – of changing not only your mindset, but your individual daily behavior. Future Narratives can trigger and steer behavioral change on a societal and individual level. How does a person or collective become an agent of change? What is the characteristic of such an individual, institution, group or action? What is their story? What prevents someone from living change and transforming their behavior? And which narratives serve as a guiding system in this process? The examination of the relationship between individual and societal transformations, the obstacles and drivers of change is another research focus on the examination and creation of Future Narratives.
Additional Information
Publications
Christopher Lindinger, Maria Pfeifer: Art Thinking. In: Art in Science Museums. Towards a Post-Disciplinary Approach. C. Rossi-Linnemann, G. de Martini (Eds.). London, New York 2020, Ss 134 -144
KFV – Sicher Leben. Band #18. Berufe der Zukunft in einer automatisierten Mobilitätsumgebung. Wien, 2019
Maria Pfeifer: Future-oriented thinking and action strategies for the world of tomorrow. In: Out of the box. Ars Electronica 2019. Festival for Art, Technology, and Society. H. Leopoldseder, G.Stocker, C.Schöpf (Eds.)Linz 2019, S.294-395
Master Thesis: Pfeifer, Maria (2013) Seh-Buch, Video-Gedicht, Hör-Bild.
Diplomarbeit, Universität Wien. Philologisch-Kulturwissenschaftliche Fakultät
BetreuerIn: Ivanovic, Christine
Interviews & Media