PHI is thrilled to present an online guided tour of Emergence & Convergence, the PHI Centre's current exhibition in Montreal. Emergence & Convergence is an invitation to immerse ourselves completely in the works. This exhibition investigates our humanity in relationship with our planet and all living beings. Following months of confinement, we are confronted with a chance to re-evaluate our values and consider how the future might reveal itself.
Artworks:
---
SEEKING STILLNESS
GEORGE FOK
Canada, Hong Kong
Seeking Stillness, 2020 Video installation, 33 min
Presented with the support of Epson and the CALQ
A long-form immersive poem in five parts, via sounds and colours, where the audience can congregate for introspection and self-reflection. Seeking Stillness is inspired by Carlo Rovelli's "thermal time hypothesis," the Rothko Chapel and the transcendental experience of the artist's long winter runs. Some claim that art galleries are the new cathedrals: a place visited to unwind in the era of hyperconnectivity. From this exceptionally visceral experience emanates a pursuit of solace, a meditative and therapeutic moment. This work includes stroboscopic effects that may not be suitable for people with epilepsy.
---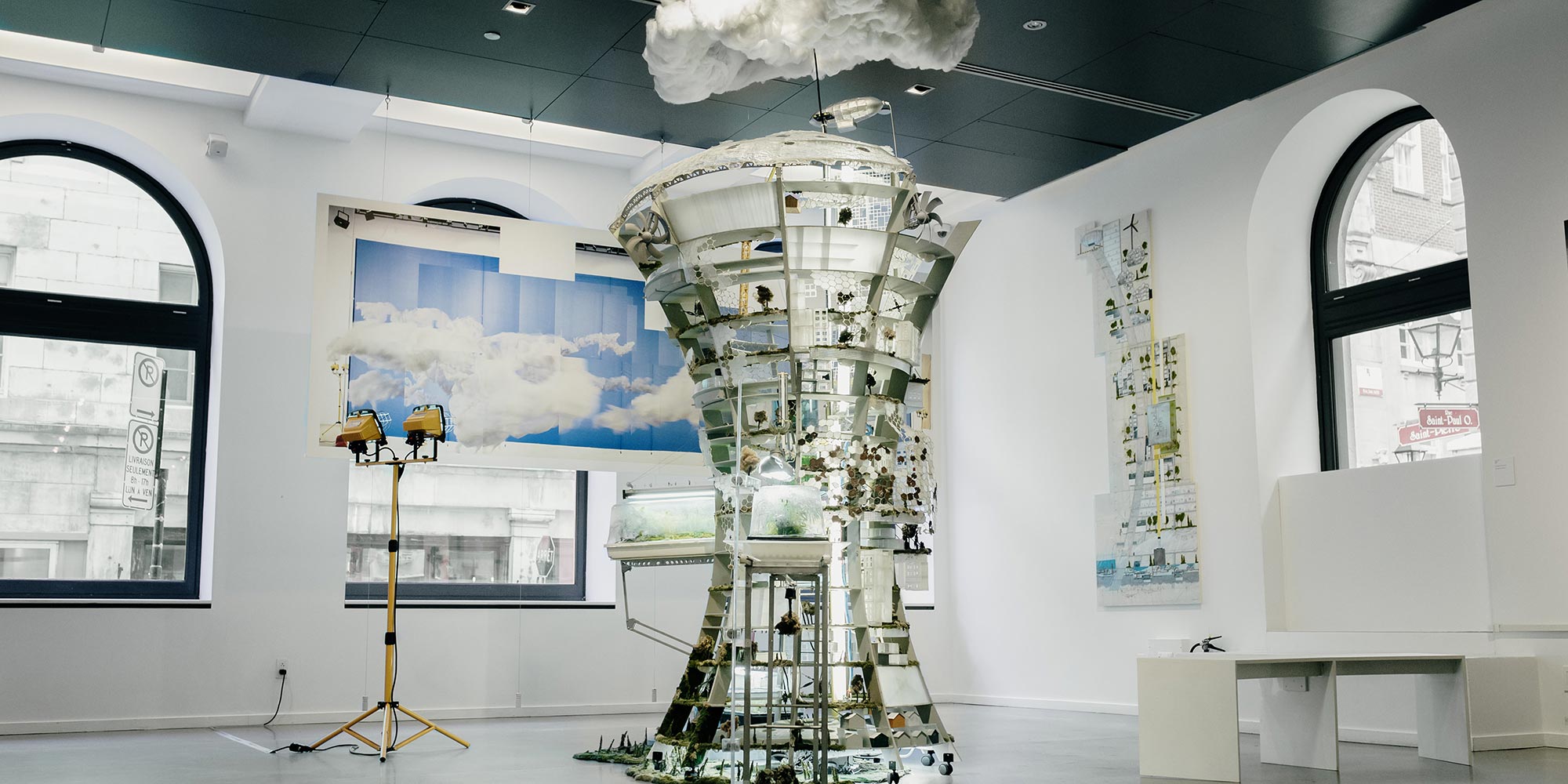 CITÉ LABORATOIRE
DANIEL CORBEIL
Canada
Cité laboratoire, 2012–2018
Installation
Nébulosité, 2012
Photography
Vue en coupe; Cité laboratoire, 2012
Drawing
Inspired by the futuristic predictions of the 1960s and 1970s, Cité laboratoire is an installation that possesses the attributes of various visions of green architecture in the prototype stage, where a city skyscraper is designed to be an autonomous and self-sustaining organism, featuring vegetation that makes us dream of a lost paradise. The installation is supported by a 3D drawing, which technically describes the establishment of different living and working areas, as well as by topographic photography of a cloudscape built in the studio. The ensemble of works offers a reflection on architecture as a framework that circumscribes and concentrates the attributes of the landscape.
---
L'ÉTAT DES MATIÈRES
KATHERINE MELANÇON
Canada
L'État des matières (corpus of works), 2017
Animations and digital prints
Between still life and abstract composition, L'État des matières is a corpus of works that explores the digital manipulation of representative samples of a place; in this case, plants taken from Montréal neighbourhoods and in a national park in England. The captured images suggest altered states of these organic materials. This creates a series of images and animations with a mystifying effect that acts like a breach in reality, revealing transfigured perspectives. On its passage from machine to material, the image is superimposed onto reality, integrating and creating unexpected visual conditions. L'État des matières demonstrates the fallibility of the binary and of the screen portraying the still lifes.
---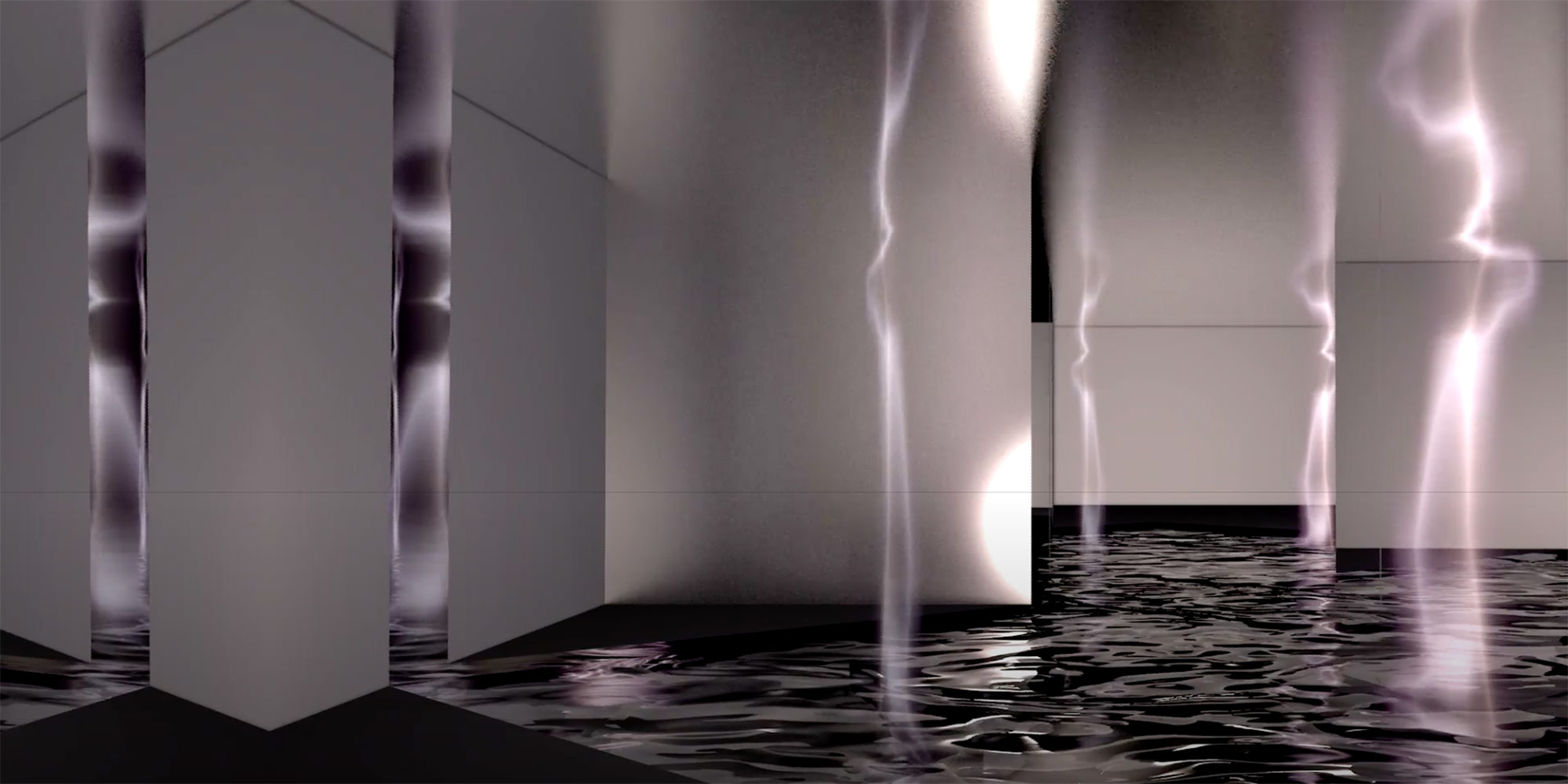 DOMESTIC LANDSCAPE
SABRINA RATTÉ
Canada
Domestic Landscape: Eclipse, 2017
Video, 3 min 27 sec
Music by Andrea-Jane Cornell
Domestic Landscape, 2017
Projection
©Sabrina Ratté / ELLEPHANT
Domestic Landscape is a space with an ambiguous identity, living between architecture and landscape. Using a mixture of analogue technologies and 3D animation techniques, these video portals guide the viewer to improbable places, ranging from the flora and topography of imaginary landscapes to the wave shapes and masses of strange glitches and plasma. The work creates a vibrating structure, an environment where the gaze wanders, hypnotized, reminding us that no matter how logical modern architecture seems, it comes from a complex, hard-to-fathom and often illogical place: the human imagination.
---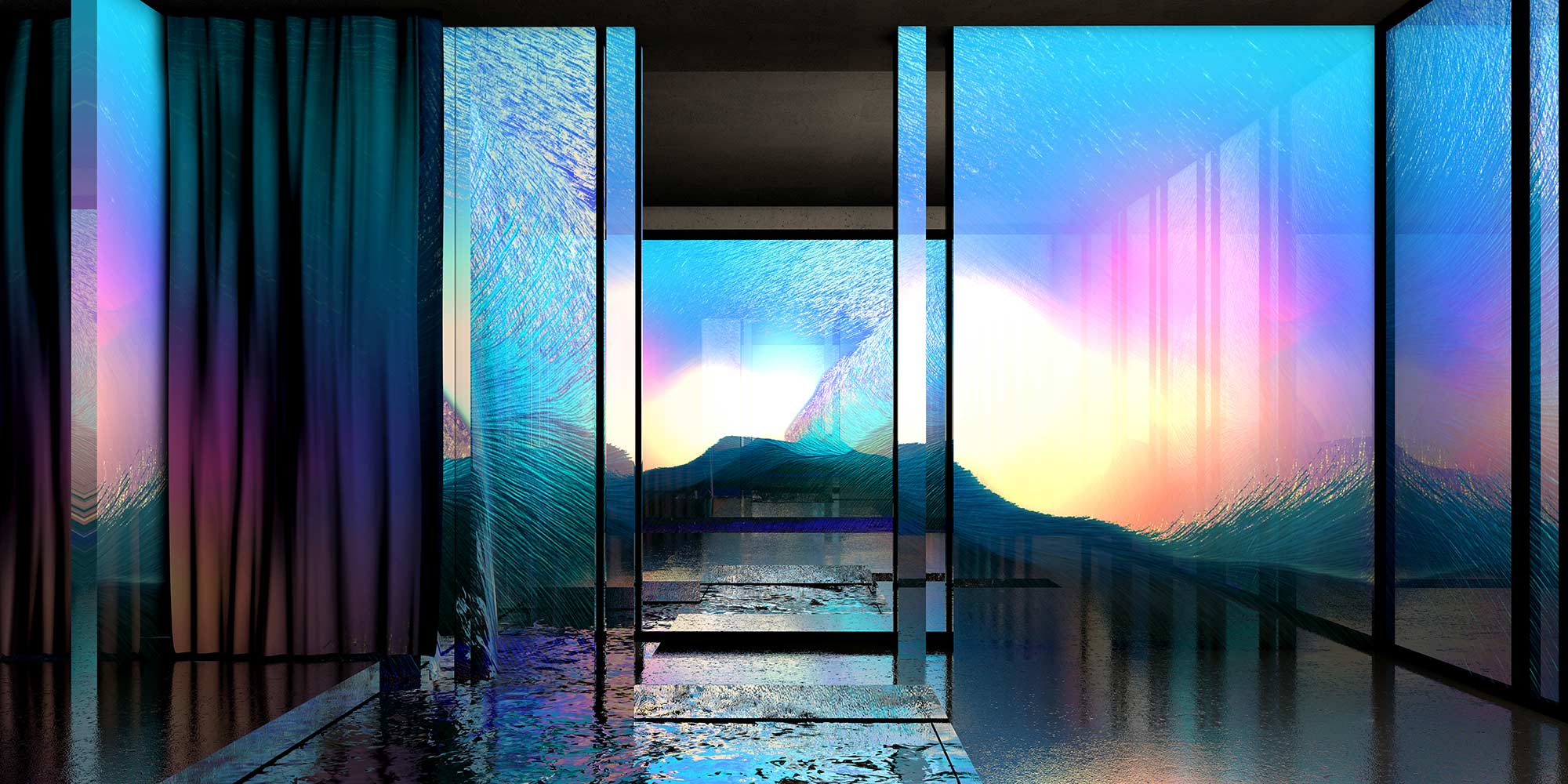 ALPENGLOW AND AURORA
SABRINA RATTÉ
Canada
Alpenglow and Aurora, 2018
Inkjet print and projection, 1 min 27 sec
©Sabrina Ratté / ELLEPHANT
Alpenglow and Aurora is a diptych depicting utopian spaces where painterly textures meet 3D perspectives. Through the use of reflective surfaces and fragmented windows, the iridescent magic-hour landscapes invade the room and become an intrinsic part of the architecture; interior and exterior merge to form an ambiguous space. Each print is presented with a video projection that illuminates and animates specific details of its composition. Looking at the image causes the colours of the landscapes to change slowly, from purple to green to blue, subtly affecting the atmosphere of the tableau.
---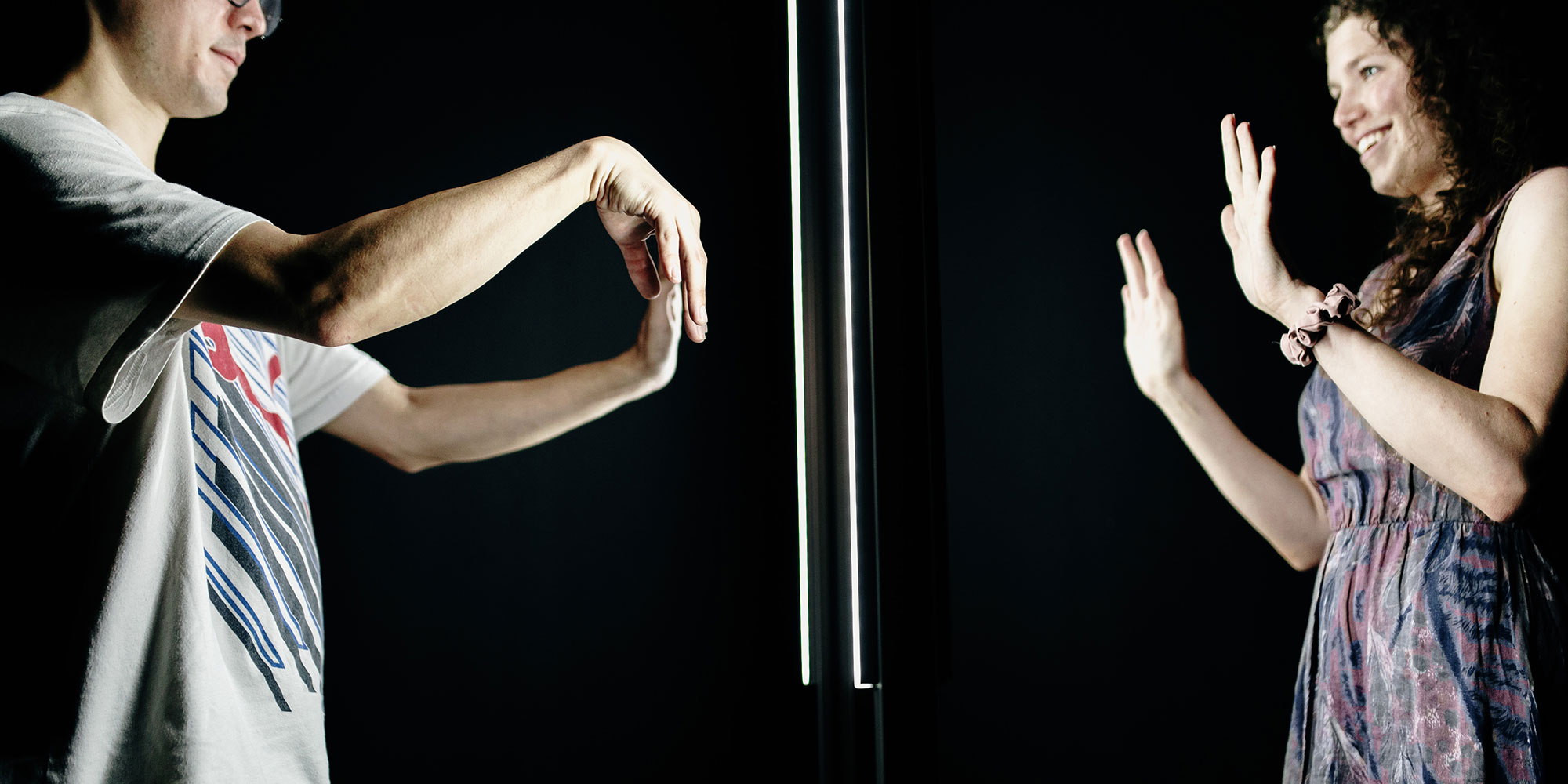 ALTER EGO
MORITZ WEHRMANN
Germany
Alter Ego, 2013
Installation
Presented with the support of the Goethe-Institut
Alter Ego is an experimental installation that questions the mental and mimetic relationship between two dialogue partners in an existential encounter. Playing an important role in the basic research of self-perception, and mechanisms of sympathy and empathy research and their disorders, like schizophrenia, autism and Alzheimer's disease, the installation uses mirrors and a strobe light to create a mental conflict of selflocalization, a feeling of self-loss and of pure empathy at the same time.
---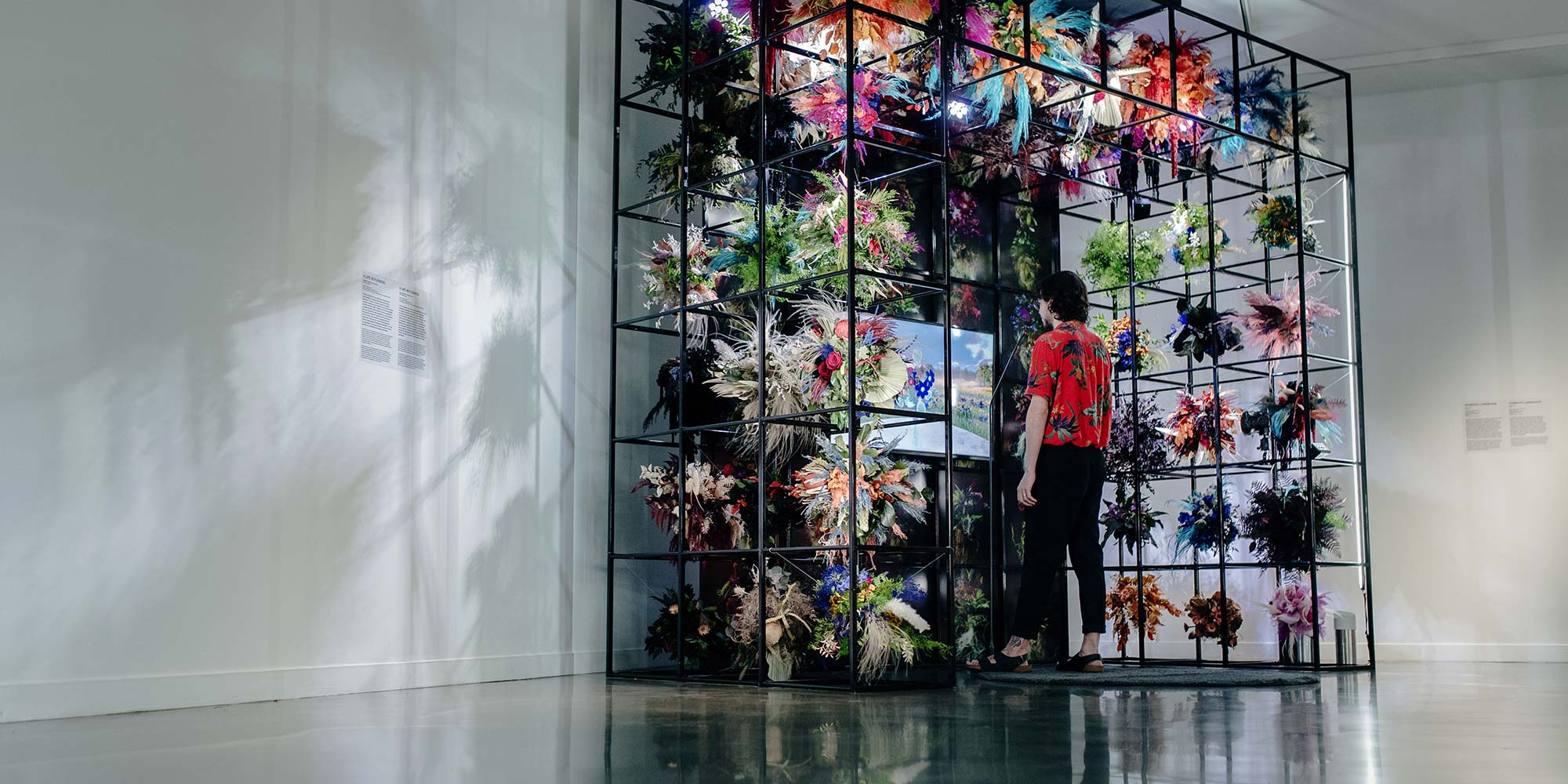 A LIFE IN FLOWERS
ARMANDO KIRWIN, AZUMA MAKOTO
United States, Japan
A Life in Flowers, 2019
Virtual reality and video, artificial intelligence, 20 min
Produced by Ryot, Artie, PHI, in collaboration with Headspace Studios 
A Life in Flowers is an interactive artistic installation available in two formats: virtual reality or by voice command only. The project combines the work of Azuma Makoto, a renowned botanical sculptor, with that of veteran artist Armando Kirwin. Originally created in virtual reality, it has been adapted into a voice-only version in recent months. Both formats invite participants into an impressive installation with a projection that allows them to examine the harmony between flowers and human life. A conversation then begins with Azuma, a virtual persona that communicates using artificial intelligence. Over the course of the discussion, a unique bouquet of flowers is formed, specific to each participant's experience.
---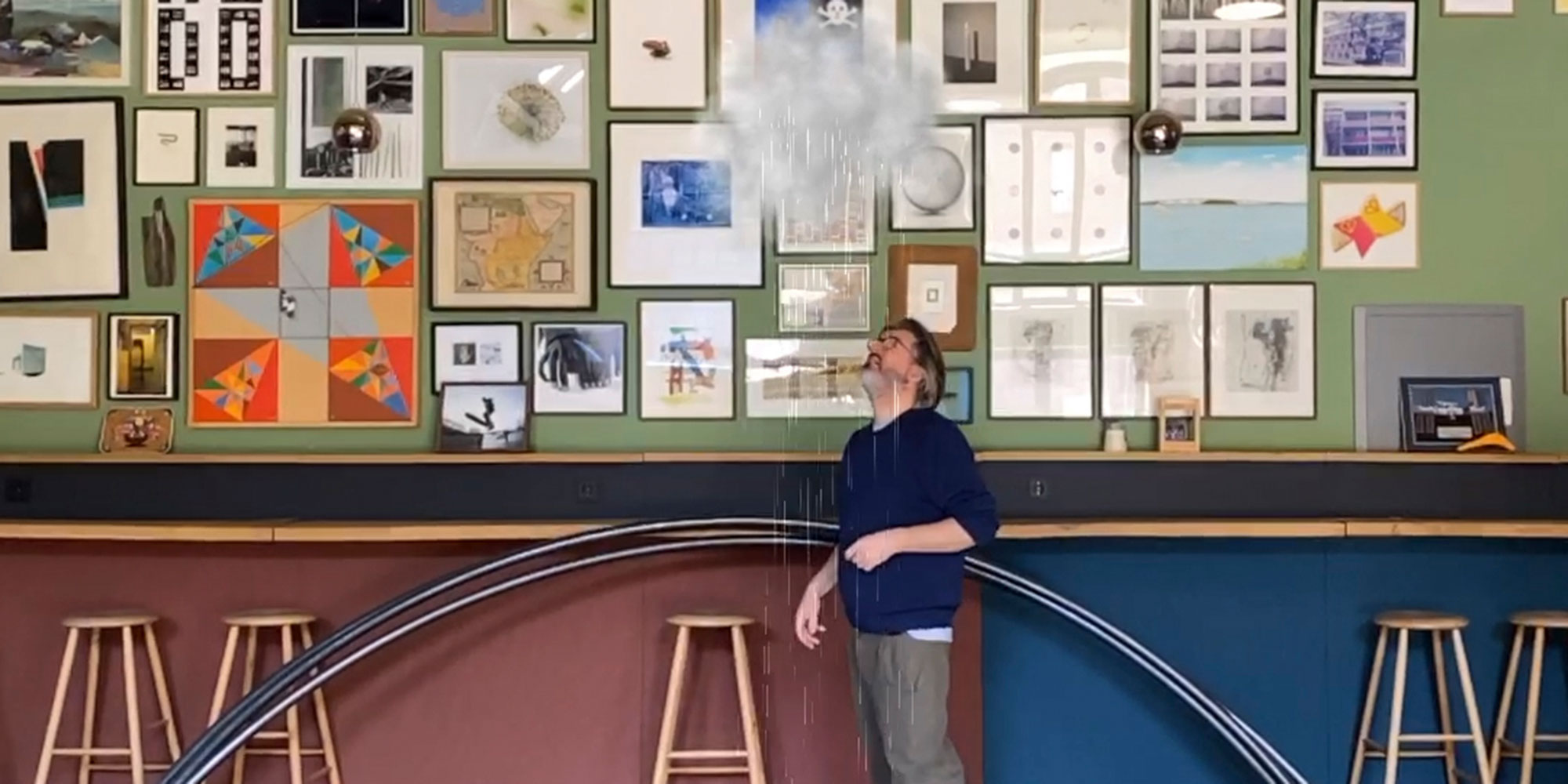 WUNDERKAMMER
OLAFUR ELIASSON
United Kingdom
Wunderkammer, 2020
Augmented reality
Produced by Acute Art
Wunderkammer is an intriguing collection of natural elements and small works of art from the artist's studio, presented in augmented reality. The objects in the collection meld the known with surprising movement and unexpected actions: from a glowing sun to a shimmering rainbow to a rainy cloud. Also friendly-looking puffin; a floating compass that always returns to true north; a flying insect; a lucky stone; the northern lights; flowers and a solar-powered lantern that can be charged by the digital sun. As the project evolves, other ephemeral phenomena and artistic experiments will be added to the collection.