net based installation
Interactive installation inspired by visual poem Ogród Mechaniczny (Mechanical Garden") by Tytus Czyżewski (1922) re-created in a contemporary medium (software). The work touches on issues of conditional arts, synthetic nature and the relation of art, nature and technology in general. Ogród Mechaniczny is a multiuser installation based on motion tracking, transforming the "frozen" image by Czyżewski into an amorphous, interactive and playable situation.
Tytus Czyżewski (28 December 1880 – May 1945) was a Polish painter, art theoretician, Futurist poet, playwright, member of the Polish Formists, and Colorist. His work Mechanical Garden (orig. Ogród Mechaniczny) from 1920 is a great example of "concrete poetry" (or "visual poetry") that is "written" simultaneously with words and images. Typographic elements (here frames, braces and text layout) gain their own meaning, they "speak" in the poem as clearly as words.
Biography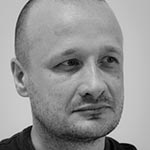 Paweł Janicki (PL), b. 1974, lives and works in Wroclaw as an artist exploring posthumanist practice. He draws mainly on the achievements of music, contemporary and media art, but he constructs forms different from the existing ones. He engages a wide spectrum of techniques, approaches and protocols: creates works using synthetic senses, programming techniques – in the modern, cognitive incarnation as well – and elements of space and material engineering. An important aspect of Janicki's creativity is drawn from historical and current contexts – in particular the perceived history of art and something that could be called the history of thinking. In addition to solo activities, Janicki's list of cooperative projects includes groups such as Dæd Bɑɪtz (with A.I. as one of the members), and institutions such as NASA, and in the long-term of the WRO Art Center, in which he implements personal activities, supports and curates projects by other artists. The awards that Janicki has received include Tokyo Haramachida Gallery (2004) for his internet performance Ping Melody, the Gold Medal at Prague Quadrennial 2015 and 2020, Awards of Distinction at MAteraINtermedia Festival.