interpassive sound artwork
Sound artwork that combines three installations located physically in the public space of Wrocław. One of them is the plane tree, which was featured as the central component of the installation E.D.E.N. by Olga Kisseleva displayed at the Four Domes Pavilion during the 18th Media Art Biennale WRO 2019 CZYNNIK LUDZKI|HUMAN ASPECT.
The same plane tree actually replanted in the Szczytnicki Park, an example of Wrocław's long-time signature species, currently serves as a point of reference for Paweł Janicki's audio artwork NOUMEN alongside other Wrocław external projects of WRO Art Center –the wooden Megaphones by Hannes Praks and Birgit Õigusin the Eastern Park and Cyanometer by Martin Bricelj Baraga at Fryderyk Joliot-Curie Street, which monitors sky shades and air quality. Visiting the NOUMEN.info website allows you to check the distance of the viewer from the nearest of these three Wrocław objects and create a unique sound composition associated with it, different for each mobile device.
Biography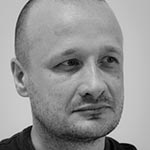 Paweł Janicki (PL), b. 1974, lives and works in Wroclaw as an artist exploring posthumanist practice. He draws mainly on the achievements of music, contemporary and media art, but he constructs forms different from the existing ones. He engages a wide spectrum of techniques, approaches and protocols: creates works using synthetic senses, programming techniques – in the modern, cognitive incarnation as well – and elements of space and material engineering. An important aspect of Janicki's creativity is drawn from historical and current contexts – in particular the perceived history of art and something that could be called the history of thinking. In addition to solo activities, Janicki's list of cooperative projects includes groups such as Dæd Bɑɪtz (with A.I. as one of the members), and institutions such as NASA, and in the long-term of the WRO Art Center, in which he implements personal activities, supports and curates projects by other artists. The awards that Janicki has received include Tokyo Haramachida Gallery (2004) for his internet performance Ping Melody, the Gold Medal at Prague Quadrennial 2015 and 2020, Awards of Distinction at MAteraINtermedia Festival.