Pandemic-Pandemonium! is a two-part presentation centered on the collective response of Africans living in Africa vis-à-vis current prevalent issues that threaten humankind — racial discrimination, violence against women and the COVID-19 pandemic. Whilst one part makes a statement on the resilience of the human spirit in the face of the deadly coronavirus, the other focuses on the valorization of melanin-rich skin amidst the fatal hostility that accompanies it.
Pandemic-Pandemonium! Curated by Kennii Ekundayo
The "arrival" of the coronavirus pandemic thoroughly upset the global order by putting a stop to nearly all operations and activities around the world. It was not far-fetched to think or even believe that worldwide, every individual would seize the moment to bury all hatchets and work together to find a way around the destabilization caused by the pandemic but alas! it has not been so. Recent events have created the appearance that a Pandora's box of animosity has been opened, giving rise to other tragedies — human tragedies, alongside the coronavirus catastrophe.
The exhibition sits on the theme of humanity, one of the focal points of the festival this year. It is brought to life by contributions comprising a soundless video, video-poetry and photographs from creatives based in different parts of Nigeria.
Video
Project Credits / Acknowledgements
Galeri ODUMIJE
---
Beauty is in My Skin
Video, 19 seconds
Ikenna Ogbenta (NG)
If I do not take care of my skin, if I do not protect my skin, if I do not pamper my skin; tell me, who will do it for me?
Video
---
Imagine What We Can Do
Poetry
Efe Paul Azino (NG)
We come from dust and fire,
a civilization dancing on water & washing its hands in oil.
Our technology once commanded groundnuts to the skies,
heaven blessing our offerings in a thousand tongues. We
are a nation conceived in promise.
A dazzling rainbow carried by the currents of the
Niger, the stories of poets & the trumpets of rebels,
our greatness has never been in doubt,
we still know how to call wetness from the drought.
Travel the length & breadth of the country & you will see us:
our mothers staring down terrorists in the North-East
and our fathers rebuilding dreams from the mortars of
hope; you will find us in Benue planting for the future;
our songs have travelled from Jos to the hips of the world;
our women reversing single stories are writing us back into history.
It will be a mistake to ignore us:
the ideas of our young people taking flight in Lagos on the wings of
technology, connecting the false hopes of yesterday to a cloud of dreams, in
1s and 0s, a graffiti of new beginnings eclipsing the old
We who built the 4th largest film industry in the world from tales by moonlight.
Imagine what we have done:
the lifeboats of survival we have spun from our threadbare
existence; creative hubs in Yaba, Made in Nigeria ambitions in
Aba. Imagine what we do:
we who invent new worlds in Europe & spread knowledge from America to
Canada, doctors & engineers, athletes & artists, conquering the world in every
sphere, Imagine what we can do here:
with a leadership invested in calling the magic of our dreams to
life; inventors on the streets of Kano waiting to be let loose,
thought leaders expiring in the creeks of the Niger Delta because
we haven't done enough,
imagine how many more Nobel Prize winners we still have in the belly of our
struggles. So tell them when they come that our ideas have no tribe,
our visions are agnostic & our women carry more than babies on their backs,
Funmilayo Ransome Kuti type warriors, they nurse empires at their breasts
Tell them when they come that long after the oil runs dry we will still be here,
resilient with hope, lungs filled with possibilities, ready to breath a new nation into being
Give us the right tools & watch us build a country made of stardust & gold,
we are stardust and gold, and we come from every tribe,
daring you to believe in the audacity of our dreams.
"So tell them when they come that our ideas have no tribe,
our visions are agnostic & our women carry more than babies on their backs"
The poet here, wields his pen as a weapon to fight against the throes of racial prejudice. Racism exists on the notion that some races are inferior to others—weak and that the differential treatment of races is fully justified; as such, the poet infers that the notion is unfounded by highlighting the many strengths of his home country and countrypeople.
---
New Church 03
Photograph, B&W
Tobi Tej (NG)
The coronavirus pandemic has proven itself to be no respecter of persons nor religions thus, disrupting all of humankind's activities. This photo represents the resolution of christians to still fellowship together by showing connectedness using technology– online church services. Here, the priest is seen delivering a sermon to members via a live record.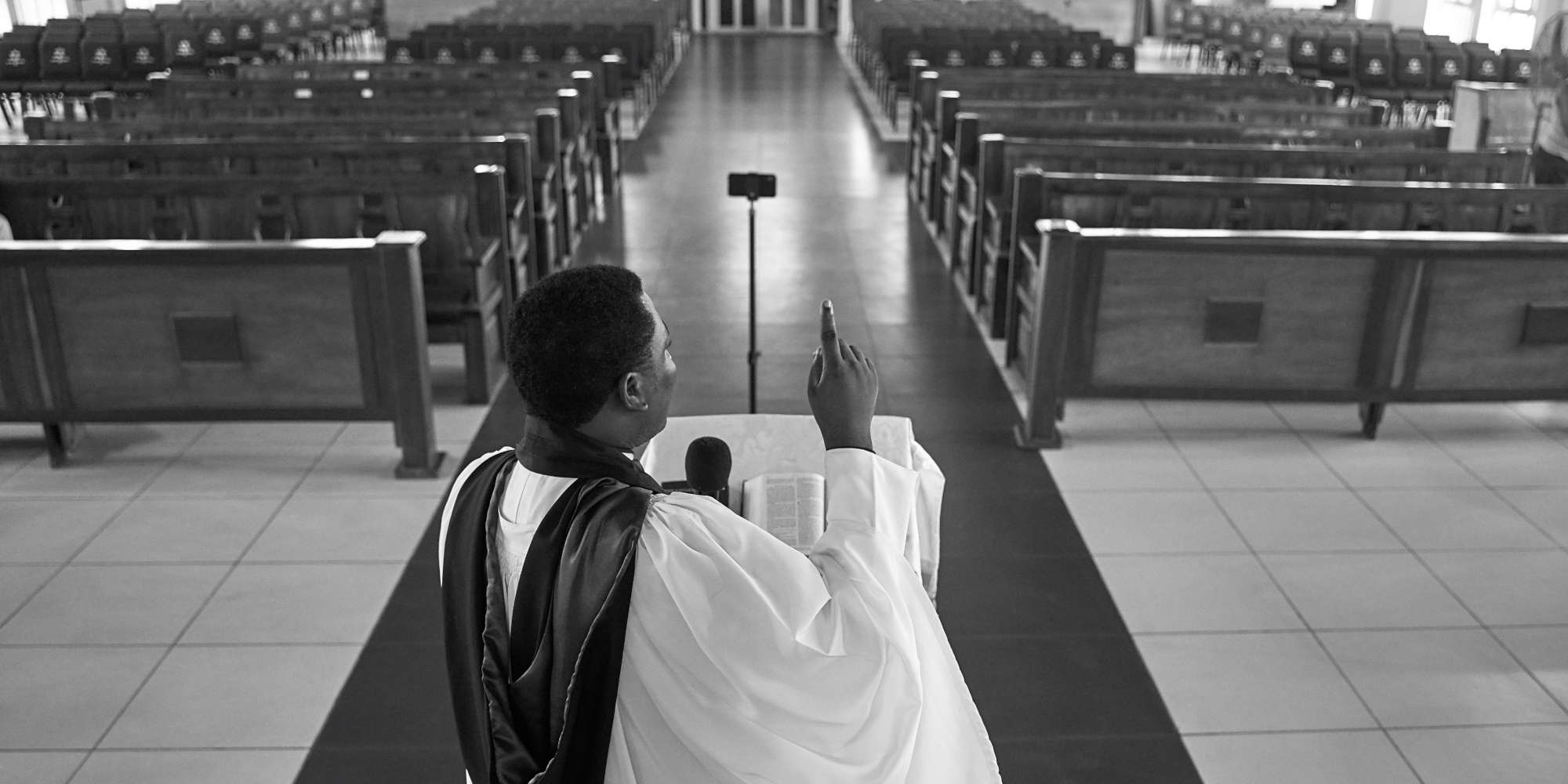 ---
Save Our Souls
Photograph, colour
Bernard Kalu (NG)
Women around Nigeria, not minding the fatality of the coronavirus nor recognizing the need for physical-cum-social distancing took to the streets to protest against the alarming increase in crimes against women including assault, harassment, rape and even murder, in the face of the lockdown precipitated by the pandemic.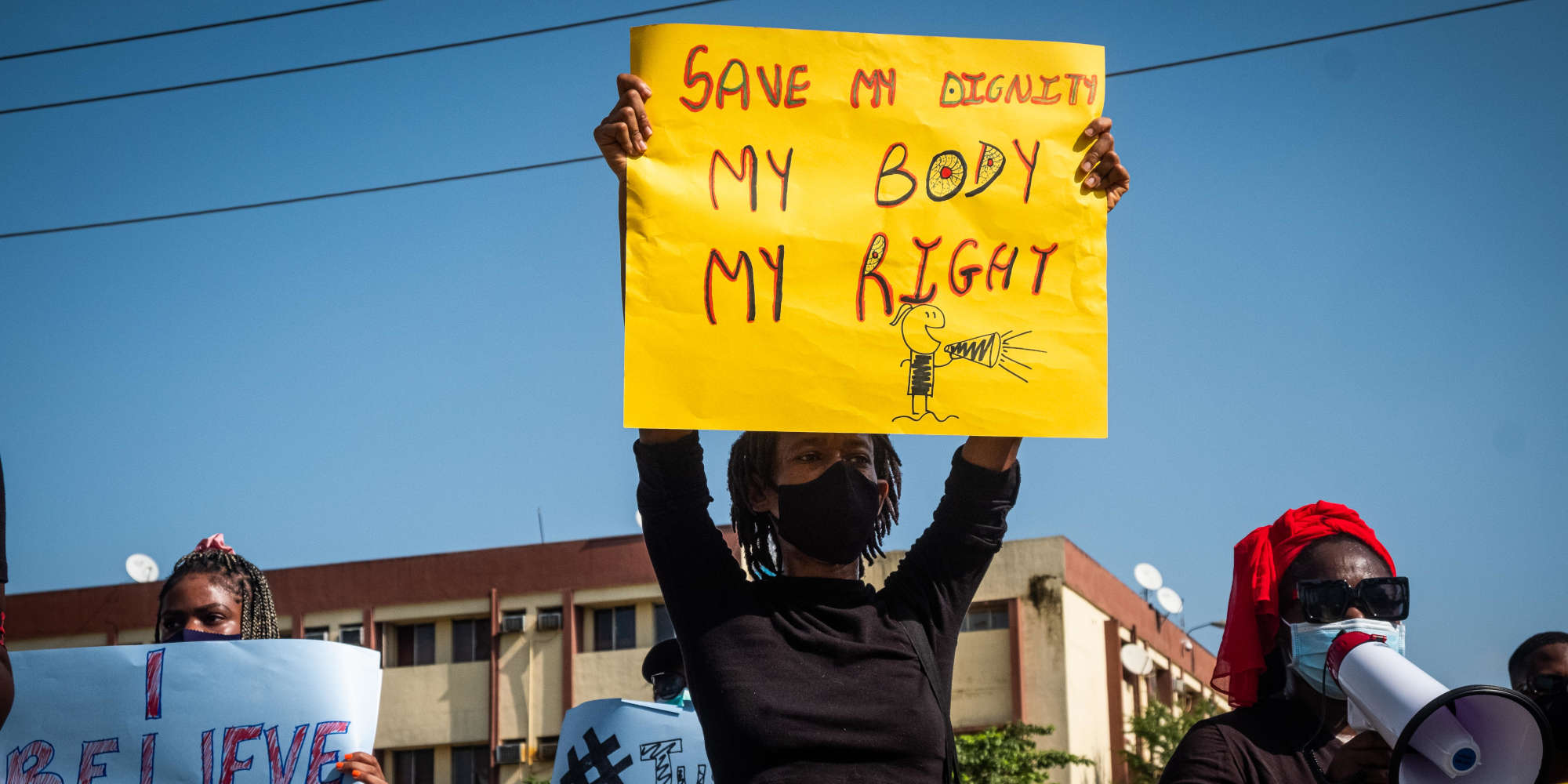 ---
Biographies
Ikenna Ogbenta (NG) grew up in Enugu State, Nigeria. He was first introduced to photography at age 5 and has continued ever since, motivated by both society and the people. His major focus is on photography that represents the dynamics of religion, culture and fashion in Nigeria. He lives and works in Lagos, Nigeria.
Efe Paul Azino is one of Nigeria's leading performance artists and poets. In 2015, he co-founded West Africa's first international poetry festival, the Lagos International Poetry Festival, which he currently directs. He is also the director of poetry at the annual Lagos Book and Art Festival. In 2017 he was named as one of the most powerful people in the Nigerian art and culture space by Ynaija. He published his first collection of poetry in 2015 titled For Broken Men Who Cross Often, under Farafina Books. He has appeared at the Berlin Poetry Festival, Johannesburg Arts Alive Festival, Spier International Poetry Festival Cape Town, Taipei Poetry Festival and the Ake Book and Arts Festival amongst others. His poems have been translated into Afrikaans, French, German and Mandarin. He is an Osiwa Poetry Residency Fellow, 2019 Moniack Mhor Poet in Residence, and his second poetry collection, The Tragedy of Falling with Laughter Stuck in Your Throat, is due out soon.
Tobi Tej (NG) is a photographer and producer based in Lagos, Nigeria whose work is inspired by the passion to explore life and preserve moments.
Bernard Kalu is a documentary photographer based in Lagos, Nigeria, with a passion for humans and the stories they tell simply by existing. His work aims to explore life and humanity, and raising awareness about environmental and social issues in his home country, Nigeria.
Galeri ODUMIJE / Kehinde "Kennii" Ekundayo
Kehinde "Kennii" Ekundayo is an independent art curator based in Lagos, Nigeria. Specializing in modern and contemporary African art, she has curated exhibitions around the country. Her professional practice began in March 2017 with a group exhibition of amateur photographers, and has grown to curating key projects involving the likes of revered legendary artist, Bruce Onobrakpeya and Nobel laureate, Wole Soyinka, in various media ranging from drawings and paintings, to film and photographs, to texts and installations amongst other art forms.
She is Communications Officer of the Committee for Relevant Art (CORA), a Nigerian nonprofit platform for artists, art critics and aficionados, and culture advocates. She is also a part of the organizing team of the Lagos Book & Art Festival, LABAF, a yearly prime literacy and youth empowerment project that is now in its 21st edition.
Ekundayo is head curator at Galeri ODUMIJE, a curatorial outfit she recently established and which operates out of Lagos, Nigeria.
This program is part of 2020 – finally digital?!
The year 2020 began with a Big Bang, one that demanded the art industry pivot away from its established codes of conduct, immediately, as a matter of sheer survival. From the exchange of courtesies, to remote work structures, and to the reorganization of public and private spaces – old customs required immediate redesign in response to the crisis. As a result, the online space gained even more significance as the only platform for business and commercial transactions, affecting even the art industry and its age-old reliance on in-person interaction. However, across the art industry's network of galleries, artists, institutions, auction houses, and biennials, the speed of adaptation, the ability to process the ongoing iterations and to find a customized response has varied dramatically.
2020 – finally digital?! is composed of three sections: a conference, invited curatorial projects, and digital gallery showcases. The conference will feature notable members of the art industry and their assessments of the art world's digitization progress over the past year. The second section invites curators to report back from their communities on emerging positions that are acute right now. The third section amplifies galleries, which are the backbone of the art industry.
Christina Steinbrecher-Pfandt
Blockchain.art
Co-Founder & CEO
Download