Bringing together art and science practitioners and cultural actors to touch upon different forms of collaboration within the field of art & ecology, visitors will be able to tap into pre-recorded encounters and navigate through an interactive visual map created within a Miró board to hear the voices of practitioners across latitudes and longitudes. This space divides up in two sections.
The first one is Dialogues Between Land and Water: Researcher Paul Merchant (Lecturer in Latin American Film and Visual Culture at University of Bristol) and art historian/curator Catalina Valdés (expert in art and naturalism of the 19th and 20th century) discuss how art can tell us stories that are different from what has been told from the lens of natural history and geography in relation to the Andes Mountain Range and the Pacific Ocean, creating parallels between the visual invisibility of these natural landmarks and sociocultural notions to delve deeper into the transformational possibilities that the art-ecology duality can offer.
The second is Virtual Encounters: Viewing, Transforming, Creating Landscapes Through Art. An invitation to virtually travel through this experimental mapping of connections and exchanges to view the actions, testimonies and voices that. have been brought together in this Miró board through a series of encounters between various partners of the Green Art Lab Alliance (GALA) working from Vietnam, Mexico, Italy, Lebanon, Greece and Chile. The various videos, images, words and forms come together in response to three central questions: How do you envision and relate to a natural territory? How do you offer support or visions for other landscapes? How do you stay creative together? On the right hand side, we've left a space for visitors to also become a part of this virtual exercise.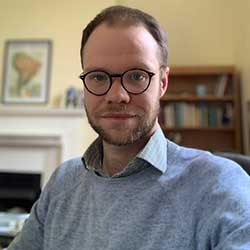 Paul Merchant: MA, MPhil, PhD, is aLecturer in Latin American Film and Visual Culture at the Department of Hispanic, Portuguese and Latin American Studies of the University of Bristol. His research focuses on 20th and 21st century Latin American film and visual culture, with a particular emphasis on Southern Cone countries and, most recently, Peru and Bolivia. He is currently undertaking an AHRC Leadership Fellowship, working on the project 'Reimagining the Pacific: Images of the Ocean in Chile and Peru, c.1960 to the Present'.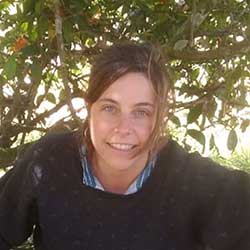 Catalina Valdés: is a teacher, researcher, curator and arts manager with an interdisciplinary background in art history, literature and cultural studies. Her areas of interest are the history of art and culture in Latin America during the 19th and 20th centuries. Her research addresses issues linking the history of art, the natural sciences and nature, with a special interest in how American cultures have constructed their landscapes, from crafts and formal arts, to cartography and virtual modelling.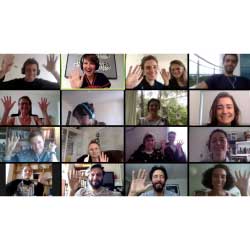 The Green Art Lab Alliance: is a mycelium-like network of art organizations contributing to sustainability through creative practices, founded by curator Yasmine Ostendorf in 2013, with partners in Europe, Asia and Latin America. It is an informal, international and decentralised alliance to amplify the voices of artists and art organisations responding to various social and environmental issues, and acting as a 'knowledge alliance' by strategically sharing resources, information and solidarity. This alliance connects and empowers art centres, museums, residencies, art collectives, activists and grassroots initiatives that are strongly embedded in their local communities.
Credits
Dialogue 1: Dialogues Between Land and Water
Participants: Paul Merchant (Lecturer University of Bristol) and Catalina Valdés (Art historian)
––
Virtual Encounters: Viewing, Transforming, Creating Landscapes Through Art
Participants: Green Art Lab Alliance / Cocina CoLaboratorio, Pollinaria, Fundación Mar Adentro, Undecided Productions, Polyeco Contemporary Art Initiative, Temporary Art Platform, Yasmine Ostendorf
Credits/Acknowledgements: Yasmine Ostendorf, Harriet Matzdorf, Mariana Martinez, Elise Luong, Vicky Tsirou, Maya Errázuriz & Amparo Irarrazaval (Miró Board design)