Speculum Maius (The Great Mirror) is a ground-breaking new opera that merges pioneering live VR technology together with live performance, created by Studio M.A.R.S.
The work is developed around multiplayer gaming structures and multiple viewer channels, becoming the world's first-ever fully live VR participatory immersive opera, seamlessly merging the real and the digital together. Using gaming structures as dramaturgical guidelines to offer a reflection of how we function together in a society and the moral relationships that we have. Speculum Maius examines the ways how technology can shape humankind, altering societies, how it can affect personal relationships, and its difference between man-made and natural environments.
"A mirror is the reflection of yourself in the world but is not you in the world since it is just a reflection." This idea of creating worlds within worlds, heterotopian states, layered upon each other and existing simultaneously creates new complex realities, narratives, and understandings.
With its multiple co-existence of worlds shifting between live and digital realities. Speculum Maius aims to explore the innovative combination of new interactive technology, together with video-game culture mixed with traditional music theater; the new integration of immersive theater and live interactivity; and how these new hybrid states and technologies can have an impact on society.
Date
Fr. 10. September 2021 13.30-15.30
Meeting time: 13:00
Meeting Location
DESK50
Maria-Theresien-Platz 5 Burgring 1010 Wien
This event is free and limited to 25 participants. Please RSVP here.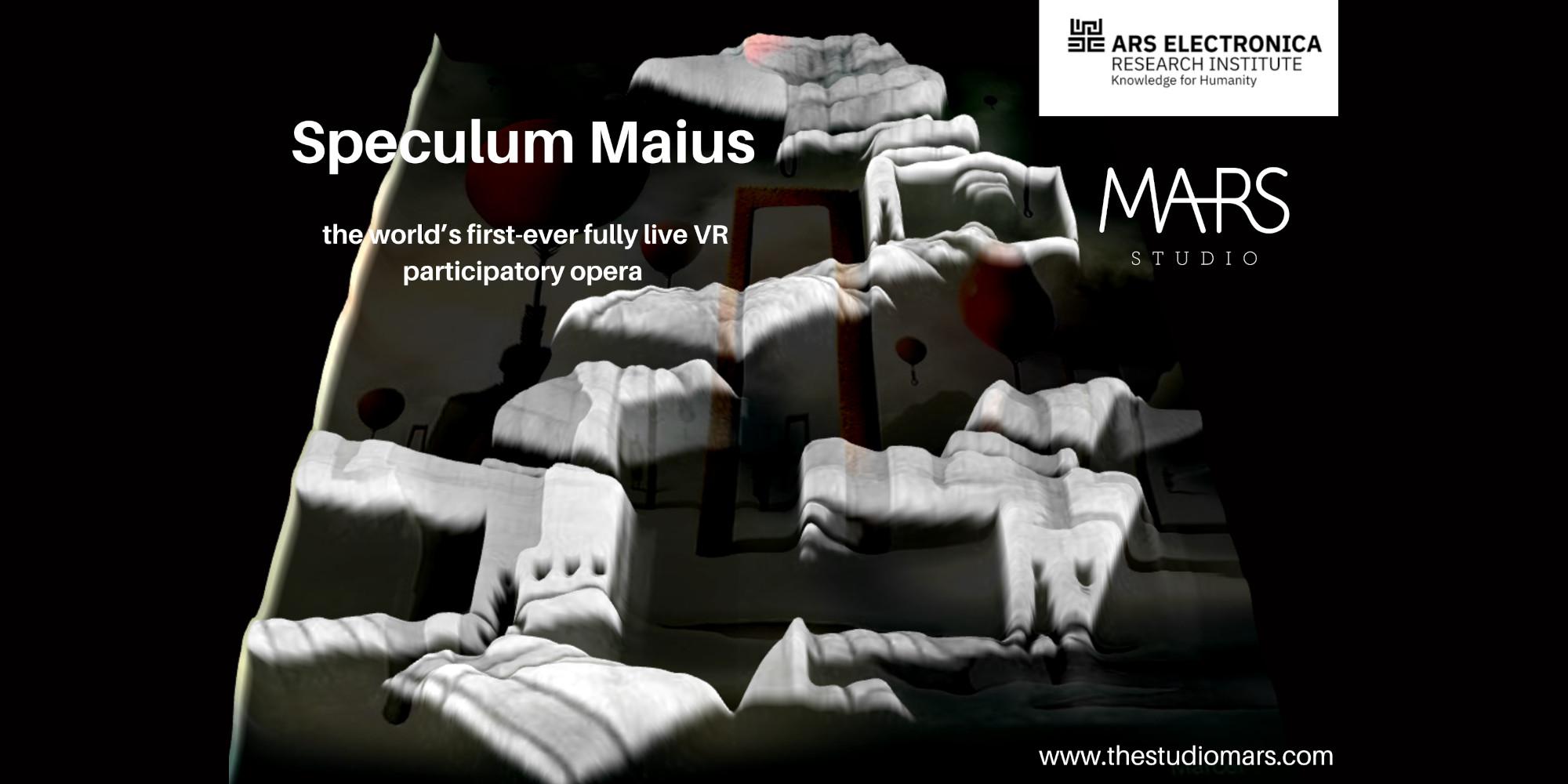 Studio M.A.R.S. (Music Art Research Science) is an international multidisciplinary collective specialising in the synthesis of music, art, theater, design, science, and technology. From concept to production, Studio M.A.R.S. works together with international artists, curators, designers, engineers, scientists, and researchers, to create works that offer a better understanding of our current and future positions in society and culture. By creating connections and collaborations, sharing knowledge and ideas, encouraging critical thinking, creativity and innovation, Studio M.A.R.S. is dedicated to the inquiry of art, design, science, technology, and their influence on global contemporary attitudes. 
Credits
Ars Electronica Research Institute knowledge for humanity / k4h+ / AT, exploration space / Austrian Academy of Sciences / AT, Naturistorisches Museum Wien / AT. This work is part of the Ars Electronica Garden Vienna / Ars Electronica Garden knowledge for humanity curated by Eveline Wandl-Vogt.
A live VR opera for 4 singers, 2 actors, 5 soloists ensemble, AI generated live electronics, live audiences participatory games, and mixed live VR with video projections.