spaceEU is an exciting space outreach and education project which aims to spark the interest of young people in STEAM (Science, Technology, Engineering, Arts and Maths). The Ars Electronica Festival presents the spaceEU exhibition 'Step into Space' where visitors are invited to find out why we should explore space.
Thousands of discoveries have been made in space that we now use in our everyday lives. Space exploration allowed us to innovate in health care, energy and the environment, everyday technology, and many other areas. It assists us in thinking about how to collaborate to protect our planet, and it continues to inspire us to think outside the box. The achievements of space science have shown us that we can make the impossible possible. Curiosity and exploration are vital to the human spirit and so we invite you to join us on a journey of discovery through this exhibition. We want to share the story of space and your part in it. 
The same exhibition as presented here will travel to ten different countries from December 2019 to October 2020. Find out more about events, collaborators, and the European connection on the website space-eu.org!
In addition to the exhibition the following two spaceEU activities will take place at this years Ars Electronica Festival. 
spaceEU Activity: spaceCafé
spaceEU Activity: space4youth Blue Moon Special
Exhibition Artists: Sarah Petkus (US), We Colonised the Moon (DE/ UK), Nuotama Bodomo (GHA/ US), Eva Rust (CH)
Exhibition Partners: Sentinel-hub EO-Browser and ESA Apps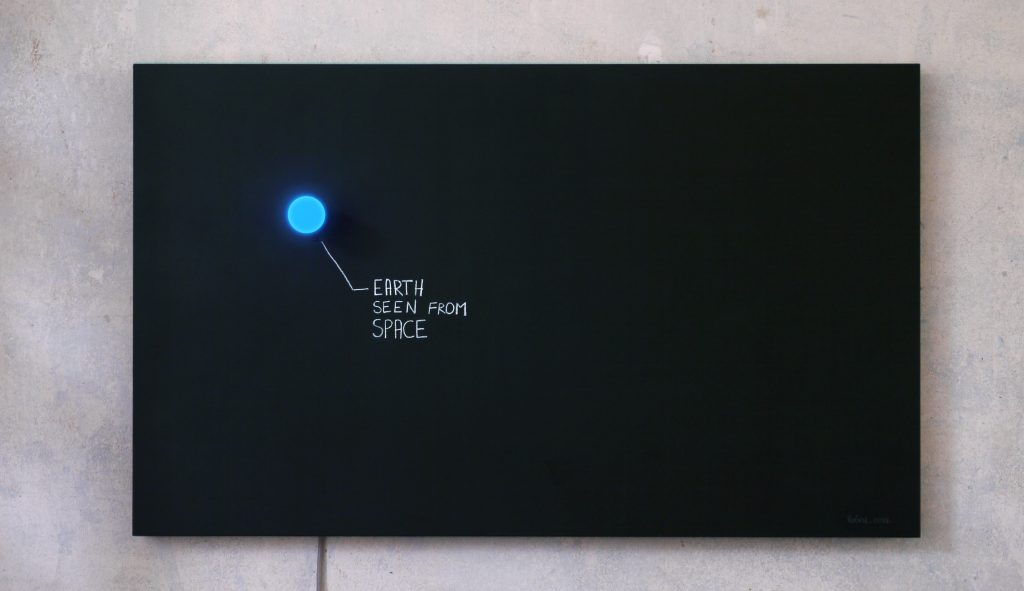 EARTH SEEN FROM SPACE (spaceEU Edition)
Hagen Betzwieser (DE) based on the work of WE COLONISED THE MOON
The pictures of Earth from the first moon landing are still widely regarded as "the most influential environmental photograph[s] ever taken" according to nature photographer Galen Rowell. They changed our perspective of Earth's place in the rest of the Universe and became icons of a new global consciousness.
Hagen Betzwieser has recreated this outside view of the Earth from space. For all of us who lack the funds to buy a ticket for space travel, this spotless glowing super economy LED light bulb is a temporary alternative. A simple but instructive simulation of how tiny we are compared to the unknown unknowns we float in.
Hagen Betzwieser has a background in art, design, space and filmmaking. He founded the 'The Institute of General Theory' in 2001 and explores almost everything. He often works in cooperation with other artists and scientists, for example with artist Sue Corke in WE COLONISED THE MOON.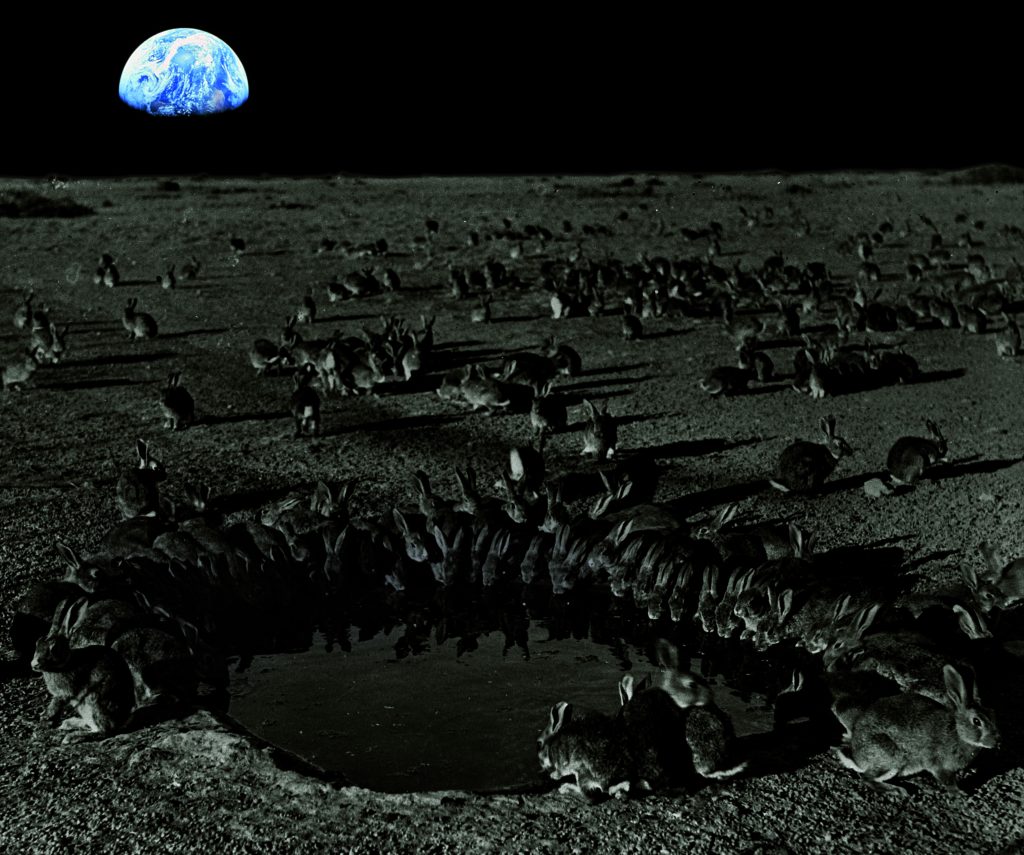 A Touch Of Home (spaceEU Edition)
WE COLONISED THE MOON, Hagen Betzwieser (DE) and Sue Corke (UK)
Thomas Austin was an English settler in Australia who is known for introducing rabbits to the colonized land. He wanted to bring a touch of home to the new, unfamiliar country. While his efforts were praised at the time, he has since been blamed for introducing a plague to the country. The rabbits rapidly grew in number and overgrazed crops leading to loss of plant species as well as reduced crop yields. This artwork reminds us to be duly considerate when discussing the future of space exploration. 
WE COLONISED THE MOON consists of two artists, Sue Corke and Hagen Betzwieser. The artists combine different talents and interests that converge during collaborative projects. Sue Corke is a visual artist with an interest in the theatre of illustration, whilst Hagen Betzwieser's art practice explores the gaps and connections between art and science with the aim of creating 'New New Media'. 
Project Credits: Developed with the support of the ARTS CATALYST for 'Republic of the Moon' as part of 'Dynamic, Affordable, Apollo-free' an Institutional Residency, Southbank, London, 2014.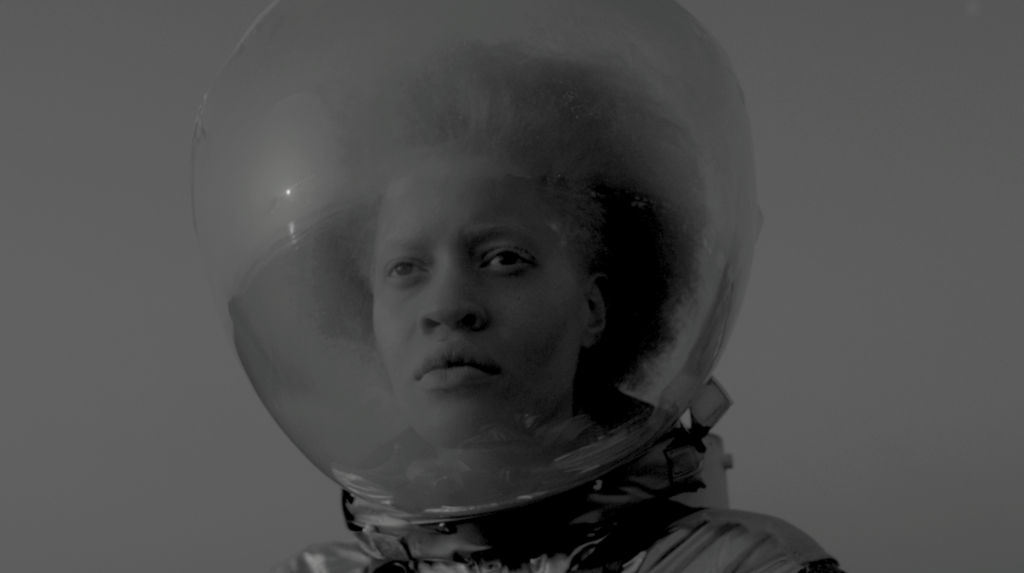 Afronaut 
Nuotama Bodomo (GHA/ US)
16 July 1969, America is preparing to launch Apollo 11. Miles away, the Zambian Space Academy hopes to beat America to the moon. Inspired by true events, this work refers to Edward Mukuka Nkoloso, a grade-school science teacher and the director of Zambia's National Academy of Science, Space Research and Philosophy. He set up his own space programme and trained twelve Zambian astronauts. 
Nuotama Bodomo is an award winning writer and director born in Ghana and currently lives in New York, USA. She is a jkey member of the New Negress Film Society and is currently creating the Afronauts feature film.
@tobogganeer on Instagram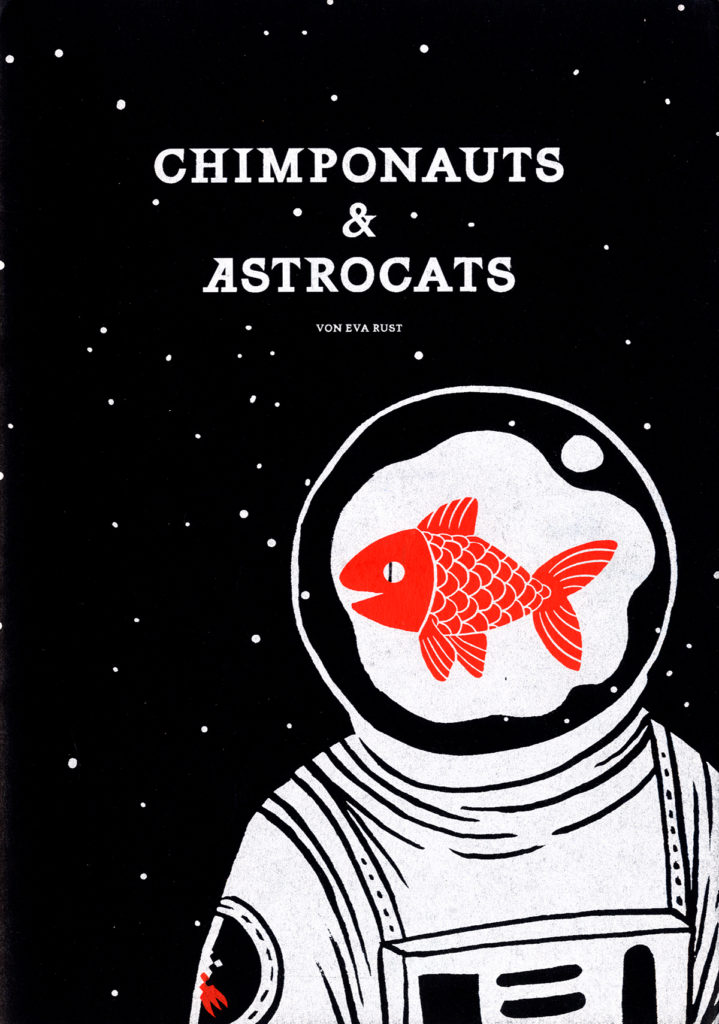 Chimponauts and Astrocats
Eva Rust (CH)  
Would you want your pet to be sent to space? Chimponauts and Astrocats is a zine about all the animals who boldly went where no human had gone before, in the early days of space travel. Read about the first space pioneers and the ones who followed in their pawsteps. It tells the sometimes tragic and sometimes funny stories of some of the animals who were sent to space.
Eva Rust received  a bachelor's degree as a scientific illustrator in 2010, and has been working as a not very scientific illustrator ever since. Her work is, however, still very much inspired by fauna and flora.
@eva_rust on Instagram 
Project Credits:  Eva Rust (CH), Graphic Design: Johnson / Kingston (CH), English Translation: Gabrielle Alioth (CH/IE)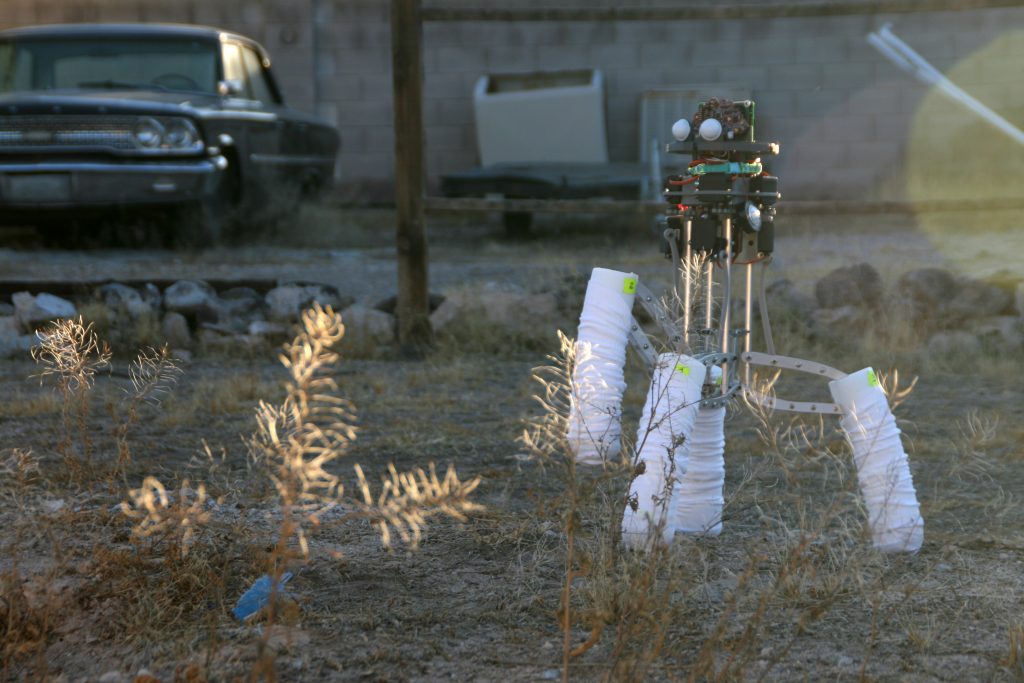 NoodleFeet 
Sarah Petkus (US)
Sarah first created NoodleFeet or Noodle as an illustrated robot, which explored the comic Universe she wrote and drew. One day Sarah wanted to bring Noodle to the three-dimensional world and started to build his robotic body with 3D printed parts and found objects. Noddle came to life one step after another. Today Noodle's purpose is to exist freely in the world while reacting to situations, and expressing himself in his own unique way.
Sarah Petkus is now a cyber artist and illustrator who creates mechanical and electronic devices, robotic entities, and wearable body augmentation which challenge the way humans relate to technology. Sarah documents the process and progress of her projects on her web channel, GravityRoad.
@spetku on Instagram 
Exhibition Crew
The exhibition was developed by Ars Electronica in close collaboration with Science Gallery Dublin and Leiden University.
Exhibition Co-design Manager: Laura Welzenbach
Architecture: Gerald Moser/ Wunderkammer and Zirup – Architektur & Design
Storyline/ Writer: Niamh Shaw
German Translation: Theresa Apweiler
Graphic Designer: Rory McCormick
Tech Advisor: Bildwerk
spaceEU Principal Investigator and Coordinator: Pedro Russo
With contributions from: Suzana Filipecki Martins, Ryan Williamson, Grace Darcy, João Dias, Cristina Paca and Veronnika Liebl. 
spaceEU Partners
Leiden University
Ars Electronica
Ecsite European Network for Science Centres Museums
EUN Partnership AISBL European Schoolnet
Science Gallery at Trinity College Dublin
Ellinogermaniki Agogi   
Ciência Viva
Cité de l'espace
Parque de las Ciencias
Universum® Bremen
SCIENCE IN
New Space Foundation
spaceEU project has received funding from the Europeran Union's Horizon 2020 Framework Programme for Research and Innovation under grant agreement No. 821832.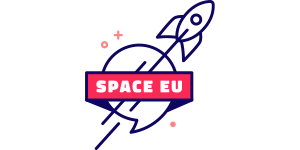 spaceEU project has received funding from the European Union´s Horizon 2020 Framework Programme for Research and Innovation under grant agreement No. 821832.