48 Hours New Art Contexts. Totally Ready.
Founded as an artists' collective forty years ago, in 1979, Stadtwerkstatt (STWST) – a living and striving cultural space― takes pride in its autonomous structure. In 2019, STWST48x5 STAY UNFINISHED, the 5th edition of its 48-hour showcase extravaganza, brings together critical producers and artists to negotiate permanently unfinished conditions.
STWST48x5 STAY UNFINISHED presents the following array of programming:
STWST New Art Contexts: SANDHOLE by Franz Xaver, accompanied by Heike Kaltenbrunner; DEEP DRILLING FOR CONTRACTS, by Tanja Brandmayr; ml-iso|la|tion|ism by taro; GIBLING LUCIFERENSIS by taro and Eva Grün; CRYPTOBORDERS and ŦɏŁᵻⱣⱥ (ŦLⱣ) by Michael Aschauer; the hydroponic construct NOTNOPONTON by Jakob Breitwieser. The ongoing Mycelium Network Society will host an MNS SUMMIT to further recruit the nodes.
Through open call and invitations: SOYBEAN FUTURES by Dimension Plus; TELEAGRICULTURE by Julian Stadon; CIVIL WILDERNESS by Claudia Reiche and Helene von Oldenburg; with the APRIORI group, Berlin's RAUMERWEITERUNGSHALLE association and Darko Fritz resurrecting I_AM_STILL_ALIVE.HTML (2009) to remind us about the unfinished internet error messages.
Highlighting the unfinished archive of Stadtwerkstatt's 40-year celebration, there will be two nights of UNFINISHED CLUB under the titles of TALK RE:TALK and ACT RE:ACT, each of which will include five sessions and demand the public to stay awake from sunset to sunrise in Linz. UNFINISHED LIST brings together five existing mailing lists (nettime, crumb, faces, -empyre-, spectre) live on radio FRO.  Years of mailing lists' open archives will be further processed and composted by Shu Lea Cheang's COMPOSTING THE NET performance.
STWST48x5 STAY UNFINISHED programs remain unfinished as we welcome friends old and new, revisit dated and current media, take up unfinished workshops, unfinished kitchens, unfinished social projects to engage in public dialogue and debates, in the hope that these will add new layers to PREVIOUS LAYERS.
UNFINISHED CLUB
Conceived and realized by Shu Lea Cheang
Taking over the club space at STWST, the UNFINISHED CLUB will be hosting two all-night public events.  TALK RE:TALK will be held from 19:35 (sunset of Friday, September 6, Linz) to 06:28 (sunrise of Saturday, September 7, Linz), and include five sessions: Unfinished Business (led by Franz Xaver on existence tactics and alliance binding); Unfinished Code (led by Winnie Soon on queering, speaking and vocable code); Unfinished Lab (led by Pedro Soler on labs for worldmaking, mutant breeding and revelation); Unfinished Network (led by Servus.at on the power, lacks and deviances of networking) and Unfinished Body (led by Quimera Rosa on self-experimentation and the trans* process). RE:TALK patching will be led by Martin Howse to intervene and re-version the TALK sessions. ACT RE:ACT will held from 19:32 (sunset of Saturday, September 7, Linz) to 6:29 (sunrise of Sunday, September 8, Linz) will include five sessions: Unfinished Archives (led by Thomas Lehner, STWST 40 Years); Unfinished Access (led by Laura McGough, reviewing artists and public access television from 1972-1994); Unfinished Utopia (where sci-fi fantasia will be meeting the real, existing utopia); Unfinished Porn (led by Jürgen Brüning, on the power of porn) and Unfinished Dream (led by Fabi Borges and Rafael Frazao,who will guide the construction of a work of speculative fiction). Ending the sessions with playback at dawn, we will walk out of the club to greet sunrise by the Danube, not-quite-finished.
UNFINISHED ARCHIVE celebrates the 40 years of Stadtwerkstatt
Conceived and realized by STWST
Forty years after the founding of STWST, the time has come to think about history and archives. Digital storage brought us the first "sampled" seconds in electronic media, a possibility that would impact the entire cultural development of the age. Since 1979, the artists of Stadtwerkstatt have been working across borders and linking all things crosswise; something reflected in the self-referential, interactive television shows the collective exhibited under the title of STWST-TV at Ars Electronica since 1987. With these shows, the state of "push media" was critically questioned, and STWST foresaw the social media of our time in its early pursuit of digital internet pull media.
From the mid-nineties onwards, two independent media associations, Radio Fro and servus.at, came out of STWST and remain active in it. With an increasingly critical attitude towards the Internet, STWST proclaims "art after the new media" as its initiative in new art contexts. In the fifth edition of STWST48, the focus was on history and its ability to mediate new positions: the graffito of the old house façade is projected onto the façade of current STWST building; Captain Mnemo, Leo Findeisen and Agnes Blaha host regular LIVE TV shows reconstructing these media perspectives with guests of Ponton/Van-Gogh-TV and Radio Subcom/Stubnitz;  Thomas Lehner re-scans the STWST-TV shows, and Laura McGough recounts artists and public access television "making a scene" in the United States from 1972 to 1994.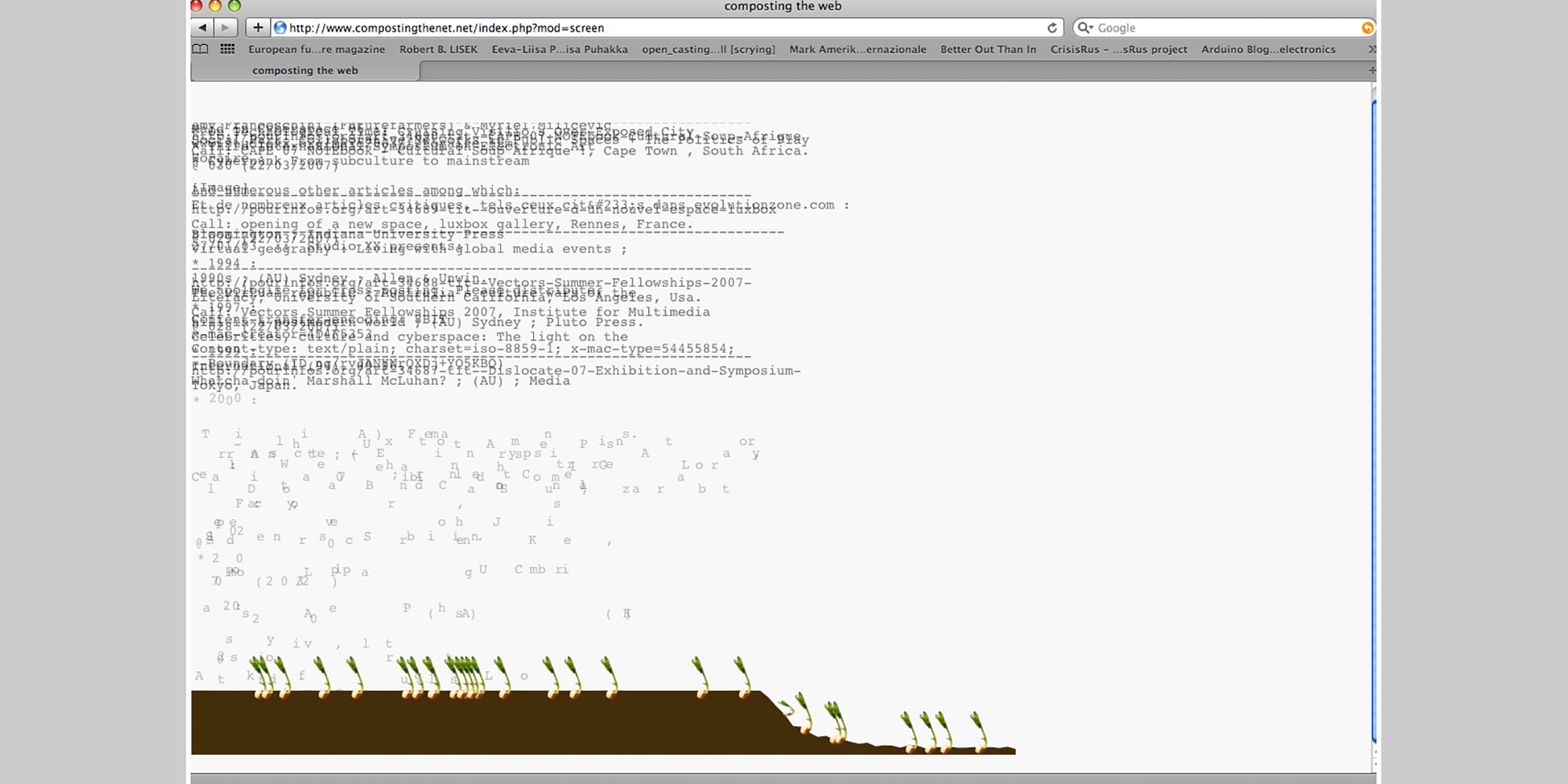 UNFINISHED LIST
Conceived and realized by Shu Lea Cheang
Triggered by a nettime posting (Date: Friday, June 07, 2019 10:41 AM) from the nettime mod squad, "subject: <nettime> Nettime is in bad shape. Let's see if we can change it"), UNFINISHED LIST brings five existing mailing lists together for LIVE ON RADIO.  The text-based email listservs with their subscribed members are online platforms that grow media communities through information, discussions and debates. Nettime, a mailing list for networked cultures, politics and tactics since 1995, is moderated by Ted Byfield and Felix Stalder; the crumb new media curating mailing list aims to help those who 'exhibit' new media art, including curators, technicians and artists since 2000, and is moderated by Beryl Graham and Sarah Cook;  Faces, a mailing list on gender, technology and art since 1997, is moderated by Valie Djordjević,  Diana McCarty, Kathy Rae Huffman and Ushi Reiter; -empyre- has been facilitating online discussion with a critical perspectives since 2002, and is moderated by Renate Ferro and Tim Murray;  spectre, which started by mailing on media art and culture in Deep Europe, has provided a channel for old and new media to meet across borders since 2001, under the moderation of Inke Arns and Andreas Broeckmann. Hosted by Radio Fro (http://fro.at), housed at the STWST and conducted by the lists' own moderators, with the special moderation of Elena Robles Mateo for Faces and Geert Lovink for Spectre, the five-hour, non-stop radio streams (from 12:00-17:00, on Sunday, September 8) invite the global public to listen in and participate with speaking voices in live broadcast. At the close of STAY UNFINISHED's 48 hours,  Shu Lea Cheang will perform Composting the Net (2013, http://compostingthenet.net),  to process the open archives of the mailing lists and compost the legacy of our networked culture in the hope to generate fresh sprouts, ever unfinished.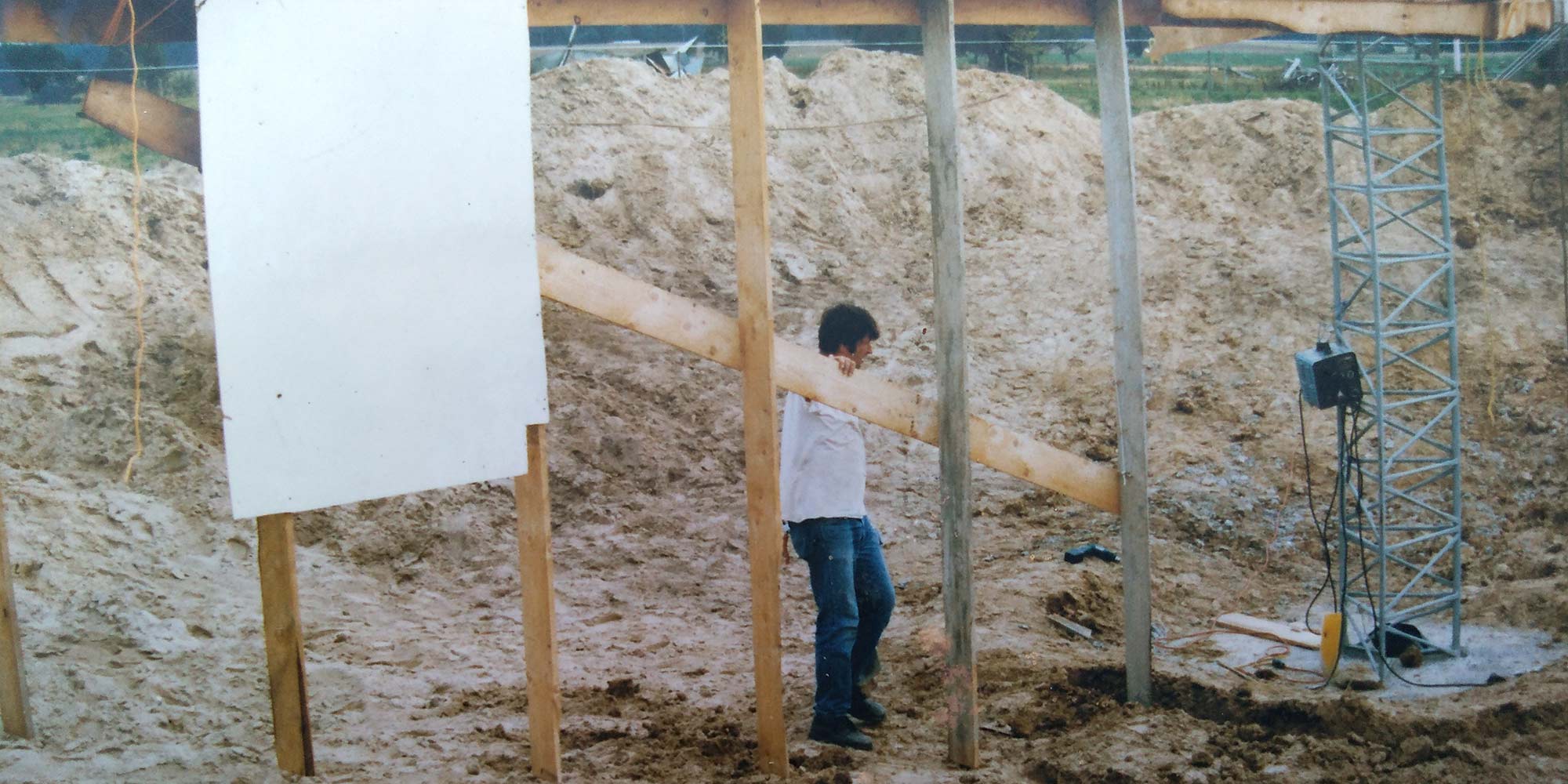 SAND HOLE is an INFOLAB project of STWST New Art Contexts
By Franz Xaver
A concave sandhole with a 12-meter diameter is being dug in front of Stadtwerkstatt. This hole bundles the hydrogen radiation of the universe, through which we receive a signal we will call "NegInformation".
Franz Xaver asks what information is. To answer this question, a 12-meter sandhole is being dug at STWST48x5 to capture hydrogen radiation from various stages of the universe's development. We can receive pasts from the present of up to 10 million light-years at once, in a meaningless signal we call "NegInformation". The "NegInformation" stands for the human component in the new logical world order information theory brought us. "NegInformation" thus opposes the concept of NegEntropy that Erwin Schrödinger first formulated over 100 years ago, where he countered life to entropy. Claude Shannon subsequently introduced an information theory in which information is only transported from one place to another as efficiently as possible. This is a theory of information transmission which above all serves economic market advantages, even as it fails to deal with what the "essence of information" might be. "In the beginning was hydrogen": with this view, our structure offers the possibility of perceive information in its earliest stage of development.

DEEP DRILLING FOR CONTRACTS is a Quasikunst project of STWST New Art Contexts
By Tanja Brandmayr
Quasikunst has been conducting systemic-performative art research for several years. Depending on the project, it calls out coordinates, increasing and performing contradictions. In 2019, and under the title "Deep Drilling for Contracts", Quasikunst will dig down a sound hole in the basement of STWST.  Underground: The knocking out of power/BUSINESS from nature is a core competence of our early industrial/CULTURAL history. Twelve seconds of metallic hammering as the looped sound-essence of an early ring mythology negotiating the transition from pre-modern to the modern in the late 19th century. First, dig down and knock ore out of the mountain; then, use technological voodoo to forge a ring, to be followed by contracts and capital. Even at the onset everyone was unhappy. The contracts expired. Many years later, business is at a turning point. Exploitation continues as ever. And we just keep digging down, deep drilling for NEW Contracts.
Website:
Biographies:
Stadtwerkstatt / STWST has been an art-club and autonomous structure in Linz since 1979. As an early adopter of new media and media art, it has a history of meaningful projects since the eighties. Stadtwerkstatt is currently active in New Art Contexts, it runs a club and the Cafe Strom, as well as media channels such as Versorgerin (print) and other art and discourse formats.
Tanja Brandmayr (AT) lives in Linz, and has spent years at the intersection of text, staging and art. She has conducted art and context research for Quasikunst in cooperation with STWST, and is an editor and author for art and culture magazines. http://www.quasikunst.at/, http://brandjung.servus.at/
Shu Lea Cheang (USA) is an artist, filmmaker and networker working with various art media and film formats, including installations, performance, net art, public art, video installations, feature-length films and web serials. As a net art pioneer, her project BRANDON (1998-1999) was the first web art to be commissioned and collected by the Guggenheim Museum in New York. Currently situated in a post net-crash BioNet zone, Cheang takes on viral love, by biohacking her current cycle of works. This year, she is representing Taiwan with a solo exhibition, 3x3x6, at the Venice Biennale. She joined the STWST48 curatorial team in 2015.
http://mauvaiscontact.info
Franz Xaver (AT) studied at the Academy of Applied Art's Department of Visual Communication founded by Peter Weibel. He later taught computer languages, audio-visual production, electronics and electrical techniques at the same Academy until 1992. At the Technical University of Graz, he was a lecturer in Communication Theory at the "Institut für Baukunst". He has participated in numerous exhibitions in Austria and abroad, including Ars Electronica, Aperto Biennale di Venezia, Triennale Milano, and Kunst und Ausstellungshalle, Bonn, in Germany. He was the Director of Medienkunstlabor in Kunsthaus Graz from 2003-2007. Since 2008, he has worked at Stadtwerkstatt Linz. http://stwst.at  http://donowtic.com