https://www.instagram.com/outside_observer.art/
Daria Pugachova came to Bulgaria due to the war. She participated in Radar Sofia residency developing her performance dedicated to the war in Ukraine. I Will Close the Sky So You Could Breathe took place at Brotherly Mound Monument in June 2022.
She visualized this piece as an act of unity, where Ukraine finds protection and support.
The artist lies on the ground; the net is stretched over her naked body. She asks the audience to 'cover the sky' –– this is what Ukrainians request to have protection from Russian rockets falling from the sky. Together, participants weave a camouflage net over the body of the artist to metaphorically protect her. This collective action shows that peace could be achieved if only humanity unites."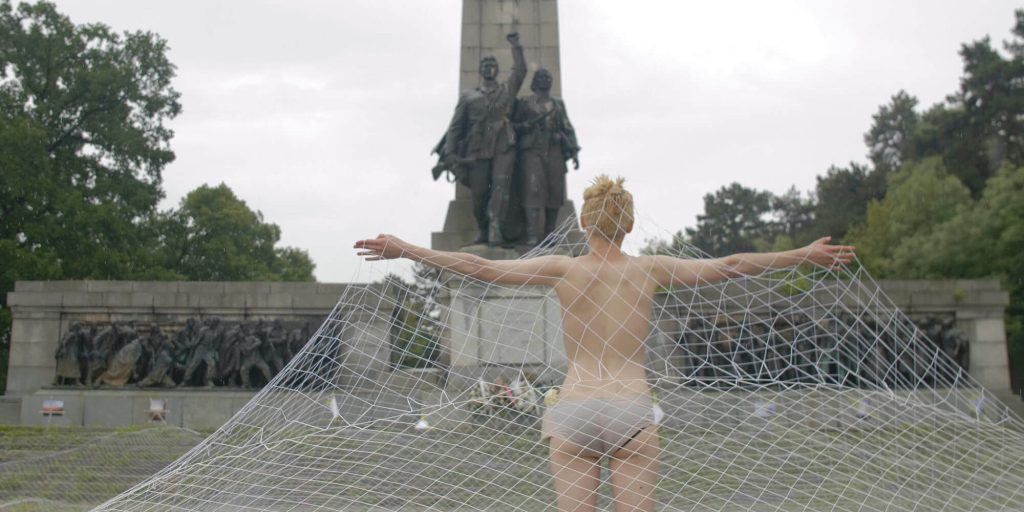 However, it happened as a solitary action with no support from others — only as an expression of the artist's own will. The decision that the artist had to take reflected both the political situation in the world and the unbroken spirit of Ukrainians.
Credits
Artist: Daria Pugachova
Operator: Ivan Nikolov
Drone: Svetlin Marionv
Editing: Ivan Nikolov, Daria Pugachova
Support received from Radar Sofia, Goethe-Institut Bulgarien, Swimming Pool