https://hubs.mozilla.com/YGkQoSe/vr-collider-oksana-chepelyk
VR Collider works with time, public space and history. It examines the iconic places of the political history of the 20th and 21st century through the idea of collisions. It deals with events in public spaces that influenced a subsequent historical development.
A virtual environment built as a platform that flies over planet Earth and captures the vibrations of time-space, presented by fragmented video panoramas that are revolved with acceleration in an art collider, activating a mechanism of audio-visual jumps, where some fragments can be substituted by archival videos followed by visual transmutations.
It is a visual narration of political flashpoints.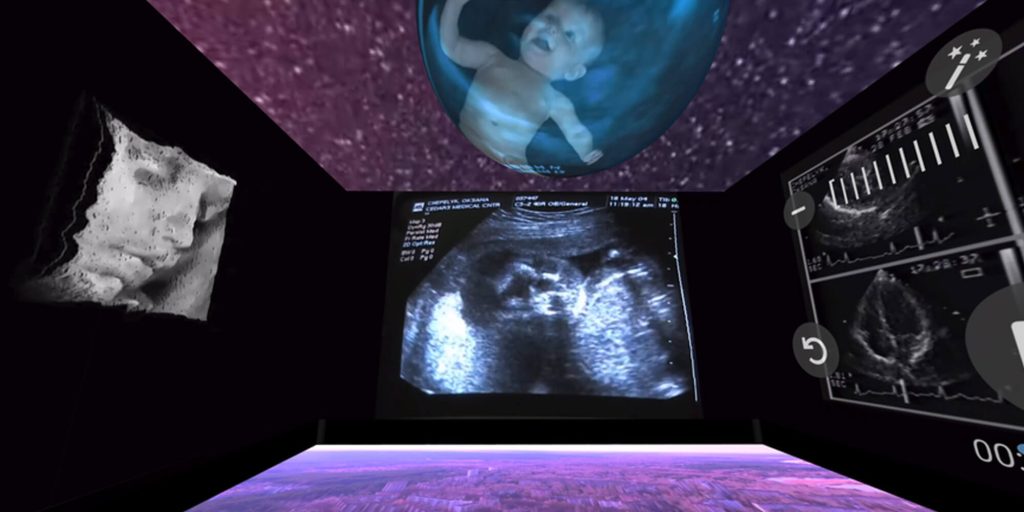 The VR Collider project is dealing with the events that have formed the world and raises the question: is a person a particle in the system of accelerators of global forces, or the energy of interaction investigating new values, new forms of thought and new ways of existence in the world — insinuating that another world is possible?
Biography
Dr. Oksana Chepelyk is a leading researcher of the New Technologies Department, Modern Art Research Institute of Ukraine, Associate Professor of the National Academy of Fine Arts and Architecture in Kyiv, and film director of the Ukrainian Documentary Film Studio.
Credits
VR Collider by Oksana Chepelyk with the participation of Glib Chuliuk-Zagrai, Sensorama and "Genesis" part with the participation of Denis Gumynyuk Mult VR. Sound "Stamina" fragment by KOTRA, "Innocence Lost fragment by Lee Alverson, Dakha Brakha, Sergiy Bedusenko, fragments from "Playing Together" Central Asia, recorded at The Ilkhom Theather (Tashkent, Uzbekistan) October 11, 2016, "Pulsar" by Anna Korsun.
With the support of the UCF — Ukrainian Cultural Foundation and Culture in Motion: Regional Mobility Fund of the Goethe-Institut Eastern Europe/Central Asia