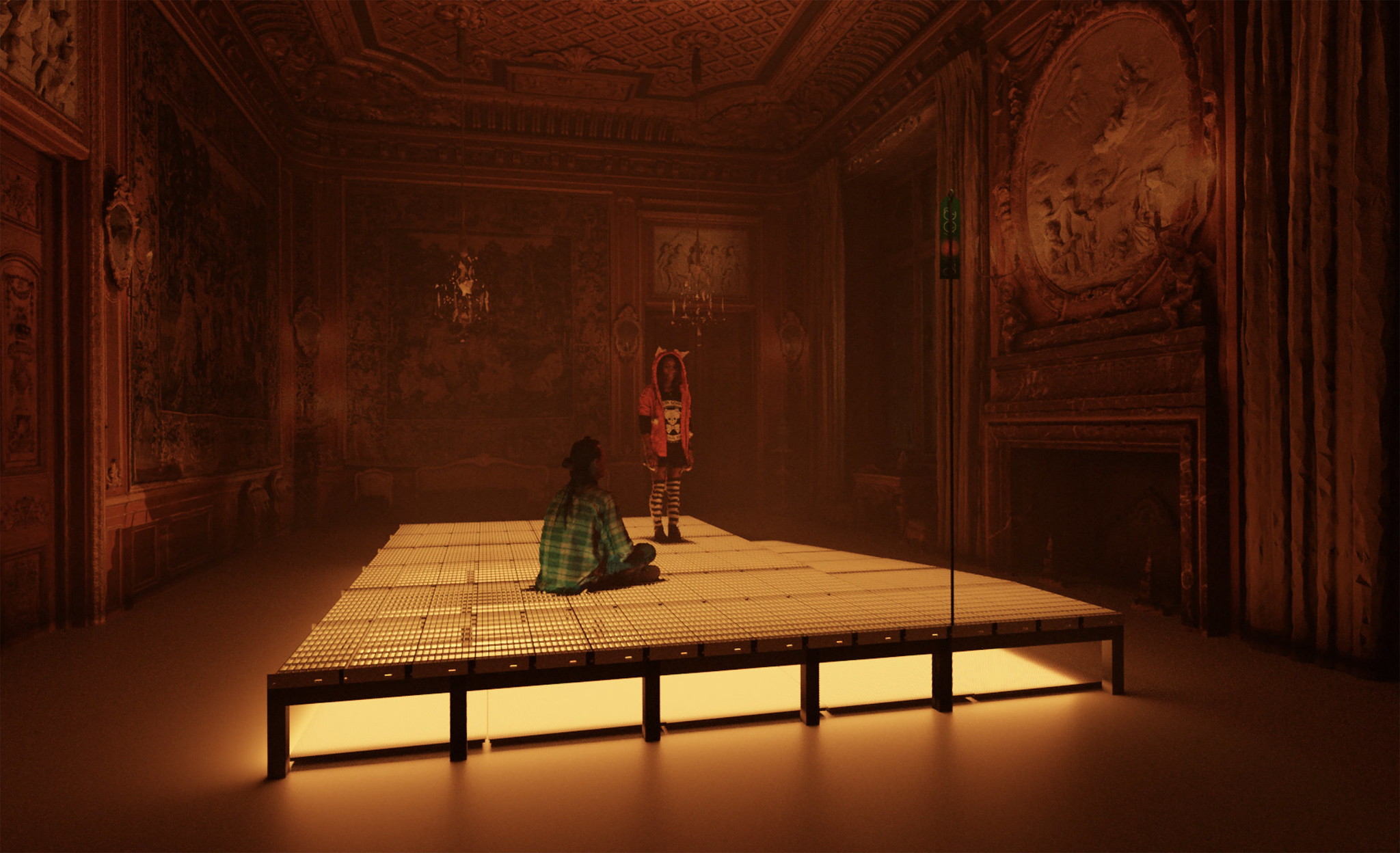 Credit: Donate / Ivan Svitlychnyi (UA)
State of the ART(ist) 2022
The jury reflected on what it means to be an artist at risk and considered this situation as one of the main criteria for the selection of works. There are clearly very different situations and contexts. The State of the ART(ist) call was motivated by the desire to stand in solidarity with Ukrainian artists, but it was extended to all silenced and threatened artists worldwide.
Currently, being at risk in Ukraine means life-threatening danger due to the war, but it is not a situation of persecution, violation of artistic freedom, or political repression, as is the case in other countries for dissident artists / artists at risk. This is why we adopted different criteria for different situations and countries. A second important criterion concerns the work of the artists; we prioritized works that strengthen democratic values, human rights including environmental rights, and are close to activist methods. Collaborative approaches similar to tactical media and strategies of resistance were also favored. As few such works were submitted, we have included works that are more traditional, such as video essays and installations, but include a critical discourse.
The jury recognized the urgent need to stand in solidarity with Ukraine and its artists in the time of brutal Russian invasion. Also, the majority of the submissions were from artists from Ukraine. The jury wished to have had more submissions from persecuted and silenced artists from around the globe, who are often more difficult to reach. Among the selected artists, there are a few collectives and artists from Burma, Hong Kong and Syria, who fit the criteria described above and demonstrate a variety of resistance strategies. These just give a tiny glimpse of ongoing persecution and violations of artistic freedom, as well as forced displacement of artists worldwide.
We want to express the deepest respect for all artists who risk their lives to stand up for artistic freedom, basic human rights, totalitarian governments, and continue to create art in the middle of the war, and other unimaginable hardships. The jury recognized the urgent need to support Ukraine and its artists.
The State of the ART(ist) Jury 2022:
Boris Magrini (CH), Björn Geldhof (UA), Marita Muukkonen (FI) – State of the ART(ist) Jury 2022
---
Online Exhibition 2022
---
Winners 2022
A tailings dam is a system of special facilities for storing radioactive, toxic and other non-recyclable waste from mineral processing. The work touches upon the issue of man's responsibility for natural resources and chimeric forms that the imprint of human activity on Earth may acquire.
State of the ART(ist) Talks 2022
At this talk, the State of the ART(ist) project is being introduced. The panel includes Martin Honzik of Ars Electronica, the two jurors Boris Magrini (Haus der Elektronischen Kunst Basel) and Marita Muukkonen (Artists at Risk) as well as representatives of the Austrian Foreign Ministry: Teresa Indjein, Head of the Section for International Cultural Affairs, and Simon Mraz, Project conception of State of the ART(ist) 2022.
Here, the award winners have their say. Christl Baur from Ars Electronica and Marita Muukkonen from Artists at Risk talk to the winners of State of the ART(ist) 2022 on site and in live broadcasts. Among them are Han Htoo Khant Paing and Karl Ingar Roys of the Peacock Generation project, Linda CH Lai and Michael Leung of the Floating Projects Collective, but also Danson Sylvester Kahyana, president of PEN Uganda, and Sara Nabil, artist and activist from Afghanistan, and Fadwa Mahmoud from Syria, one of the founders of the Families for Freedom movement.
Christl Baur of Ars Electronica and Björn Geldhof, director of PinchukArtCentre Kyiv, zoom into the Ukrainian art scene at its current state, also looking back into the years before. The talks include speakers like Liera Polianskova and Ivan Svitlychniy from SVITER Art Group, artists Dana Brezhnieva and Yuliia Makarenko, Oksana Chepelyk, Oleksandr Burlaka and Daria Pugachova.
Participants 2022
| | | |
| --- | --- | --- |
| Title | Artist | Nationality |
| €e.$i¥.Ah's Vision | Rajmil Fischman | PE |
| 7 reasons not to start a war | Vladyslava Andrienko , Vladyslav Solodovnykov | UA, UA |
| ActwithHK | anonymous anonymous | HK |
| After Death; Lightbody (2021) | REDGRITS – | IN |
| All That Is Seen And Unseen | Amelia Marzec | US |
| Allegories of Peace | Svetlana Petrova | RU |
| And who? allowed you to live beautifully | Sergiy Petlyuk | UA |
| AR Sculpture Park | Vira DG (Degtiarova) | UA |
| Art "Another life" | Tetiana Nikitenko | UA |
| Augmented Monument #1 BERLIN CONFERENCE | mikala hyldig dal | DK |
| "AYES" 314, "NOES" 38 | Mykhailo Barabash, Ostap Manulyak, Art Group NURT | UA, UA, UA |
| balance / cage | Mark Voprosov, Anna Rotaenko | RU, UA |
| Blooming Garden with Tulips | Yulia Dotsenko | UA |
| Board game for courtyard communities "nadvor'e" | Miensk Urban Platform | BY |
| Brain_Fractal | Sarshar Dorosti | IR |
| Bucha… Mariupol…. Ukraine… | Nicole Vishnevetska | UA |
| Carte Blanche – guerrilla street art festival | Carte Blanche team | M |
| Children | wenqian gao | CN |
| Clanking, hammering, dispute and gurgling | Andriy Rachinskiy and Daniil Revkovskiy | UA |
| Cocoon | Spartak Khachanov (Spartak Khachanov) | UA |
| Columna Traiani | Mikhail Maksimov | RU |
| Come wander with me | Anna Manankina | UA |
| comprehension. JYH band | Julia Brosko, JYH band / instacafe.shop | UA, UA |
| Contiguity | Pintian Liu | CN |
| Contra Spem Spero! | Sveta Bilyk | UA |
| CONTRACEPTION OR DEATH | l"urine rouge / червона сеча | UA |
| COORDINATED° | Arina Kapitanova, Animaspace (Angelina Kozhevnikova) | RU, RU |
| Corruption: byte by byte | Andrey Chugunov | RU |
| Cosmic Magic 555 | Chinwe Chigbu | NG |
| Crosses. Vyshyvanka | Tanya Shtykalo | UA |
| Crowd Sign: Emission (game experience) | Mikhail Maksimov | RU |
| Cubes 2.0 . Schrödinger's Ukraine or a new construct | Oleksandr Sirous | UA |
| Cycle of graphic "Body language" | Anastasiia Kovtun | UA |
| Danbas Theta Gender | Nikita Shokhov, Danila Udovenko | RU, UA |
| DayliTags | Pavlo Hunko (Pavlo Sirko) | UA |
| DDDDDHK | Weiwei L | HK |
| •DEMOPOLISIUM• | Polina Enuvesta | RU |
| DEPOT: VIVA LA REVITA | Biorhythm Me | UA |
| digital signature of dandelion project | Scottie Chih-Chieh Huang | TW |
| Dmitry Borshch: State of the ART(ist) | Dmitry Borshch | UA |
| D-Normal/V-Essay, online video zine, issues 1-4 (2020-2022) | Floating Projects Collective, Linda CH Lai (Linda CH Lai) | HK, HK |
| DOLLHOUSE | Nadya Sayapina | BY |
| Donate | Ivan Svitlychnyi | UA |
| Echos | Shulan Wang | CN |
| Ecstasy | Stanislav Kholodnykh | UA |
| Emergency landscape | Vitaly Yankovy | UA |
| Emotional food chain | wenqian gao | CN |
| ENEYIDA | Christian Eloy | FR |
| ENLIGHTENMENT | Evgeniy Chernyshov (SYN), SYN Art Group | UA, UA |
| EVEN | Khalil Charif | BR |
| Everything Starts from Milk | Olga Kisseleva | FR |
| Fair Lady's Expectations/Mature Woman's Umbilical Cord | Rhett Tsai | CN |
| Flatality | Mikhail Maksimov | RU |
| Flicked Music | Stanislav Kholodnykh | UA |
| Fluid Identities | Melody Ling | CN |
| FOR PEACE UA | Liliia Postil | UA |
| force_feed | Ihor Sokolov | UA |
| Forgot PastWorld | Siavash Naghshbandi | IR |
| freedom(,) euphoria & identity | Felix Jallitsch | AT |
| Futile Instrument: War and Tears | Yiyao Tang | CN |
| Ghosts of the information warfare | Light Bear | DE |
| Growing Donetsk Rock – 7914km away – | ippymomi | JP |
| Hashd0x [Proof of War] | Egor Kraft | RU |
| Hello World | TransCultural Exchange | M |
| Highway | Natalia Alfutova, Natalia Alfutova | IL, IL |
| Hip-hop music to honor the Syrian memory: Resisting dictatorship, sectarianism and war through music in Syria | Amir Almuarri | SY |
| HOME | Alexander Priymak | UA |
| HOPE FOUND in NOPE – Mein Kampf "The Alternative" | RICObutRITA _ | JP |
| Hot screen | Vitalii Shupliak | UA |
| I can"t get out of here | Sergiy Petlyuk | UA |
| I PROMISE NOT TO LOOK AWAY | Andre Mistier, Allison Harrell | US, US |
| I Will Close The Sky So You Could Breathe | Daria Pugachova | UA |
| ICONS OF WAR | Sergii Pavelko | UA |
| If it does not blast in Belfast, it blasts in Baghdad | Mohamed Abdullah | IQ |
| Image Cemetery | Katsuki Nogami | JP |
| Immigration Documentation | Linh Dao | VN |
| In what world we will live in when war will end? | Oleksandra Khalepa | UA |
| Infinite Game | Ze GAO, Shuyi Xu | CN, CN |
| Invisible | Eleni Giokari | GR |
| Invisible Trauma | Lesia Pcholka | BY |
| Ist heute ein schöner Tag | Chao Li | CN |
| "It hurts for my Ukraine." | Nicole Vishnevetska | UA |
| It"s Love O"Clock | Max Haarich | DE |
| Lady Liberty Hong Kong | LLHK | HK |
| "Lass, with care", algorithmic editing, documentation | SVITER art group | UA |
| Let me be your eyes | Nadiia Dzyak , Lesia Kvitka , Kostiantyn Borysenko | UA, UA, UA |
| LETTER TO MOM | Nadya Sayapina, Eugene Buldyk | BY, BY |
| Limit of Comprehension | Sergiy Petlyuk | UA |
| Live Kills West | Stanislav Kholodnykh | UA |
| Lost Paradise | Gorsad Kyiv | UA |
| Love in the Time of Apartheid | Sharaf DarZaid | PS |
| LSI-02 / Light and sound interactive installation | Oleksandr (Sasha) Dolhyi (Dolgiy) | UA |
| Men like Earth | Jo Ngo, Jo Ngo | VN, VN |
| MEN OF MY DREAMS | Gelare Khoshgozaran | IR |
| Minsk Antizoo | Anna Prishivalko | BY |
| Minute Moonshine – Alternate Reality Game by Hidden Keileon | Hidden Keileon | HK |
| miscellany | Benna Gaean Maris | LB |
| Motanka | Sabina Rusanova, Kseniia Kilpikova – Theatre director, Diana Vovk | UA, UA, UA |
| My mom turns into a neural network | Anna Rotaenko | UA |
| Nanoart. New Symbolism of Science | Yana Suchikova , Serhii Kovachov | UA, UA |
| New Game is Over | Mikhail Maksimov | RU |
| Not Found | jian Yang | CN |
| Objecats. 24.02.22 | Tanya Shtykalo | UA |
| Ode à Mamãe Oxum | Roger Marza (Roger Marzochi) | BR |
| OGONI POETICS | Taiye Ojo | NG |
| "Out of Body Experience", online performance, video documentation | Photinus Studio | UA |
| painting on glass | Sergey Dobrynov | UA |
| Passaport: totem of hope and fear | Vitaly Yankovy | UA |
| Paul | Stanislav Kholodnykh | UA |
| Peeping | YuHsuan Chiu | TW |
| PHOTOSYNTHESIS | Evgeniy Chernyshov (SYN), SYN Art Group | UA, UA |
| Political art | Aidar Bekchintaev | RU |
| privacy-GrDN.info | S4RA . | PT |
| Prologue_version_01 (avi)~(avi)~(avi) | Milad.jpg (Milad Forouzandeh) | IR |
| Pulsar | Hugo Paquete | PT |
| Rain in Trebah Garden | Yulia Dotsenko | UA |
| Reconnaissance | Siavash Naghshbandi | IR |
| RED FLAG | Aleksei Martyniuk | RU |
| RejuveNations: Youths Bringing Truths | Joseph Baron-Pravda | US |
| Release for peace | alireza rezapour | IR |
| Roller Coaster | Stanislav Kholodnykh | UA |
| Rupture-flowers | Nastya Teor | UA |
| Sabotage | Jean-Michel Rolland | FR |
| Saint Sebastian | Mykhaylo Barabash | UA |
| Salty Oscillations | ruїns collective | UA |
| "Say it quieter if you can" | Nina Bulgakova | UA |
| Sense Or? | Jordan White, Valeriia Shakova, Belcim Yavuz | AU, RU, TR |
| SERENITY | Koloah (Dmytro Avksentiev) | UA |
| Set My Heart On Fire; Not My Home. | Natalia Marin | RO |
| Shukhliada exposition environment | SVITER art group and Ivan Svitlychnyi | UA |
| Signals from the rooftop! | Milad.jpg (Milad Forouzandeh) | IR |
| similar image | fantastic little splash | UA |
| SLAVA | Porka_X PORKA_X | UA |
| Slavutich Arc | Vlad Kononok | UA |
| slavutich_surface | Ihor Sokolov | UA |
| Soc.i.a- Screaming Of Concrete | Soc.i.a Collective | UA |
| Socia – Helicarpet | Soc.i.a Collective | UA |
| SOLIDARITY WITH GARBAGE RECYCLERS (WILL WE EAT GARBAGE?) | LOKOMOTIVE BRICK | ES |
| SOUL | Alexander Priymak | UA |
| Sphere | Good Studio | IR |
| Spiritual Creaks | Maria Vilkovisky | KZ |
| Spring Odyssey | Elise Morin | FR |
| Stand with Ukraine | Eve Methot | CA |
| Step towards kindness | Josephine Florens | UA |
| Synthesizer for Severin | Stanislav Kholodnykh | UA |
| Tactical Forgetting | eeefff | BY |
| Talk To Me – online art festival for Ukraine | Vera Iona Papadopoulou, Andrii Sichkovskyi, Talk To Me Festival Team (Vera Iona Papadopoulou & Andrii Sichkovskyi) | GR, UA, M |
| Tasnif-e-Pari Rooy | Amir Abdolazimi | IR |
| TER.RAIN | Ujif_notfound Ujif_notfound | UA |
| The Bases | Lesia Pcholka | BY |
| The Big Wild Field Draft | Oleksandr Burlaka | UA |
| The Budapest Gambit | Diana Derii, Eugene Arlov | UA, UA |
| The butterfly. Road of pain and hope. | Hélène Litorelle | UA |
| The earth escapes! | Takayuki Hibino | JP |
| The earth wants peace! !! | Takayuki Hibino | JP |
| The Fight for Freedom | Daria Lutsyshyna | UA |
| The FlatNet | Mikhail Maksimov | RU |
| The F-Word | Olia Sosnovskaya and a.z.h. | BY |
| The Generation of the Peacocks | Karl Ingar Røys & Peacock Generation | MM |
| The Grin | Grif Gont | RU |
| The Machine and the Garden | Larion Lozovoy | UA |
| The Price of freedom | Oleksandra Verkhovska | UA |
| The Ravine of Many | Christina Werner | AT |
| The Rhapsode | Yiannis Kranidiotis | GR |
| The Rhythm | Maria Fox Larsson, Ernest Sairon | RU, RU |
| The Rhythm of Everything | Biorhythm Me | UA |
| The snow will melt | äsc3ea *, Daria Maiier | UA, UA |
| The the dead, to the living, to the unborn | Svitlana Zhytnia | UA |
| THE TRACE NEVER FADES | RICObutRITA _ | AF |
| The war in Ukraine: Pain & Purpose | Milad Firoozfar | IR |
| The workshop where children from different countries teach adults | Yuqi Zhou | CN |
| Theater 14-22… | Abinash Mallick | IN |
| Thirty-six Views of Mount Hoverla | Dmytro Kupriyan | UA |
| Time and Imagination | Collen Kajokoto | ZW |
| TIME FILES / Anthracite C6 | Evgeniy Chernyshov (SYN), SYN Art Group | UA, UA |
| Tolerated Violence | Sergiy Petlyuk | UA |
| Tranquil | Stepan Ryabchenko | UA |
| Transparencies in Time: | Jose Trejo Maya | MX |
| UNIMUSEUM | UNIMUSEUM | UA |
| United Goal | Anna Ursyn | US |
| Unraveling the Cable | Flora Weil, Alexandra Smorodinova, Roman Shemakov, Danya Orlovsky | FR, UA, UA, RU |
| Untitled | Sergiy Petlyuk | UA |
| Vanja was here | Anastasiia Yakovenko | UA |
| Video art "Me and other" | Yuliia Pastukhova | UA |
| Video art "Look at me" | Yuliia Pastukhova | UA |
| VR Collider | Oksana Chepelyk | UA |
| W.A.R. – War Against Reality | Alfonso de Gregorio | IT |
| Walls of glass | Gennadiy Chernega | UA |
| WAR NEVER CHANGES | Kelly Rick | US |
| We are invincible, because we are Ukrainians! | Nicole Vishnevetska | UA |
| We Are Just Numbers | Kreida | UA |
| When the Fog Clears | Sergiy Petlyuk | UA |
| Where to go? Where to go. | Zoya Laktionova | UA |
| WHOPPER | RAY LC | US |
| Why? | Gennadiy Chernega | UA |
| Xingu Aries | Feco Hamburger | BR |
| Yamada Taro Project | Katsuki Nogami | JP |
| Yellow Line | DE NE DE | UA |
| мама, я дома | oleksandra yavnyk | UA |