With impressive pictures hundreds kilometers away, the new exhibition "Spaceship Earth" at the Ars Electronica Center makes aware of the fascinating diversity of our Blue Planet. Thanks to the cooperation with the ESA, the European Space Agency, since September 1, 2015, the visitors can simply deep into dozens of stunning shots like, for example, the satellite KOMPSAT–2 made from a river delta in Namibia. The reds of the mountains and the azure water that strikes the coast are not only beautiful to look at. Images of this kind that have been produced in the context of the Earth Observation Programme of the ESA, document weather developments, the expansion of cities, or the effects of climate change.
Photo: Martin Hieslmair
The elliptical orbits of the satellites determine the exhibition design. Pivoting steles with multi-touch surfaces give the visitors the opportunity to look at excerpts of the Earth from above. Playful elements invite them to discover more. The exhibition was developed by Ars Electronica Solutions – a division of Ars Electronica, specialized in the commercial use of projects and in creating customized solutions since 2012.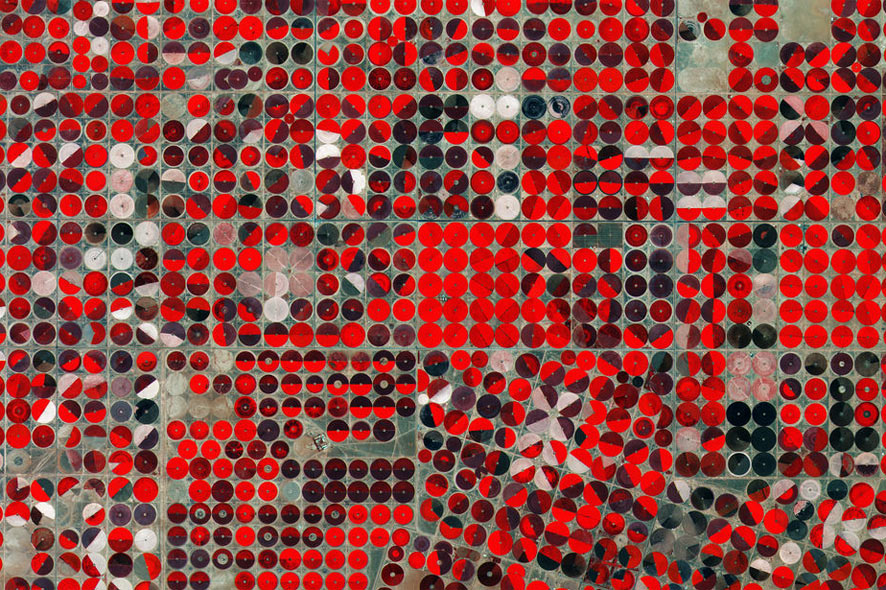 Photo: fields in desert, Tubarjal / Satellite: Sentinel-2, Copernicus Sentinel data (2015)
The satellite images of the earth provide a hudge amount of information. Visitors discover how high-tech instruments gather data that enable scientists to draw conclusions about a wide range of parameters such as soil moisture, crop yields, water & air quality, ocean temperature, solar radiation and vegetation, and make appropriate recommendations about what needs to be done about them.
Photo: Martin Hieslmair
At the opening on August 31, 2015, the Deep Space 8K presented its digital treasures around the theme of earth observation. The visitors were able, for example, to approach to a satellite image of Linz literally.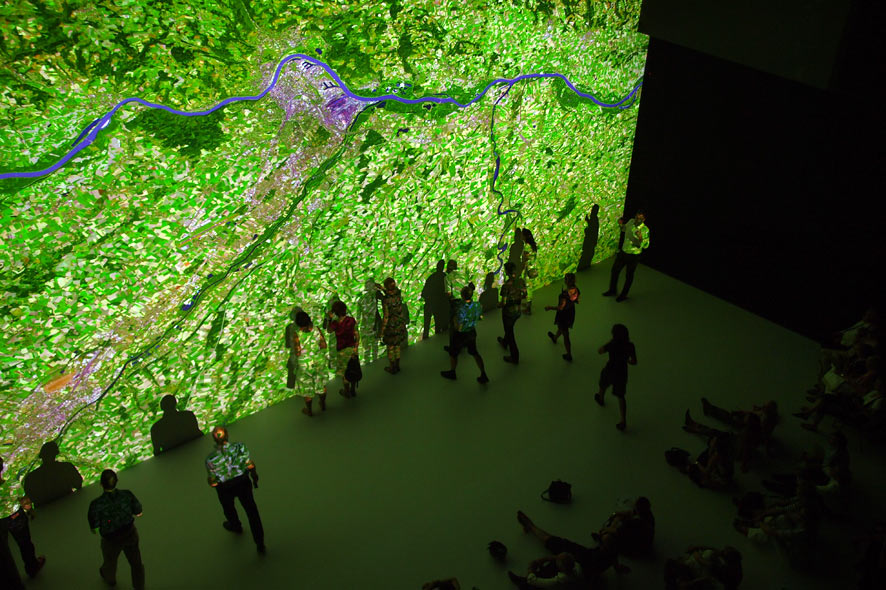 Photo: Martin Hieslmair
The exhibition "Spaceship Earth" is part of the festival "POST CITY – Habitats for the 21st Century", which takes place in Linz from September 3 to 7. In addition to the central location at the main trainstation, that is called PostCity, the Ars Electronica Center again forms a significant fixed point within an extensive program. With three new exhibitions – "Spaceship Earth", "Elements of Art and Science" and, of course the "Deep Space 8K" there are a lot of new things to discover during these days.